In these Spicy Baked S'mores, the classic s'more's recipe is given a spicy spin. Marshmallows are oven-roasted and nestled between graham crackers, chocolate, and red peppers or jalapeños. By the way, this post is dedicated to those of you who love s'mores but do not have access to an outdoor firepit.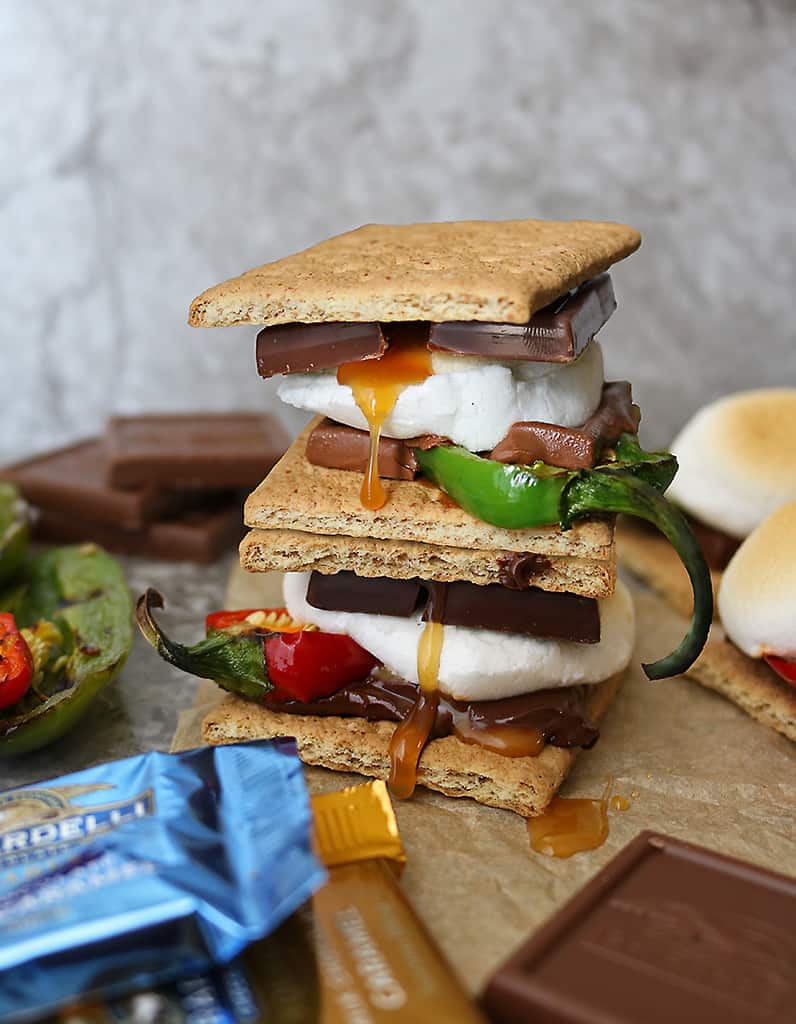 Whenever our little family has had a backyard fire pit, s'mores usually take center stage. And, they (meaning the s'mores) usually have some sort of quirky spin to them. We have the main components of chocolate, graham crackers or chocolate chip cookies, and marshmallows. But, we also add in jalapeños, or grilled avocado, or strawberries, sometimes even potato chips to keep things interesting.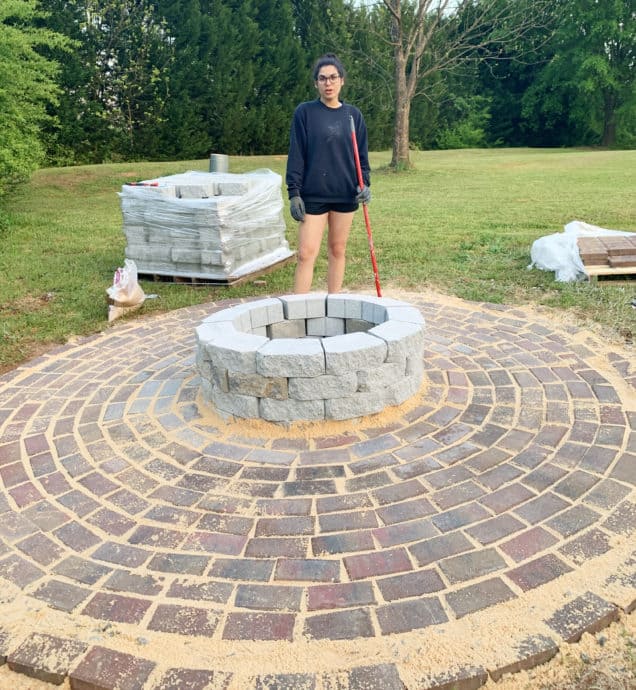 When we moved to our current home, one of our first backyard projects was to make a fire pit.
When it was done, we brought out the marshmallows, Ghirardelli chocolate squares (by the way, this isn't a sponsored post for Ghirardelli, it's just one of our favs), and graham crackers and christened that firepit.
But, my daughter and I haven't always lived in homes with backyards. And, there have been times, when even when we had access to a backyard, it has been too cold or we have been too lazy to stoke a fire!
Which brings us to the spicy baked s'mores you see here today!
But first I need to take a quick detour. I love to find out the stories and fun facts associated with food. Recently, I came across a little fun fact about s'mores. Maybe you already know about it. But I found out that one of the first recipes found using the components of s'mores was titled "some more" and appeared in "Tramping and Trailing with the Girl Scouts" which was available in 1927!
S'mores were not really a thing when I was growing up between Sri Lanka and The UAE. As a result, I was first introduced to s'mores when I was in my mid-twenties. And, ever since, I've loved to put my spin on them.
There was that time when I shared our favorite microwave s'mores recipe on here. Then there was that s'mores mug cake.
And, more recently, s'mores featuring grilled avocado. My daughter and I loved the addition of grilled avocado but it seemed to garner more nays than yays on social media.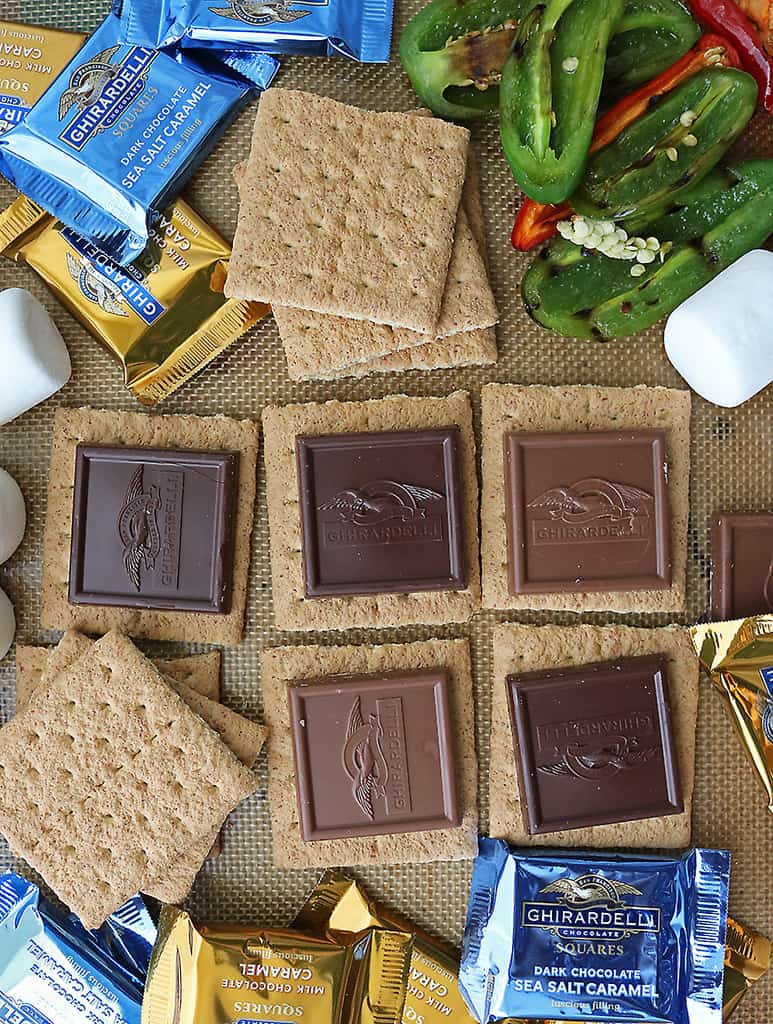 But… back to these s'mores…
My daughter and I simply adore these spicy baked s'mores because:
• They are a delightful blend of sweet and spicy,
• No fire-pit is needed,
• You can make them any day or anytime you fancy, and
• They can be made in 15 minutes – less if you are using leftover grilled/roasted chilies!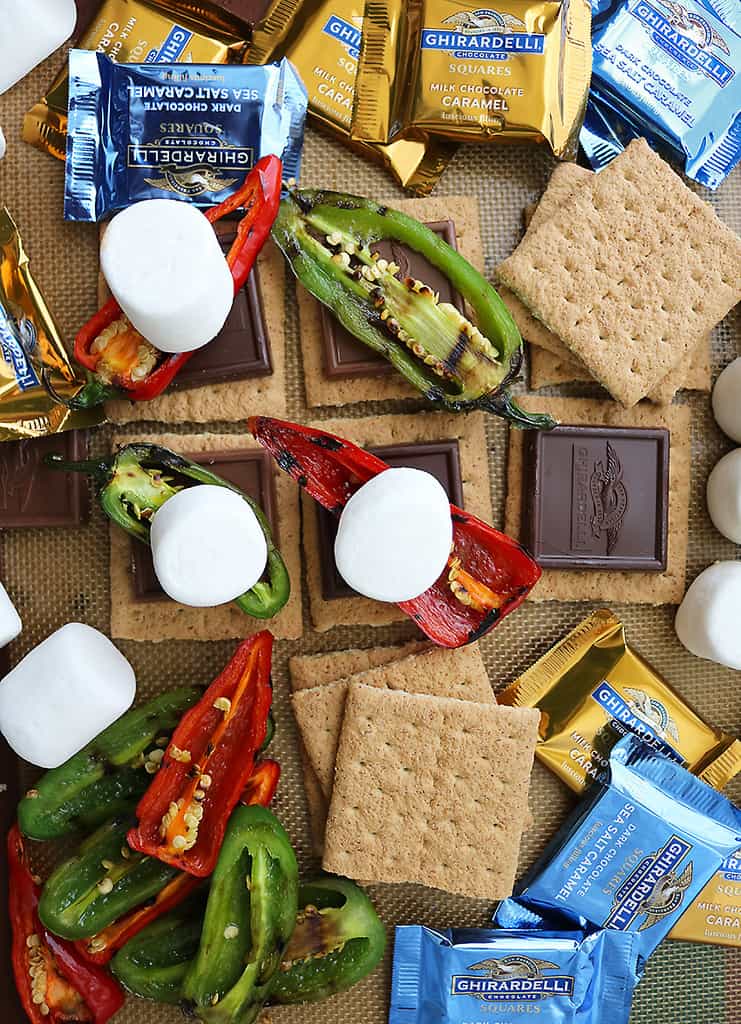 I so love that these s'mores are baked. Or, rather broiled. Which means neither rain nor snow can come between me and a tray of these!
I have made these s'mores with leftover grilled jalapeños. I have also made these s'mores with oven-roasted/ broiled red and green chilies. There have even been times when I pan-roasted jalapeños and used them to make these.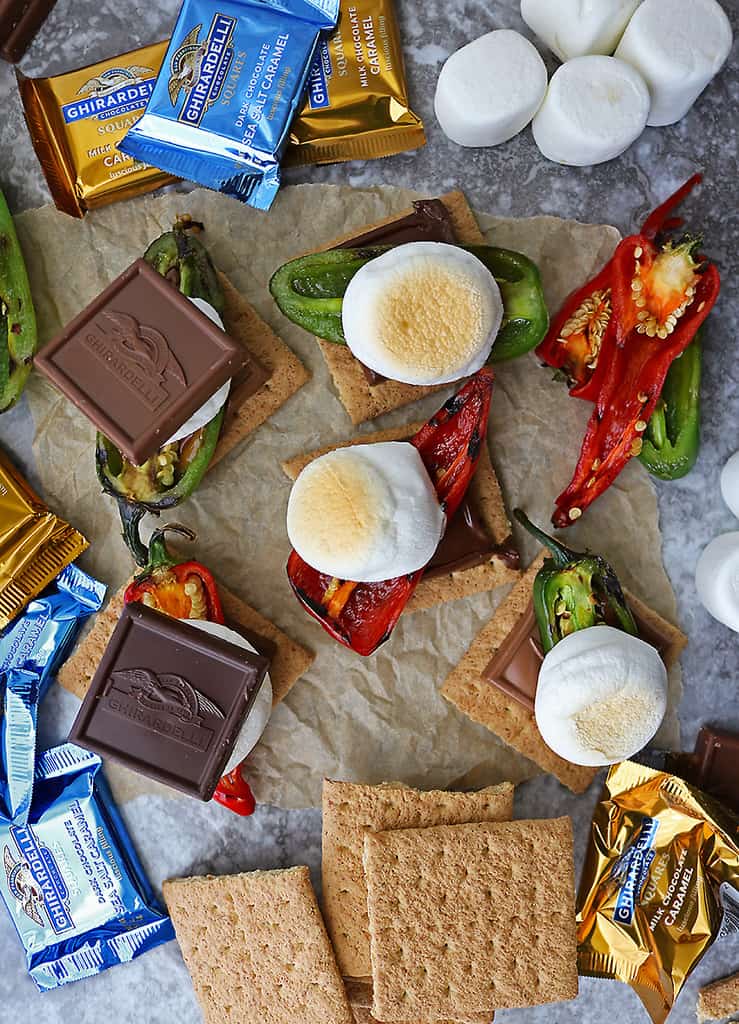 No matter how you choose to prepare your chilies/jalapeños, to me, they added a lovely hint of heat that seemed to balance off the sweet chocolate and marshmallow, beautifully. The graham crackers were the ultimate unifiers of this delicious sweet and spicy combo.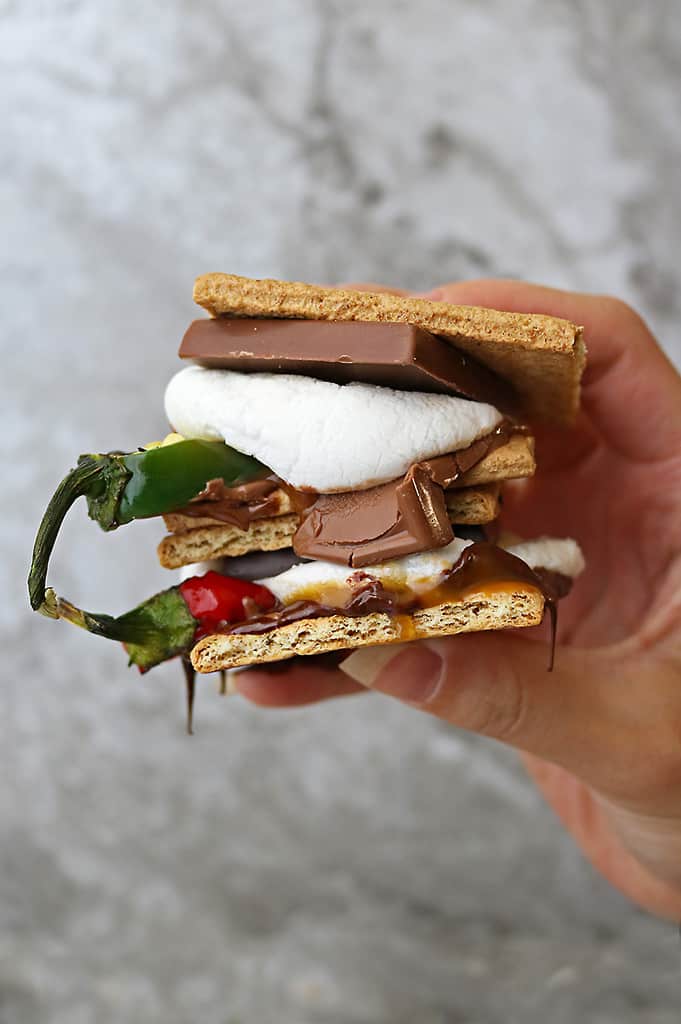 if you are a fan of the sweet and spicy combo of flavors, then you gotta try this! Please do let me know your thoughts on these spicy baked s'mores in the comments below. Or, tag a photo of your creation with @savoryspin #savoryspin on Instagram or Pinterest.