Rich and creamy, this Easy Harissa Tofu Curry is made with only 8 main ingredients. This dairy-free curry is delicious served with some fragrant yellow rice or Sri Lankan roti.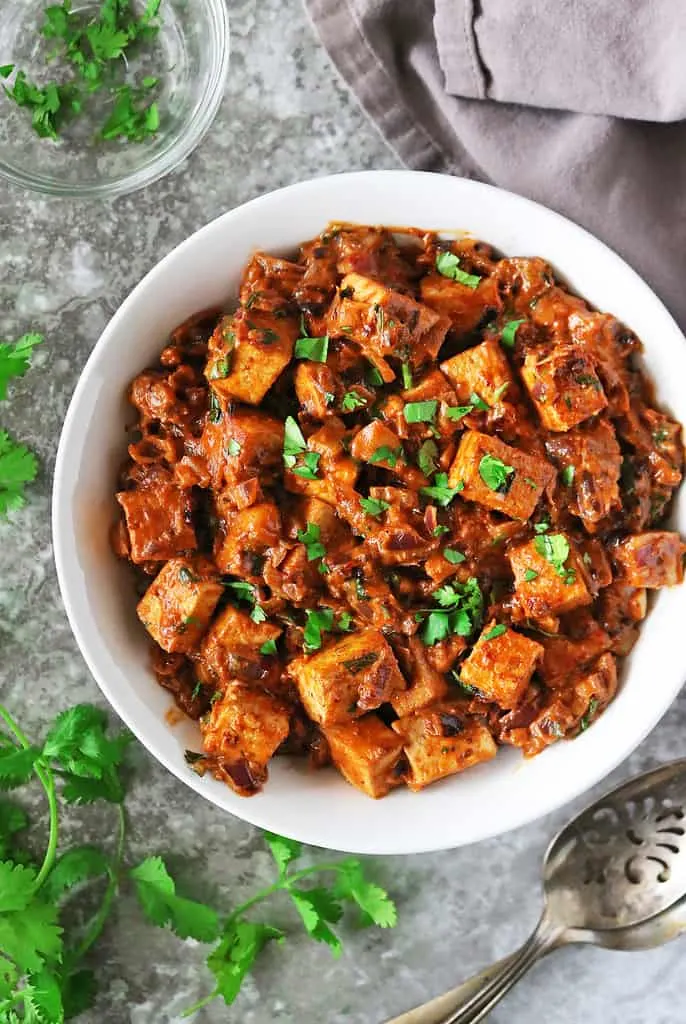 This Easy Harissa Tofu Curry is made with eight ingredients you can find at most grocery stores. In this curry, sauteed onions, ginger, garlic, and tofu are simmered in a coconut milk sauce infused with tomato, harissa, and cayenne. This curry is best enjoyed with a bowl of yellow rice or some coconut roti.
In my younger years, I did not consider rice and curry as my comfort food. But, as I have gotten older, I find myself adopting the traditions of Sri Lanka, the country of my youth. In Sri Lanka, rice and curry are an ideal match and are often enjoyed at several meals during the day.
My mom still has fragrant basmati with just about every meal. Somedays, rice is even consumed at breakfast ~ in the form of "kiribath." And, then for any celebration, she will always have some yellow rice, similar to this yellow rice, on hand.
---
This past Sunday, I joined my hiking group for what turned out to be a 9.2-mile gluteus-maximus-challenging uphill hike. And, the thought of coming home to a big warm bowl of yellow rice, beet curry, and this harissa tofu curry, helped me stumble along on that hilly hike.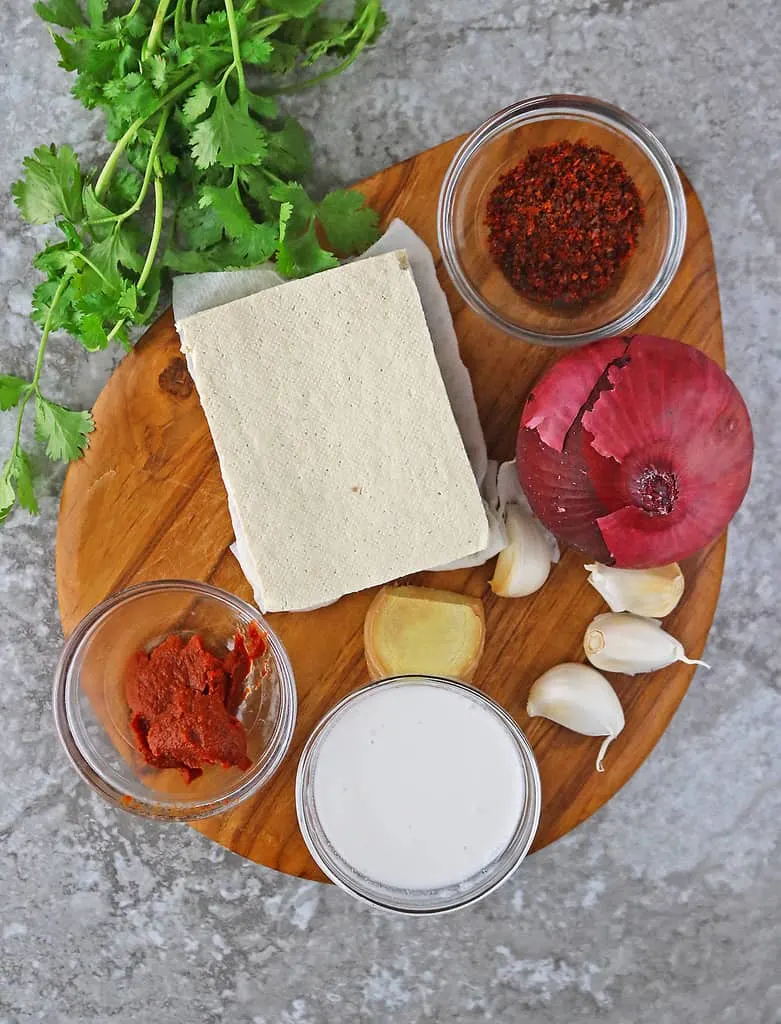 What are the ingredients to make this harissa tofu curry?
I used the following 8 ingredients to make this curry:
• Red onion
I like to use a medium to large red onion in this curry. But, if you cannot find any red onion, then a yellow onion would work as well.
• Ginger
When it comes to curries, I love to add a nice chunk of fresh ginger into them. The flavor is simply delicious. And, fresh ginger adds a nice gut-helping, nutritional boost to this curry as well. If you cannot find fresh ginger, a lot of stores sell peeled and minced ginger, and you can use an equal quantity of that. However, I would not recommend using powdered ginger in this recipe.
• Garlic
Just like with fresh ginger, I always use fresh garlic. And most stores sell peeled and minced garlic in their produce section. Like I mentioned with the ginger powder, I would not recommend the use of powdered garlic in this curry. It simply does not add the same type of flavor as fresh garlic does.
• Tofu
I used extra firm tofu in this curry. It holds its shape well even in curry.
• Harissa
Harissa is a popular Tunisian spice that is usually a blend of other spices such as smoked paprika, cumin, coriander, garlic, onion, and spearmint in addition to chili powder. I used https://www.nyshuk.com/shop-shuk/fiery-harissa-spiceNew York Shuk's Fiery Harissa in this recipe. By the way, they didn't pay me to say that. They are just one of my favorite brands. But, you can use the brand of harissa you find at your grocery store.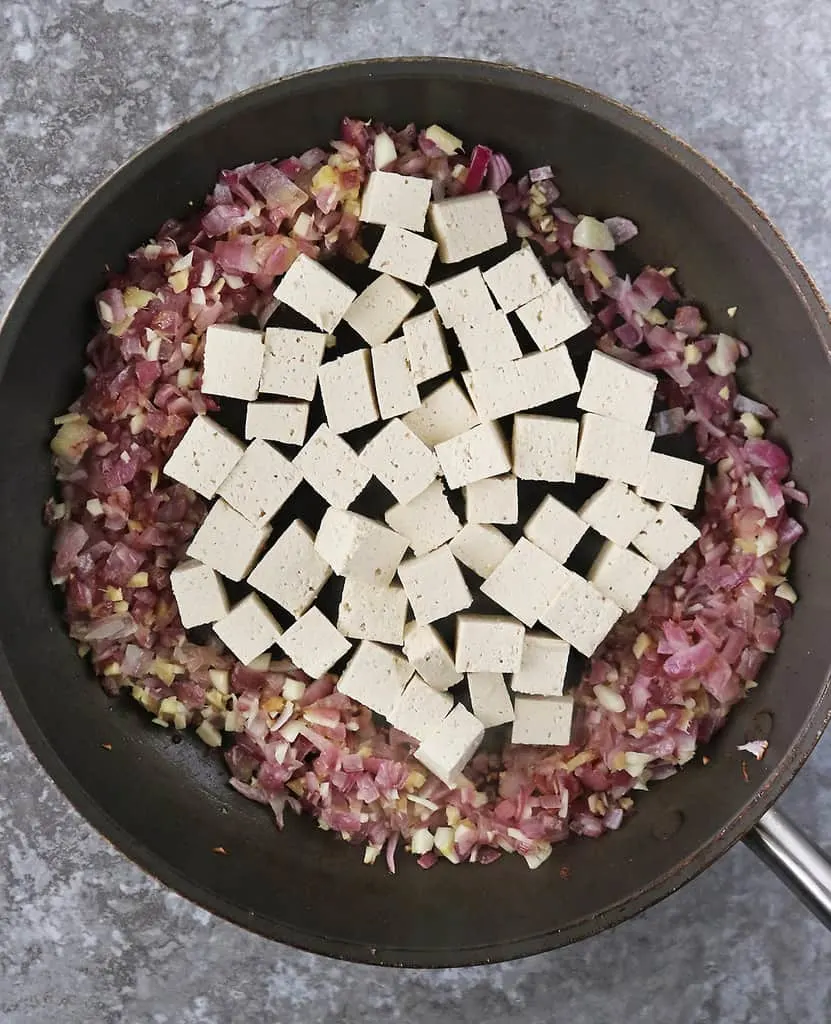 • Cayenne
I like a spicy kick to my curries, so I used a bit of cayenne. However, this is one of the ingredients on this list that is optional and can be left out, if you prefer a more mild harissa curry.
• Tomato Paste
Tomato paste adds color and flavor to this easy curry.
• Coconut Milk
I used unsweetened coconut milk in this recipe. I used one of the store brands that are sold in the dairy section along with the other milk. But, I have also made this recipe with almond milk and cashew milk as well.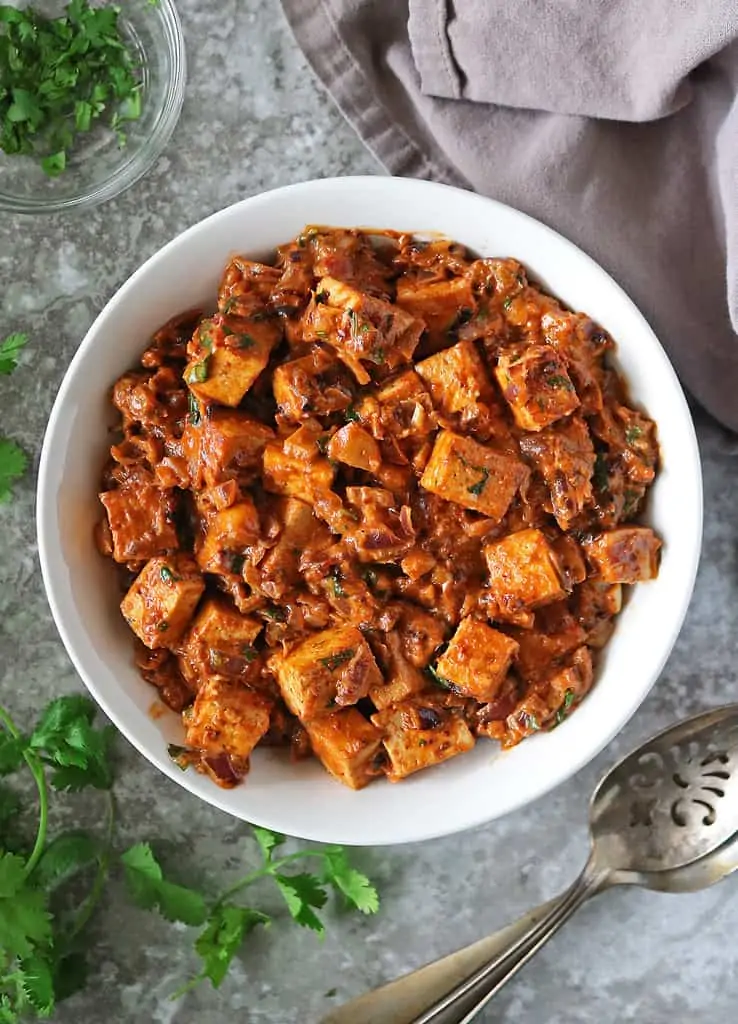 Tips when making this Harissa Tofu Curry:
Saute the onion, ginger, and garlic
Sauteing the onion, ginger, and garlic might add an extra 10 minutes to making this curry, but the flavor boost is incredible so do not skip over this step.

Dry the tofu
Make sure the tofu is well dried. I usually wrap it in some paper towels and a kitchen towel to remove as much liquid as I can so it is prepped to absrb the flavors it will be surrounded by and brown well.

Brown the tofu
After the onion, ginger, and garlic is sauteed for about 10 minutes. I usually push them to the side of the pan and add the cubed tofu into the middle part of the pan. Then, I let the cubed tofu saute on medium high heat for about 3-5 minutes until the tofu cubes have a nice golden brown hue. I do my best to flip them over to another side and repeat the process. I usually repeat this about 3 times. The browned tofu holds its shape beautifully in the curry and adds a bit of texture as well.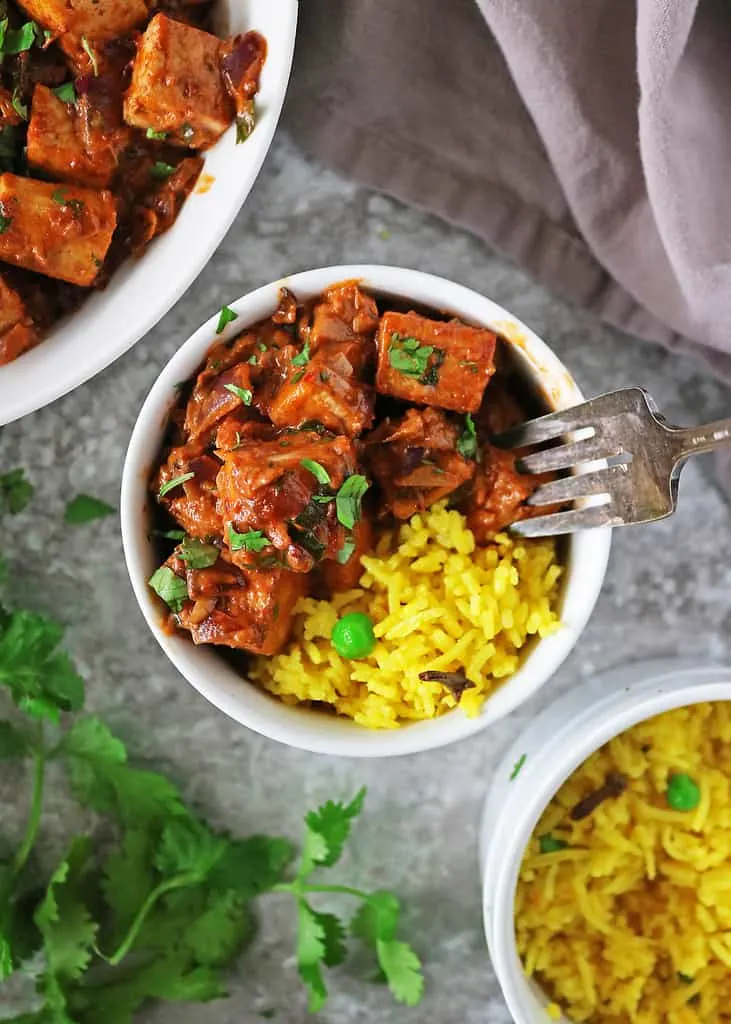 What to serve with this curry?
I quite enjoy this curry with yellow rice and some beet curry.
This Harissa Tofu Curry can also be served with roti, some jackfruit balls, and some apple chutney.
Or, you could serve it with some rice, some canned lentil curry, mango chutney, and some croquettes.
Thanks so much for stopping by. If you make this recipe, please let me know in the comments below what you think of it, or tag your creation on social media with @savoryspin or #savoryspin. For more fusion, spice-filled, recipe ideas, please subscribe and follow me on Facebook, Instagram, and/or Pinterest!