This One-Pot Chickpea Potato Spinach Sauté is a simple and satisfying dish that calls for 10 easy-to-find ingredients. This dish is a favorite in my home and I am hoping it will be in yours as well.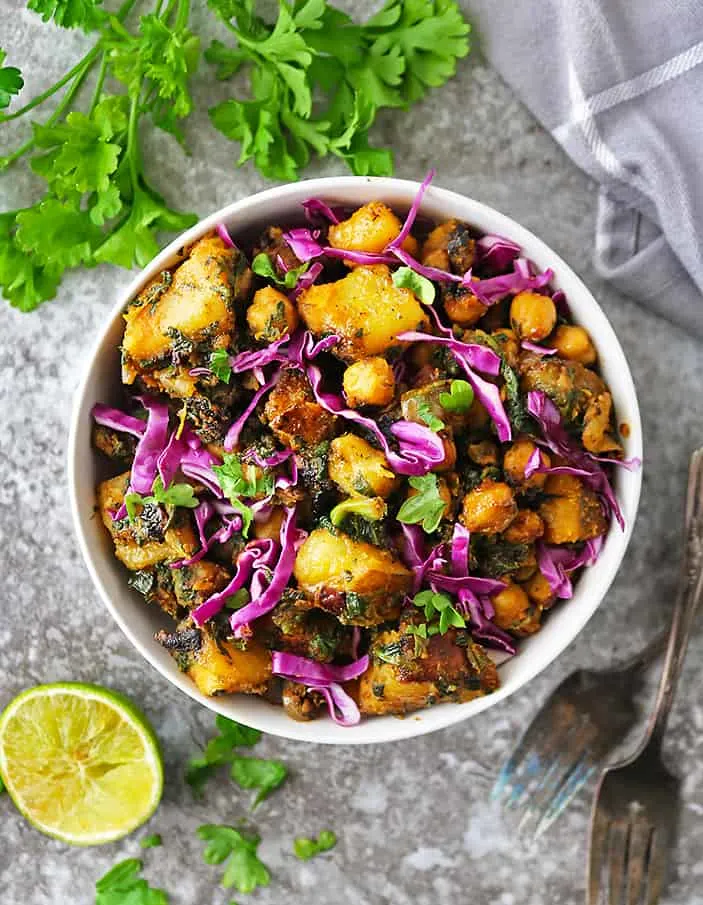 Potatoes are my ultimate comfort food. So, when I am craving a warm comforting meal, I usually combine potatoes with some sort of beans, greens, and a bunch of spices in one pot ~ like I did when making this version of a One-Pot Chickpea Potato Spinach Sauté.
If you love potatoes as much as I do, you are going to love this recipe. This is a quick, satisfying, meal that is easily adaptable to accommodate your taste.
I like to use a handful of spices along with onions, ginger, and garlic to flavor this dish. In the recipe you see here, I've used a combination of coriander, turmeric, and smoked paprika.
However, there are other times when I use 2-3 teaspoons of ras el hanout or berbere instead – like I did here.
A little tidbit about ras el hanout…
Popular in Moroccan cuisine, "Ras el hanout" in Arabic is said to mean "head of the shop." The significance of its meaning is that it was a combination of the best spices in a shop. As a result, each blend of ras el hanout can differ greatly from each other.
Most times, ras el hanout is a mixture of coriander, cumin, turmeric, cardamom, clove, cinnamon, nutmeg, dry ginger, chili peppers, sweet and hot paprika, and fenugreek.
A little tidbit about berbere…
With its origins in Ethiopia, "berbere" is said to mean "pepper" or "hot." Like ras el hanout, berbere is also a blend of spices and each blend can differ greatly.
Usually, berbere tends to be a mix of red chili peppers, fenugreek, ginger, coriander, cardamom, allspice, cumin, peppercorns, clove, cinnamon, and ajwain.
In addition to using ras el hanout and berbere in versions of this One-Pot Chickpea Potato Spinach Sauté, I also enjoy using them in incredibly satisfying dishes like this chicken and this vegetarian one.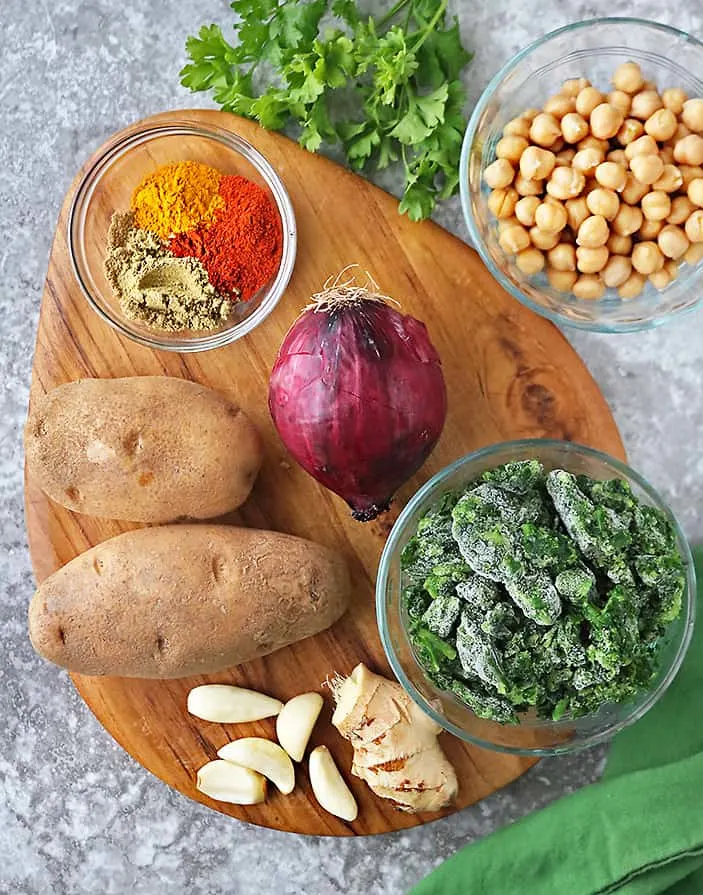 But, coming back to this One-Pot Chickpea Potato Spinach Sauté, I make this recipe quite often. I usually keep the main three components of potatoes, chickpeas, and spinach unchanged. Though sometimes I might use frozen spinach and other times fresh spinach. There are also times I use canned chickpeas and other times I use dried chickpeas. But, as I mentioned before, I vary the spices I use often. Each one of the spice combinations I mentioned results in an incredibly flavor-packed dish.
Today's recipe focuses on easy-to-find spices like coriander, smoked paprika, and turmeric. Combined with lightly sautéed onions, ginger, and garlic, they make a simple blend of potatoes, chickpeas, and spinach into a tasty and satisfying meal.
What are the 10 ingredients needed to make this one-pot chickpea potato spinach sauté?
This dish is made with the following ingredients:
1) red onion,
2) ginger,
3) garlic,
4) potatoes,
5) chickpeas,
6) spinach,
7) coriander,
8) turmeric,
9) smoked paprika, and
10) parsley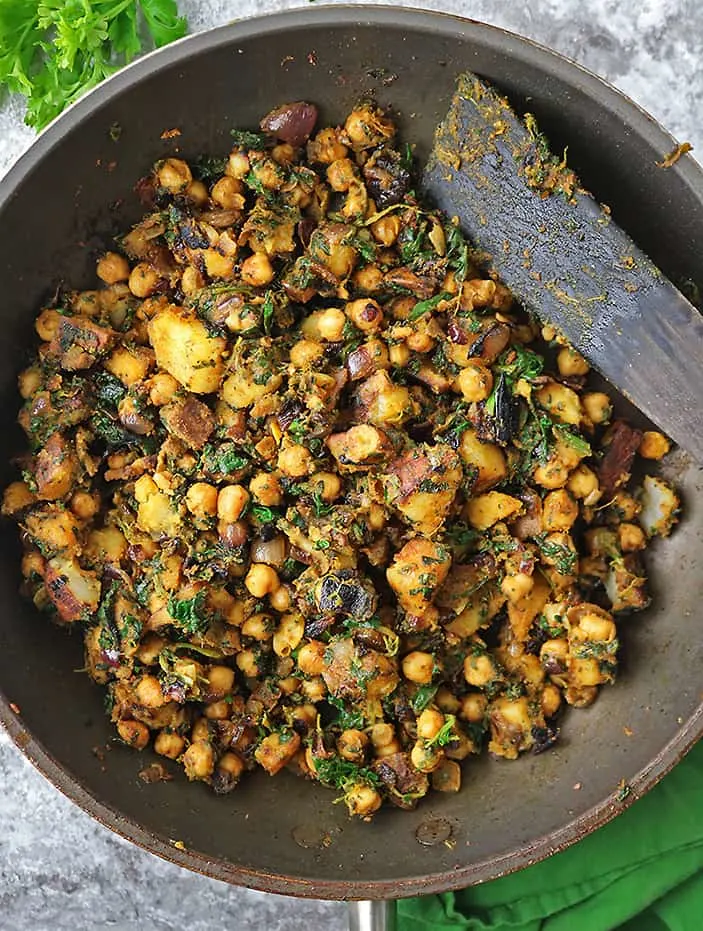 Substitutions:
The potatoes you use can be any yellow potato. You could also use sweet potatoes but the overall flavor of this dish will be slightly changed.
If chickpeas are not your favorite, substitutions I have used and loved are black beans, pinto beans, and red kidney beans.
However, if you would rather add chicken to this instead of a plant-based protein, then make sure to cook the chicken before you cook the potatoes and spinach. What I usually do is saute the onions, ginger, and garlic for about 10 minutes. Then I push them to the side of the pan and add the cubed chicken to the center of the pan and sauté it until it's cooked through. Then I add in the potatoes, spinach, and spices.
Instead of spinach, you can use kale or any other leafy green you prefer. There have been times when I threw this dish together with the ingredients I had on hand. Sometimes, I have not had spinach or any other leafy greens on hand. But, I usually always have some frozen peas hanging out in my fridge and I have used this instead.
If you happen to have some ras el hanout or berbere on hand and want to use either of those instead. Then instead of the coriander, turmeric, and smoked paprika, add in 2-3 teaspoons of either the ras el hanout or berbere. I say 2-3 teaspoons as it all depends on your taste. If you love giving your food a spicy kick add in 3, if you would like a hint of spice, then add in 2.
By the way, when I say "spice" or "spicy" I am referring more to flavor and not how tongue scorchingly hot a dish might be.
There have been times when I have also added in a chopped carrot and some diced celery to this dish.
Sometimes I eat this hot off the pan. Other times I toss in some purple cabbage for some added crunch and a generous squeeze of lemon juice for a bit of a citrus kick.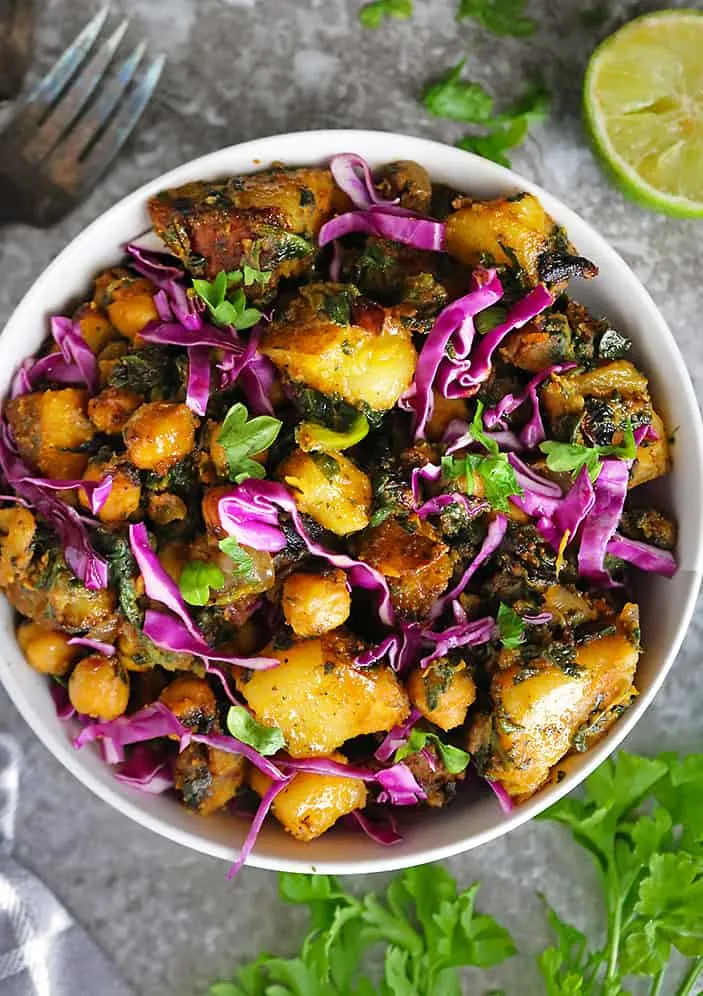 This is a versatile dish that is my go-to when I am craving comfort. I am hoping you give this recipe a try.
If you do, I would love to know what you think of it. So, please do let me know in the comments before if you plan on making this or have already made it. If you would like more recipes like this, make sure to follow me on Instagram or Facebook!