I've partnered with Eckrich to bring y'all these Easy Zucchini Sausage Flatbread, as always, all opinions are my own. Thank you for supporting the brands that keep this blog spinning.
After tasting this Easy Zucchini Sausage Flatbread, my daughter suggests we start a family tradition of Flatbread Friday ~ check out the recipe and let me know if you will be joining us?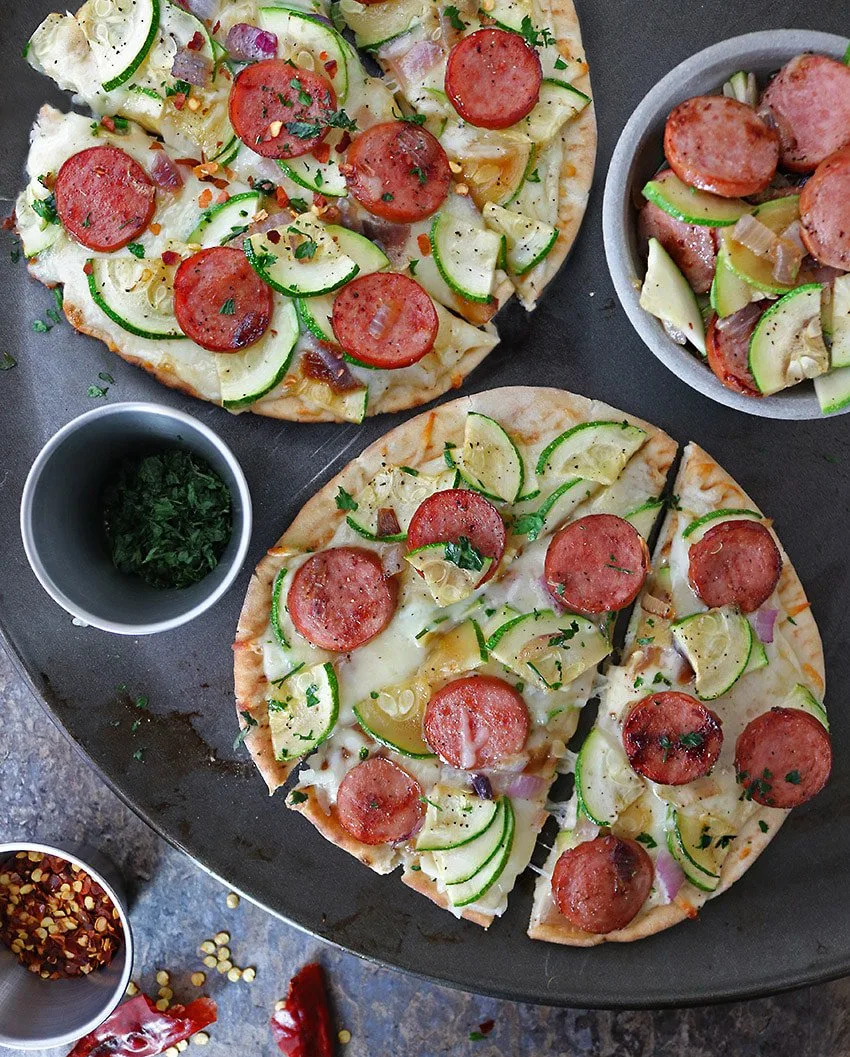 There was a time when I was meal prepping like a boss!

But these days I seem to have lost the prep in my meal prepping game.

And, some evenings, after I get off work from my daytime gig, and rush to a photo shoot at a local restaurant, I end up with little time and motivation to throw together an elaborate dinner when I get home.
Those are the evenings when it's tempting to hit up the frozen section or the deli section at the grocery store – but, those are also the evenings when I am too tired to make one more stop before getting home.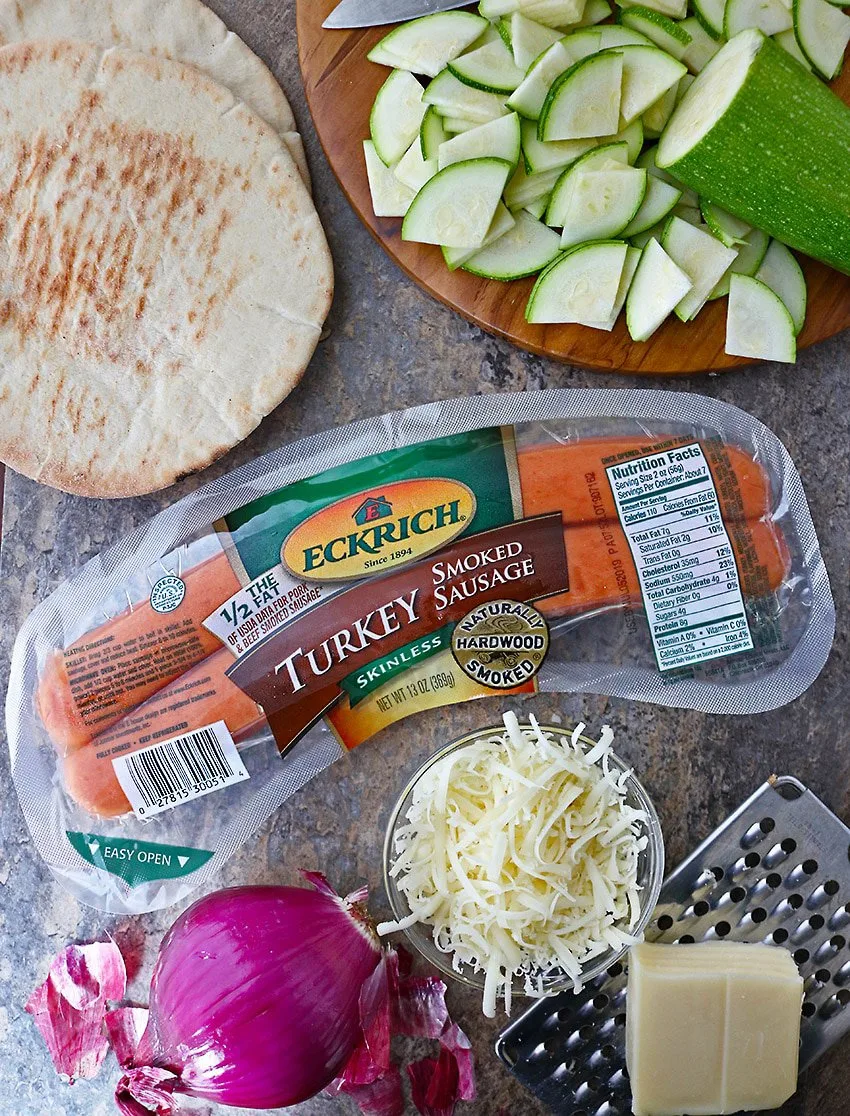 So, what's a gal to do on those evenings?

Well, on evenings like those, I prod around the insides of my refrigerator to see what I have and whip up something easy ~ like these Easy Zucchini Sausage Flatbreads.
While prodding around my refrigerator (the evening I ended up making these Zucchini Sausage Flatbreads) I was a bit flummoxed when I realized that I was out of ginger and garlic – part of the threesome that add so much flavor to just about every recipe that comes out of my kitchen.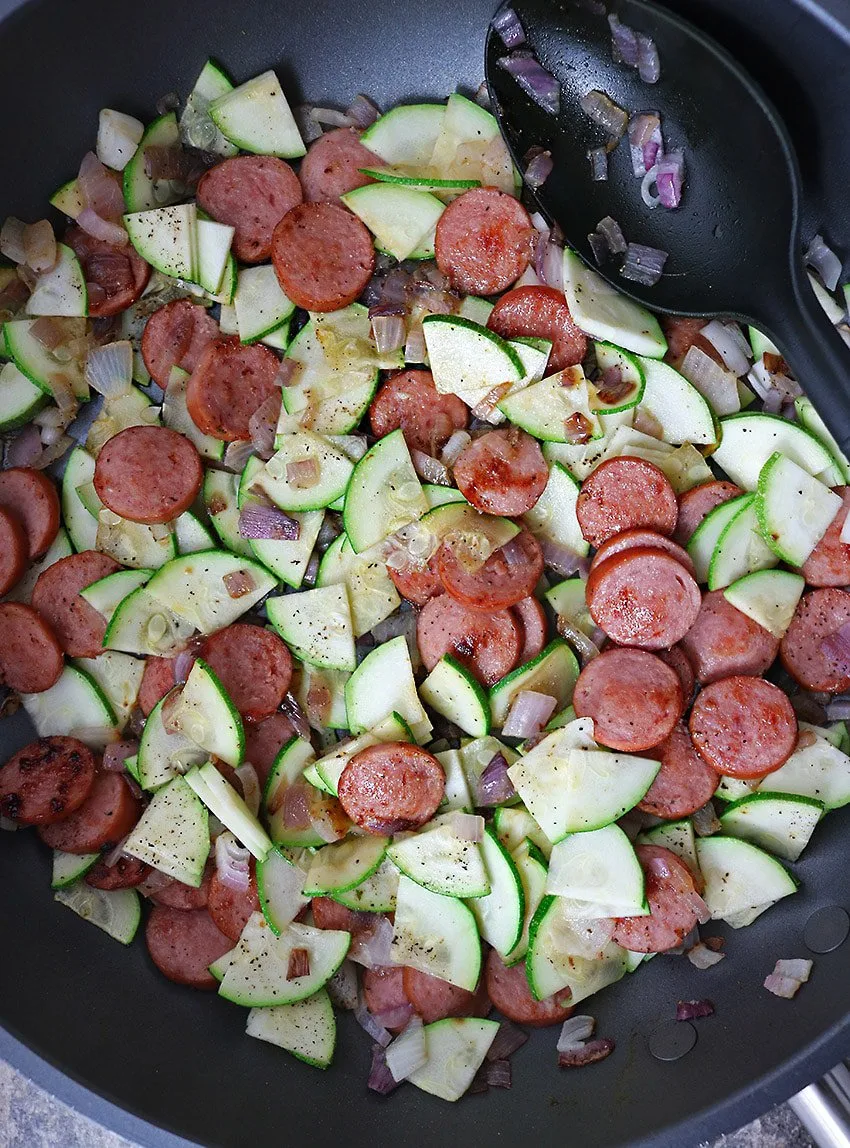 I ended up finding some Eckrich Turkey Skinless Smoked Sausage Rope in the back of my refrigerator (I love this stuff and often enjoy it in this breakfast saute too) and decided to sauté it up with the last onion I had and some zucchini. That Eckrich Turkey Skinless Smoked Sausage added so much flavor to this simple sauté, I didn't even miss the garlic or ginger. I actually didn't even need any added salt for this saute.

In fact, I wanted to make this a meal, but, my daughter suggested we throw this zucchini sausage sauté onto some pita bread along with some mozzarella for a filling and scrumptious spin on this sauté, and these Easy Zucchini Sausage Flatbreads were born.
Luckily, with Eckrich – no recipe is no problem! Crafted with just the right blend of spices for a rich, savory taste, and pre-cooked so all you have to do is heat and eat, Eckrich Naturally Hardwood Smoked Sausage can be paired with whatever you have on-hand in the fridge or pantry for a fast, fool-proof meal that your family and friends are sure to love.
Plus, with a variety of delicious flavors and forms including Original Skinless Smoked Sausage Rope, Polska Kielbasa Skinless Smoked Sausage Rope, Turkey Skinless Smoked Sausage Rope, Cheddar Smoked Sausage Links, and Jalapeno & Cheddar Smoked Sausage Links, Eckrich Smoked Sausage is so versatile and simple to cook with, you can whip up a delicious, home-cooked breakfast, lunch or dinner at a moment's notice – no instructions (or plan) needed.

For more mealtime inspiration, product information, and where to buy, visit www.Eckrich.com.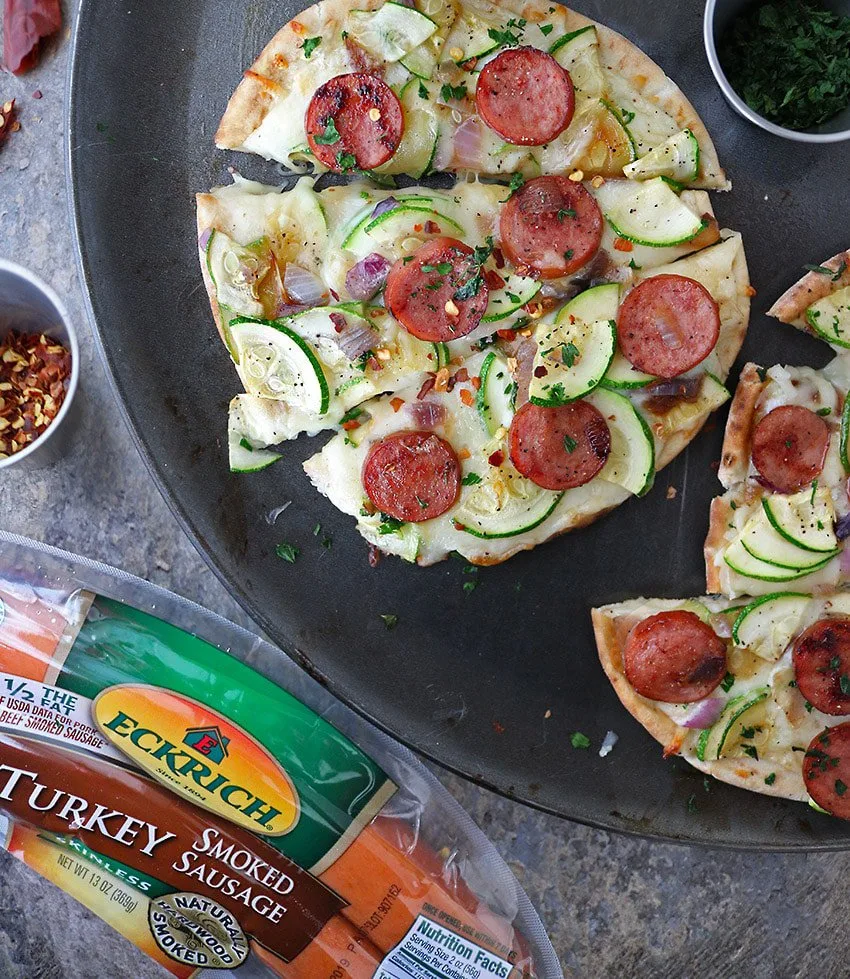 This recipe is so easy, and so tasty. And, the best part is, it really isn't even a recipe. You don't have to measure out the quantities you use. And, other than the Eckrich Turkey Skinless Smoked Sausage, you can change up the veggies you use too.

If you are not a fan of zucchini, sub it out for broccoli or bell peppers. Leave the onion out and throw in some mushrooms. Ditch the mozzarella for Gouda or your favorite cheese.

There really aren't any hard rules to this. Armed with Eckrich Turkey Skinless Smoked Sausage Rope, prod around your refrigerator for whatever veggie/cheese you may have, throw it onto some pita bread, or naan, or even flatbread and in no time, you can be enjoying a delicious meal.

My daughter loved these flatbreads so much, she is pushing for Flatbread Fridays in lieu of Pizza Fridays ~ with Eckrich Turkey Skinless Smoked Sausage!