Dishes like this Vegan Black-Eyed Peas Recipe with Greens Hash make clean-eating so easy and eating out so hard. Flavored with Berbere, this dish would make a tasty addition to your New Year's tradition of black-eyed peas and greens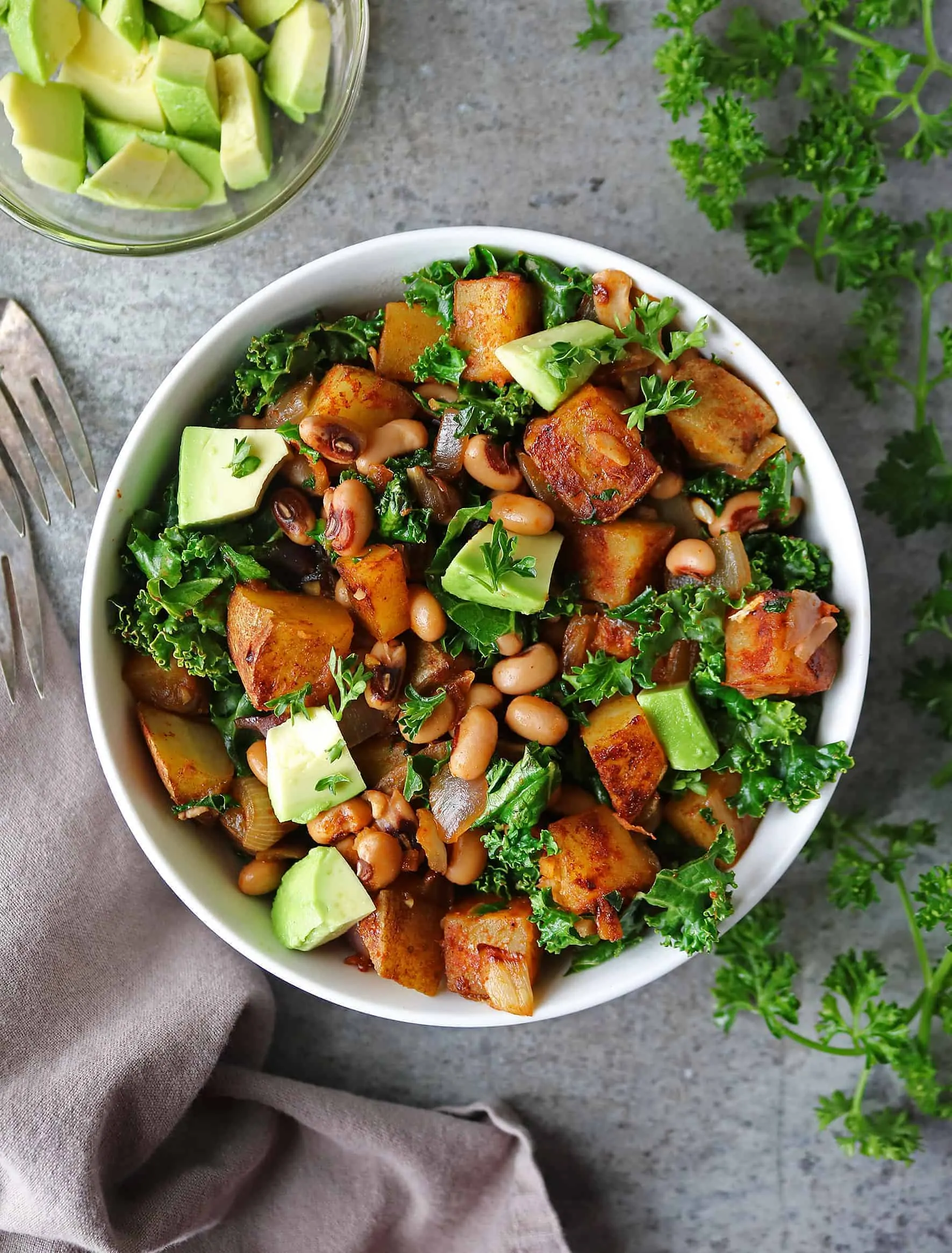 Growing up in Sri Lanka we had a plethora of traditions for New Year's Eve and for New Year's Day.
Unfortunately, I don't remember all of them. But I recall my mom coaxing us to help her and my dad clean up the whole house on New Year's Eve and take all the trash out. She would say that we didn't need to take trash (literal and figurative) from the old year into the new one.
Then on New Year's Day, I remember starting the day off with Kiribath. Kiribath is a traditional Sri Lankan rice dish made by cooking rice and coconut milk. It is like rice pudding, but not as runny as rice pudding is.
In the early days of my blog, I made a blueberry kiribath as well as a pumpkin spice kiribath which were so good that they made portion control hard.
Sri Lankan Kiribath is traditionally reserved for celebrations. It is supposed to denote prosperity and good luck – therefore, it is a staple at most New Year's Day breakfasts in Sri Lankan households.
After breakfast, we would exchange money with each other. The four of us would sit at the table and pass over the exact rupee amount to the family member to our right. My mom would say it was so that we took care of our family first.
I'm not one for superstition, but, to this day, I still clean my house and take out the trash on New Year's Eve. And, I exchange money with my daughter and close family on New Year's Day first.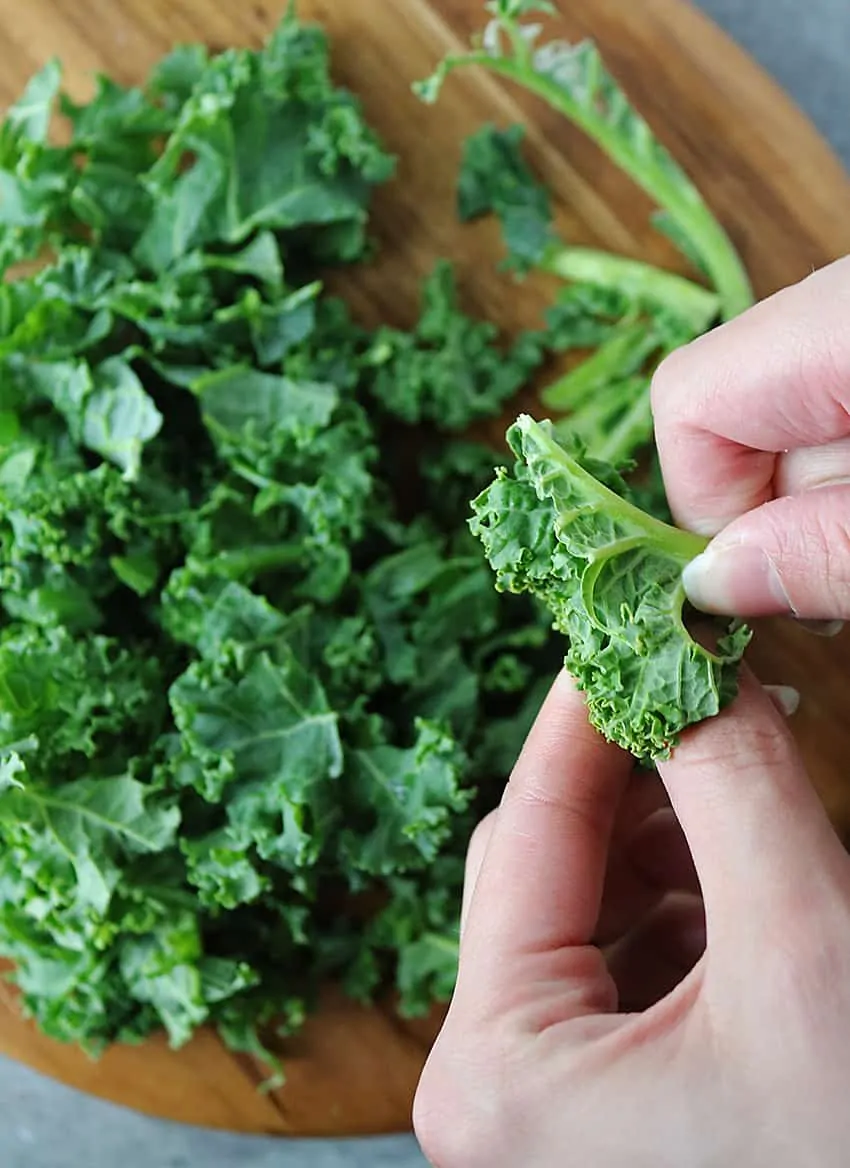 Since my mom moved to Atlanta almost a decade ago, we have added another New Year's tradition. My mom was the first of us to adapt the Southern tradition of enjoying black-eyed peas and greens on New Year's for Good luck.

So, these days, we seem to have replaced the Kiribath we used to enjoy with a black-eyed peas and greens recipe.
For past New Year's Day lunches, I have made: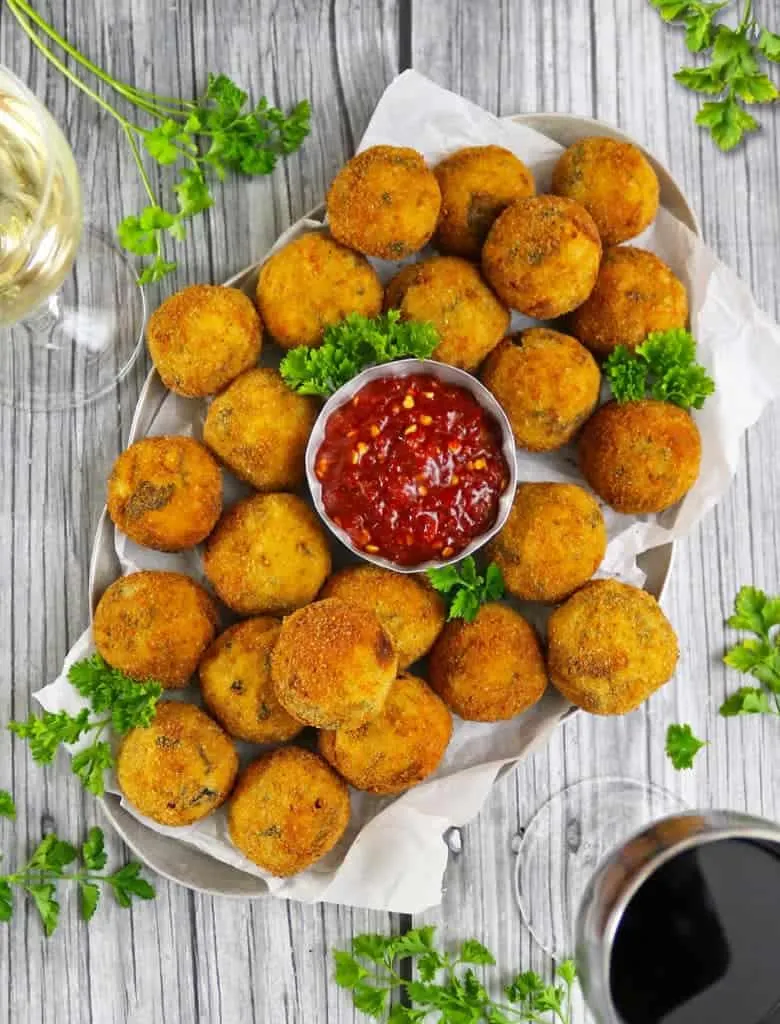 2) Black eyed peas and collard greens curry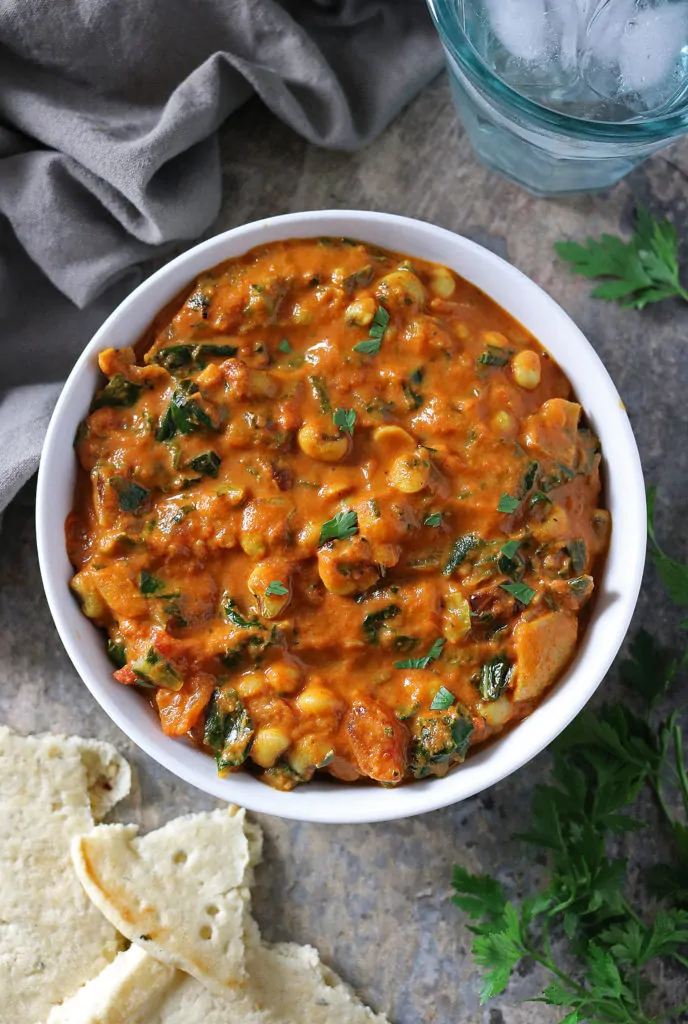 3) Black eyed peas and greens stuffed buns.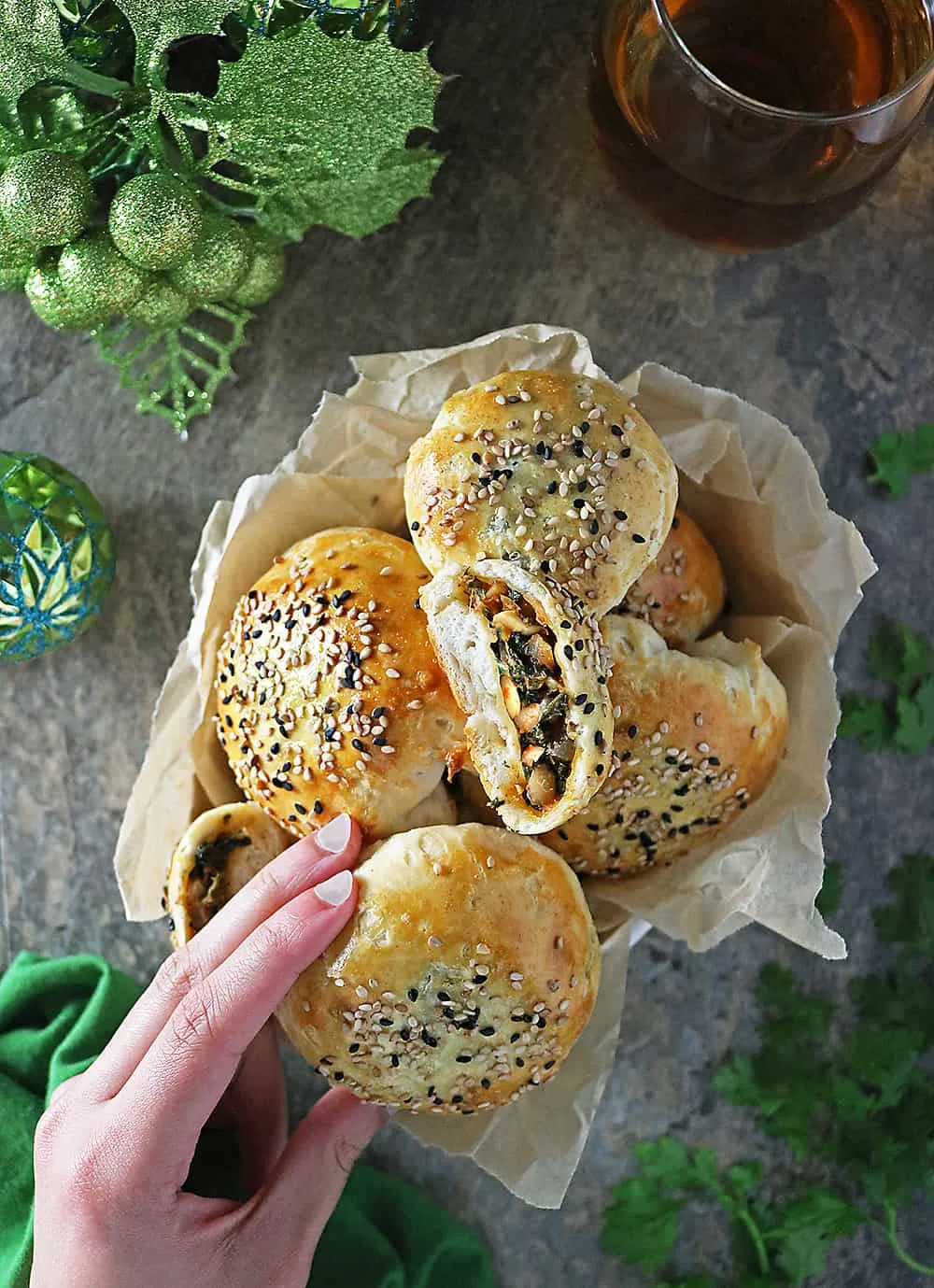 And, this year I have a super simple, vegan black-eyed peas recipe to share.
All you need for this recipe are:
Onion,
Ginger,
Garlic,
Can of black-eyed peas,
Kale (with the stems removed for texture and taste),
Vegetable stock, and
Berbere seasoning.
What is Berbere Seasoning?
Berbere is a robust and delicious Ethiopian spice mix that I grabbed at the Dekalb Farmers Market not too long ago. Berbere seasoning often includes chili powder, garlic, ginger, basil, coriander, cardamom, nigella, and fenugreek to name a few. It isn't burn-your-tongue-off spicy.

Berber adds such a delicious depth to whatever you add it too. It works just as well with meats as it does in vegetable sautés and vegan black-eyed peas recipes like this black-eyed peas and greens hash.
What is a substitute for Berbere?
In case you are skeptical of getting Berbere, you could add in a little chili powder, garlic, ginger, basil, coriander, cardamom, nigella, and fenugreek to your recipe. But, sometimes, it's harder to purchase the individual ingredients and much easier to head to Amazon and order yourself a small container of Berbere to try.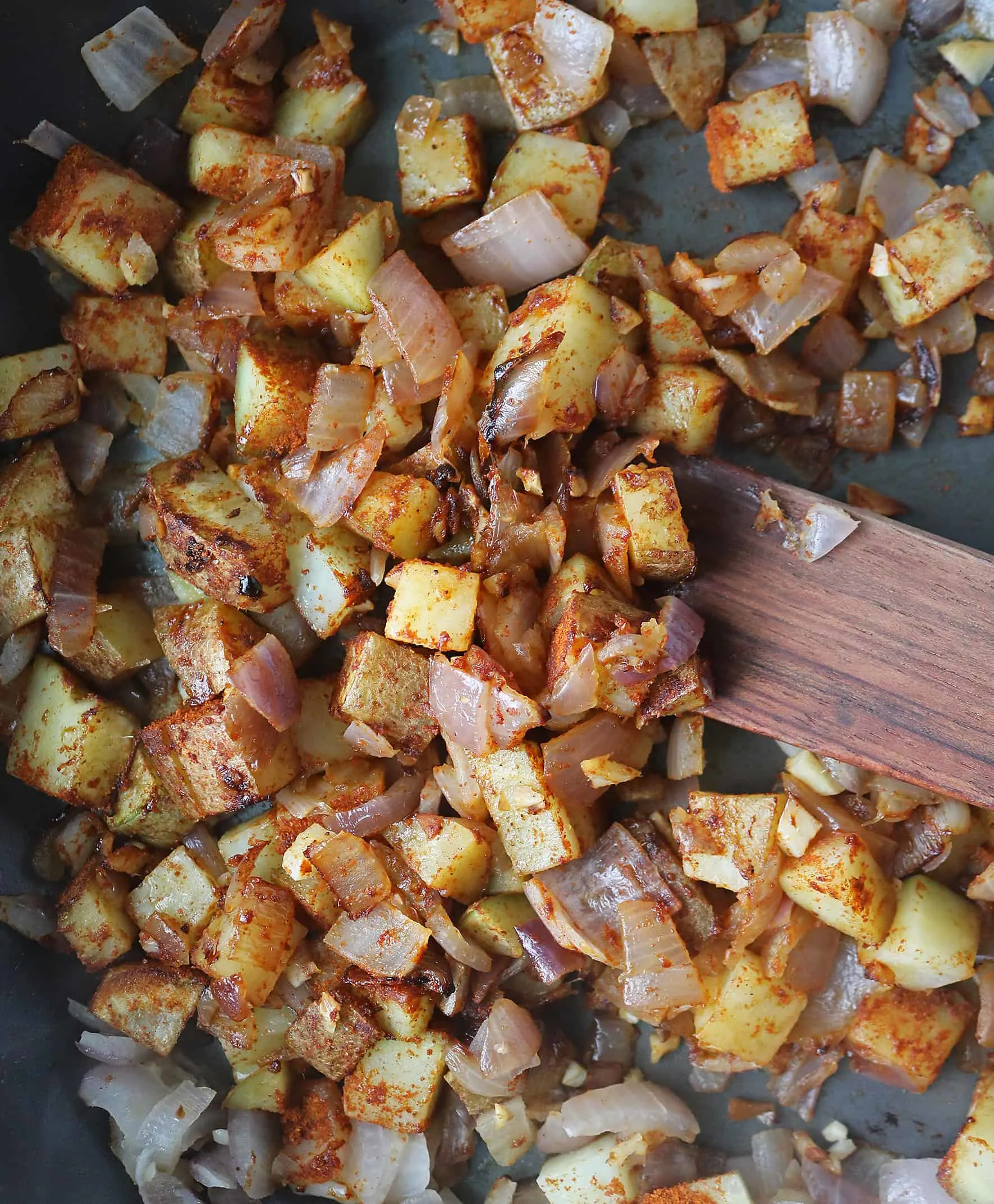 If you are looking to make dietary changes in the new year, then this plant-based dish is a tasty way to start. The unique spice combo of Berbere, fresh onions, fresh garlic and fresh ginger adds a major flavor punch without adding in extra fat or added calories.

Dishes this flavorful leave me incredibly satisfied and make it so easy for me to choose to cook and enjoy a home-cooked meal than picking some less tasty, less satisfying and less wholesome takeout meal.
This Vegan Black-Eyed peas and Greens Hash is a winner not only because it is so tasty and satisfying, but it is an incredibly versatile dish to whip up. If you would rather use dried and soaked black eyed peas, please feel free to do so.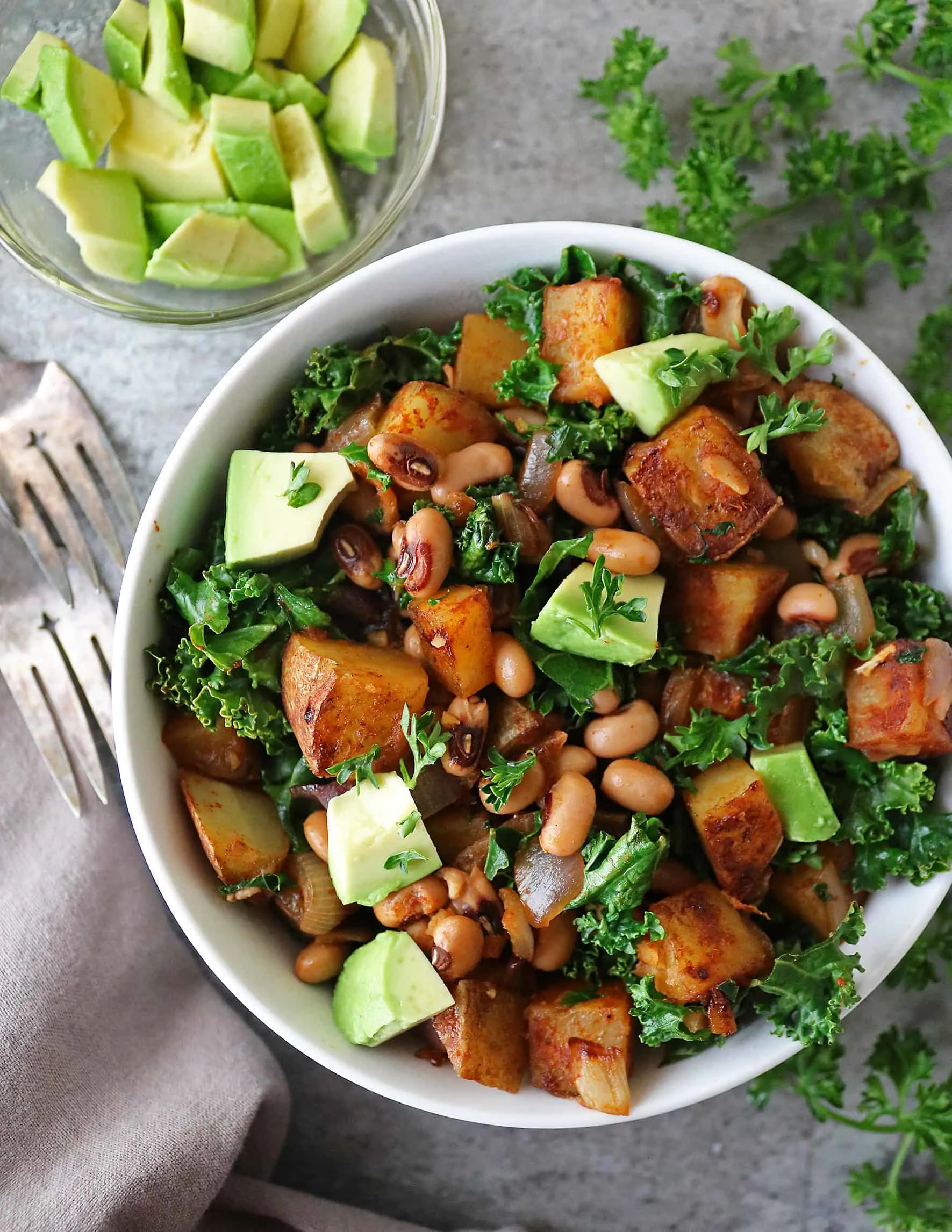 You don't have to pay attention to exact measurements for this recipe and you can sub in spinach instead of kale or chickpeas instead of black-eyed peas and enjoy this dish anytime and not just for New Year's Eve – unless you love black-eyed peas and kale!
I am going to stop ranting on and on now and say, I hope 2020 is filled with peace, health, happiness, success, love and wholesome, tasty eats like this wholesome, clean, Vegan Black-Eyed peas and Greens Hash!

Happy Healthy Eating Y'all ~ I'm so grateful for all of y'all that made and shared my recipes through 2019 and filled my inbox with sweet messages.