"By posting this recipe I am entering a recipe contest sponsored by USA Rice Federation and am eligible to win prizes associated with the contest. I was not compensated for my time."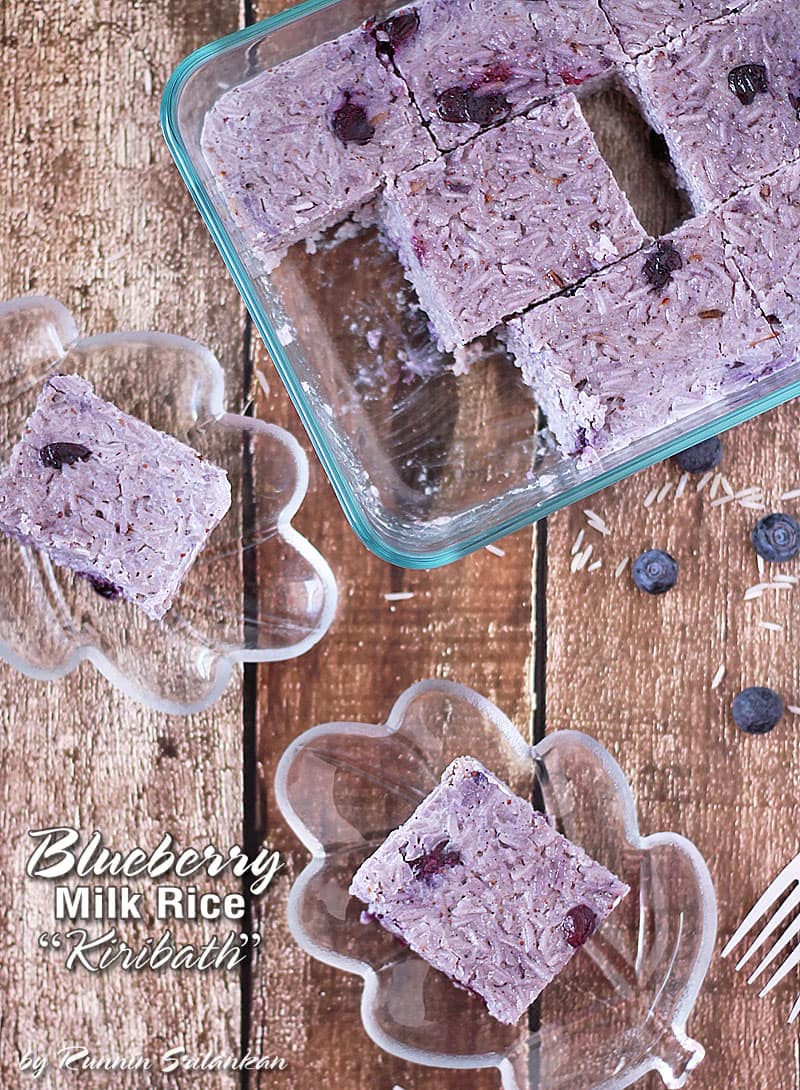 "Kiribath", pronounced key-ree-bah-th is a traditional Sri Lankan savory dish made with "kiri" or milk, and "bath" or rice; and, it is one of the few Sinhalese words I don't need my mother to translate! Even though, once upon a time, I could speak and write Sinhalese (a native language of the largest ethnic group in Sri Lanka), these days, most of it just baffles me.
While I might not recall most of the Sinhalese I knew, I don't have any problem remembering the dishes of my childhood…priorities right?! And..it also helps that…just about every weekend when we visit my mom, she has some of her famous dhal (lentil) curry, or yellow rice, or chicken curry, or kiribath, waiting for us!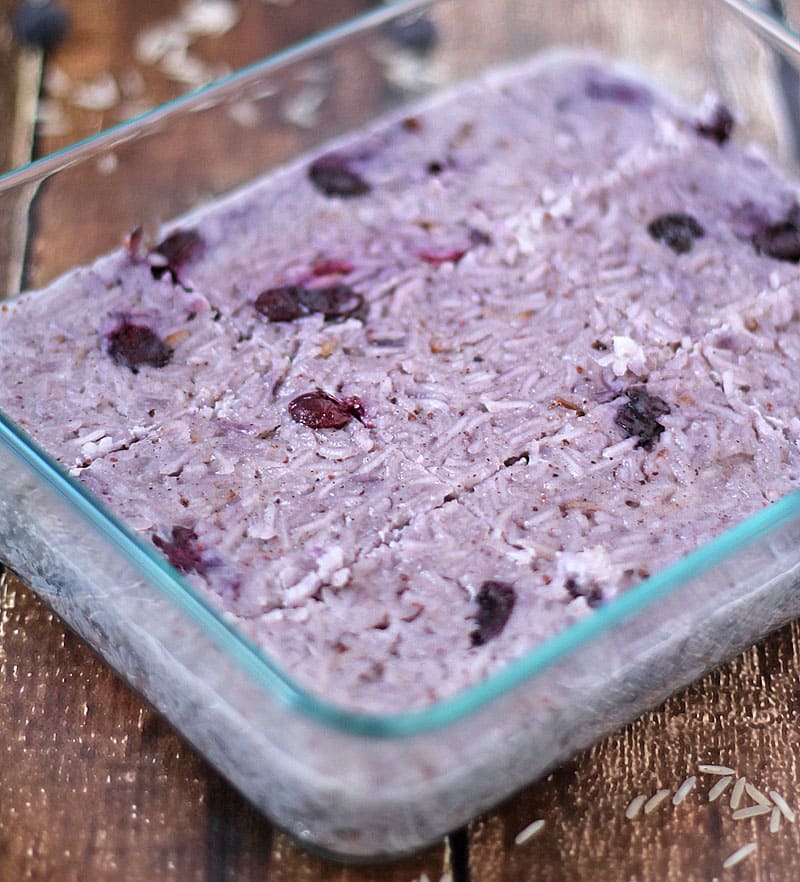 After many failed attempts to recreate my mom's version of kiribath, I decided to put my own twist on it.
Traditional Kiribath is a savory dish, usually made with coconut milk, water, rice, and salt; it is usually eaten with a spicy coconut sambol called "pol sambol".
[Tweet "Blueberry Milk Rice aka "Kiribath" @RunninSrilankan @eatusrice"]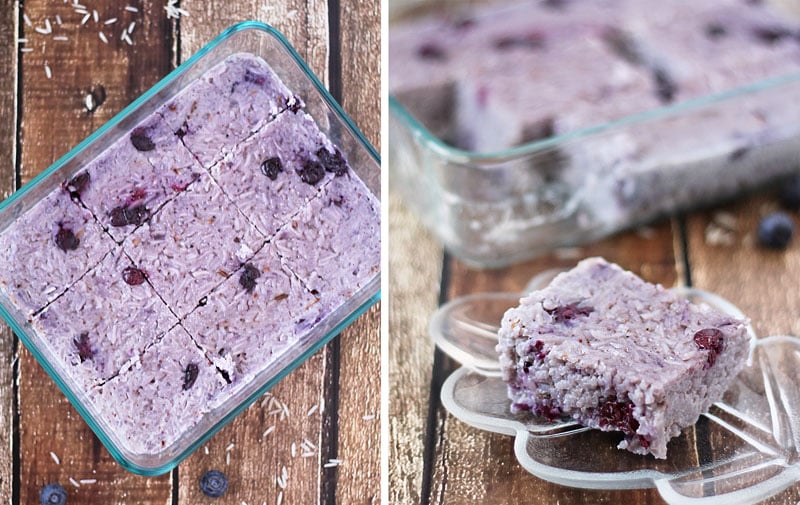 However, seeing I have this huge sweet tooth, I figured I would make a slightly sweetened version – with honey and blueberries; though, if you happen to prefer raspberries or blackberries or even strawberries, I think they would work just as well. I also boiled the rice in a mix of coconut milk and water, while traditional kiribath has the coconut milk added in after the rice is semi-boiled in water first. Much like traditional kiribath, I did let my blueberry version cool (somewhat) before cutting it into squares.
This creamy, slightly sweetened, blueberry flavored "kiribath" helps you enjoy rice in a convenient and portable form for breakfast or even a quick pick-me-up snack – anytime!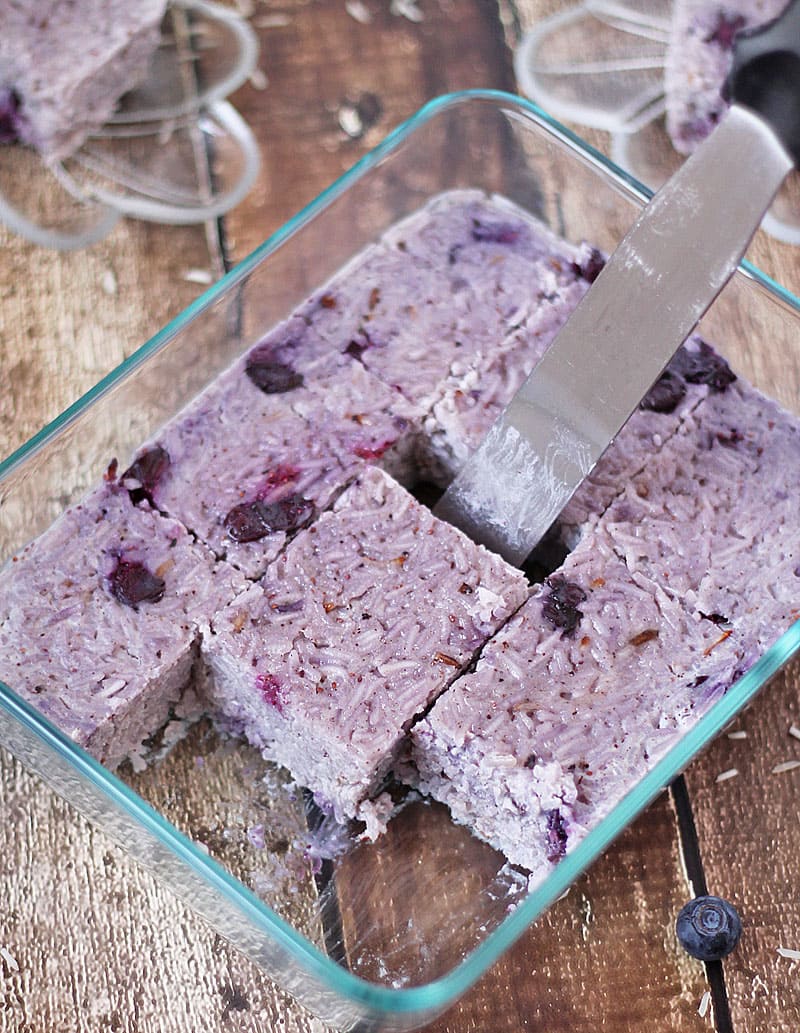 Naturally sodium-, cholesterol-, trans fat- and gluten-free, rice is a budget friendly option that pairs well with just about everything – whether it be seafood, lean protein, vegetables, or fruits – as in this kiribath!
Even though rice is a staple in our home, I never really thought much about it's benefits and some facts just blew me away – so, in honor of it being National Nutrition Month, here are some interesting facts about U.S.-Grown Rice that might help you "Think-Rice" too…
• U.S.-grown rice is the least allergenic of all the grains out there!
• U.S.-grown rice is quite nutrient dense with over 15 vitamins and minerals including folate, iron and zinc!
• Consuming U.S.-grown rice triggers the neurotransmitter serotonin in the brain which helps regulate and improve our mood!
• Research has shown that rice eaters happen to consume less sugar and saturated fat than people who do not eat rice.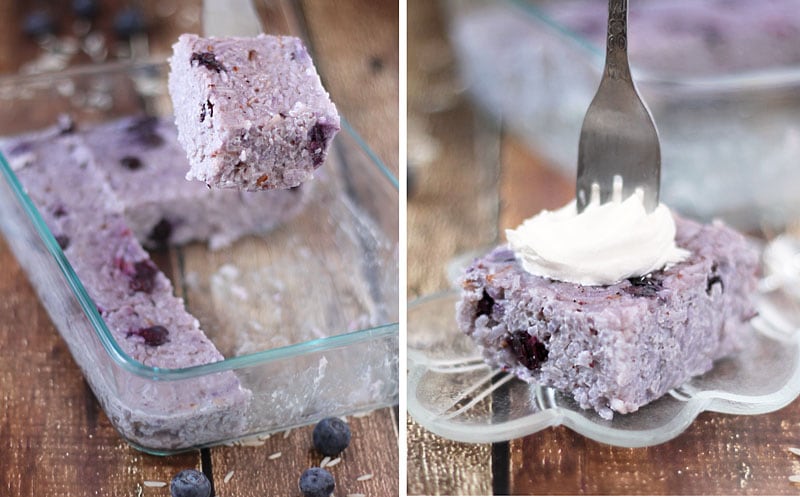 "If you're looking for a nutritious, sustainable, safe, locally-grown, and GMO-free food, "Think U.S.- Grown Rice."
Want to learn more about the benefits of U.S.-grown rice? Or, looking for more recipes with rice?
Please visit the U.S.A Rice Federation >HERE< • Like them on Facebook • Follow Them on Twitter
An InLinkz Link-up