Made with frozen okra, this is one easy curry to cook up in a hurry. Delightfully flavorful and aromatic, this vegan okra curry needs only 11 easy-to-find ingredients.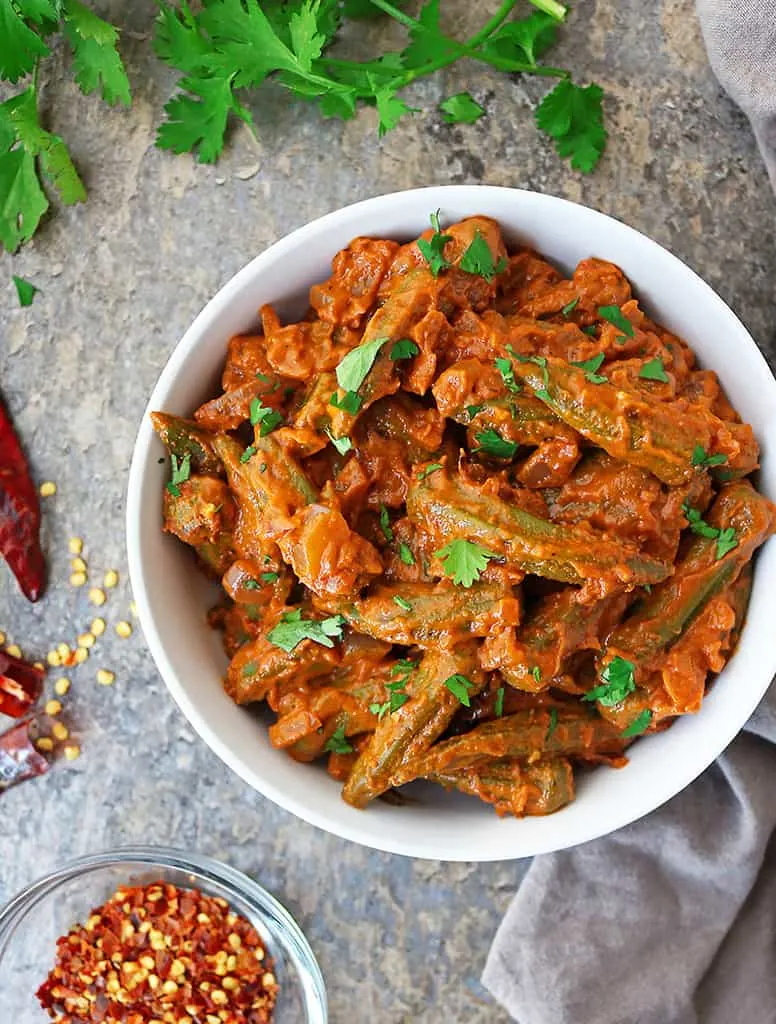 During the first week of September, I celebrated starting another year long trip around the sun. And, this year, more than in the years past, I've been asked if I feel older…
To which I usually answer that it depends. Physically, my knees don't like me running as much, but they don't complain when I ride an electric cycle. And, they even help me dead-lift more pounds than I weigh! A feat I couldn't muster when I was younger- even though I weighed less then.
But, mentally, I feel a bit foggier. I like to think it's because of stress, but my daughter is quick to point out that I'm "getting on up there in years!"
Yesterday I excitedly showed her a house on Zillow that I loved and she shook her and said, "mom, we looked at this 2 days ago; even did a Google walk around and the area was super sketch" quickly followed by "reason number 527 your noggin is on the fritz!"
Blimey! I simply cannot agree with her. Maybe I'm in denial. Maybe it's stress. Only way to know is when the house hunting comes to fruition and we have moved and settled in our new digs…
One thing I have noticed though is a propensity I seem to have developed to skip out on dessert! The last couple of nights I've opted to have seconds of shrimp curry and this tasty and easy okra curry you see here today.
We love this okra curry because:
• This is one easy curry to make in a hurry!
• It is gluten free and vegan
• It is a very flavorful and aromatic curry that can be made with ingredients you can easily pick up at any grocery store. In fact, you might have a lot of the ingredients hanging out in your kitchen right now.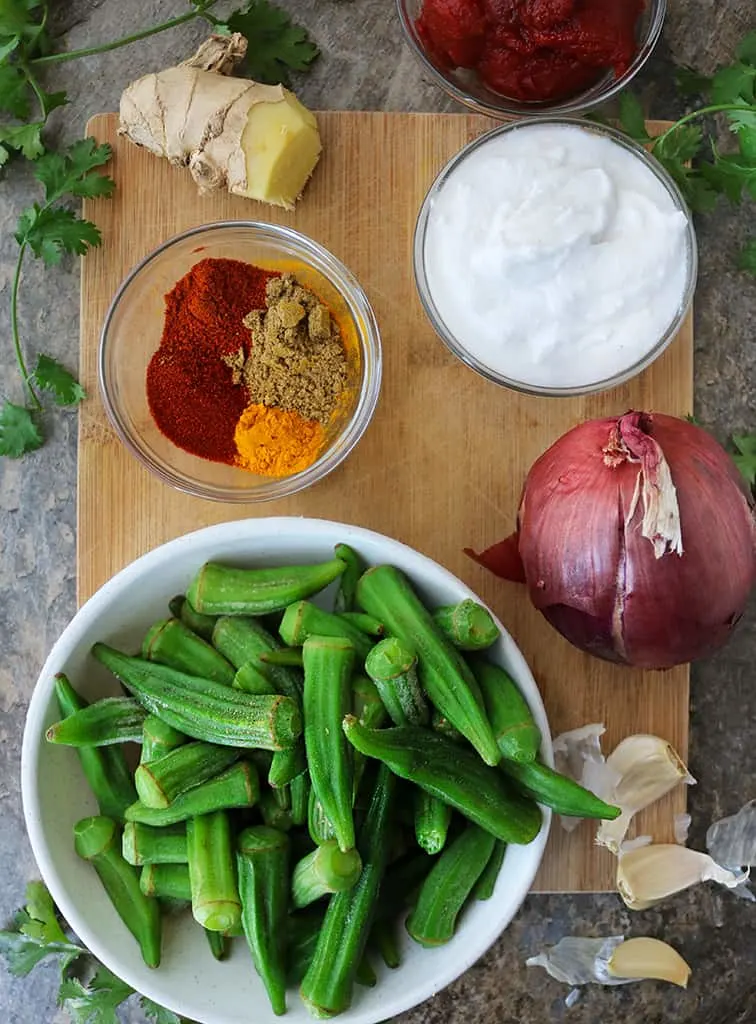 Ingredients to make this okra curry are:
Red onion
Fresh ginger
Fresh garlic
Coriander powder
Turmeric powder
Chili powder
Smoked paprika
Tomato paste
Coconut milk (affiliate link)
Water, and
Frozen okra
You can use fresh okra in this recipe- but you might have to adjust the timing so the okra is cooked just right.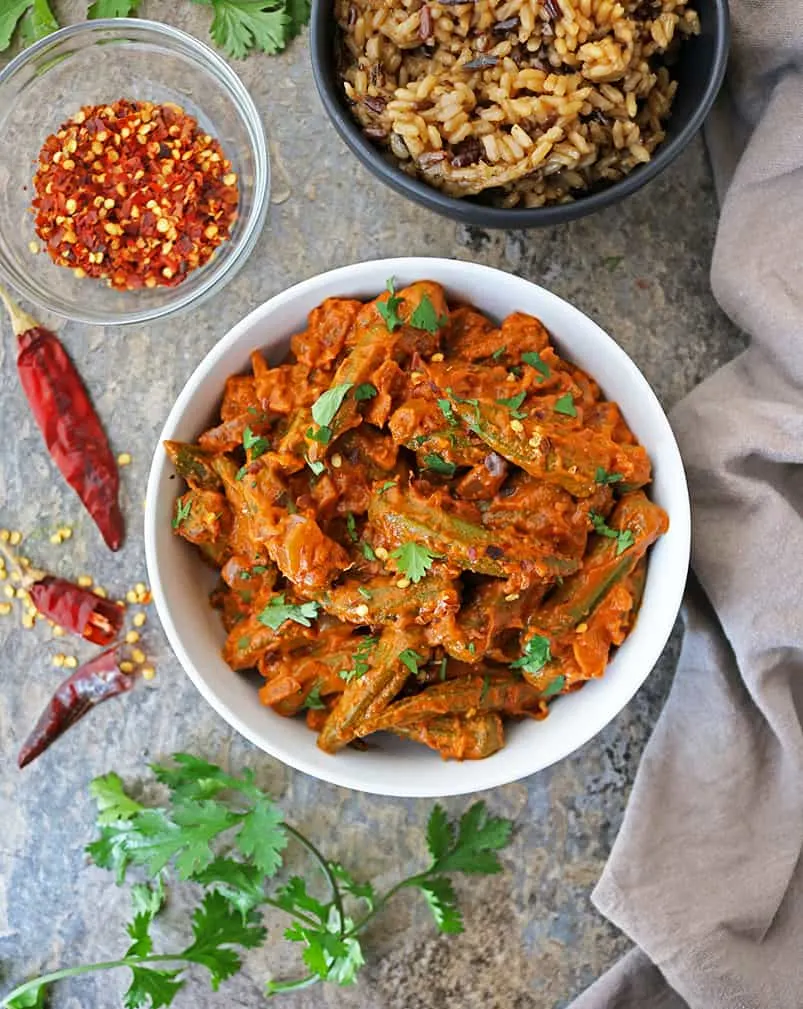 I like using frozen okra as it's easier to rip a bag open and throw it into a pan with a simmering scrumptious curry sauce. And, this is just my opinion, but I don't recall having frozen okra cook up slime in a curry… but then again, my brain is a bit foggier so you might want to take that with a grain of salt…
Speaking of salt, Unless it's a baked recipe, I do not include quantities of salt and pepper to use in a recipe as everyone prefers a different amount of salt. My mom is always salting the dishes I make and my daughter says the same dishes are salted just right. So please use as much or little salt as you like so the recipe suits your tastes.
Though, with tons of aromatic and flavor packed spices, this okra curry has a lot going for it in the taste department!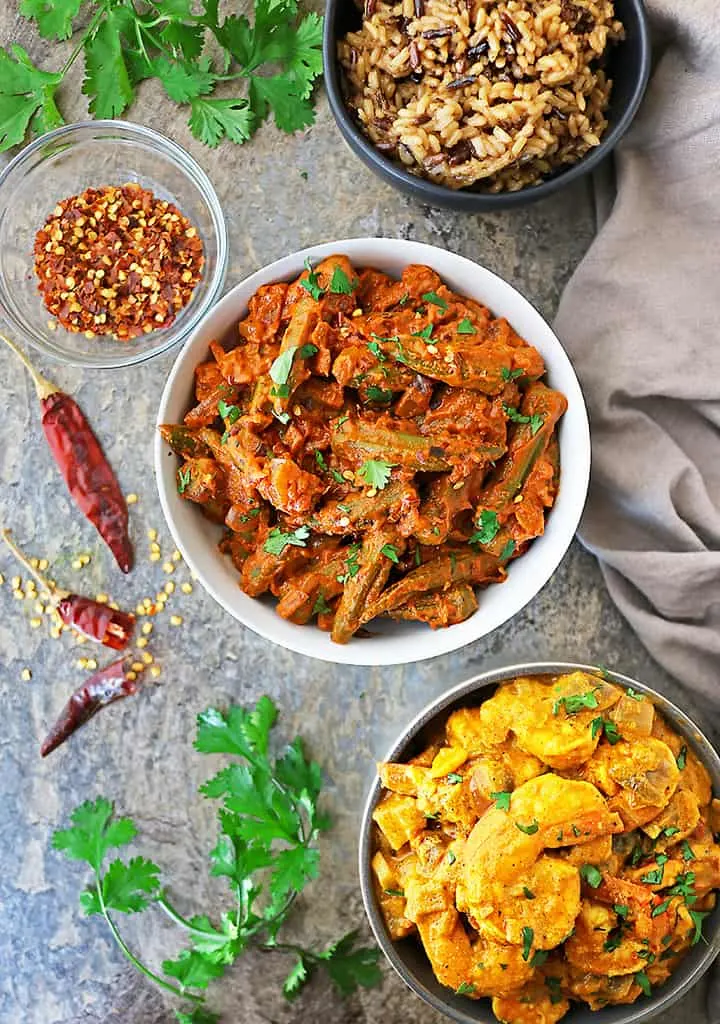 Serving Suggestions:
You could serve this easy okra curry along with a chicken curry and some rice pilaf for a tasty meal.
Or, you could pair this with this chickpea spaghetti curry, this broccoli kale salad, and some roti for a satisfying vegan / vegetarian dinner.
Hoping y'all enjoy this easy okra curry recipe as much as my daughter and I have!