One thing I love about this Pineapple Quinoa And Leek Sautéed Salad is that it is just as delicious served cold as it is served hot – making it perfect for picnics, game day potluck gatherings and even dinner parties on cooler nights.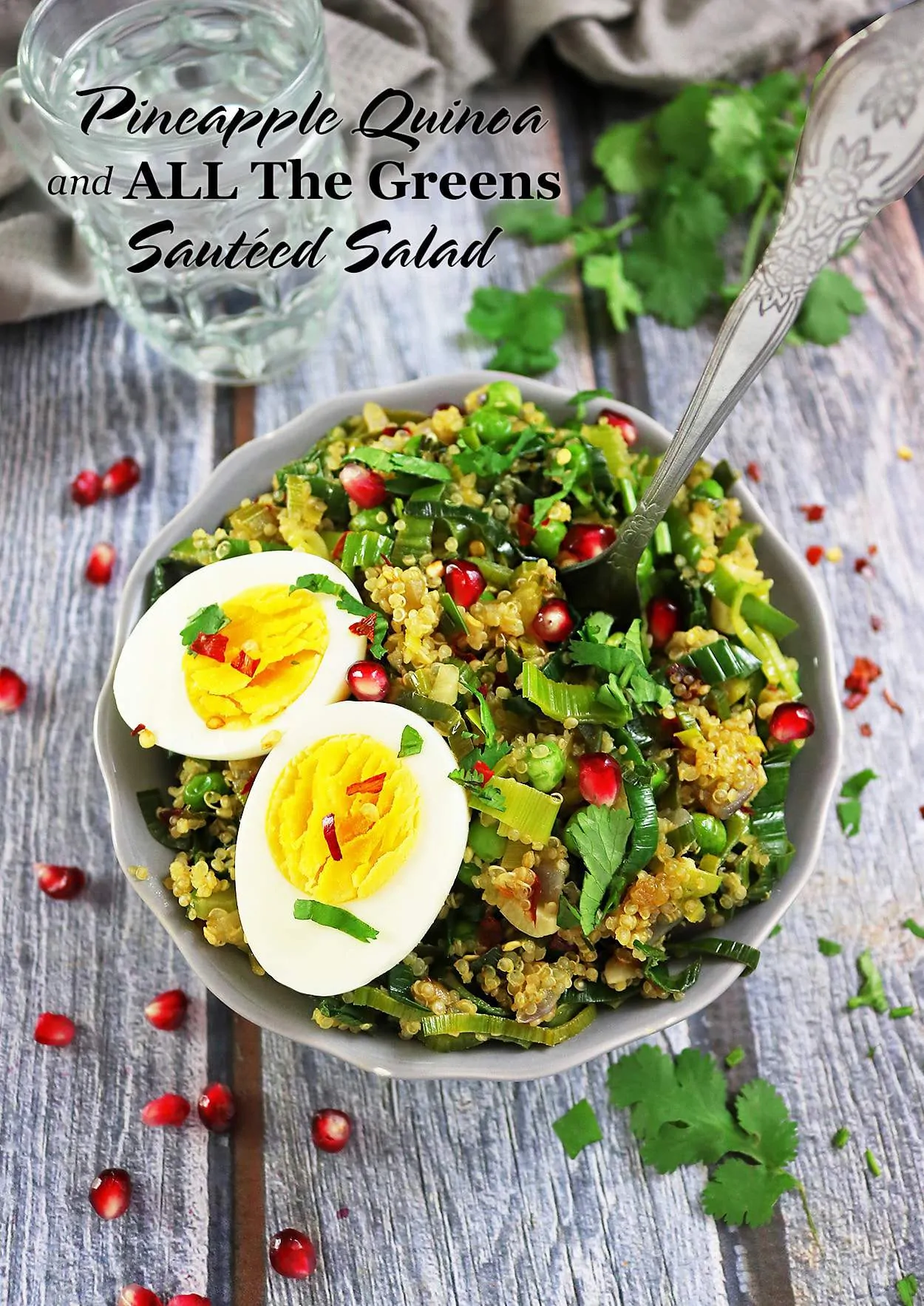 When it comes to cars, I know bupkis. If I was told my car needed oil, I'd probably end up putting oil into the wiper fluid reservoir. No lie! But, I do know that when my car acts like it's experiencing an internal earthquake when I hit the brakes, I need to take it in to meet it's mechanic! And, that's where my daughter and I were this past Saturday when my mom called me to tell me about her latest obsession.
My mom usually has something interesting to say or inquire about when she calls, and this Saturday was no exception. When I picked up my phone, without entertaining any small talk, she dove right into telling me about her newly discovered joy of eating leeks, quinoa and a boiled egg together. She went on and on about the texture and the taste of those three ingredients combined with some onion and spices.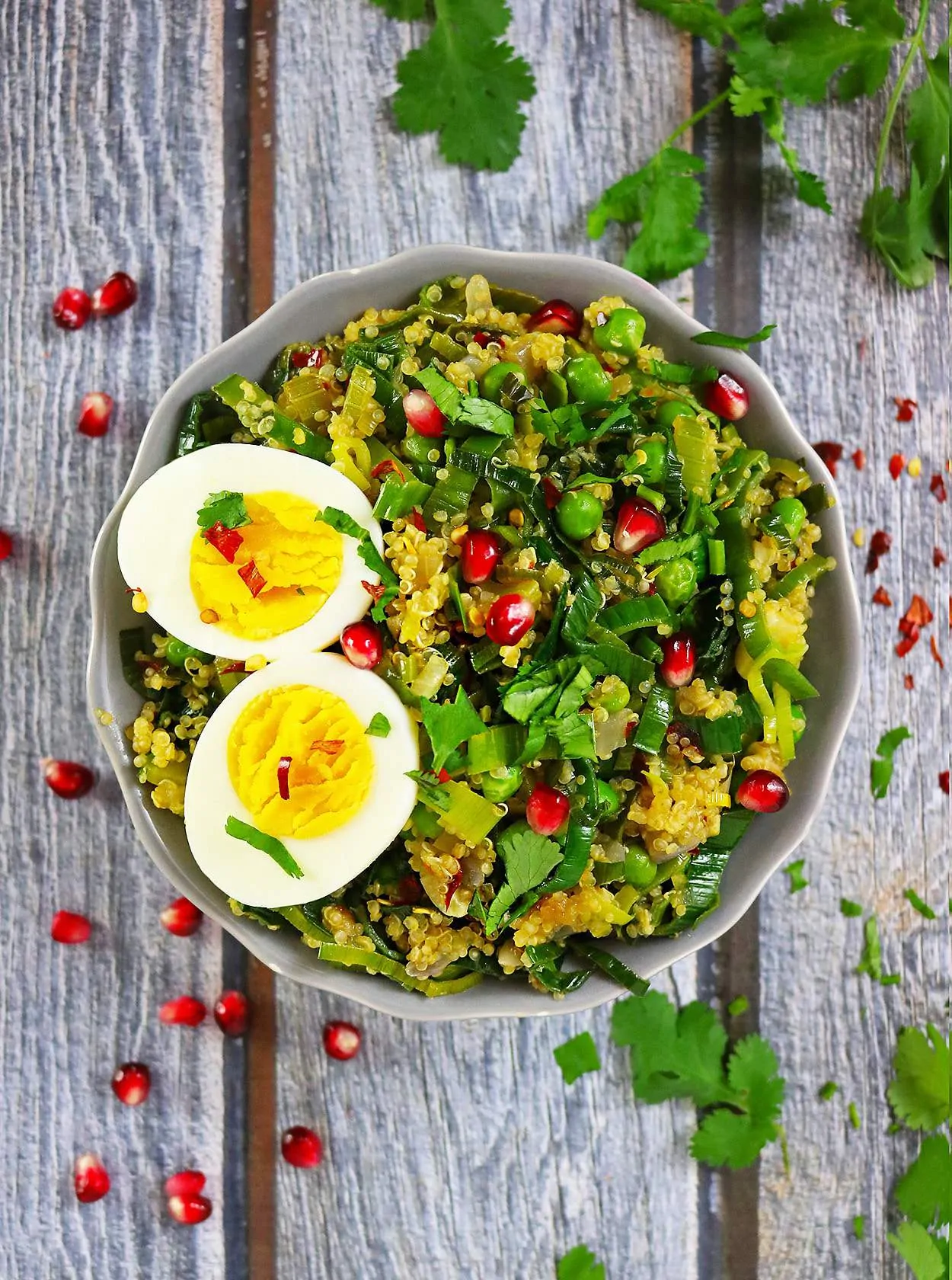 After she hung up, I started making a mental list of all the ways I'd enjoyed quinoa. There was that quinoa biryani, and those quinoa pancakes, and even that quinoa breakfast bake …but… I couldn't recall enjoying quinoa with leeks and a boiled egg! So… the rest of the time we were waiting on our mechanic to render our car earthquake-free, guess what was on my mind?! I couldn't even pay attention to the soccer game that was on the TV in the waiting area – though, I must add, I was ecstatic to walk in and see soccer on the telly instead of any other sport 😀 .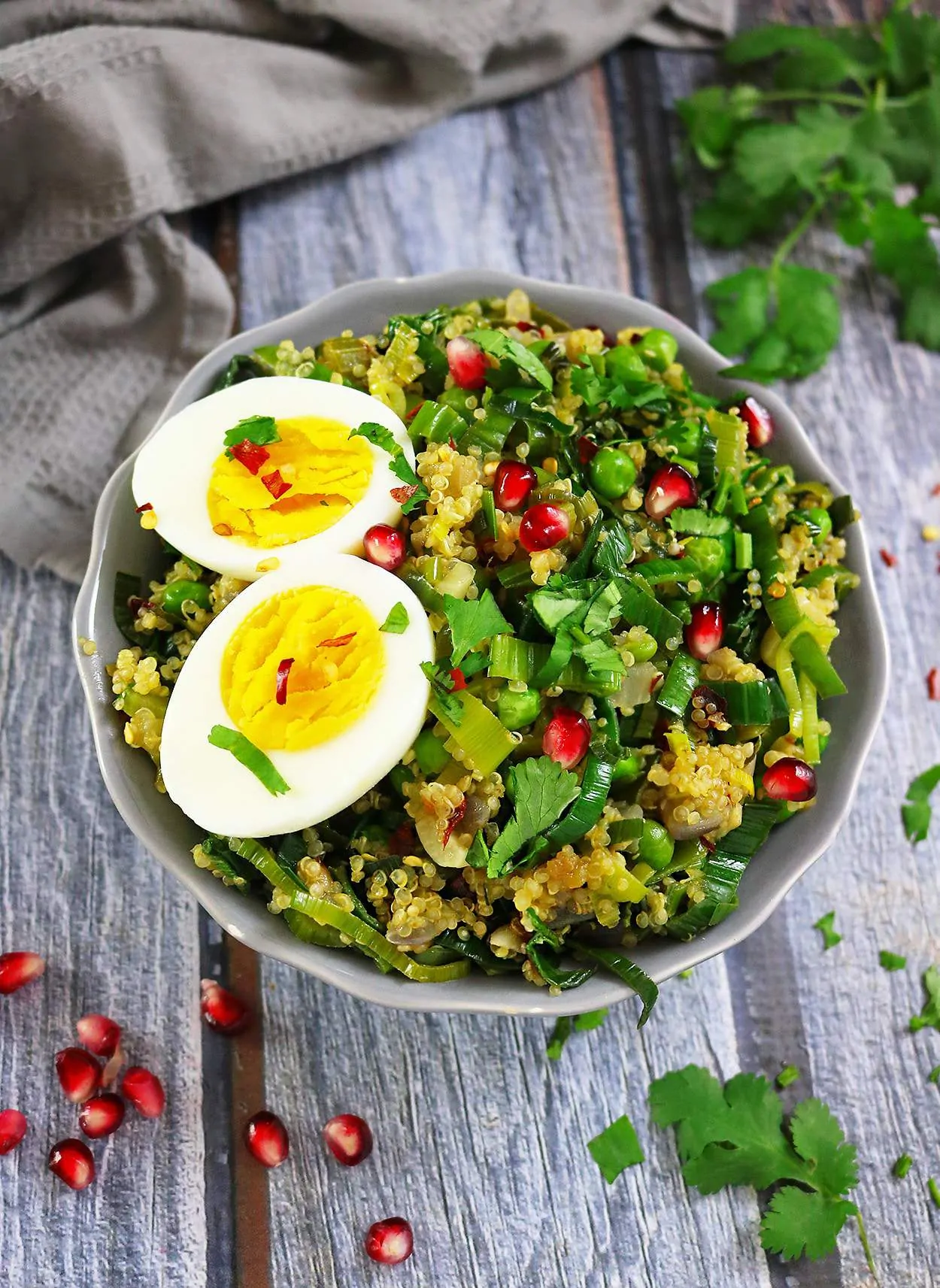 So, as soon as I got home, I experimented with this leek and quinoa concoction my mom mentioned. First, I made a batch of garam masala flavored quinoa with leeks and peas and set it aside for the Easter Potluck for the following day. Then, I decided to experiment a tad more and cooked up a batch of quinoa in pineapple juice and veggie stock. I then added some sautéed up onions, ginger, leeks, celery, peas and a hefty helping of chili flakes to the pineapple quinoa and topped the whole thing with some cilantro and pomegranate seeds. I should have probably called this a Pineapple Quinoa And All The Greens Sautéed Salad instead of a Pineapple Quinoa And Leek Sautéed Salad, but hey. My daughter and I dug into bowls of this Pineapple Quinoa And Leek/All The Greens Sautéed Salad with a boiled egg on the side, and I gotta say that the combo of sweet pineapple, spicy chili flakes and tart-ish pom seeds was so incredibly enjoyable!
Now, this is a versatile dish. If you happen to remake it, you could cook the quinoa in a combo of orange juice and vegetable stock, add more greens or less, top this with peanuts and parsley and serve it with a side of chorizo… what do you think?
[Tweet "Pineapple Quinoa And Leek Sautéed Salad #easy for #picnics & #potlucks"]