Flavorful and bright, this Easy Corn Salad is always a crowd-pleaser. Made with fuss-free frozen corn, this salad can be enjoyed all season long.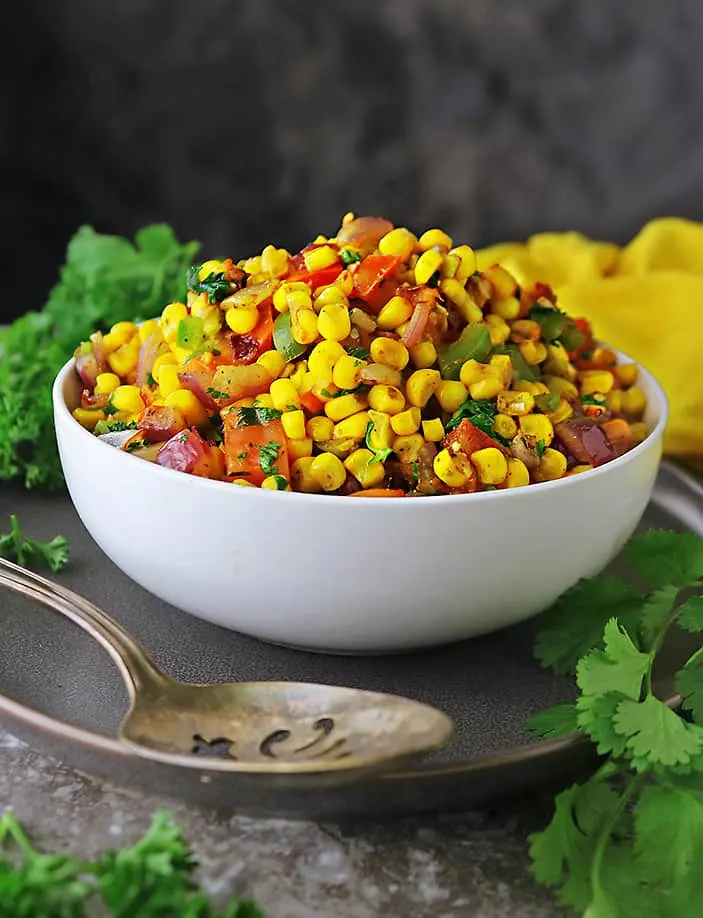 This quick and easy corn salad recipe is a favorite in our home. It is a lightly sauteed side dish that often steals center stage.
It is just as enjoyable served with burgers as it is with quinoa or curry. It is a versatile dish that is tasty served cold or warm – which makes this an ideal all-season corn salad recipe!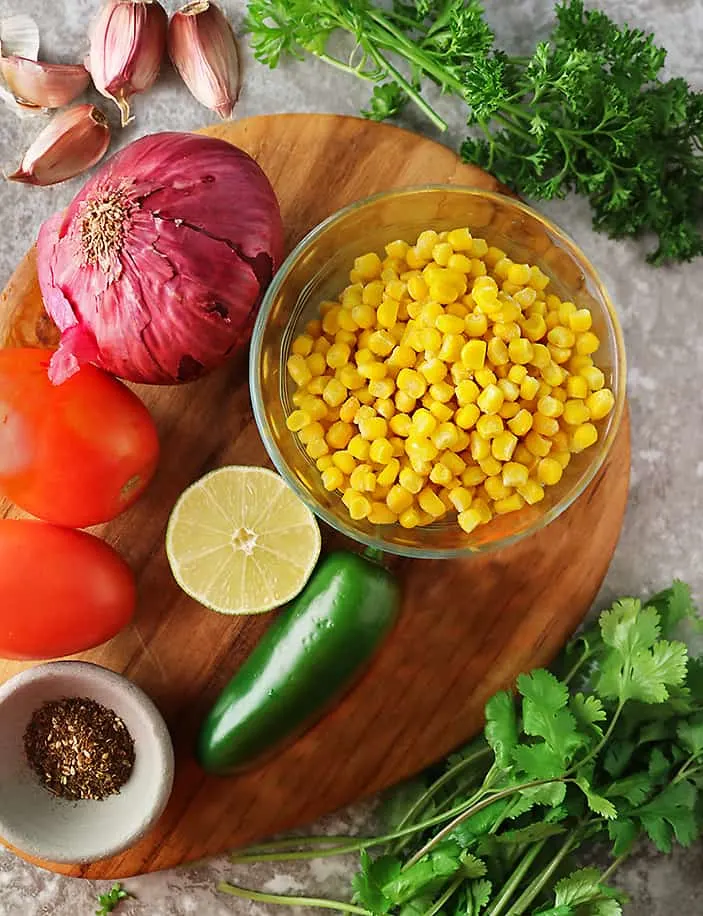 What are the ingredients needed to make this easy corn salad?
This recipe calls for only 9 ingredients, which are:
red onion,
garlic,
frozen corn,
tomatoes,
jalapeno,
lime,
za'atar,
fresh parsley, &
fresh cilantro.
A light dash of salt and pepper enhances all the elements of this salad.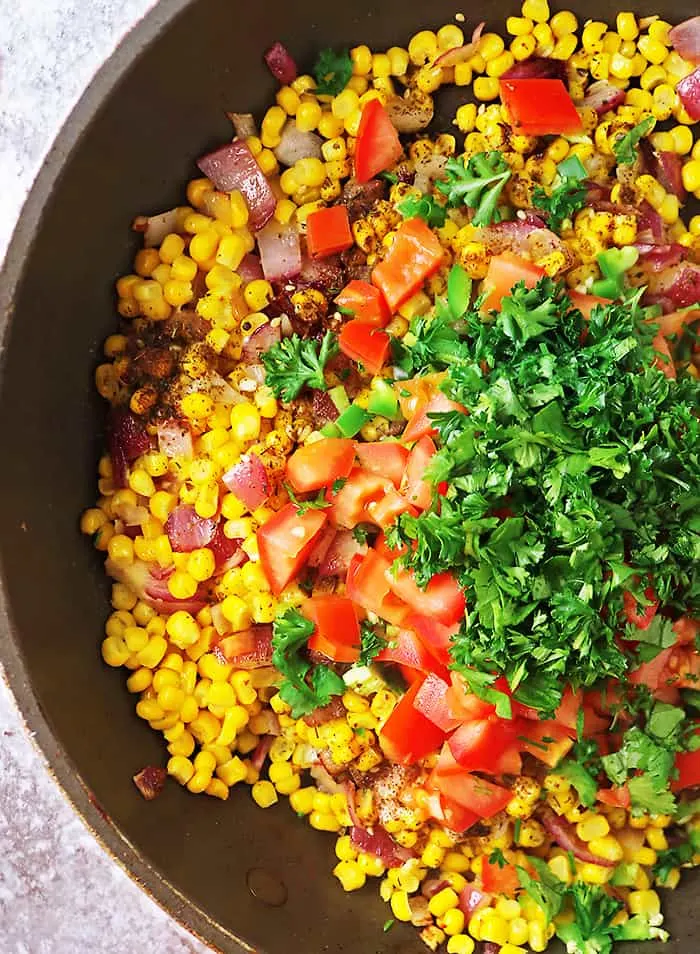 How do you make this easy corn salad?
To make this dish, I lightly sauteed some fresh onion and garlic.
Then I added in the frozen corn, tomatoes, jalapeno, lime, za'atar, fresh parsley, and fresh cilantro and sauteed this until the corn was warmed through. After that, it was just a matter of seasoning with salt and pepper to taste and digging in.
While I used a bag of frozen corn in this dish, you can also take advantage of the fresh corn in season and use that instead. If you use fresh corn kernels, it will take 10-12 minutes for the corn to cook until tender.
You could also use grilled fresh corn in this Easy Corn Saladrecipe. You would simply saute the onion and garlic and add in the grilled corn. Then toss in the other ingredients, toss the whole mixture, and boom – it's ready.
If you are planning on using canned corn instead of fresh or frozen, then simply drain and rinse the canned corn and add it to the dish after the onion and garlic have sauteed. You would toss it around with the other ingredients for about a minute or so, while on the stovetop, and then it is ready to enjoy!
What is za'atar?
If you have not used za'atar before, it is a Middle Eastern herb with a unique flavor. To me, it tastes like a combination of oregano, cumin, lemon, sage, and marjoram – all at the same time.
Here in States, it is available at most grocery stores in a powder combined with sesame seeds, sumac, and other herbs and spices. I have found za'atar at Kroger and Walmart stores around Atlanta.
My daughter loves to add a pinch of za'atar to this roti recipe. And I love adding it to dishes like this chicken one, these roasted veggies, and even this cacio e pepe! I love adding it to flavor my dishes because, like most of the spices I use, it adds so much flavor while keeping a dish healthy.
Za'atar adds such a delightful spin to this Easy Corn Salad – and so many layers of flavor as well.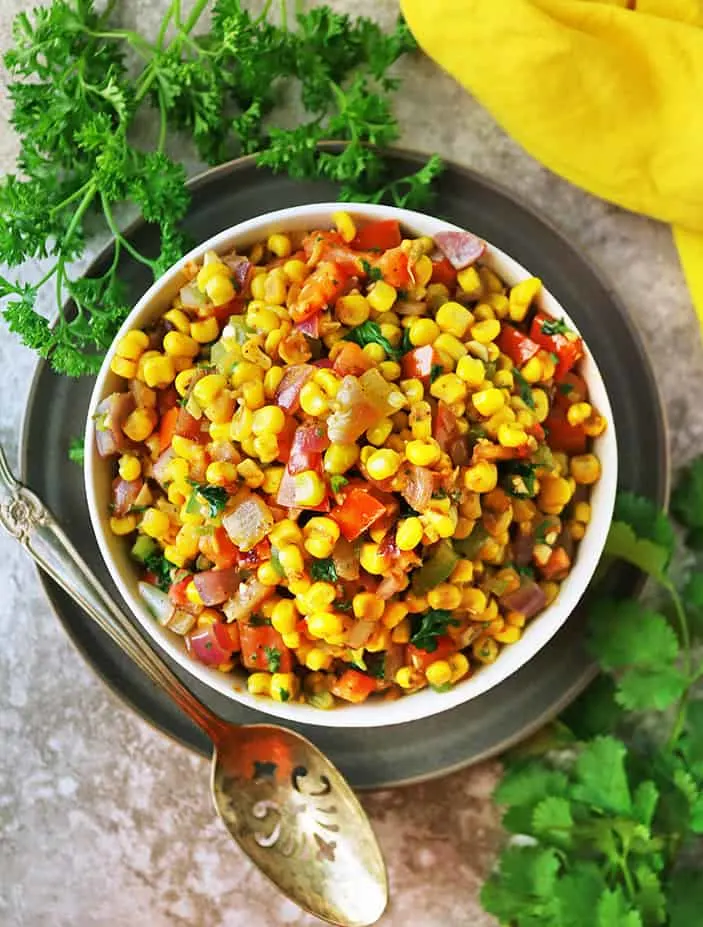 What to serve with this salad?
This easy corn salad would be a delicious addition to a summer BBQ featuring some beet and been burgers and all the fixings.
It would also be a delicious side dish along with this chickpea salad at a formal dinner featuring this stuffed squash or this rollatini.
It is also perfect as a side dish to take on a picnic with these veggie stuffed buns and/or these chicken stuffed ones.
I hope you give this recipe a try. And, if you do, please leave me a comment below letting me know if you loved it or not 🙂

Please do follow me on Instagram, Facebook, and Pinterest for more recipe ideas and food inspiration!