This shop has been compensated by Collective Bias, Inc. and its advertiser. All opinions are mine alone. #MadeWithA2Milk #CollectiveBias
This is one heck of a luscious & creamy chicken & vegetable soup that contains absolutely no cream ~ and with only 233 calories per serving, I say we grab our spoons and get slurping!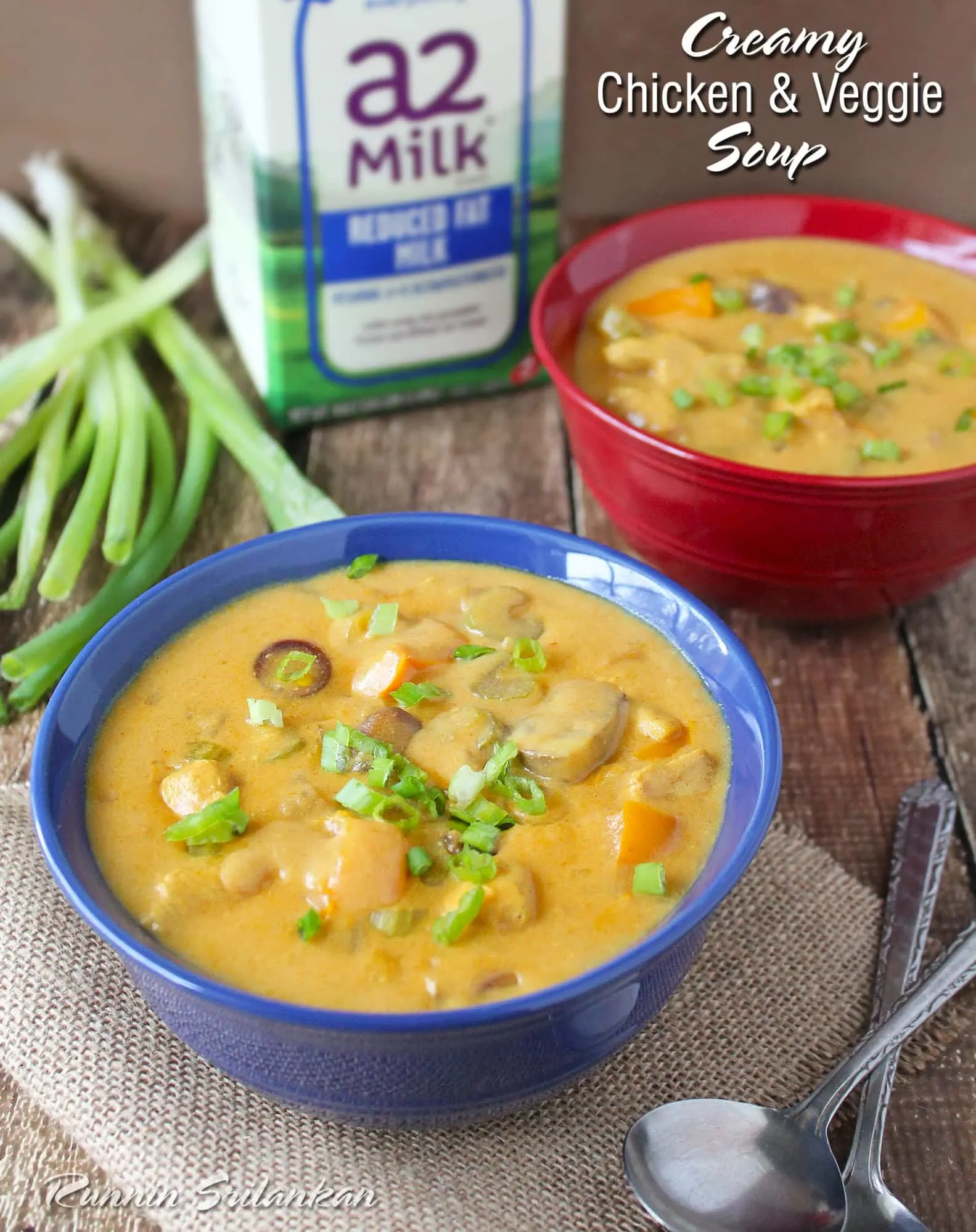 When I was in my teens I had the biggest crush on the lead singer of a band called a-ha! Yes – you might know them for their hit "Take on Me" but, they had so many more hits marked by brilliant melodies, lyrics and vocals – like for example this song: "Did Anyone Approach You" (guaranteed to have you bobbing your head and tapping your feet too). Back then all I ever did was look and drool from afar (a whole continent afar). Much like I did when it came to luscious and creamy soups!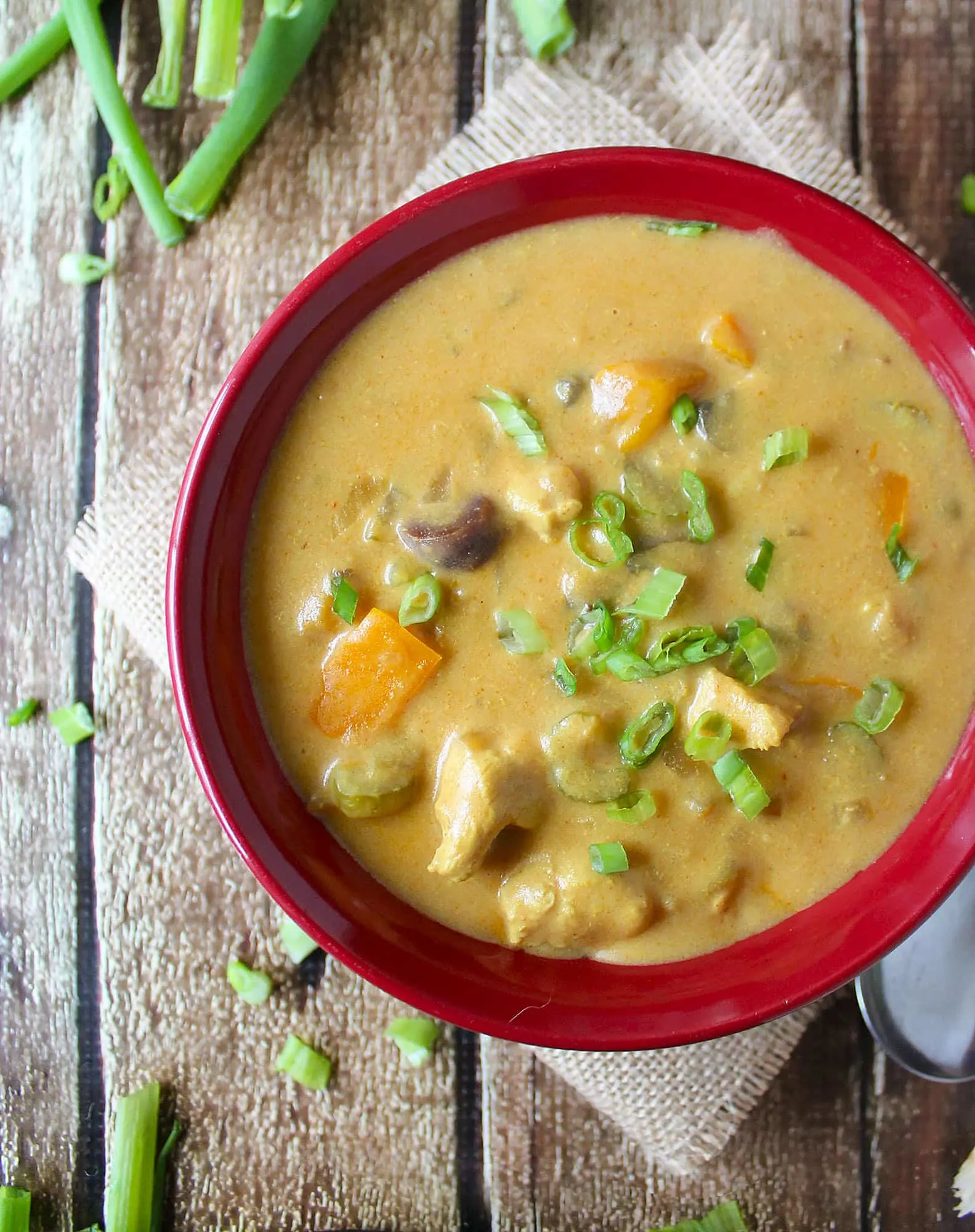 Yes, I have (digestive) issues with milk that go way back. So, as much as I love creamy soups, I've shied away from them, opting for broth based soups instead. However, a couple of weeks ago when my daughter and I were at Sprouts, I came across a2 Milk®.

The label got me curious and I Googled it to find that a2 Milk® is natural milk that comes from selected cows that naturally produce only the A2 protein; while ordinary cows' milk contains A1 and A2 beta-casein proteins. Apparently, A2 protein is digested differently to A1 – thus making it more suitable for those of us with stomach churning issues from regular milk.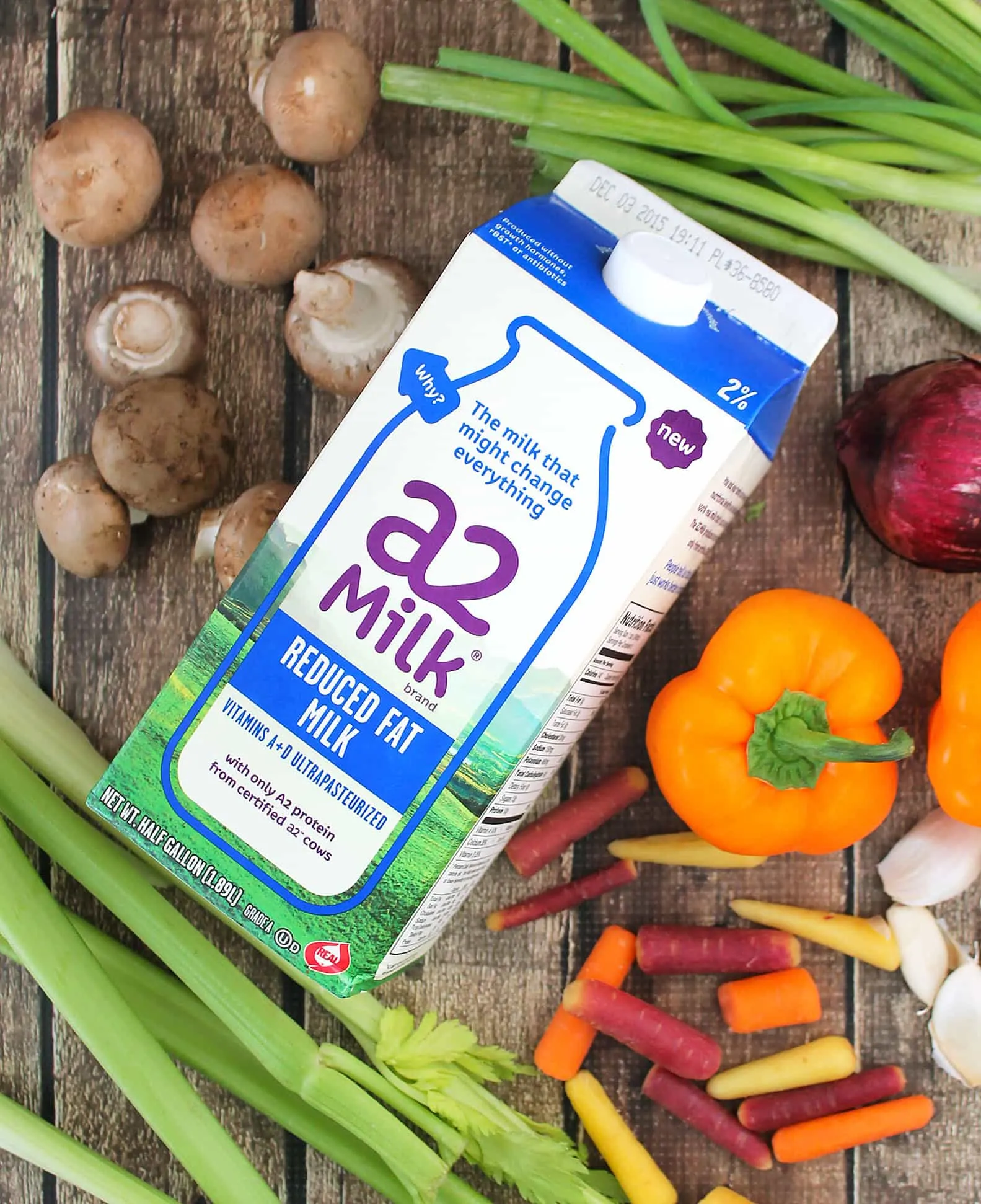 I brought home a half gallon and figured I'd put it to the test – the only way I knew how. I picked a Friday night so I wouldn't have to call out sick the next day due to "digestive distress" and had a date with a tall, cold glass of a2 Milk®. And the lack of any signs of digestive distress was quite pleasantly surprising!
So, I figured I'd go a step ahead and whip up a batch of creamy chicken and vegetable soup for my daughter and I. And y'all this soup was quite pleasantly surprising. Creamy and simply luscious, with such a depth of flavor from the onions, garlic, ginger, paprika, and tomato paste. The vegetables, chicken, spices, stock, gluten free flour and milk united in such perfect harmony that they had my daughter saying this was the best soup she has had!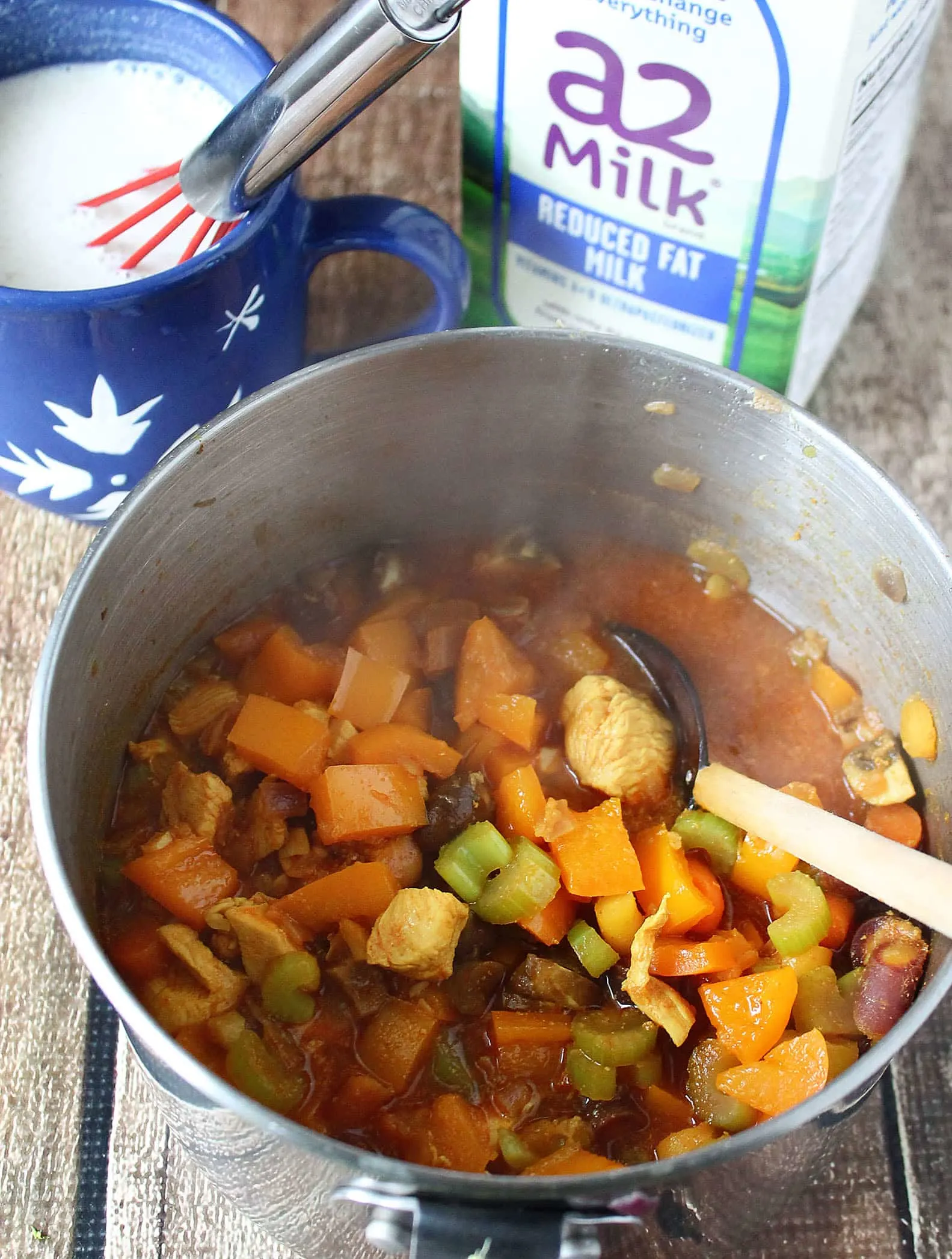 Steps to make this Creamy Chicken & Vegetable Soup
• Saute 1 chopped red onion, 4 chopped cloves of garlic and a grated 1 inch piece of ginger in 2 tablespoons of olive oil over medium heat
• When onion is tender (about 7 minutes) add in 3/4 lbs of cubed chicken breasts and saute till chicken is cooked through
• Then add in 1/4 teaspoon salt (optional), 1/2 teaspoon turmeric, 1 teaspoon paprika, 1 1/2 cups of chicken stock and bring to a boil
• Then add in 1 tablespoon tomato paste, 3 sliced stalks of celery, 3 sliced carrots, 1 chopped orange bell pepper, and 5 sliced baby bella mushrooms and let simmer covered for 15 mins on a low flame
• As soup is simmering, in a separate bowl/cup add 2 cups of milk and whisk in 3 tablespoons gluten free flour
• Add the milk and flour mixture to the chicken and vegetables and let cook for 3 minutes
• Garnish with green onions and serve warm
[Tweet "How about this Creamy Chicken & Veggie Soup 4 dinner? #MadeWithA2Milk #ad @RunninSrilankan"]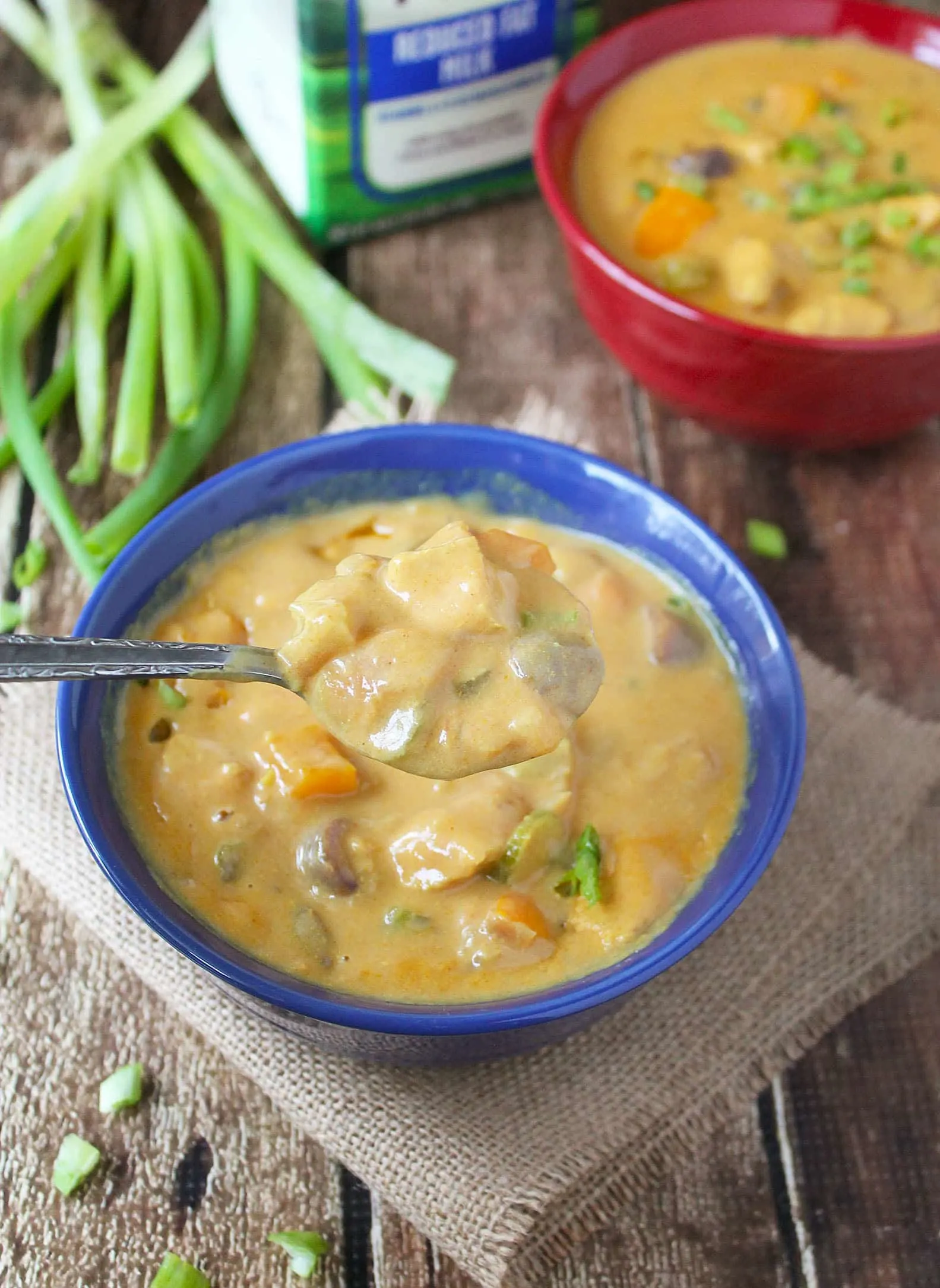 Care to share about any soups (or stars) you look at and drool over from afar because either of them cause you digestive distress?
Curious about a2 Milk®? Then please check them out on Facebook • Twitter • Pinterest
Ready to grab a half gallon to try out this recipe? Then check out where you can find a2 Milk® near you >HERE< .
But, first – don't forget to grab yourself this $1.00 off coupon!