Just in time for grilling season, I have the perfect recipe to pair with my favorite plant-based burgers and sausages. Made with only 9 ingredients, this plant-based Spicy Mango Sauce is delicious as a dip or smothered on BEYOND BURGER Plant-Based Patties or BEYOND SAUSAGE. Naturally sugar-free and gluten-free, this is a wholesome and easy mango sauce recipe.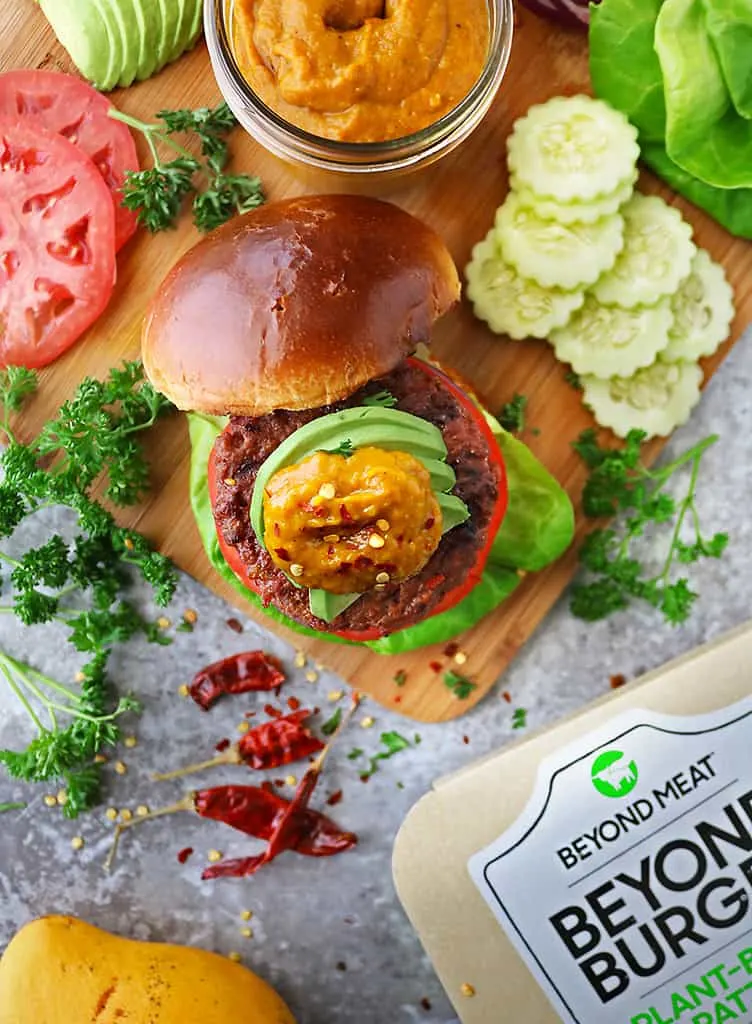 If you love the combination of sweet and spicy flavors in one mouthful, this sauce is for you. Easy and versatile, this plant-based spicy mango sauce is thick and finger-licking delicious and pairs beautifully with juicy BEYOND BURGER Plant-Based Patties and BEYOND SAUSAGE.
My daughter and I love slathering a well-done BEYOND BURGER with this sauce and pilling it onto a burger bun, along with lettuce, tomato, onions, avocado, and all the fixings that will fit! We also love dipping zucchini chips, celery, and veggie croquettes into this sauce as well.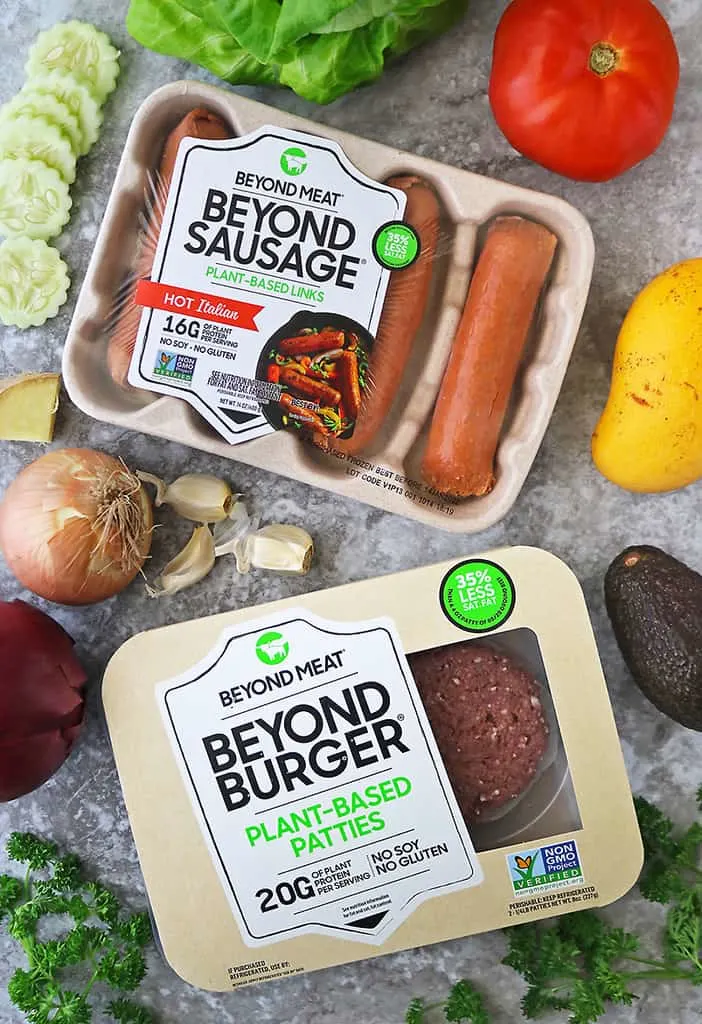 Plant-based meals made easy.
If you haven't tried BEYOND BURGER and BEYOND SAUSAGE, then I want to let you know that they are delicious. While I am not following a completely plant-based diet just yet, I seem to find myself reaching for BEYOND BURGER Patties and BEYOND SAUSAGE when I am doing a hurried run through Publix for dinner supplies.
And, whether I am grilling and adding BEYOND BURGER to a pasta dish or topping them with beet onion jam or slathering them with a sweet chili sauce or this spicy mango sauce, they are a favorite in our home.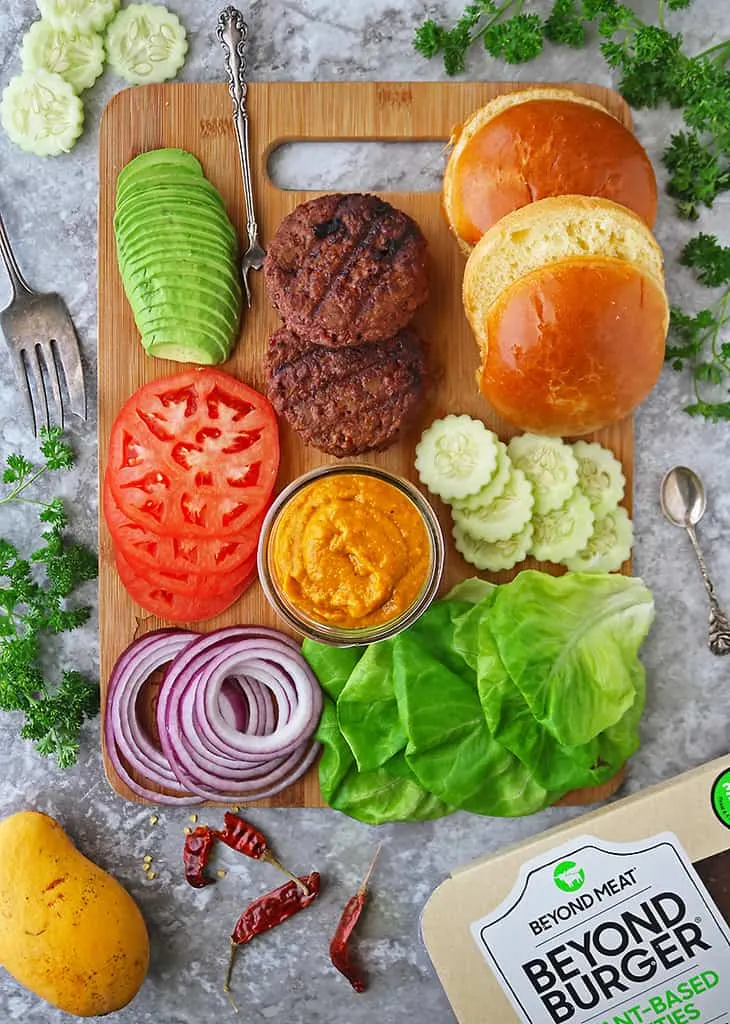 Loaded with 20G of plant-based protein, the New BEYOND BURGER is the best tasting, most nutritious Beyond Burger to date! Beyond Meat products cook and taste like animal meat, but with the benefits of being made from plants. The New Beyond Burger has 35% less saturated fat than 80/20 beef. They contain no GMOs and no synthetically produced ingredients.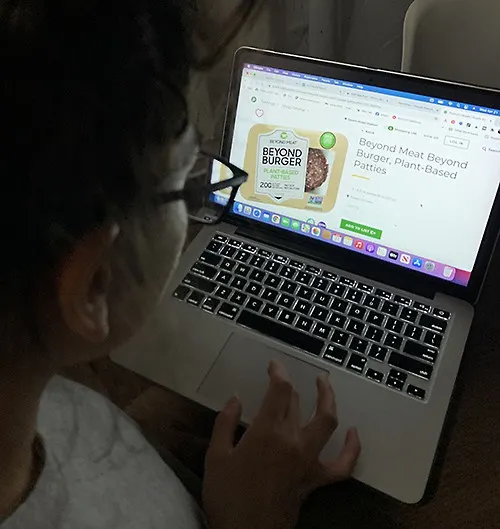 If you have not tried BEYOND BURGER and BEYOND SAUSAGE yet, Publix is giving you an incentive to do so with special offers on Beyond meat products.
At your local Publix stores, you will find BEYOND BURGER will be BOGO FREE from 5/27-6/3, and BEYOND SAUSAGE will be discounted from 5/20-6/3. By the way, you can find these products in the frozen meat case. You can place an order online and pick up curbside as well as shopping in-store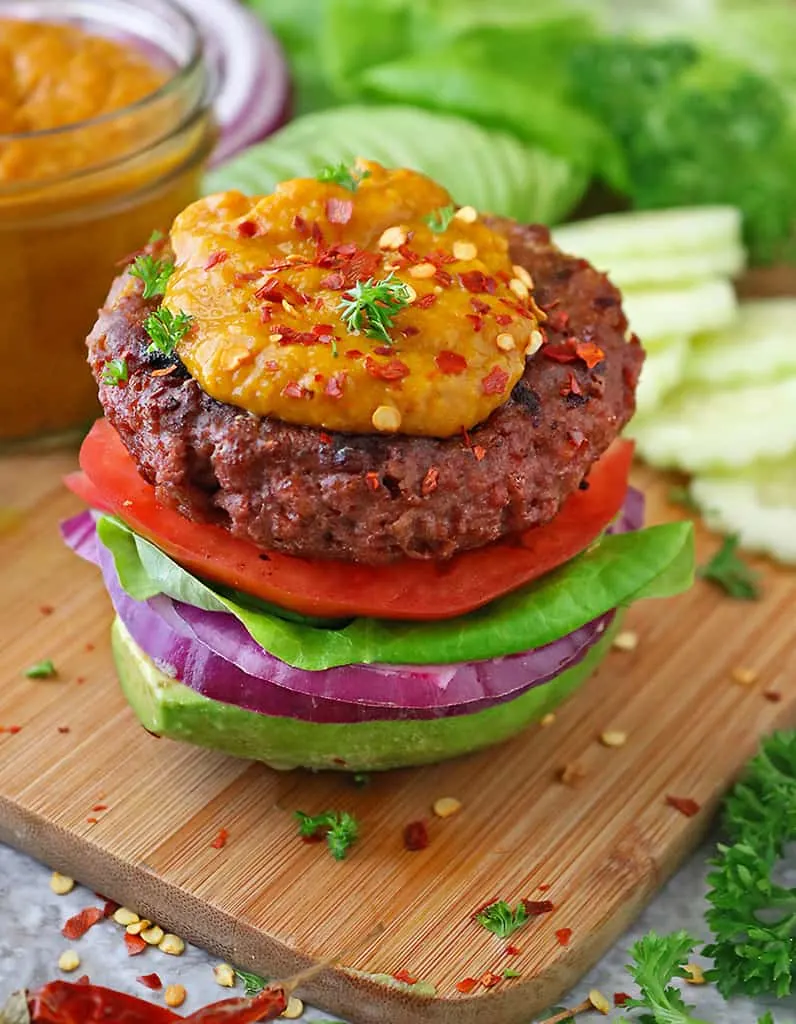 Now getting back to this sauce…
This spicy mango sauce is one of those sauces that's best eaten in the confines of your home because that way you can lick your fingers and plate clean without any judgement. This sauce contains no refined sugar and is naturally gluten free. It is a delightfully delicious blend of spicy, sweet, and savory flavors. And, it can be made with only 9 ingredients.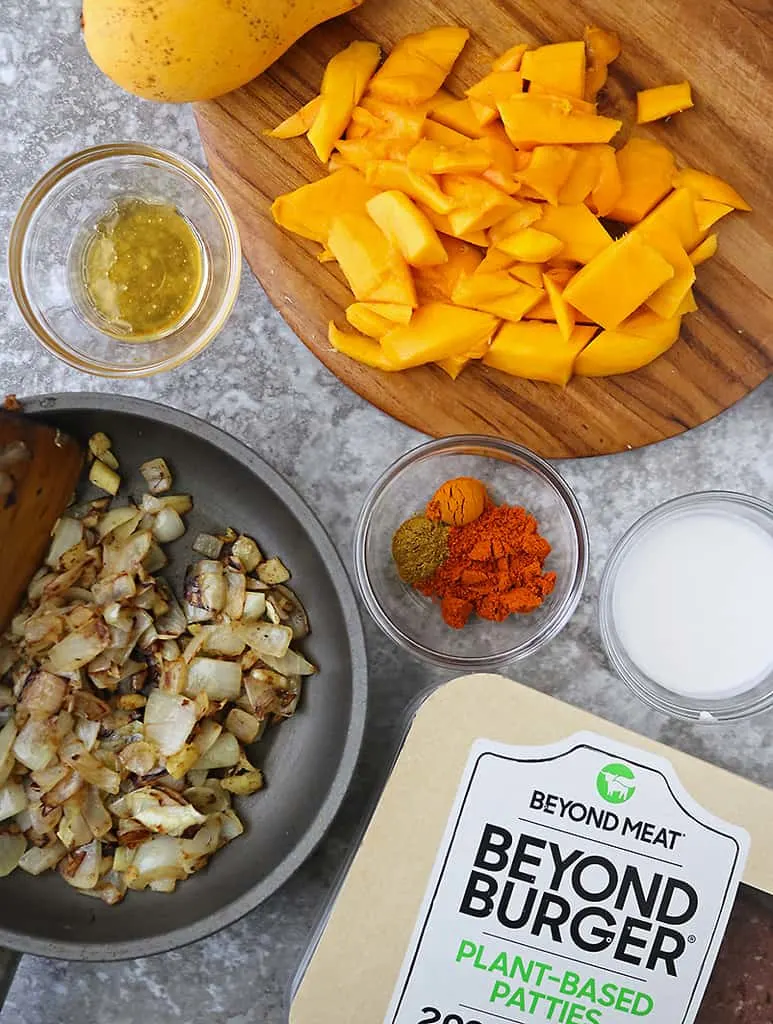 The 9 ingredients that go into this Spicy Mango Sauce are:
Yellow onion
Garlic
Ginger
Mango
Cumin
Turmeric
Chili powder
Coconut milk
Maple syrup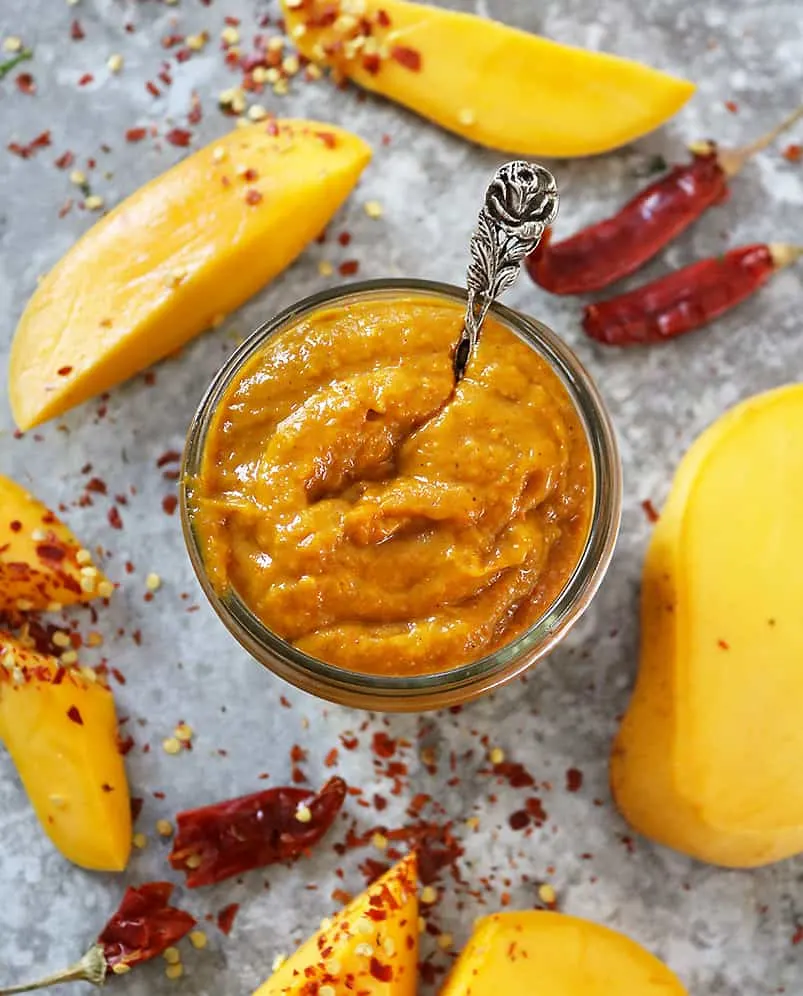 This sauce is delicious as a dip as well as slathered onto BEYOND BURGER Plant-Based Patties and BEYOND SAUSAGE.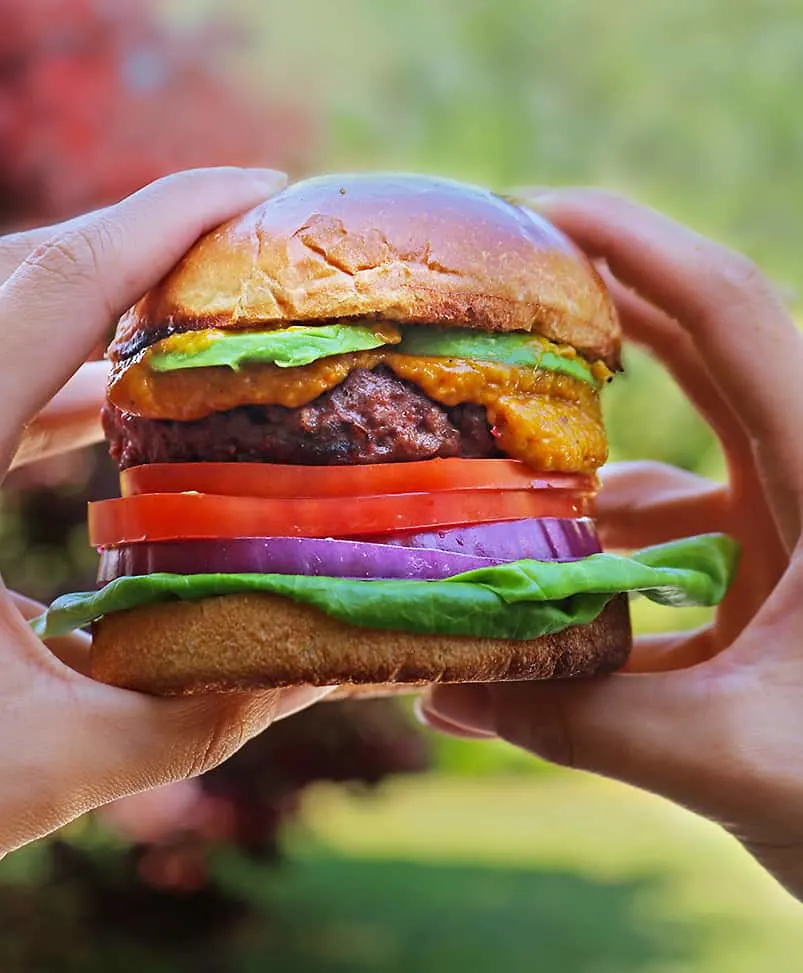 Recently, we grilled up a couple of BEYOND BURGER and slathered them with this spicy mango sauce. My daughter added her burger and sauce to toasted buns that were loaded with red onion, tomatoes, lettuce, and avocado while I enjoyed mine on an avocado "bun".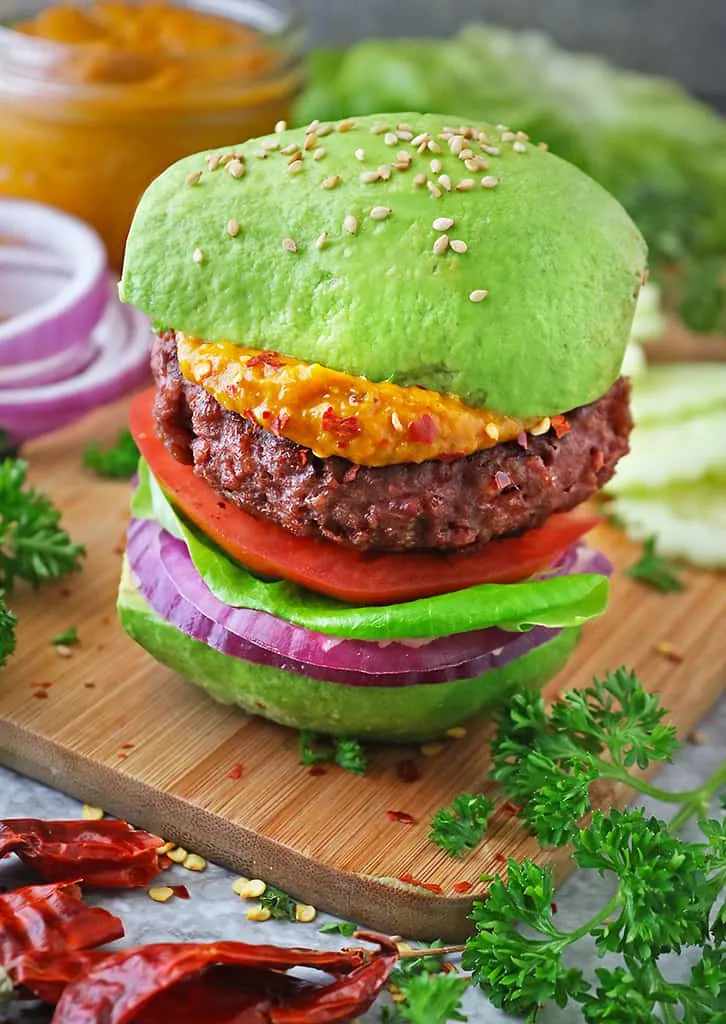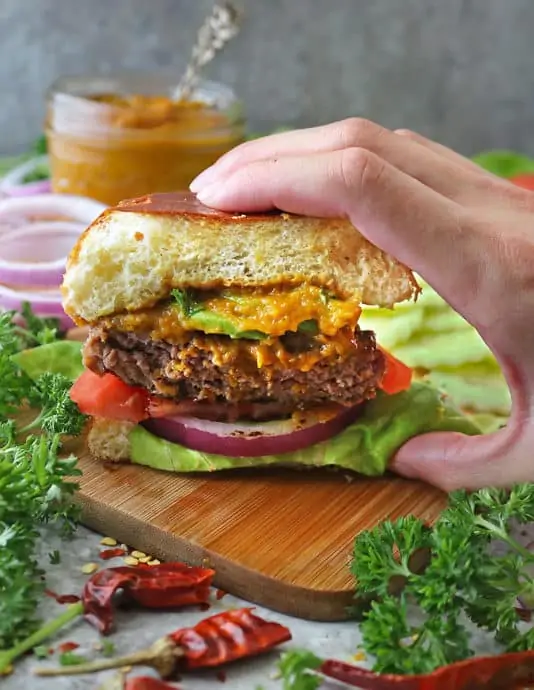 BEYOND BURGER and BEYOND SAUSAGE have made it easier for my daughter and I to eat more plant-based meals during the week ~ which not only has a positive impact on our personal health but on health of our planet as well.
Thanks so much for stopping by. If you make this recipe, please let me know in the comments below what you think of it, or tag your creation on social media with @savoryspin or #savoryspin. For more fusion, spice-filled, recipe ideas, please subscribe and follow me on Facebook, Instagram, and/or Pinterest!