Aromatic and alluring, this nutritious Turmeric Quinoa Recipe is so easy to make, with 7 easy-to-find main ingredients. And, it pairs well with everything from veggies to meats.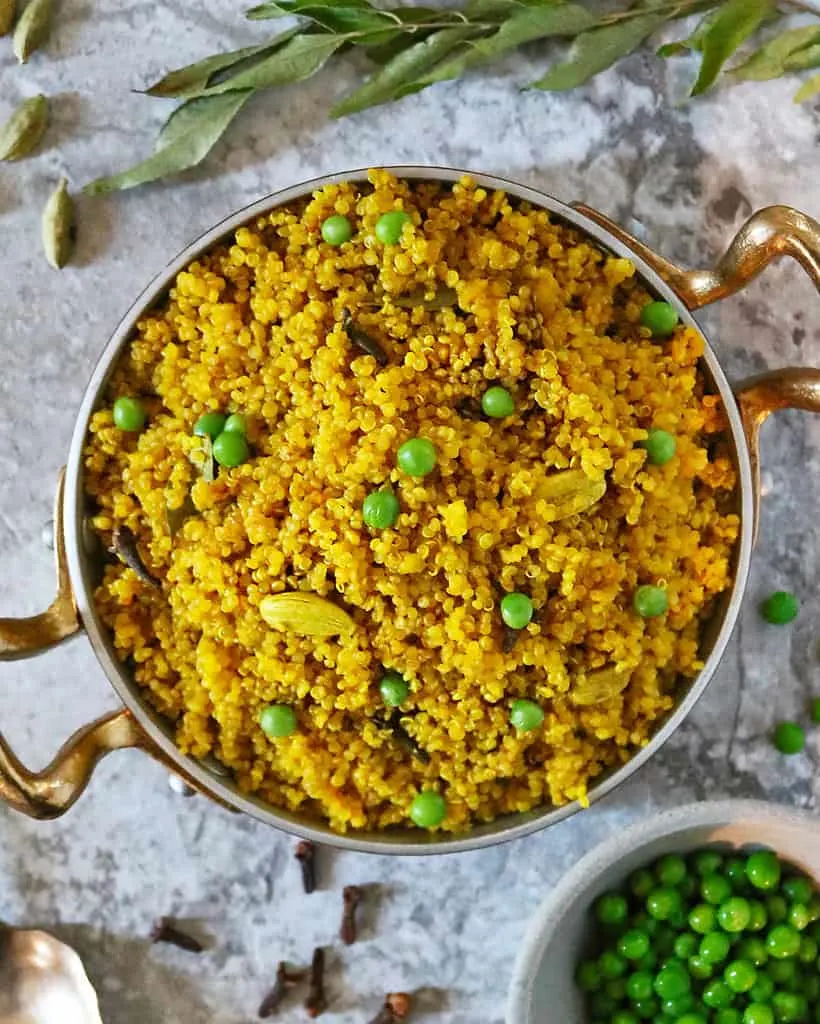 When it comes to versatility, quinoa tops my list. It is absolutely delicious and satisfying as the main entrée, like in this enchilada quinoa, or as a side dish, like this Quinoa Salad with Chickpeas.
Today's quinoa recipe is one that is a terrific side dish.
It can be served with curry or with your favorite baked or grilled veggies and meats.
I simply love this Turmeric Quinoa because:
It is versatile,
It is so tasty,
It is a vegan/plant-based recipe,
It is budget-friendly,
It is highly aromatic with saffron, garlic, cardamom pods, and whole cloves used to make it.
And, it is made with 7 main ingredients.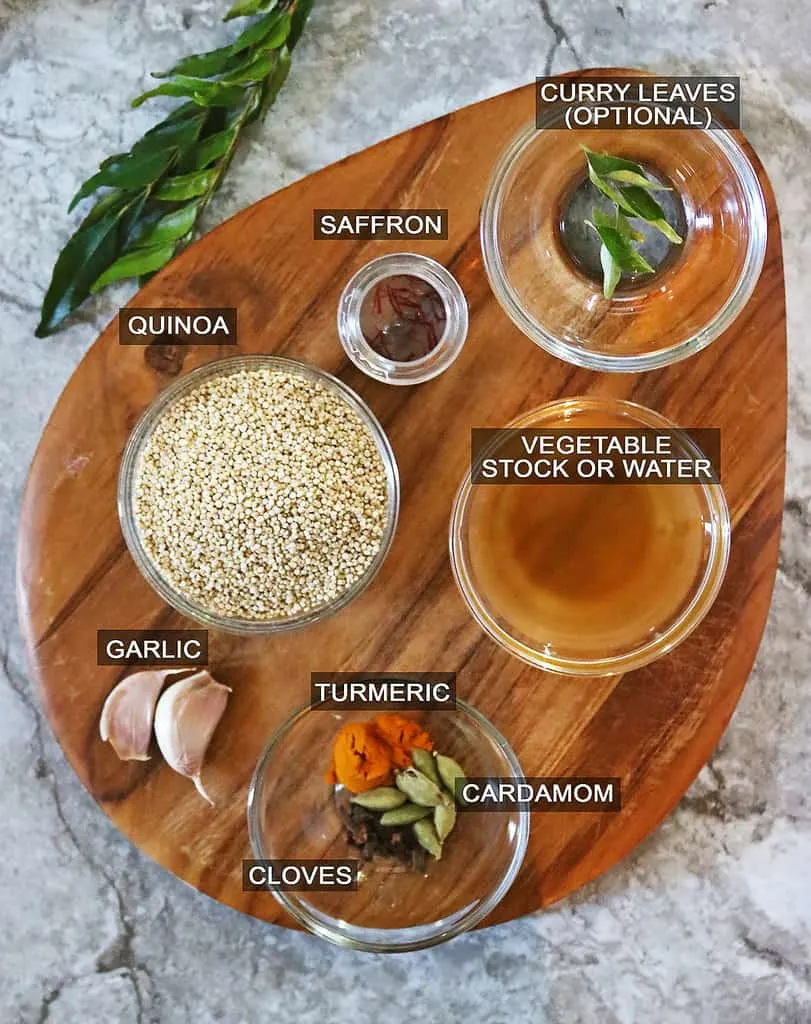 What are the ingredients to make this turmeric quinoa?
You will need the following 7 main ingredients and 1 optional one:
Quinoa,
I used white quinoa for this recipe. If you have tricolored quinoa or red quinoa, you could use that, but keep in mind that you might not be able to see the yellow (from the turmeric and saffron) as you do in this recipe.

Garlic,
I used fresh garlic cloves. All I did was peel the garlic and grate it into the pan. I grated the garlic, so the flavor would disperse evenly among the quinoa as they cooked.

Vegetable stock,
It isn't imperative that you use vegetable stock to make this turmeric quinoa. In fact, I have made this dish often with water and a couple of pinches of salt added to it. Water and vegetable stock would work equally. Though, the stock does impart a tad bit more flavor to this quinoa recipe.

Saffron,
I picked up a small jar of saffron strands at Trader Joe's, but I have seen them at several other grocery stores as well. A pinch is all that's needed for this recipe.

Turmeric,
I used ground turmeric for this. But, if you find some fresh turmeric, please use that. The general rule is that when you use a fresh version of a spice, then you would use 3 to 4 times more of the fresh version as you would the powdered version. For example, as this recipe calls for 1/2 teaspoons of turmeric powder, you would use 1.5 teaspoons instead.

Cardamom pods,
The role the cardamom (and cloves) play in this recipe is to ever so subtly flavor the dish while infusing it with a mouthwatering aroma. To me, this is easier to do with whole cardamom pods. Most stores have cardamom pods sold in the spice section. But, if you cannot find cardamom pods near you, then Amazon is sure to have them. I would try to refrain from using cardamom powder.

Whole cloves,
Just like with the cardamom pods, the whole cloves aromatize this turmeric quinoa beautifully, while adding a hint of flavor. As with the cardamom, you should find this in the spice section or on Amazon. And, also as with the cardamom pods, using ground cloves would alter the taste of this immensely.

And, optional, curry leaves
Curry leaves are a totally optional addition to this recipe. I was at a South Asian Store called Cherians, picking up some groceries for my mom, when I came across some. Curry leaves are very different from curry powder. Curry leaves are loaded with fiber and are said to lower blood glucose levels. This article has a ton of information on curry leaves, in case you want to know more. They are highly aromatic and just a few go a long way. But, if you don't use them, this turmeric quinoa will be just as aromatic and tasty.

Once you have all your ingredients, it is just a matter of adding them all to a pan and bringing them to a boil. Then, let it all simmer, covered, for about 15 minutes. After that, a quick fluff and this dish is ready to enjoy!
There is very minimal prep involved in making this dish. All that's needed is to peel and grate the garlic. Other than that, it's just a matter of measuring.
I enjoyed this turmeric quinoa with some pinto bean curry and some oven-roasted okra – both recipes will be up next week.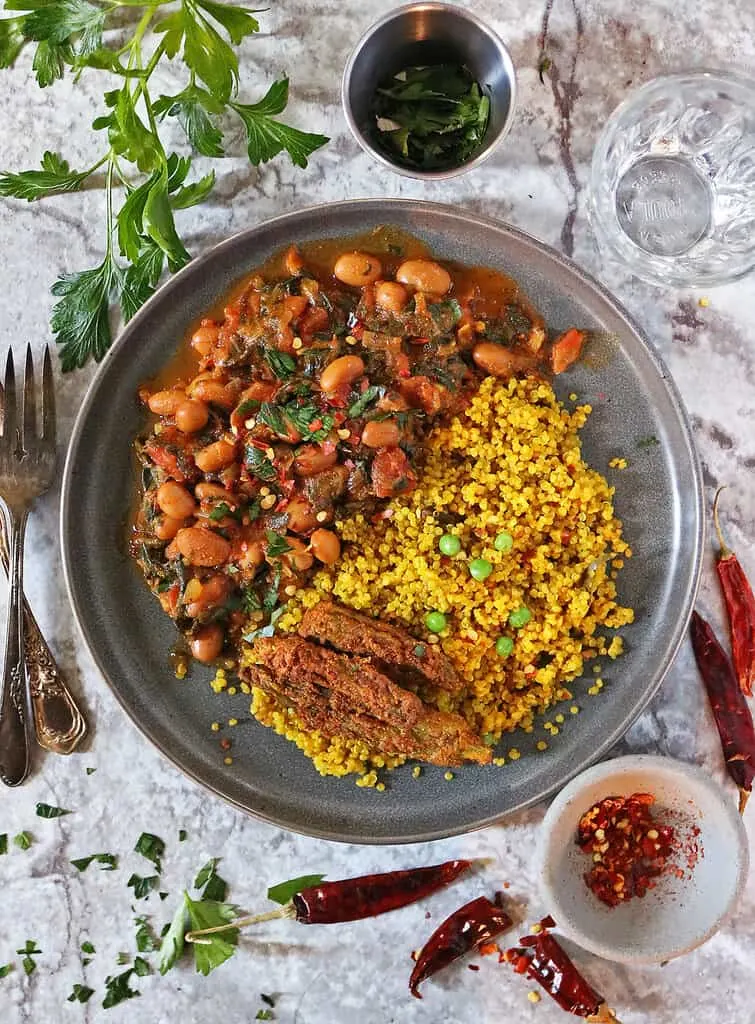 How to store this turmeric quinoa?
If you have any leftovers, you can store this turmeric quinoa in an airtight container, in your refrigerator, for about 5-7 days.
Can you double this recipe?
Yes, you can double or triple this recipe to make as large a batch of quinoa as you need.
Can you freeze this turmeric quinoa?
Yes, you can freeze this turmeric quinoa. Just make sure to seal it in airtight containers to avoid freezer burn. Frozen quinoa should keep for about 5 or 6 months.