By posting this recipe I am entering a recipe contest sponsored by CFE International and am eligible to win prizes associated with the contest. While I was not compensated for my time, I did receive free product samples. As always, all opinions are my own.
This Curried Salted Cod with Avocado Potato Puree looks like one heck of a mess on a plate, but, sometimes, don't you think that messy food can be oh so tasty?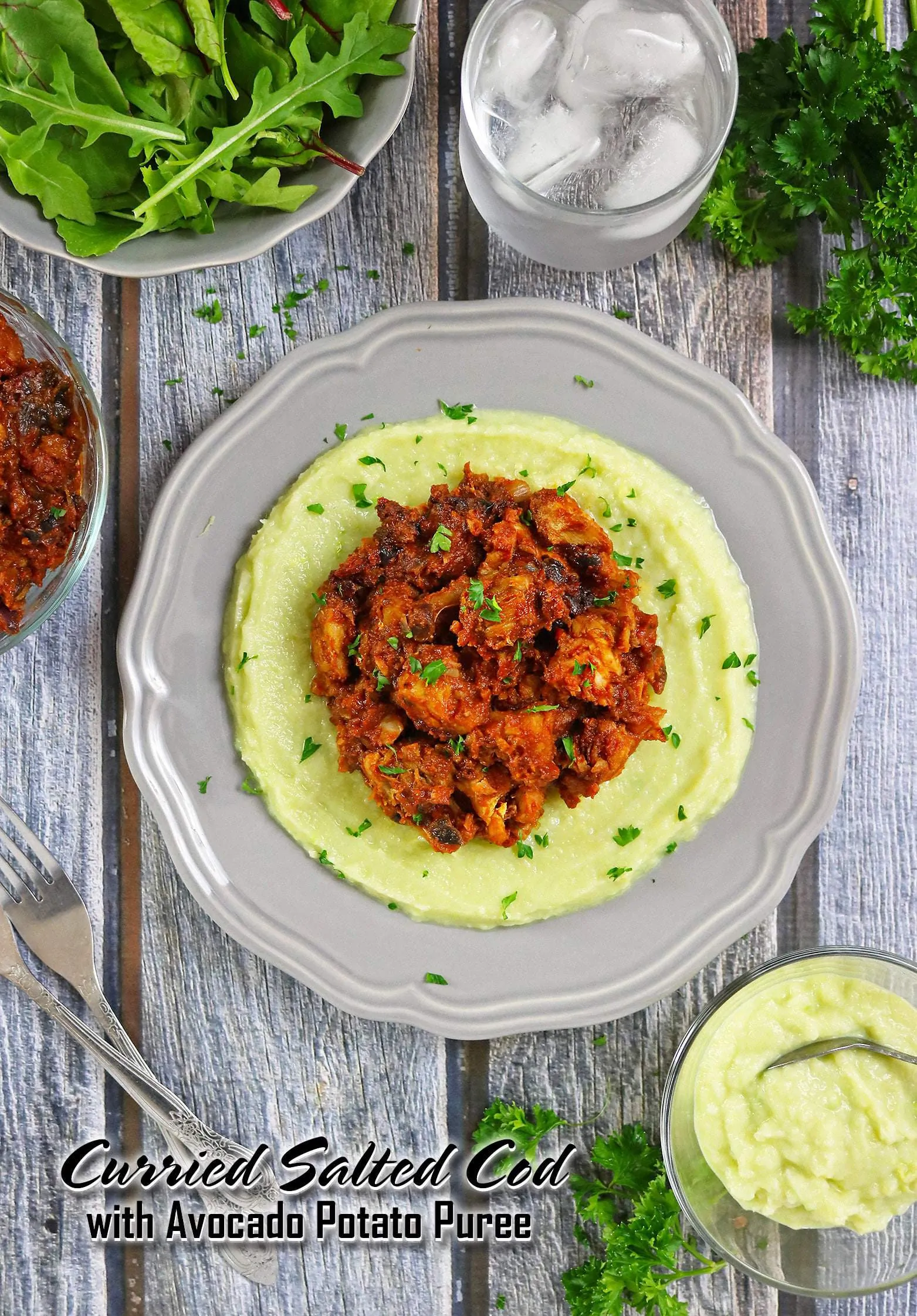 Say the word "chocolate" and those salivary glands in the back of my mouth start firing…
But, say the words "salted cod" or "bacalao" and nothing…no salivary over production whatsoever!
In fact, I hear salted cod and I think why not fresh cod?
So, when I was informed of the CFE International Saltfish Blogger Recipe Challenge, I was a tad bit skeptical of participating.
In fact, when I got the samples, the procrastinator in me figured I'd let them get very well acquainted with the walls of my freezer!
Then, in this last week of the challenge, that same procrastinator figured I'd stop watching It's Alive with Brad on Youtube and get some research done on the whats and whys behind salted cod.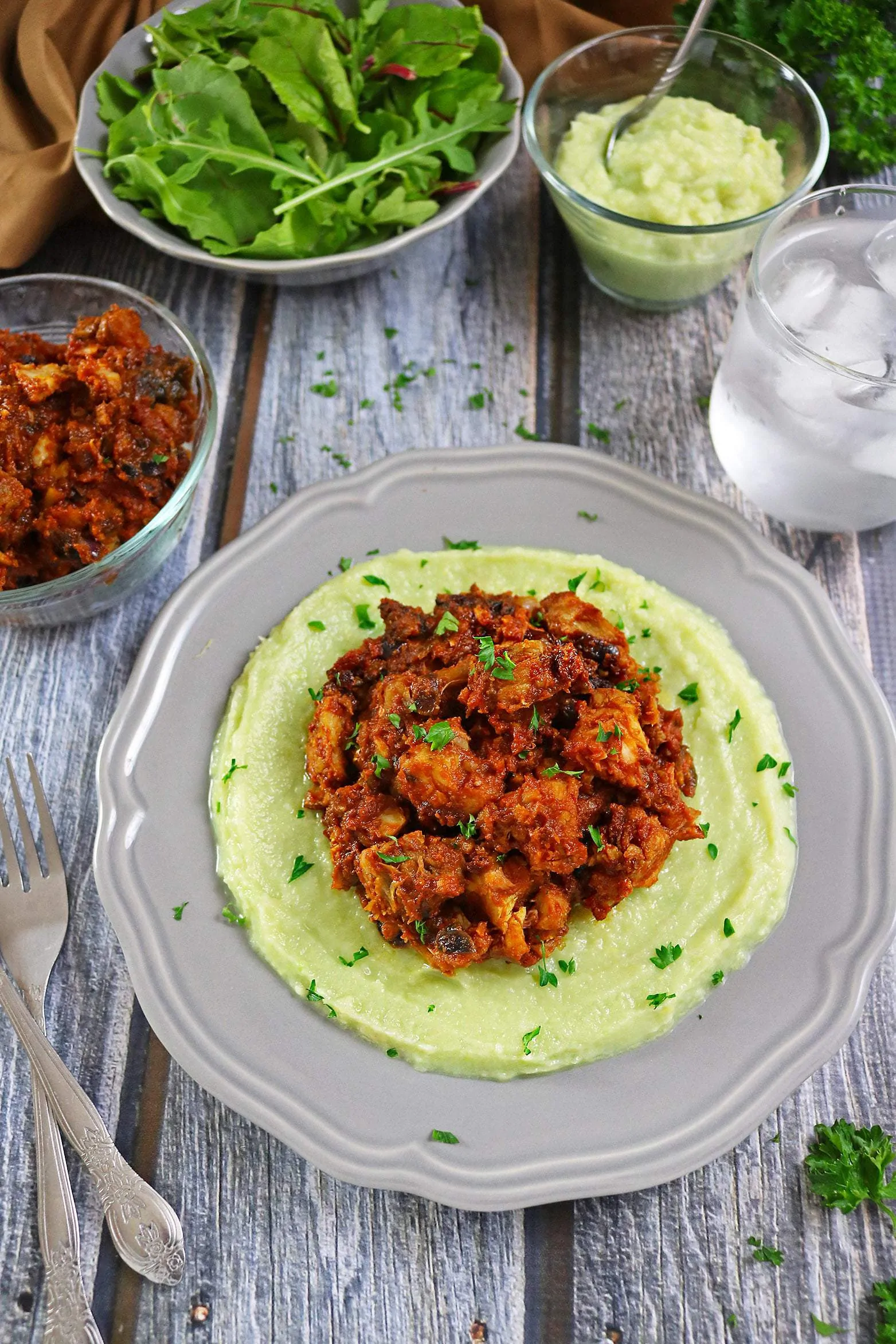 And, with each tidbit I learned, the more I wanted to know… I know am not the only one who gets that way right?
For one, I learned that salted cod is simply cod that's been preserved with loads of salt. I didn't know that cod that's preserved this way, has to be "flushed" with water and rehydrated before cooking/eating by rinsing it with water and then soaking it in a bowl of water for 24 hours. During these 24 hours, it's recommended that the water be drained and re-filled 3-4 times to draw out as much of the salty-ness of the cod. I came across croquettes and pot pies and dips featuring salted cod. But, again, I couldn't help thinking why salted cod over fresh cod?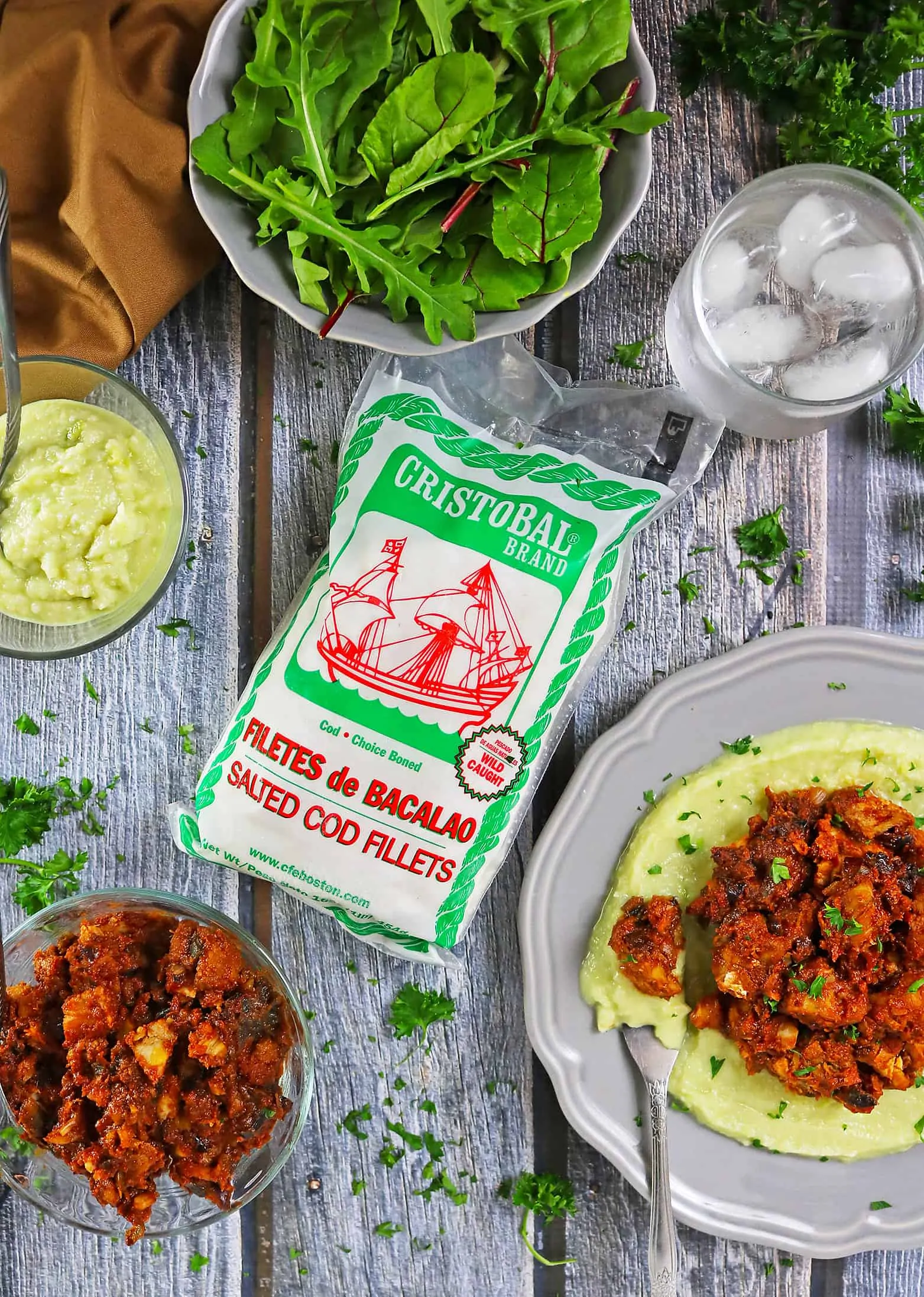 And, my question was answered when I finally ended up sauteeing a bit of the Cristobal Salted Cod fish to taste-test. Salted cod is more meatier and (quite pleasantly) not as fishy as it's fresh counterpart. It's still quite tender as long as it's not boiled, as boiling it makes it tougher. I first used some of it to make some pan-fried, potato and salted cod patties with a bit of jalapeno, and while they were good, they just didn't have as much flavor as I liked. So, I ended up making this super-easy, Curried Salted Cod with tomato paste, cumin and coriander and served it on a bed of Avocado Potato Puree (which, I figured was CFE International Inc competition worthy). I used the slightly salty nature of the salted cod fish to my advantage and did not add any salt to the Curried Salted Cod or the Avocado Potato Puree, and didn't really miss it.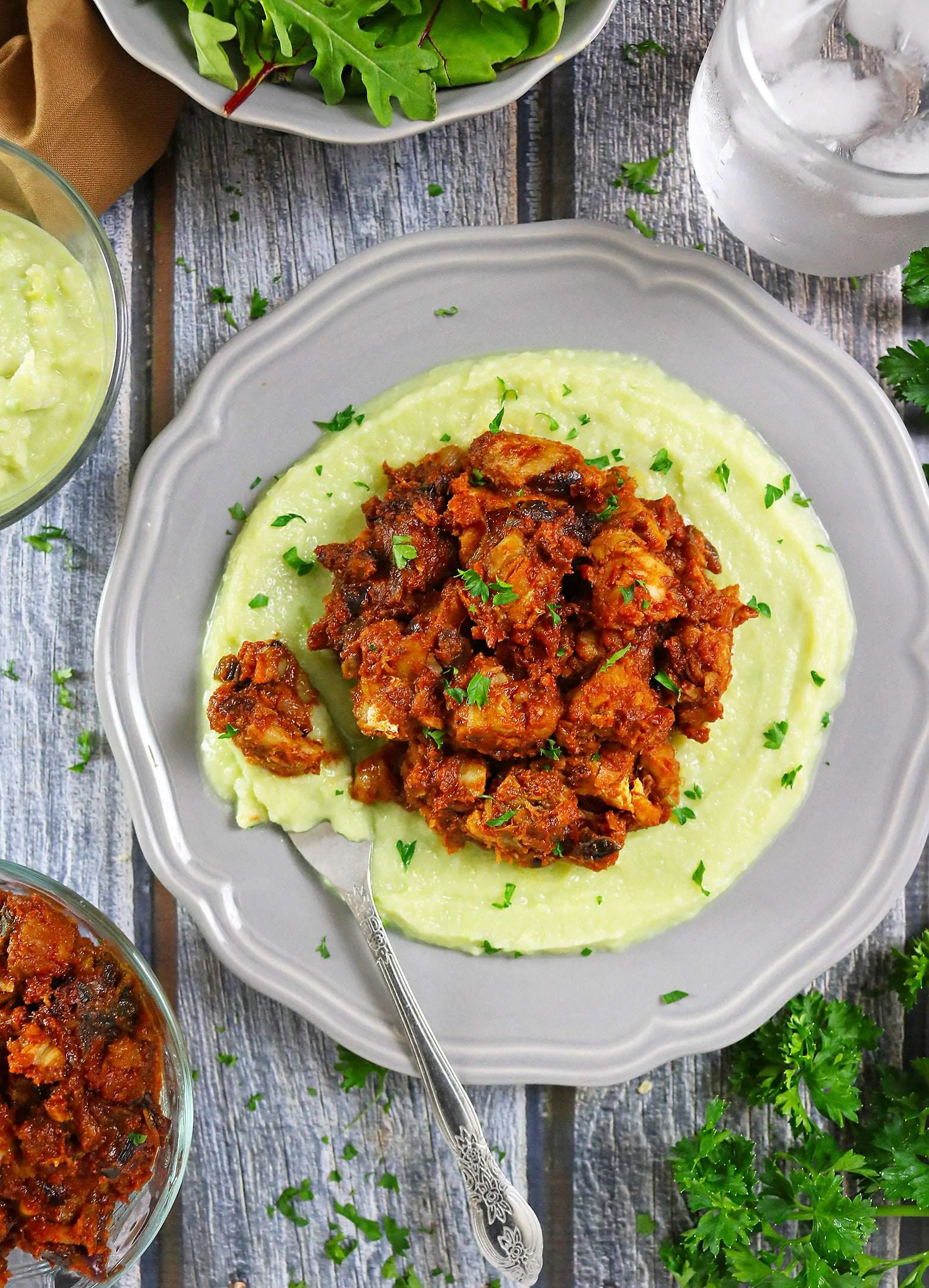 CFE International was founded as Canadian Fish Exporters, Inc., a U.S. corporation, in 1971. And, over the past 45 years, they have focused on the production and import/export of salted dried fish through brands such as Cristobal, Buena Ventura, Isla Brisa and BacalaRico. CFE International operates in compliance with U.S. HACCP regulations for seafood products and is an active sponsor of The Greater Boston Food Bank, Feeding South Florida, City Harvest of New York and Friends of Boston's Homeless and their efforts to eliminate hunger.
Salted cod fish by CFE International Brands can be found at: 285 Farmers Market, Farmers Markets, H-Mart, Publix, and Nae Dae Mun Mk stores. If you'd like to learn more about CFE International, make sure to follow them on Facebook, Instagram, Twitter and Pinterest!
[Tweet "Curried Salted Cod with Avocado Potato Puree #saltfish #bacalao #Cristobal @BacalaoCFE"]