If you have 30 minutes at dinnertime, you can whip up this delicious, budget-friendly and nutritious, 30 Minute Fish Curry. Pair it with some naan and Yuengling, and you have a delightfully delicious meal to end your day with.
This shop has been compensated by Collective Bias, Inc. and its advertiser. All opinions are mine alone. This content is intended for readers who are 21 and over. #Yuengling190 #CollectiveBias #SpreadYourWings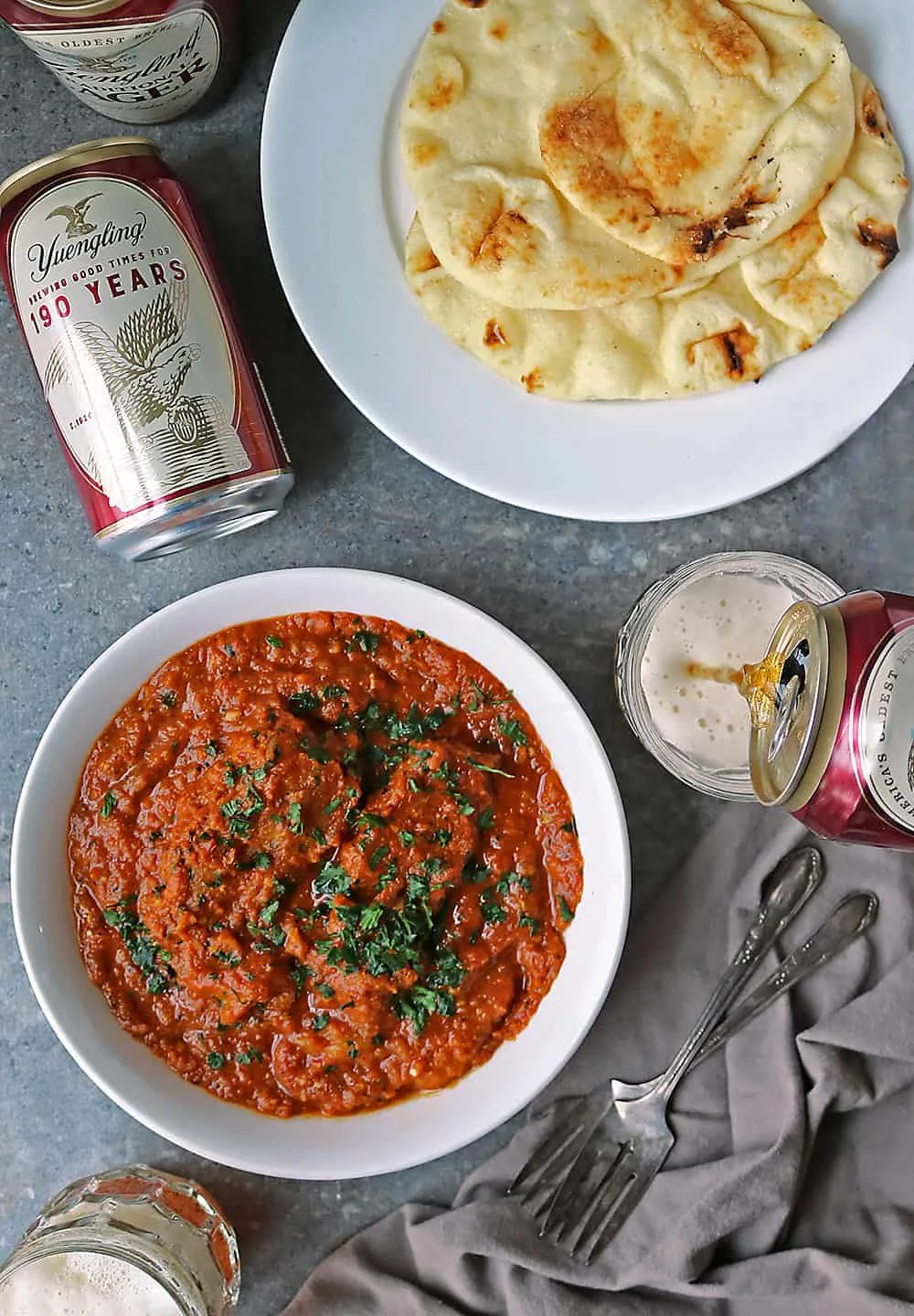 Who drinks beer at room temperature? Apparently, I do! And, you know what? I cannot say I didn't enjoy it!
Last night, I got home famished. I had grabbed some ingredients to make a quick fish curry and a 12-pack of Yuengling Traditional Lager from the grocery store, and in between sauteing onions and blending up the sauce, I forgot to put the Yuengling in the refrigerator. When dinner was ready, I was too hungry to wait. So, I opened up a can, and I gotta say, that fish curry and room temp Yuengling combination was quite delightfully delicious!
By the way, did you know that Yuengling, America's Oldest Brewery, is celebrating their 190th anniversary this year?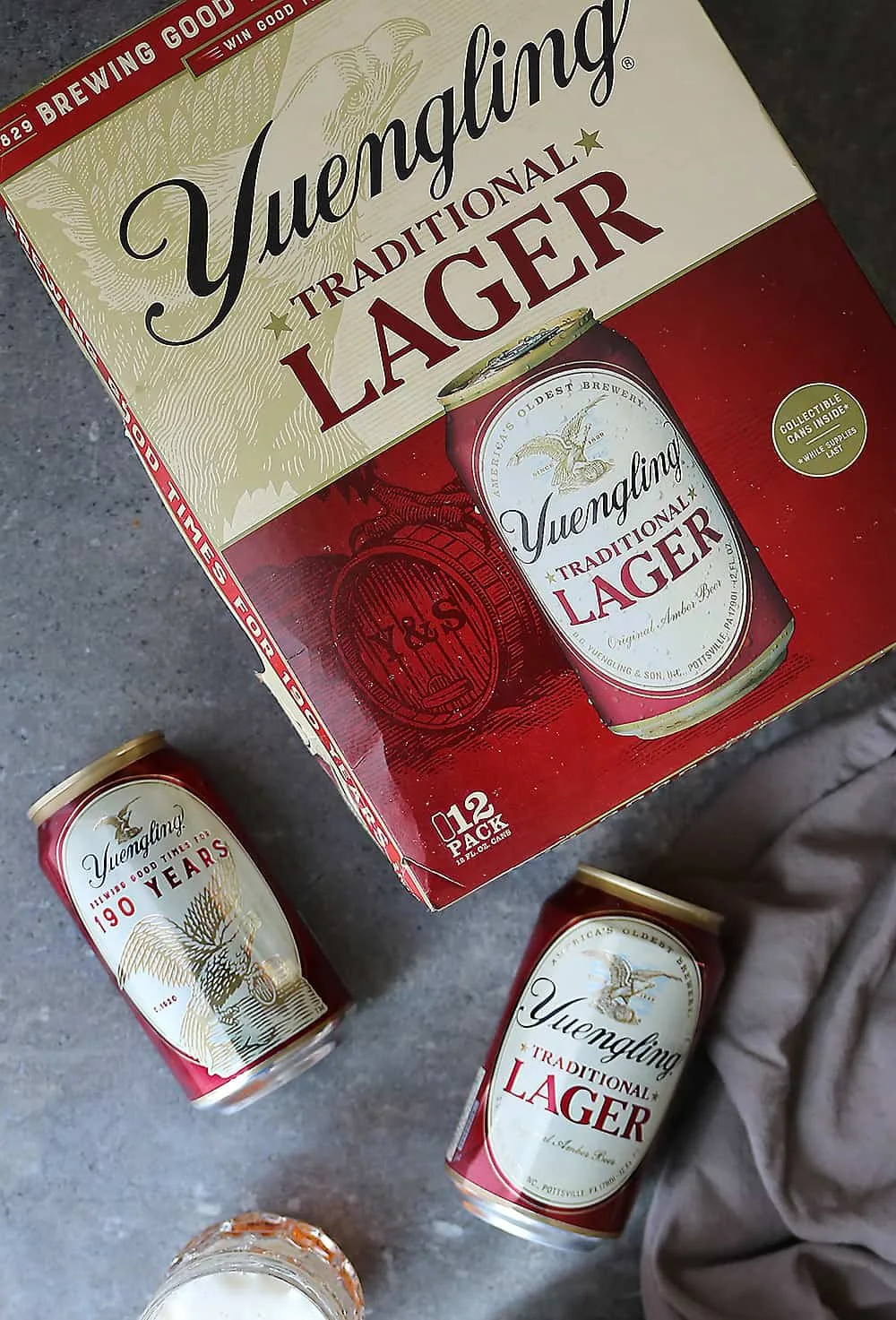 Wow – 190 years of brewing good beer for our everyday enjoyment! And, they are doing it with exciting announcements and events, including the release of 5 commemorative, limited-edition, 190th Yuengling Traditional Lager beer cans.
In case you happen to have one of these Yuengling Traditional Lager beer cans, you might want to hold onto them. With one new design being released each month over five months (beginning in December 2018), these cans are collector items. These 5 commemorative cans pay tribute to the entrepreneurial spirit and relentless determination that has made Yuengling America's Oldest Brewery. In January, the cans will showcase the transformation of Yuengling's iconic eagle imagery that has been on their label since 1829, when their original brewery was called the "Eagle Brewery."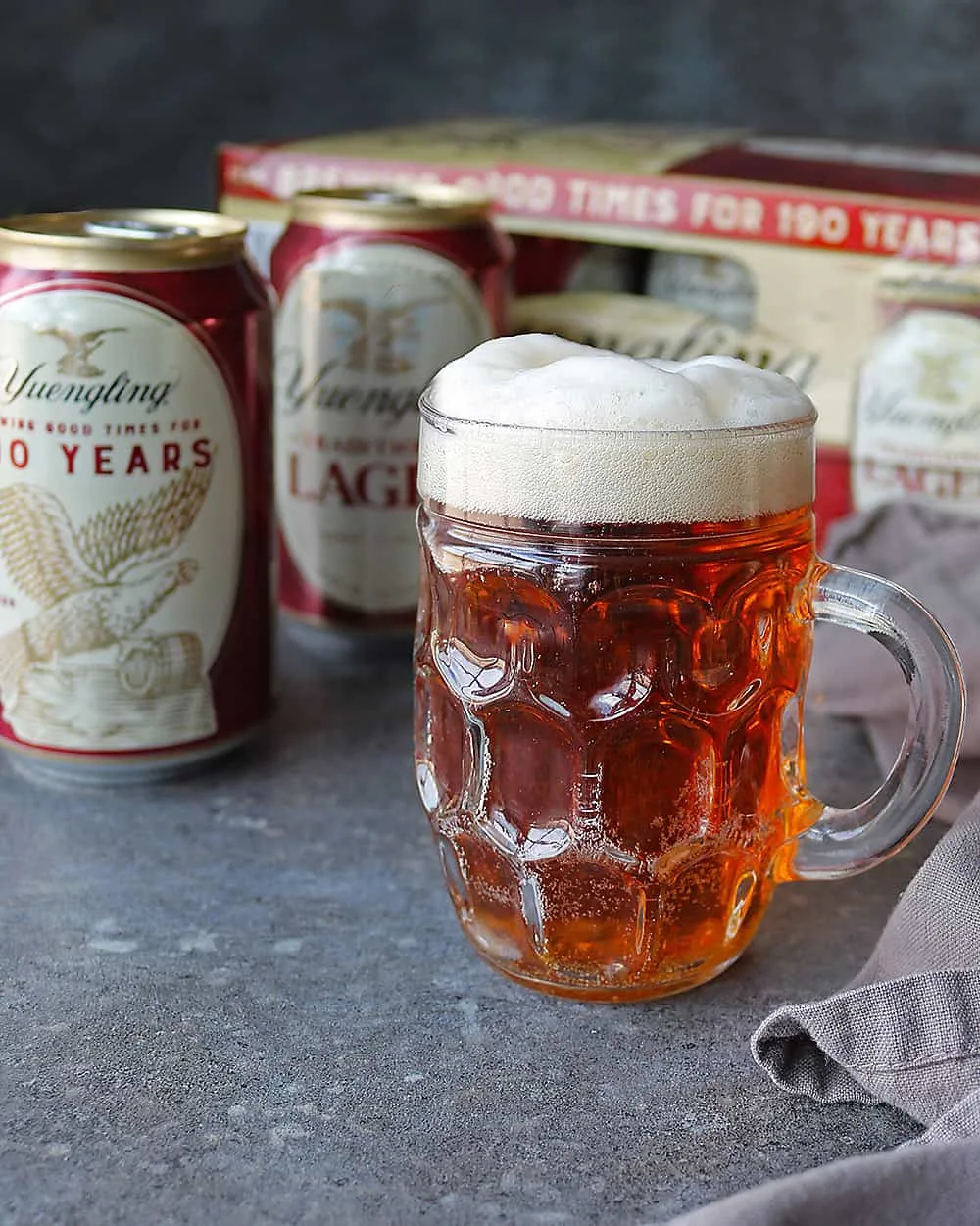 Fiercely independent and family-owned and operated, Yuengling is currently operated by its 6th generation of Yuenglings – sisters, Jennifer, Wendy, Debbie and Sheryl. This all female team have combined over 60 years of brewery experience. In fact, Yuengling Golden Pilsner was born from this 6th generation of brewing expertise.You can read more about Yuengling, and new leaders, Jennifer, Wendy, Debbie and Sheryl at the "and daughters" blog here.
Coming from a matriarchal family, where my grandmother and mother were strong, authoritative figures, I feel that in a male-dominated industry, it's an interesting time to be leading Yuengling as women. And, with international women's day on the horizon, I had to share this tidbit.
Speaking of my mom and grandmother, fish curry has been a favorite in our home, ever since I began eating spicy foods as a toddler. The recipe for fish curry has been passed down from my grandmother to my mom, with several tweeks to adjust to ingredients we could find while moving from Sri Lanka to Abu Dhabi to the USA.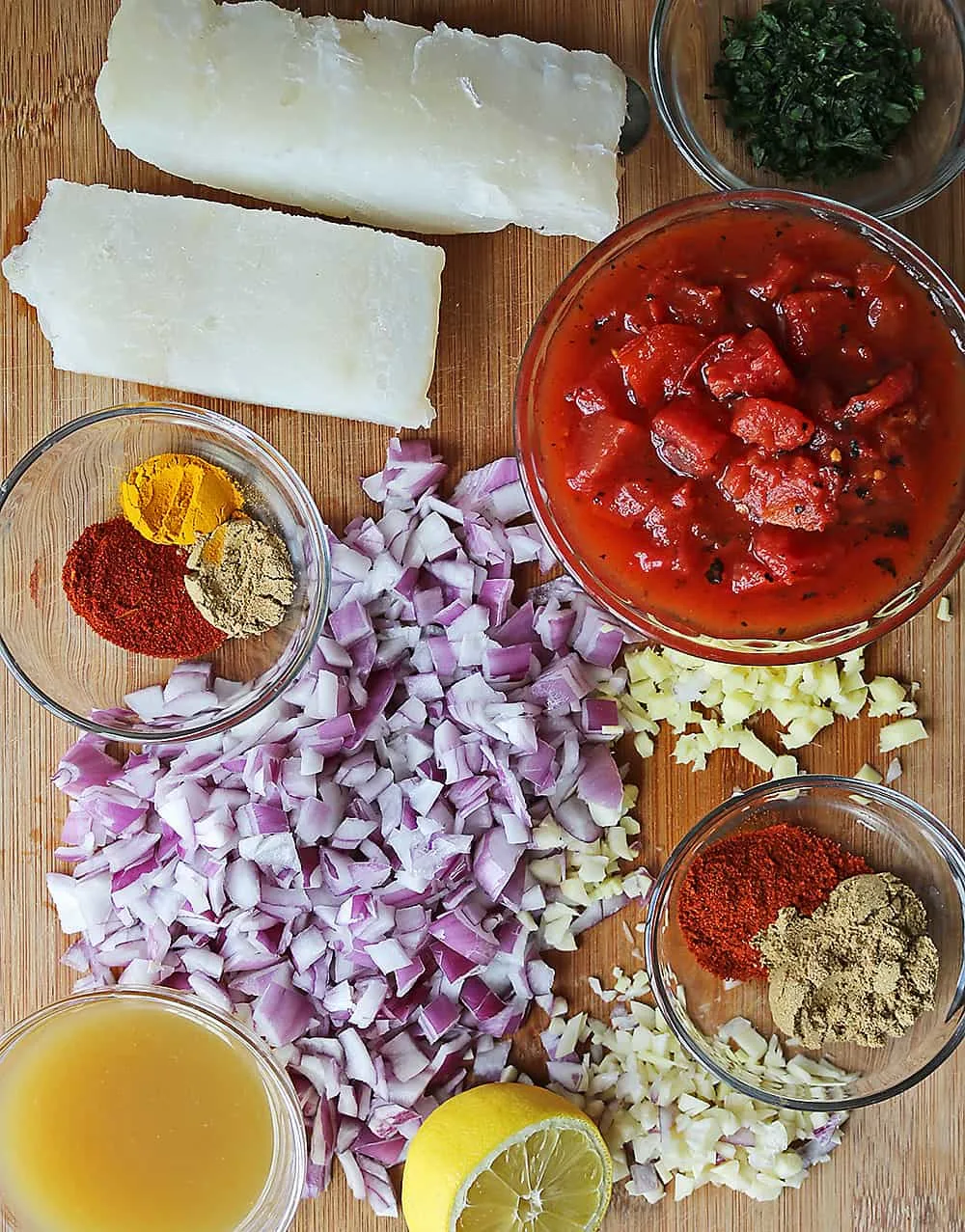 I had this fish curry you see here today ready in 30 minutes. I roughly chopped and sauteed onions, ginger, garlic (staples in just about every dish my mom makes). I added in varying quantities of spices like coriander, cumin, and chili powder, along with some fire roasted tomatoes and bone broth and blended it all together so the curry would be a smoother consistency. I threw in some cod fillets into the simmering, blended sauce.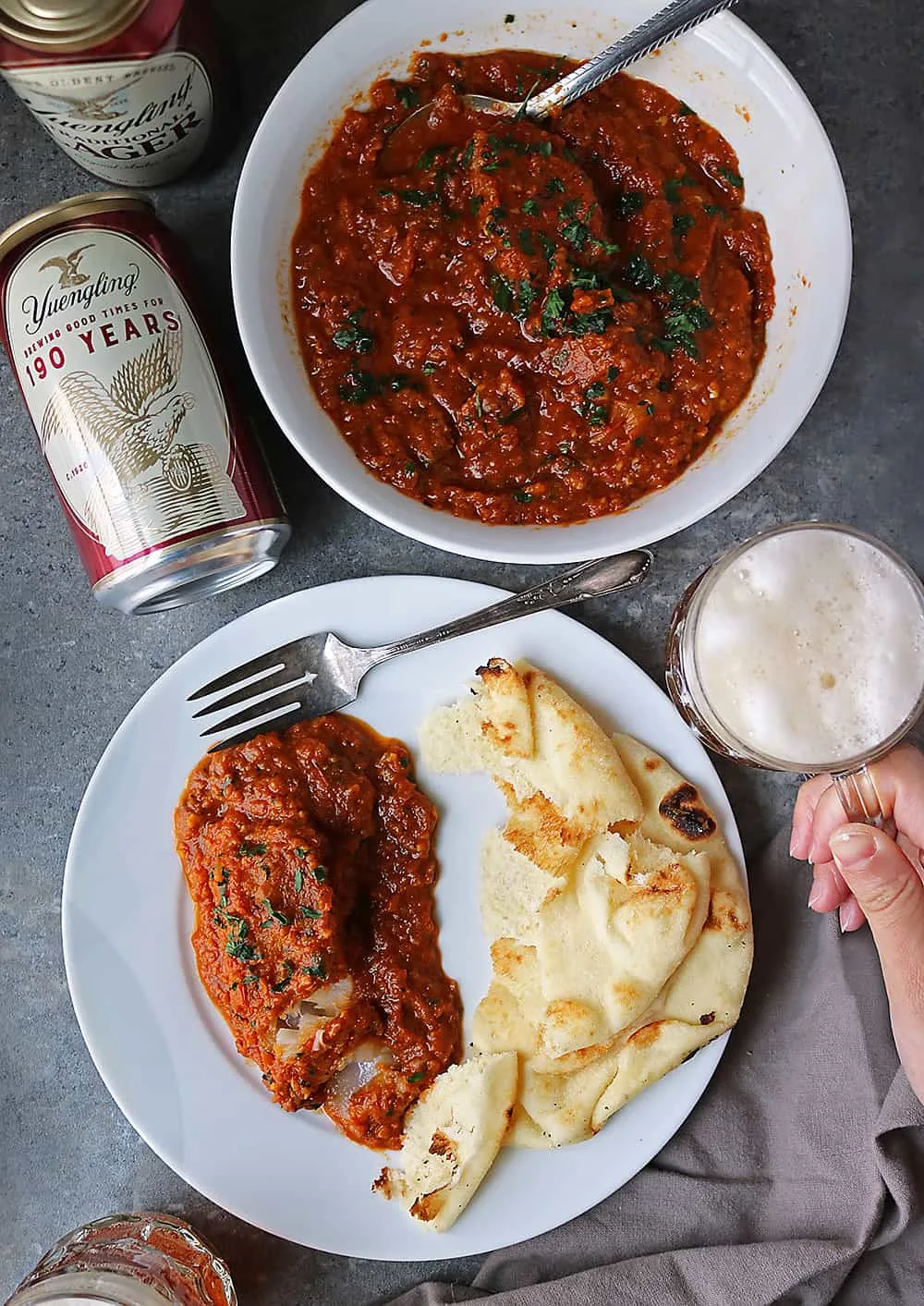 With a side of warm naan to sop up the curry, this was so delicious paired with Yuengling at room temperature. Tomorrow, I am enjoying the leftovers of this fish curry with a chilled Yuengling!

Make sure to take advantage of these savings:
Save $2.00 off 12 pack OR (2) 6 packs
or $4.00 off (2) 12 pack OR a 24pk or (4) 6pks of Yuengling.
This promo ends 5/1/2019. Please note that the offer may vary by state, so check your local store.

Here are a few more of our favorite seafood recipes:
Easy Swordfish Tomato Curry
Curried Salted Cod with Avocado Potato Puree
Alaskan Pollock Burgers In Lettuce Wraps
Almond Sriracha Salmon
Spicy Lemon Chili Tilapia