I have partnered with Sprouts to bring you these Sweet Spicy Oven Roasted Artichokes. All opinions are mine own ~ thank you so much for supporting the brands that keep this blog spinning.
Fresh artichokes are cleaned, trimmed, de-choked, and slathered with a tastebud tantalizing, Honey Orange Chili Sauce and oven roasted into these Sweet Spicy Oven Roasted Artichokes your friends and family are sure to love!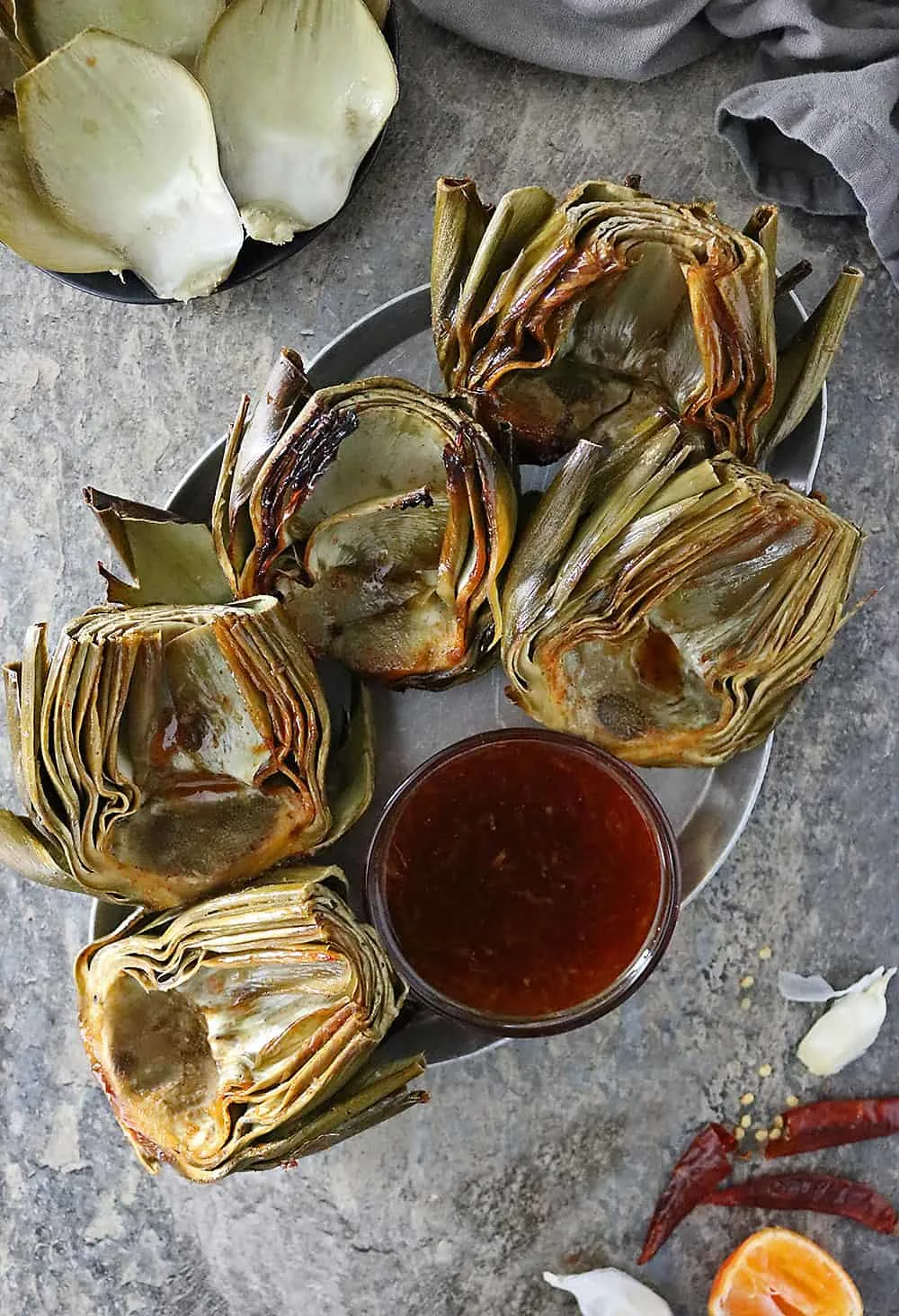 When I was in college, I used to love those artichoke hearts in glass jars. Sometimes, I enjoyed them in salads and other times, I enjoyed them by the spoonful right from the jar. Back then, I don't even recall thinking about learning to prepare fresh artichokes.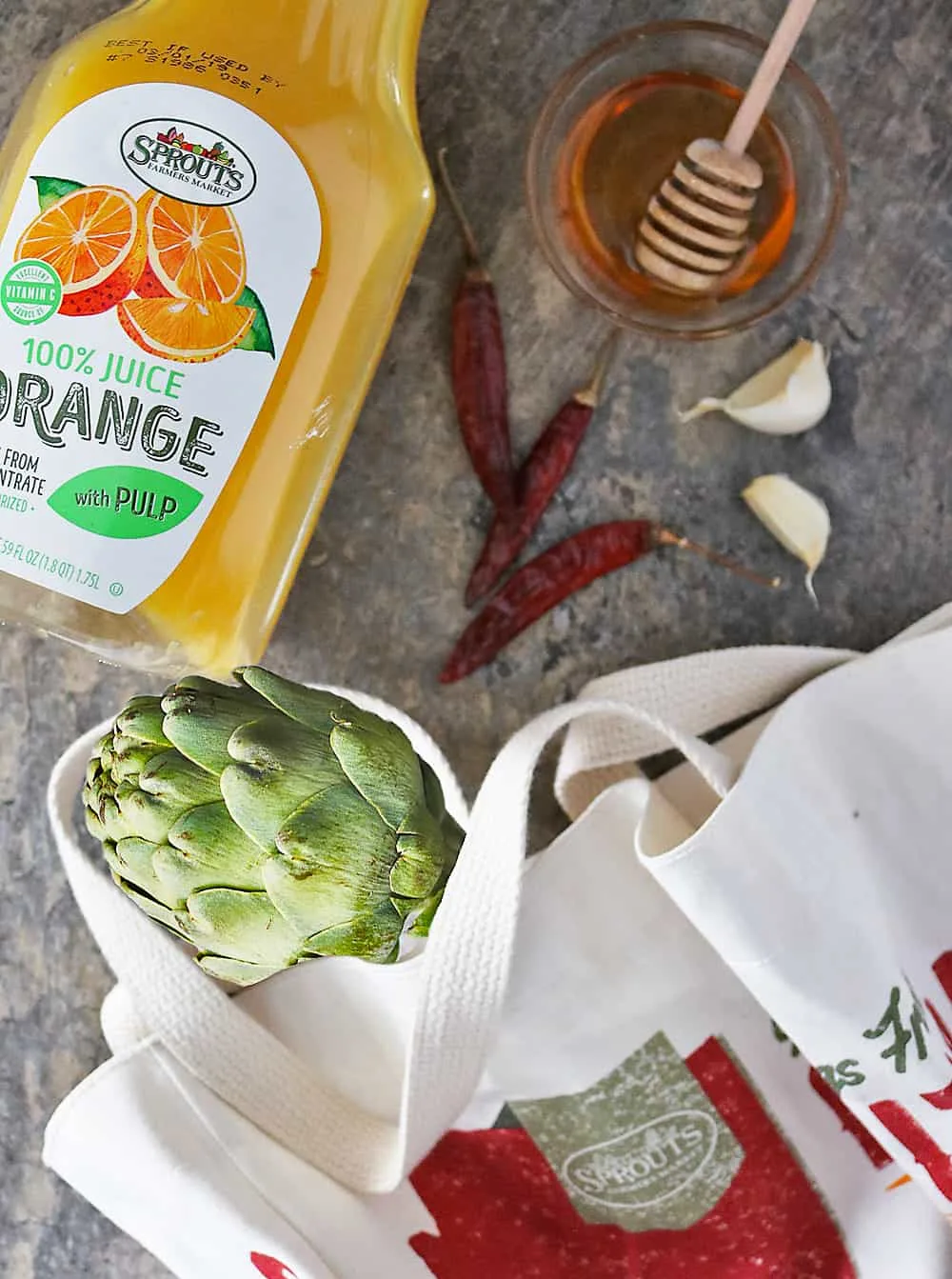 In more recent times however, having walked by fresh artichokes one too many times, my curiosity got the better of me. On a recent trip to Sprouts I brought home a big bag of globe artichokes. With the help of my friends, Google and Youtube, I spent a lot of time trying to learn how to prepare fresh artichokes. And, when I finally did, I understood what all those artichoke lovers had been going on about!
Artichokes are not for those nights I want a quick, easy, and filling meal. Artichokes take time to clean, prep and cook, but the result can make for a tasty, fun, conversation-sparking, appetizer.
I cleaned, prepped and made those artichokes I brought home into these Sweet Spicy Oven Roasted Artichokes you see here.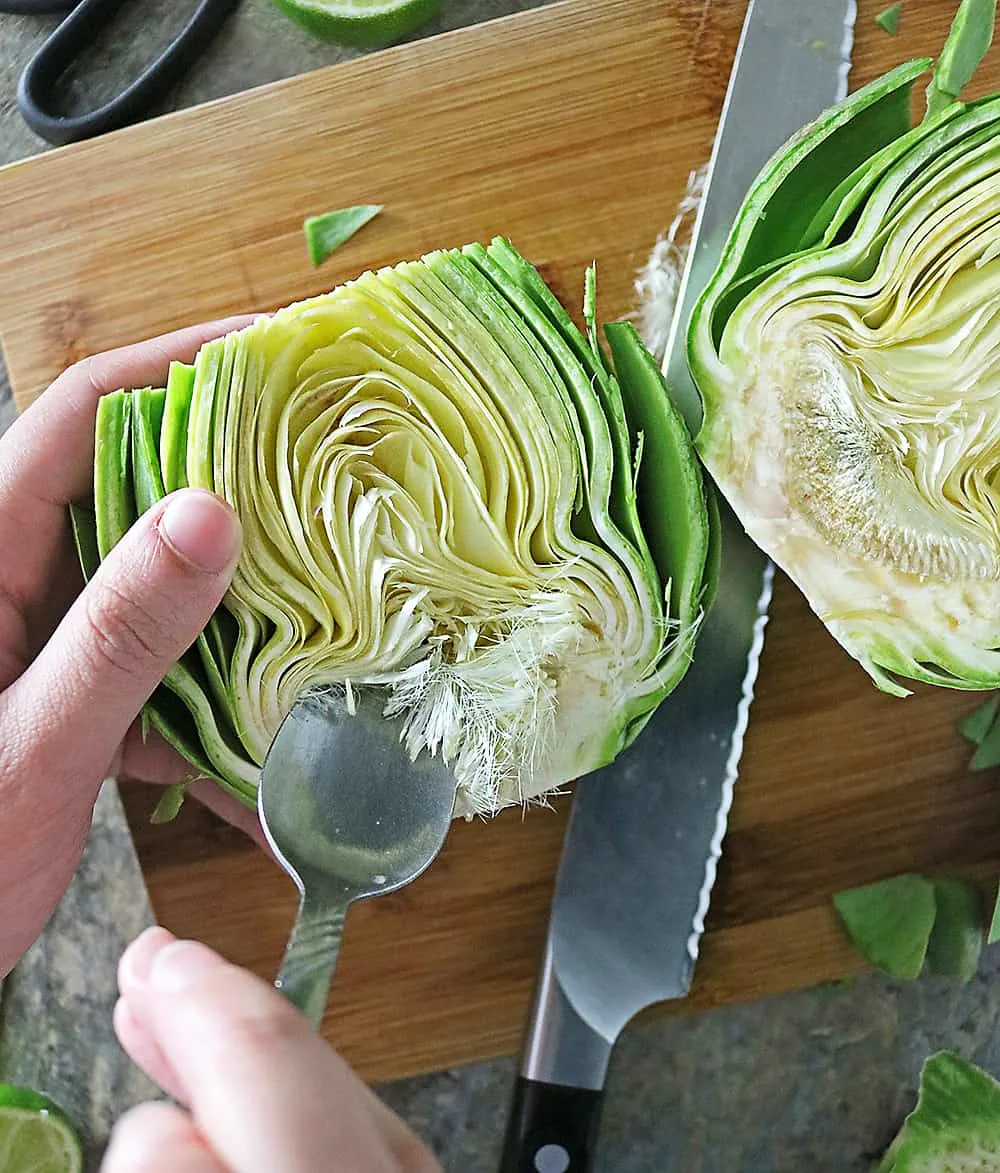 While you can find artichokes year round, their peak season is March through May. The artichokes you enjoy are actually a flower that has not bloomed. If allowed to flower, the "choke" sprouts into a large, thistle-like flower that is a gorgeous shade of violet-blue.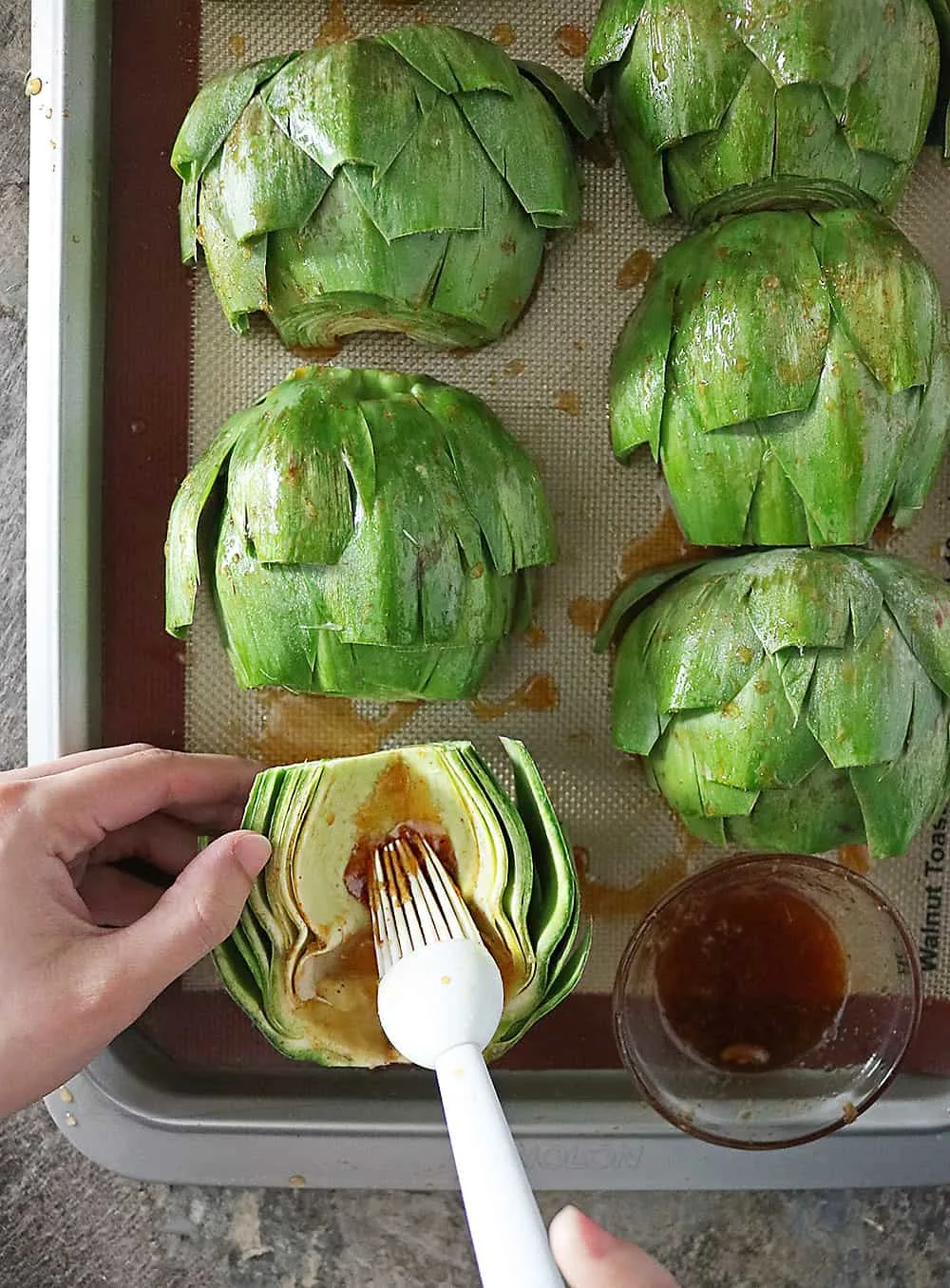 One artichoke plant can produce more than 20 artichokes per year. Artichokes are harvested by hand; and, because artichokes on the same plant mature at different times, the same field might be harvested seven days during peak season – talk about labor intensive eh?!
How To Prepare Artichokes?

When preparing artichokes, make sure to cut off the thorn at the end of each leaf, using kitchen shears. Pull off the small lower leaves, then trim the cut end of the stem. Cut off the top third and make sure the thorns are removed from the remaining leaves. While cutting, make sure to keep rubbing with lime/lemon to keep the artichoke from browning. Now you're ready to boil, steam or roast your artichoke.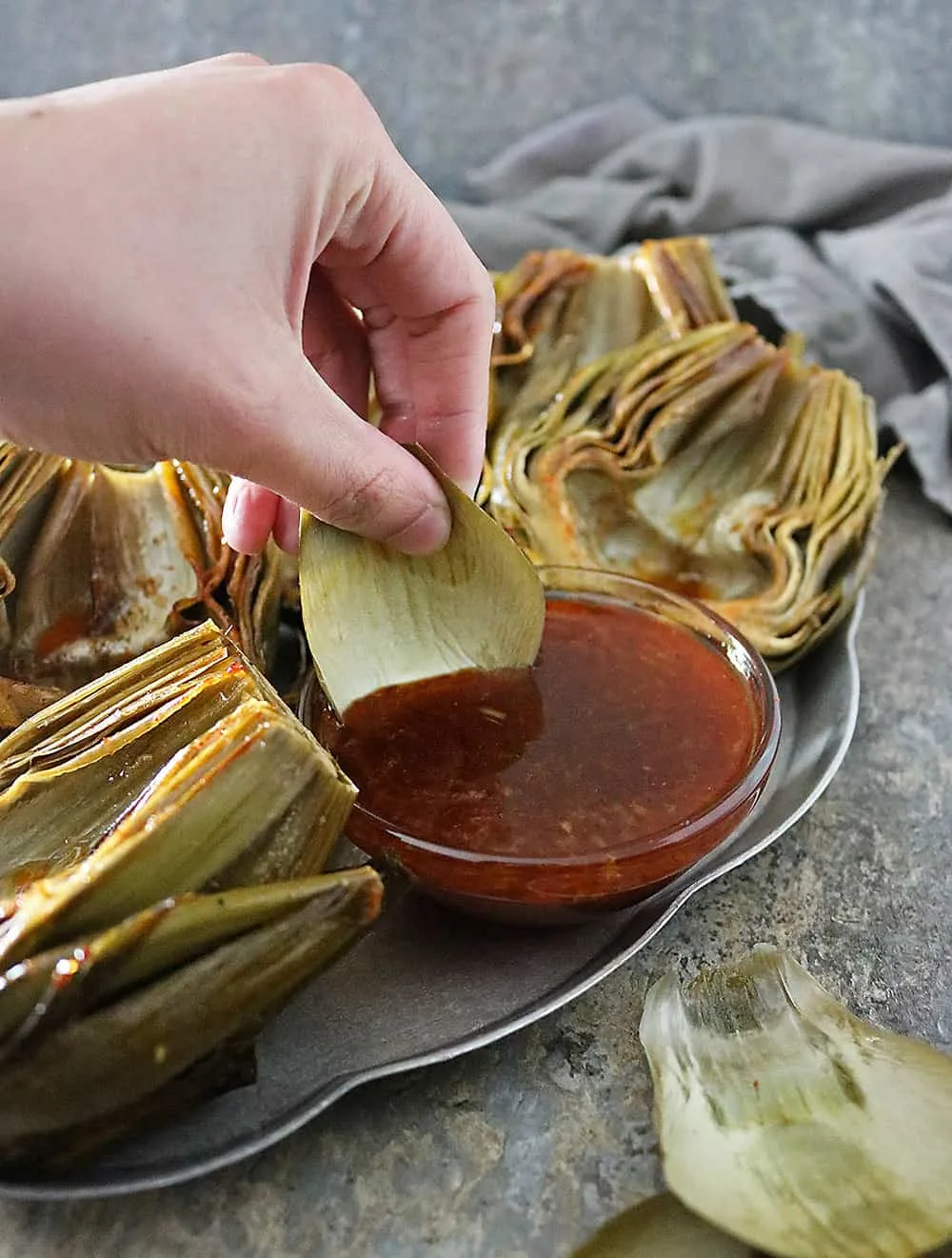 How To Eat Artichokes?
Peel each leaf off the cooked artichoke and dip it into a sauce of your choice. Pull the petal through your teeth to remove the soft, "meaty" portion at the end and discard the rest. After you have peeled off all the petals, you will get down to the heart of the artichoke. When you get down to the heart, make sure to spoon out the fuzzy choke. You can cut the remaining artichoke heart into smaller pieces, dip them into a sauce and enjoy.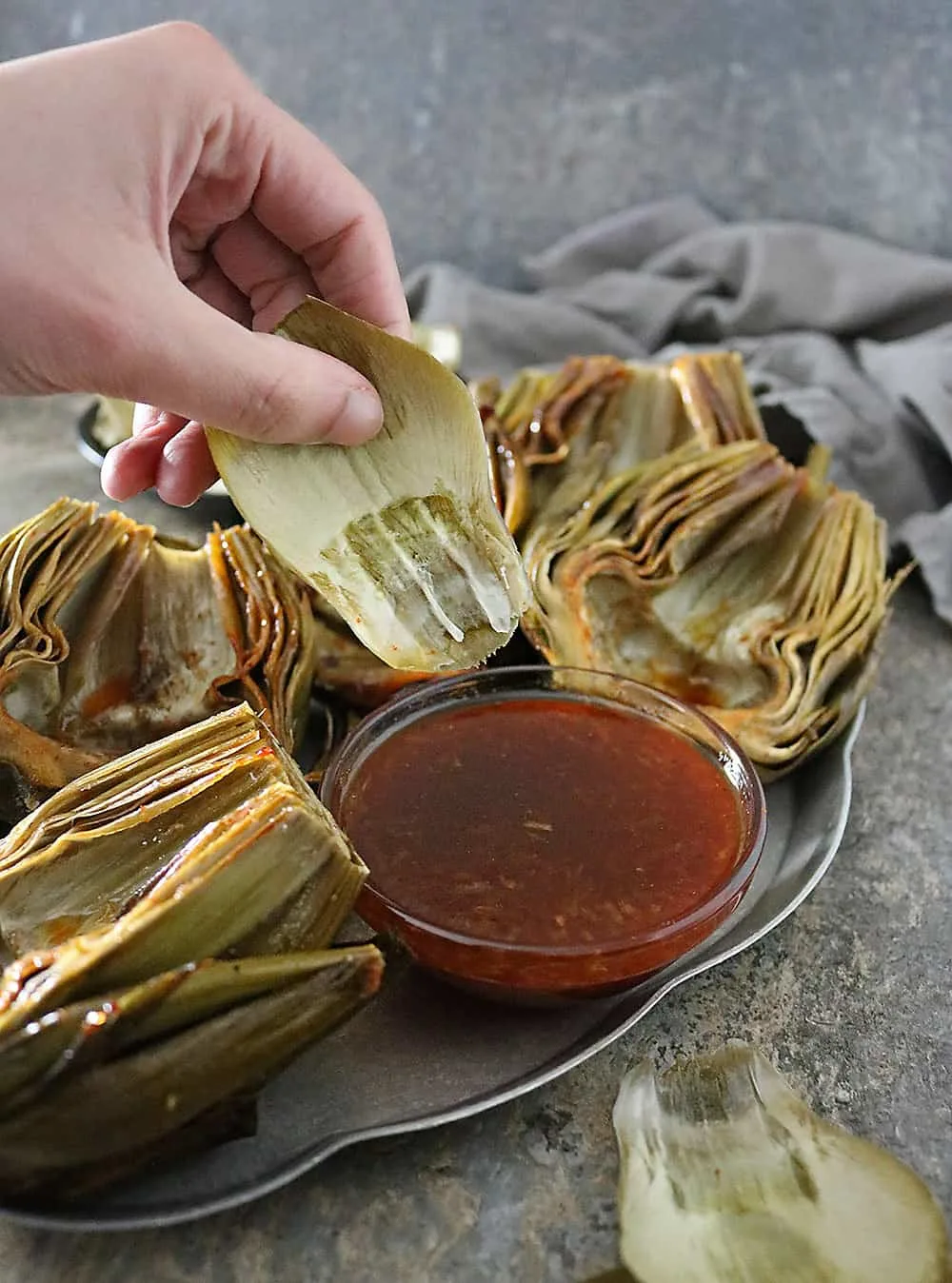 Why Eat Artichokes?
Artichokes are just plain fun to eat. And, their unique, nutty flavor can be enhanced when prepared like these Sweet Spicy Oven Roasted Artichokes were. By the way, have you heard of "frost-kissed" artichokes? While I have yet to try them, these slightly browned artichokes are said to have a deeper nuttier flavor than their greener counterparts.
Also, artichokes come with a plethora of health benefits and they are just plain fun to eat. One medium sized artichoke is a good source of vitamin C, folate and potassium and it's low in sodium and fat-free!
If you are fortunate to have a Sprouts close by (or, like me, are willing to drive 50 minutes to get to one), then why not grab a few of their fresh artichokes and whip up these Sweet Spicy Oven Roasted Artichokes! They would be perfect to celebrate National Artichoke Heart Day coming up on March 16th!