These Sweet Peppers Stuffed With Garam Masala Spiced Grillers are super easy and quick to whip up. Crisp sweet peppers are stuffed with garam masala, chili and parsley spiced vegetarian grillers making these one tasty and light meal or snack on a weekday or weekend get-together.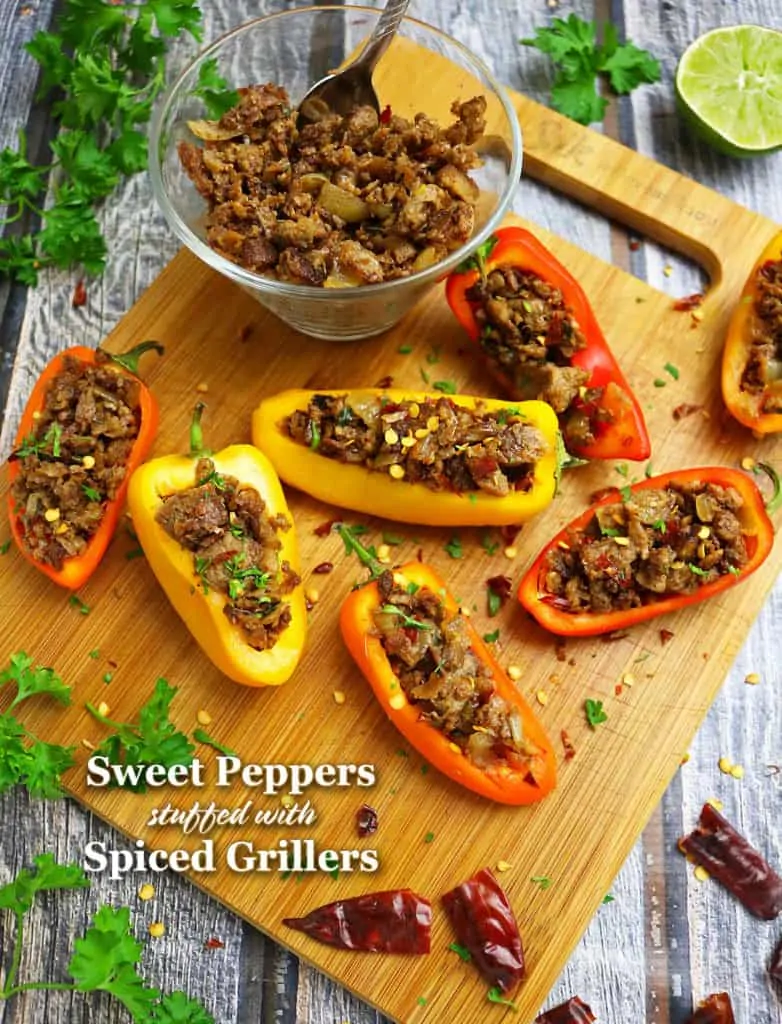 There's no arguing the fact that time is flying by, but yet there seems to be so much waiting.
In the Les Mills Body Combat workouts that I've grown to love, they call it a "holding pattern" when there's a set of easy 1-2 minute moves strategically placed between bouts of hardcore punches and kicks in an hour long workout. Even though that hour seems to fly by, I find myself waiting impatiently for those "holding patterns" to be done with.
My daughter's senior year of high school flew by – but now she finds herself waiting impatiently on orientation and housing appointments so she can check them off her list.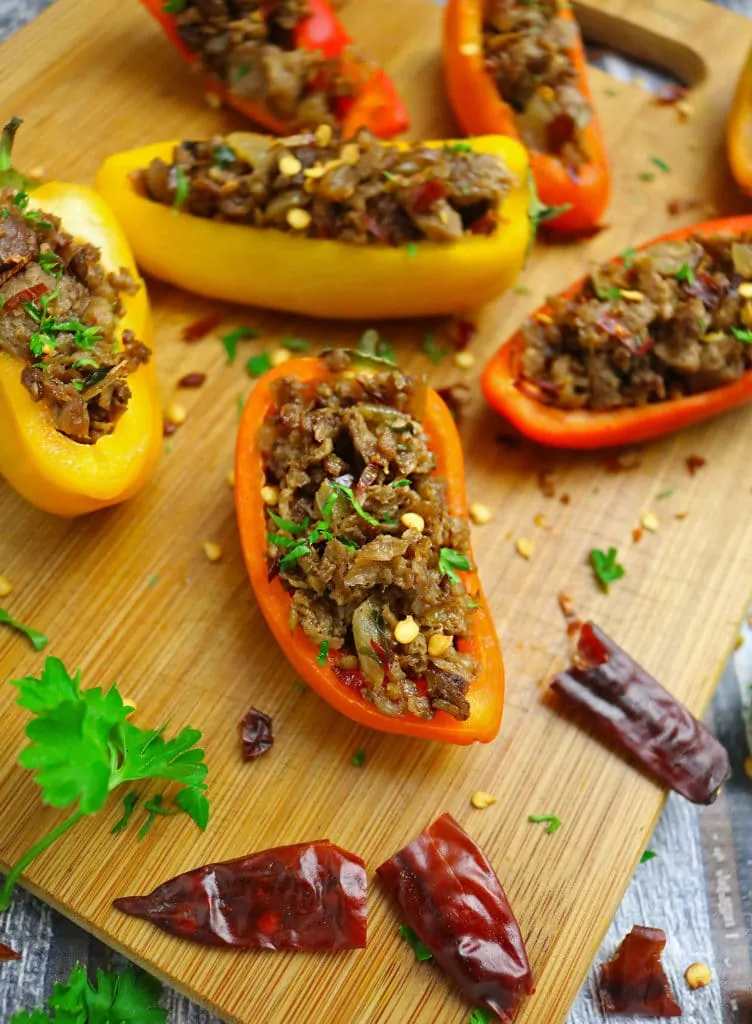 But that's not all she's waiting on.
Yesterday evening after we got back from a hike, my daughter found out that one of her dear friends had gotten into a bad skateboarding accident and was admitted to the hospital with a basal skull fracture. She asked me to take her to see her friend, but because of the severity of the trauma, noone was allowed in to see her other than her parents. And, while my daughter got to visit with her friend today, her friend is still severely sedated. So my daughter and other friends and family members are waiting…and praying. If you are still reading this, I am not sure of where you may be in your faith journey – but, if you happen to be a believer like I am, I ask you to please say a prayer for Caroline for the pressure in her brain to subside and for her to be able to breath on her own again soon – with the least amount of waiting.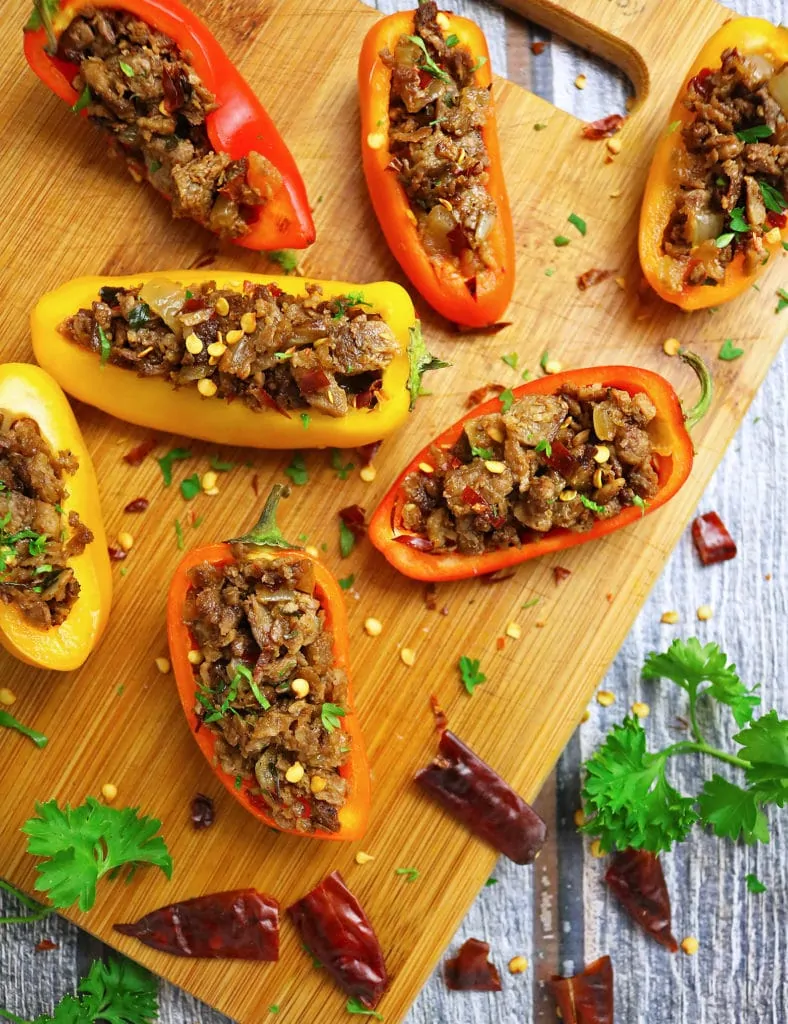 Last night when my daughter and I got back from the hospital, the appetites we worked up after our hike had dissipated. So, I decided to whip something up that was super light as we both had to eat something. I had a pack of MorningStar Farms® Grillers® Crumbles™ in the freezer and decided to saute them up with some onions, chili flakes, garam masala, ginger and parsley and stuff them into some sweet peppers that were about to go bad. My daughter decided to whip up her delicious guacamole to top the stuffed sweet peppers with. By the way, this isn't a sponsored post – as my daughter is vegetarian, I usually keep a few packs of vegetarian MorningStar Farms® Grillers® Crumbles™ on hand. When we want something quick and versatile, they sure come in handy. And, with whatever spices and veggies or beans we have on hand, they make a good stand in meal or snack or dip or a stuffing like in these Sweet Peppers Stuffed With Garam Masala Spiced Grillers – with very little waiting involved!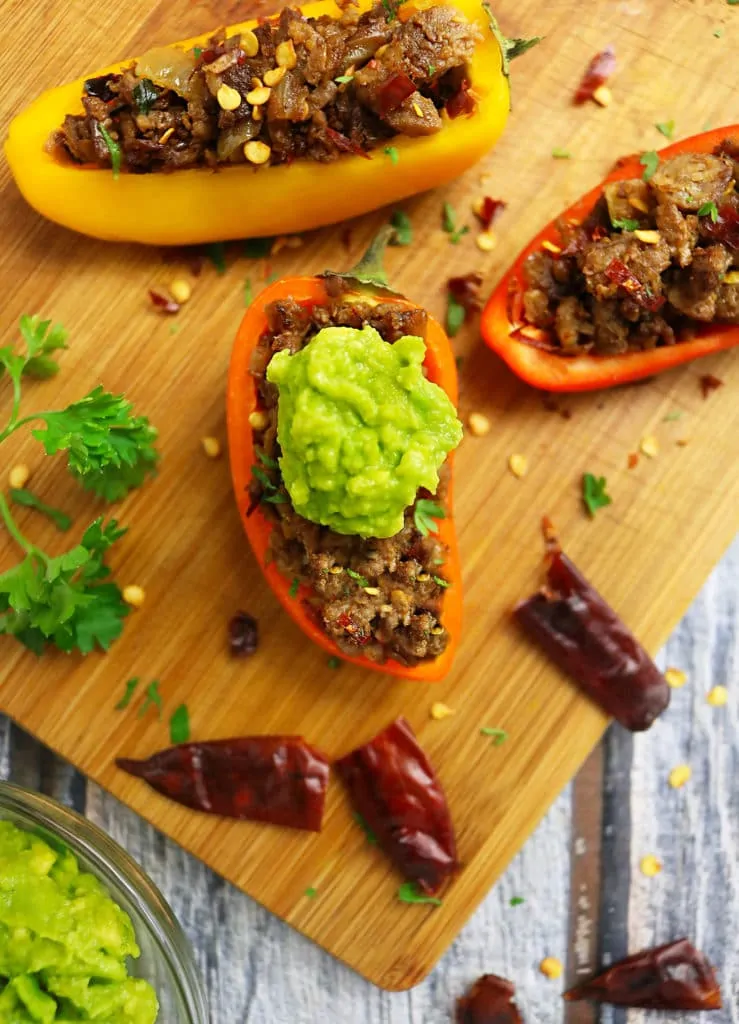 [Tweet "Sweet Peppers Stuffed With Garam Masala Spiced Grillers #recipe #vegetarian @MorningStrFarms"]