Made with lemon zest and lemon juice, this lemony, Easy Lemon Za'atar Quinoa is a quick and tasty side dish. And, it is made with only 5 ingredients!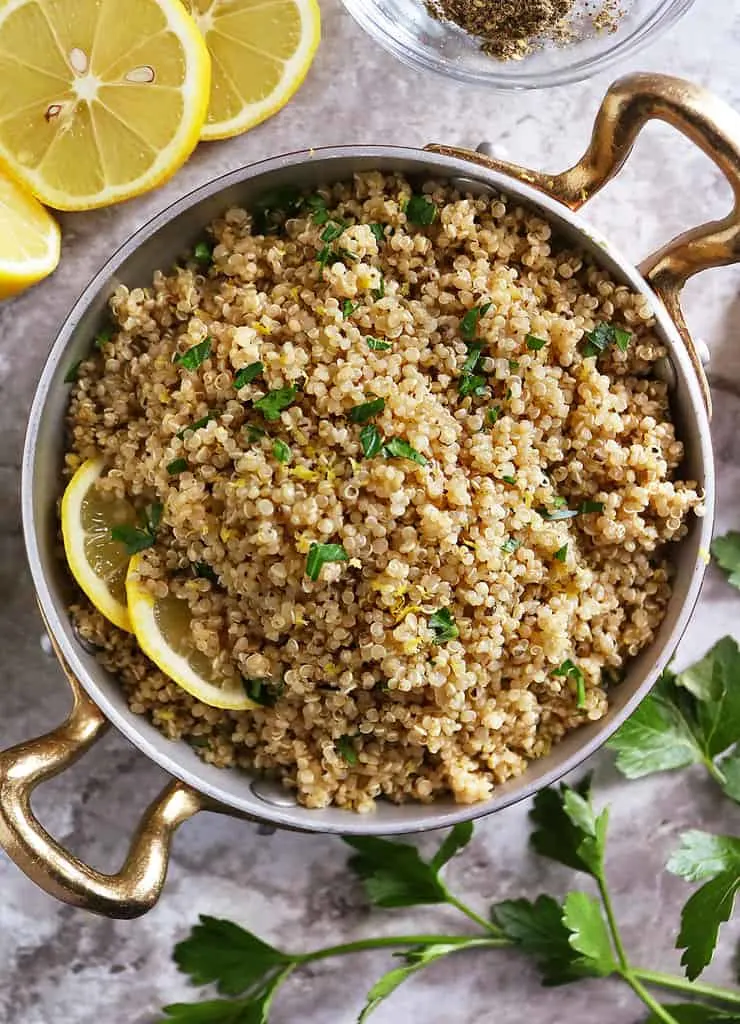 Quinoa is the grain my daughter loves to pretend she hates.

When she was younger, her exclamation of "Oh no mom, not quinoa again" was often followed by her taking a taste of whatever quinoa concoction was on hand. Then, without making eye contact with me, she would proceed to devour it.
Well, not much has changed.
Last weekend, I packed up some of the Marry Me Tofu I made as well as some of this Lemon Za'atar Quinoa in a container, and took it with me when I went to visit her.
When she opened the container, she could not contain her disappointment at the quinoa. Before she took a taste, she proceeded to tell me that the Marry Me Tofu would pair better with some yellow rice or roti than the quinoa. Then she started to eat, and well, I could not contain my glee at the fact that she devoured half the contents of that container.
Unlike my daughter, I love quinoa. It is one of my all-time favorite grains (that's one of the reasons you will find numerous quinoa recipes on these pages).
Though there might be controversy about whether quinoa can be considered a seed or a grain… but that's a conversation for another time.
Right now, we are going to have a bit of a chat about this Lemon Za'atar Quinoa…
This dish is packed with lemony flavor from lemon zest as well as lemon juice.
That lemony flavor is beautifully complemented by the za'atar and basil.
This dish is a super easy side dish.
It is gluten-free.
It is dairy-free.
And, you need only 5 ingredients to make it!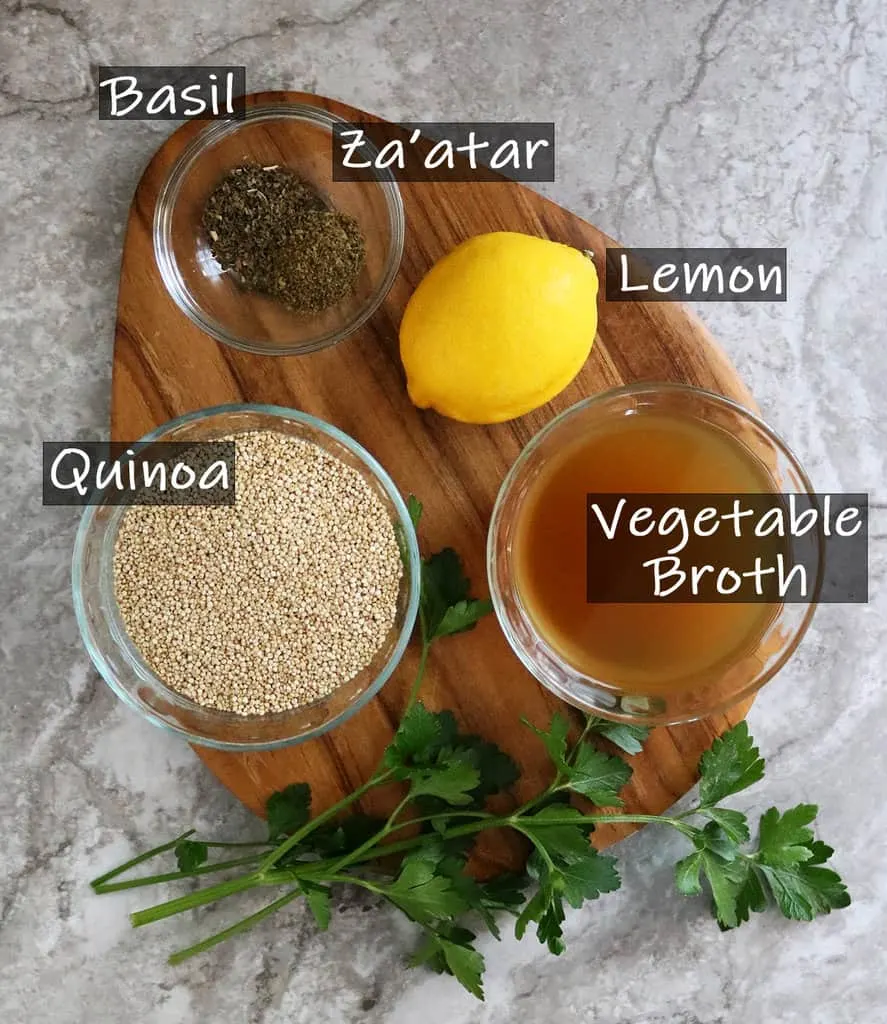 What are the ingredients needed to make this Lemon Za'atar Quinoa?
To make this dish, you will need the following 5 ingredients:
Quinoa
I used white quinoa in this recipe. The only reason I chose it as opposed to its counterparts of black or red quinoa is that I stumbled on a bag of white quinoa at Costco. How could I say no to that price?!

Vegetable broth
I like to use vegetable broth in this recipe, as it's already salted, and I do not have to worry about over-salting or under-salting.

Lemon
I used the zest as well as the juice of 1 lemon in this dish, which had this dish tasting a little bit like summer. Or maybe, that's just my wishful thinking as I am over winter.

Za'atar
Za'atar is a highly aromatic spice mix, usually consisting of sumac, sesame seed, and herbs. It is popular in Middle Eastern and Mediterranean cuisine. I get the za'atar I use in recipes such as this Za'atar Ras-el-hanout Chicken Spinach Dinner and this Roasted Za'atar Eggplant from Publix, but I have seen it around in many other stores as well. If you are having a hard time locating it, there is always Amazon. Or, you can make it yourself, with this recipe.

Basil
Ever so slightly sweet and peppery, basil rounds off the lemon and za'atar beautifully, at least to me.
I also used a bit of parsley to garnish this dish, but it is totally optional.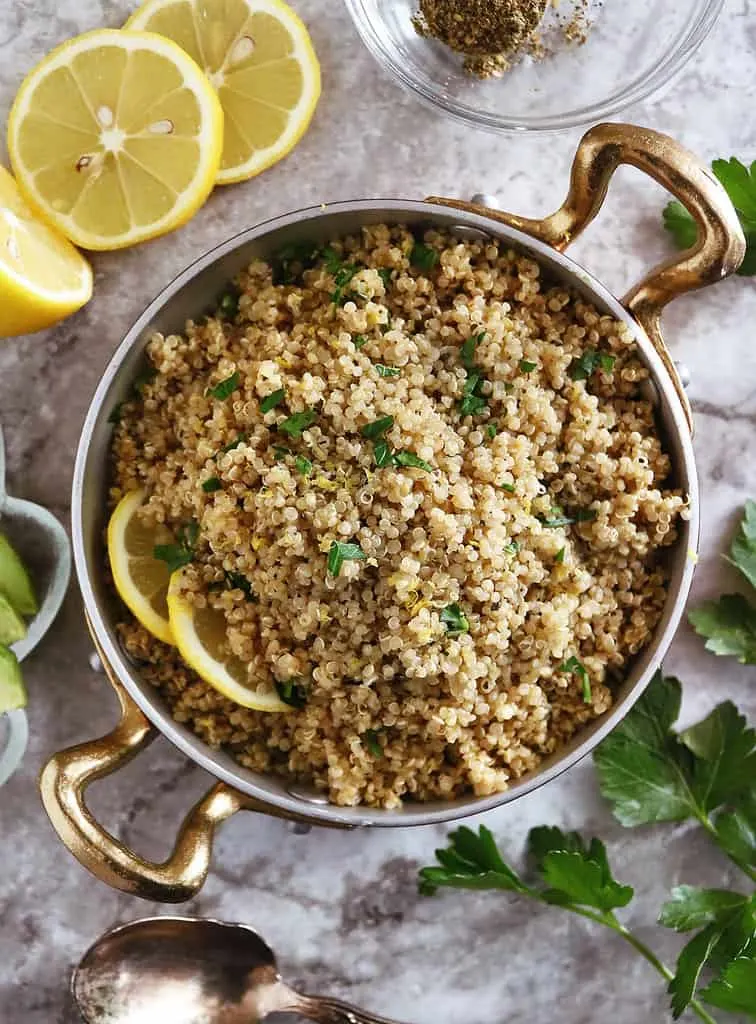 Once you have all your ingredients, it's just a matter of placing the quinoa, vegetable stock, lemon juice, lemon zest, za'atar, and basil in a pan and bringing it to a boil. Once it starts to boil, cover the pan, lower the flame to medium heat and let the quinoa and spices simmer for about 12–15 minutes.
When all the liquid has evaporated, turn the flame off and keep the pan covered for 5 more minutes. Then, uncover it, fluff the quinoa with a fork, and serve up this aromatic Lemon Za'atar Quinoa.
What do you serve this quinoa recipe with?
This side dish pairs well with meats and vegetables. I enjoyed it with some marry me tofu. It also pairs well with a meal of Oven-Roasted Eggplant and Cilantro Lime Chicken.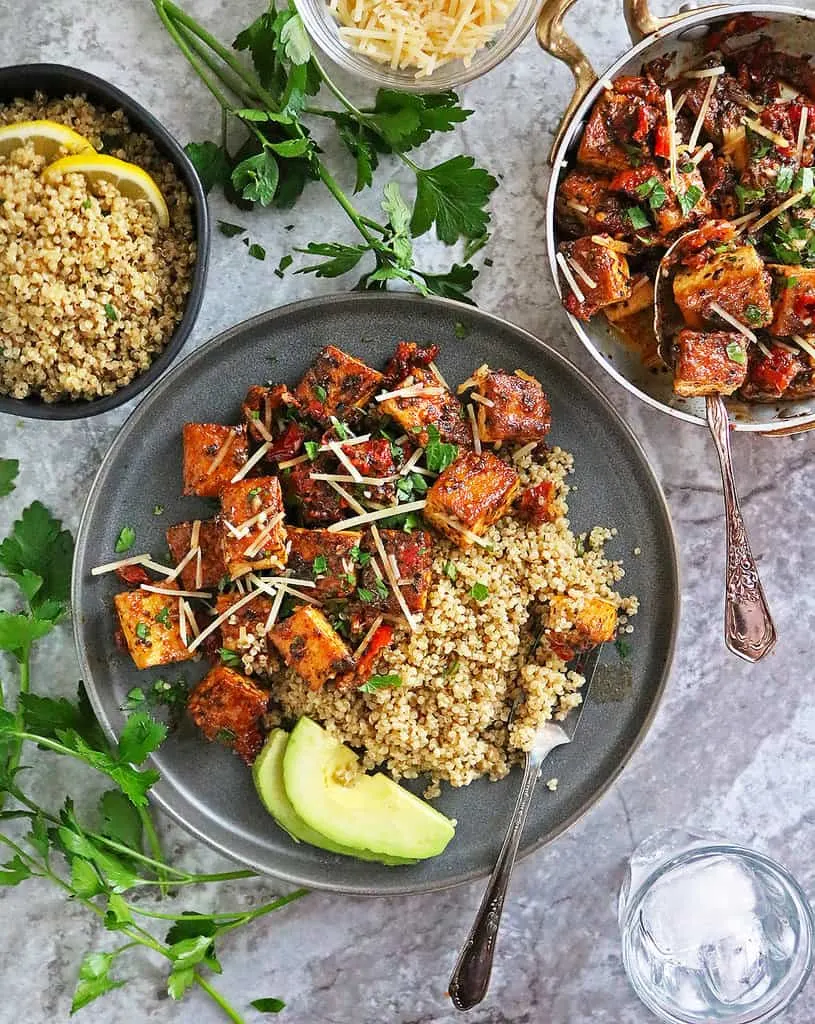 How long can you store this Lemon Za'atar Quinoa?
This dish can be stored refrigerated, in an airtight container, for up to 10 days. I recently made a batch of this lemon za'atar quinoa before I headed out of town. When I got back, I forgot about it until yesterday. When I found it, I added it to a simple sauté of onions, ginger, garlic, carrots, and spinach. Well, after 10 days, this lemon za'atar quinoa was still fresh.
Thanks so much for stopping by. If you make this recipe, please let me know in the comments below what you think of it. For more fusion, spice-filled, recipe ideas, please subscribe and follow me on Instagram and Pinterest!