These turmeric and garam masala spiced pork chops are so full of flavor – and with a tad bit of chili and honey – they are what you need for dinner tonight!
This shop has been compensated by Collective Bias, Inc. and its advertiser.
All opinions are mine alone.
#GrillPorkLikeASteak #CollectiveBias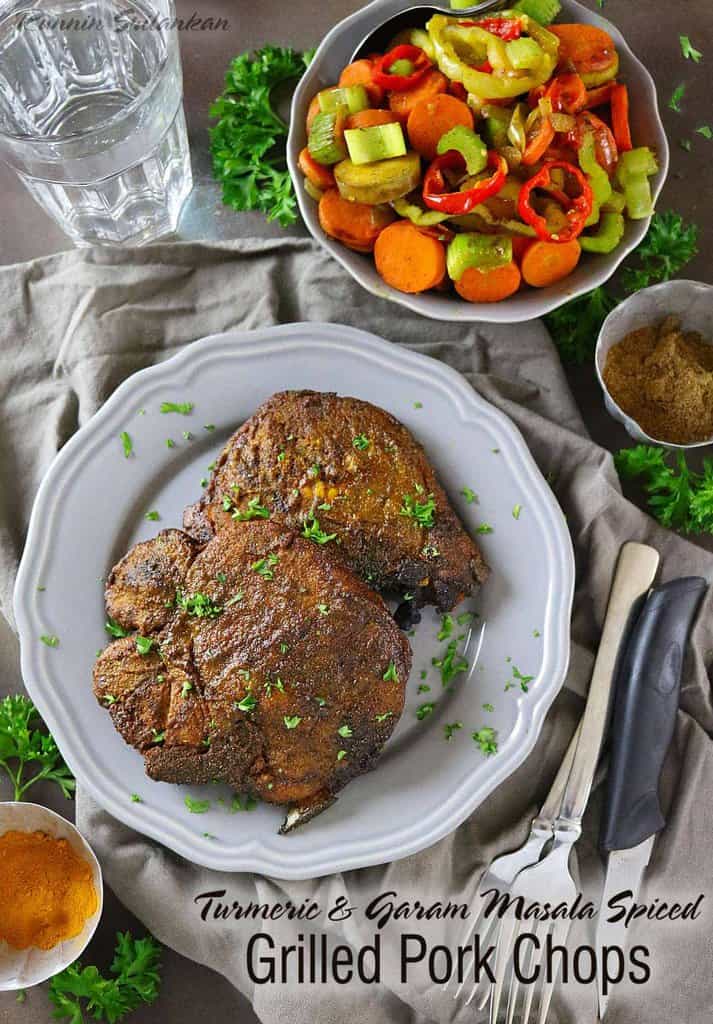 When my daughter was younger, she thrived on routine, and I thrived on her routine. Spring, summer, fall, and winter – no matter the season, we had a routine that kept us both (somewhat) sane.
But now that she's older, a routine is harder to stick to – especially during these long summer days. Throw in a summer vacation and we both adopt Amos Bronson Alcott's quote "the less routine the more life," where we eat what and when we want to, wake up when we feel like it and indulge in all sorts of routine-defying merriment!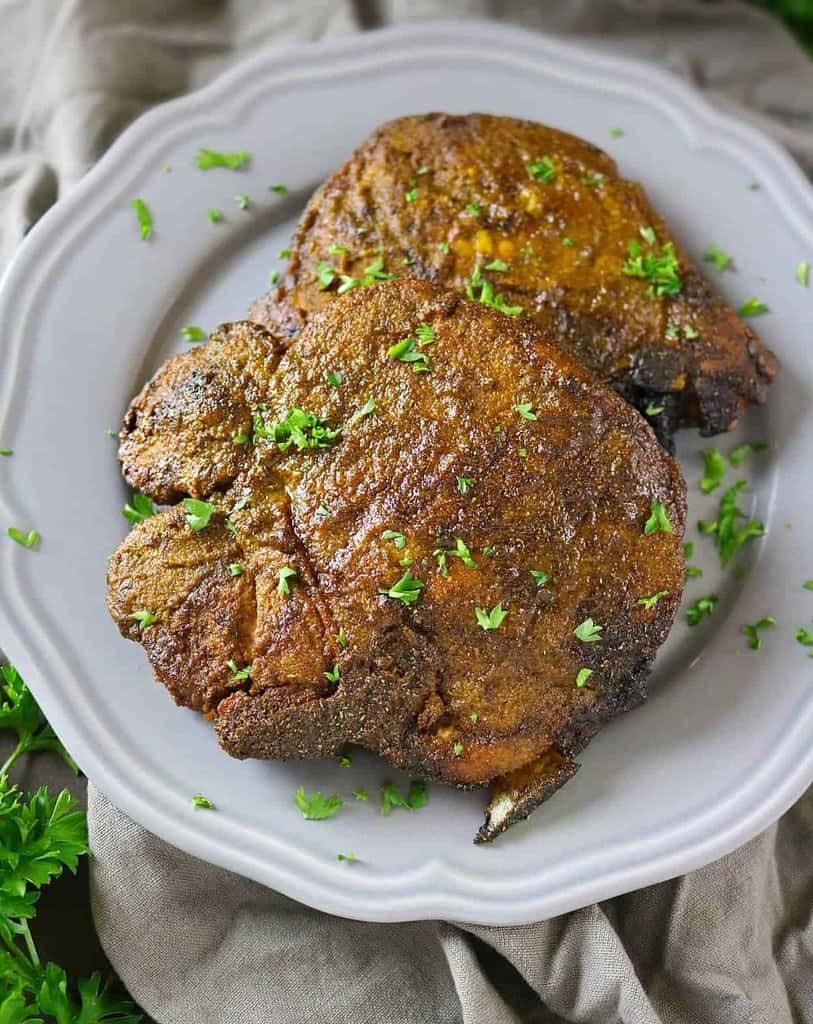 Alas, all vacations come to an end. And, for us, the end of vacation time usually coincides with the beginning of a new school year. And, for us, hectic school days work well with a routine!
As this is my daughter's senior year of high school, I know things are bound to be hectic with college applications and the like, so, helping her get back into a routine tops my mid-summer list. And, for us, a big part of falling back into a routine involves the return of dinner time and quick, home-cooked meals.
As today is open house/registration day at my daughter's high school, I figured we would use it to fall back into a routine by grilling up some tender and juicy, Smithfield All Natural Bone-in Pork Chops over charcoal, for dinner. Because when we grill – we grill over charcoal (seriously, am not a grill snob, it's just the kind of grill we have)!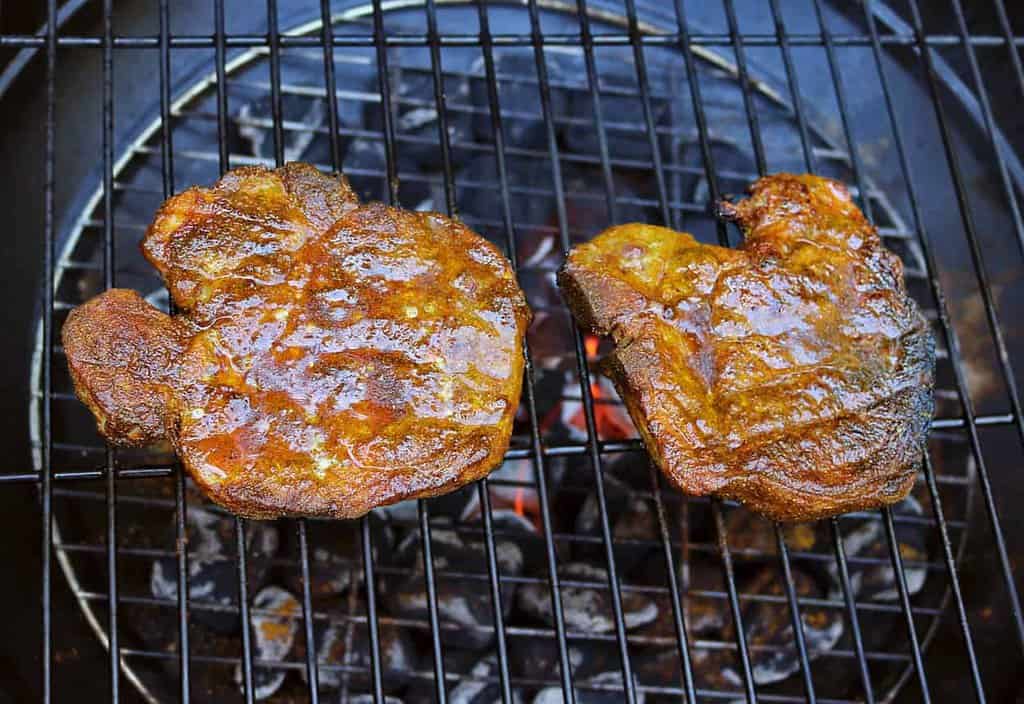 When I was at my neighborhood Walmart stocking up on after-vacation supplies, I picked up some Kingsford charcoal and Smithfield All Natural Bone-in Pork Chops. Smithfield All Natural Fresh Pork is a favorite in our house as it does not contain steroids, hormones or artificial ingredients. And, it is so versatile that we can "Grill It Like a Steak" and enjoy it for a family weeknight dinner or during a weekend get together.
This is a super quick, super simple recipe – but it is simply flavatastic! Ok, so that might not be a word, but I think if you could try these Smithfield All Natural Bone-in Pork Chops with this dry rub of garam masala, turmeric, chili powder, and Himalayan salt, and brushed lightly with honey, "flavatastic" is sure to roll off your tongue as well!
My daughter and I enjoyed our Turmeric & Garam Masala Spiced Grilled Pork with a side of pan sauteed veggies from our garden which I whipped up while my daughter watched the grill.
*If you love your pork medium rare, you should cook it to an internal temperature of 145 degrees (followed by a three-minute rest). If you like your chops a little more done, you can cook them to an internal temperature of 160 degrees.
[Tweet "Turmeric & Garam Masala Spiced Grilled Pork #GrillPorkLikeASteak #ad @SmithfieldBrand @Walmart"]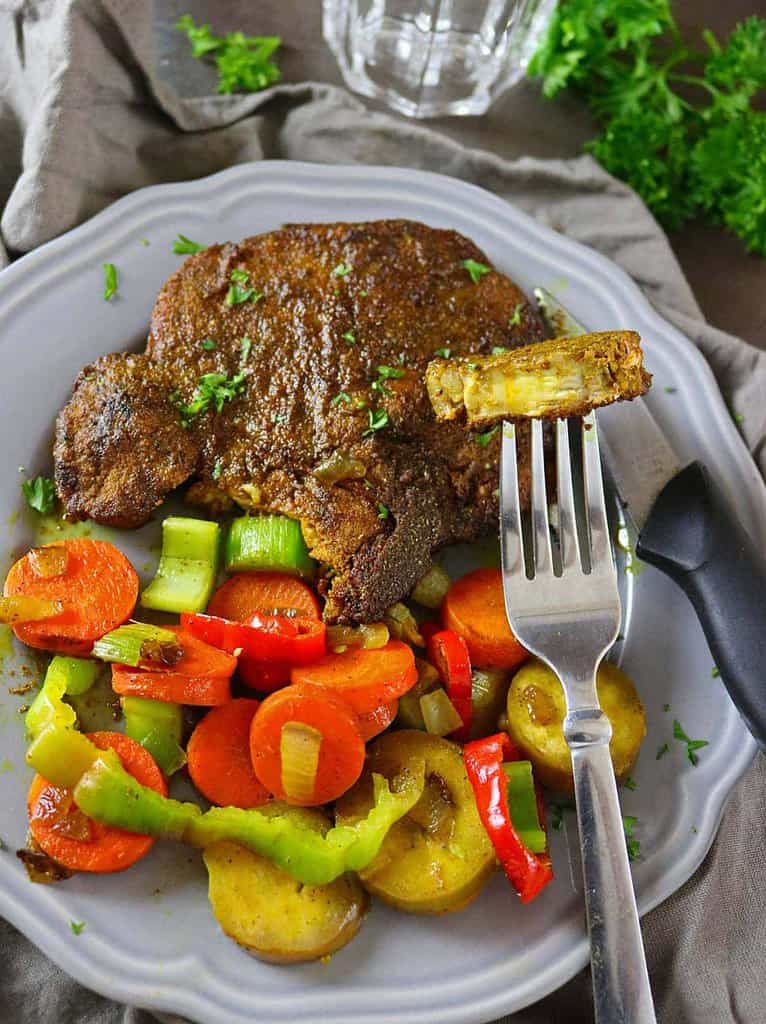 Please don't skimp on your chance to win some amazing prizes including a Ford F150!
Simply visit SmithfieldThrowdown.com to enter the Hog Wild Throwdown Sweepstakes for a chance to win!

By the way, while supplies last, you can save $1.00 on any Smithfield All Natural Pork variety

For recipe ideas and inspiration, please make sure to check out Smithfield All Natural Fresh Pork on:
Facebook • Pinterest • Twitter