Sweet, tart, and spicy, this easy cherry chutney is a delicious condiment that pairs well with everything from crackers and cheese to chicken.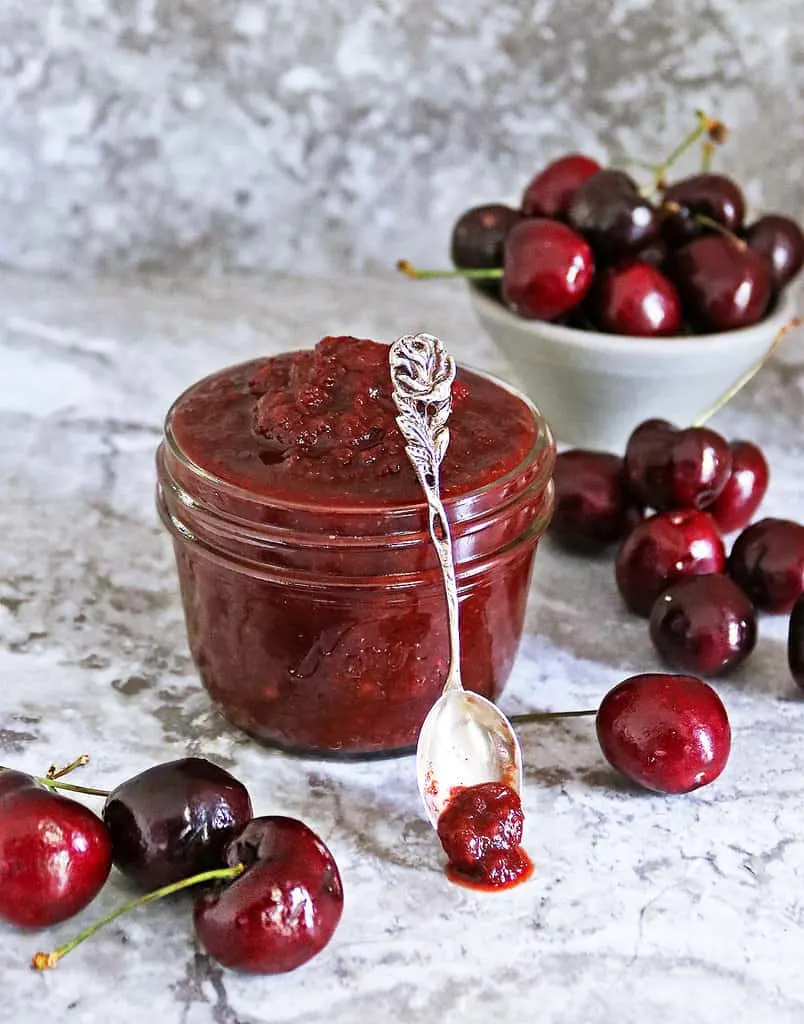 Large packages of sweet, ripe, juicy cherries are the first thing I seem to see at just about every grocery store recently. And, being a household of one, I have a hard time polishing off those large bags of cherries before they start to wither and go bad.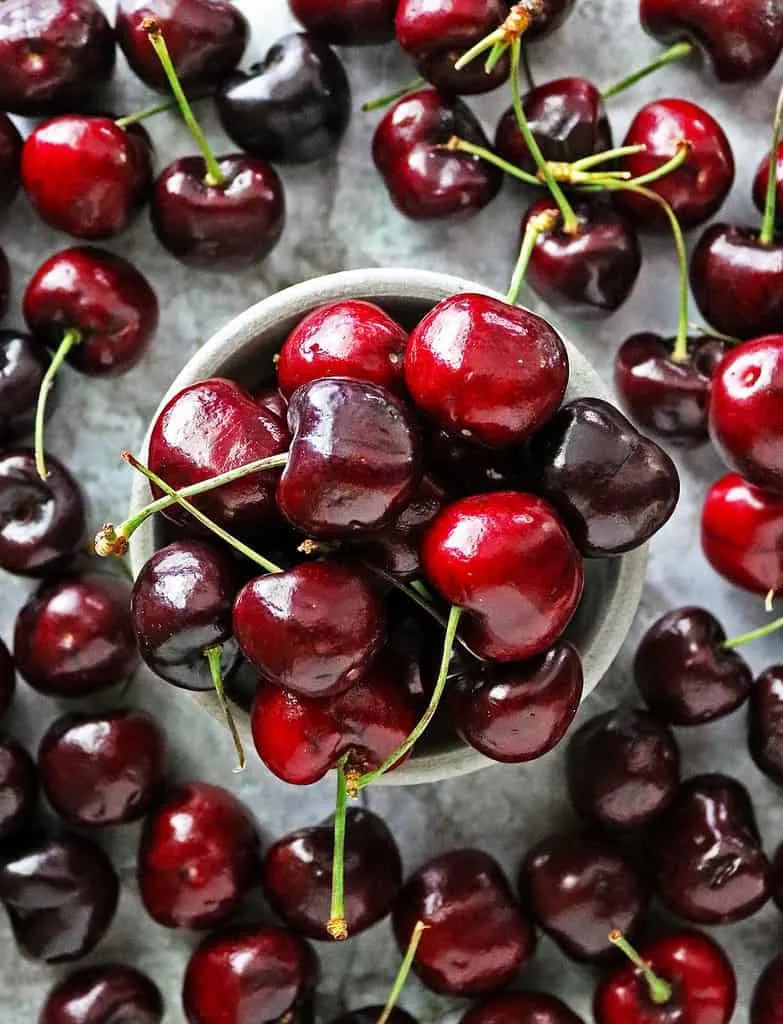 So, I like to use them to make cherry chocolate chia pudding, cherry hand pies with chicken, chili cherry sauce, and more recently, this easy cherry chutney.
I love this cherry chutney as it is absolutely delicious. It is delightfully tart, sweet, and spicy. However, if you are wondering…
What is chutney?
Well, chutney is a condiment made with fruits or vegetables, vinegar, spices, and sugar that are cooked together into a chunky spread-like consistency.
Well, chutney is a condiment made with fruits or vegetables, vinegar, spices, and sugar that are cooked together into a chunky spread-like consistency.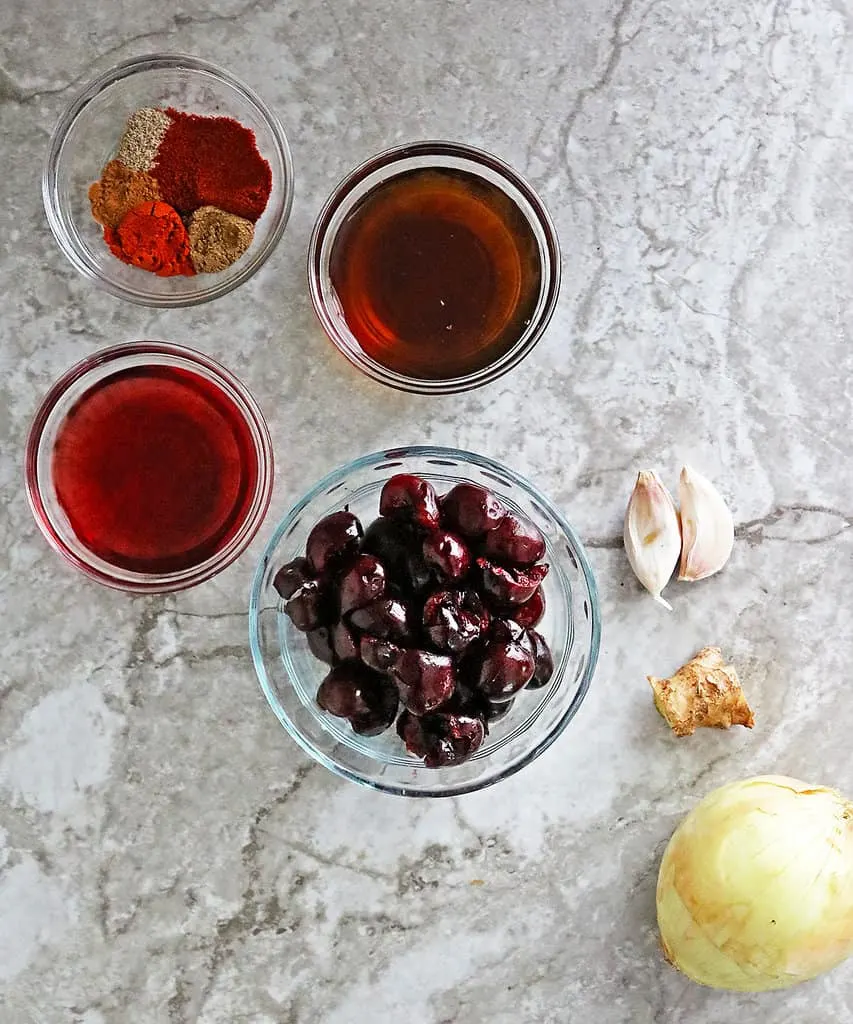 What are the ingredients needed to make this cherry chutney?
You will need the following 11 ingredients to make this chutney, and they are:
Ripe Cherries
Onion
Ginger
Garlic
Maple syrup/honey
Red wine vinegar
Coriander
Smoked paprika
Cardamom
Cinnamon
Cayenne powder
I also used a little bit of salt and pepper for taste in this cherry chutney recipe.
Tips when making this cherry chutney
Make sure to use ripe cherries. The sweetness of ripe cherries along with some maple syrup or honey work in perfect harmony with the tart red wine vinegar and spicy cayenne.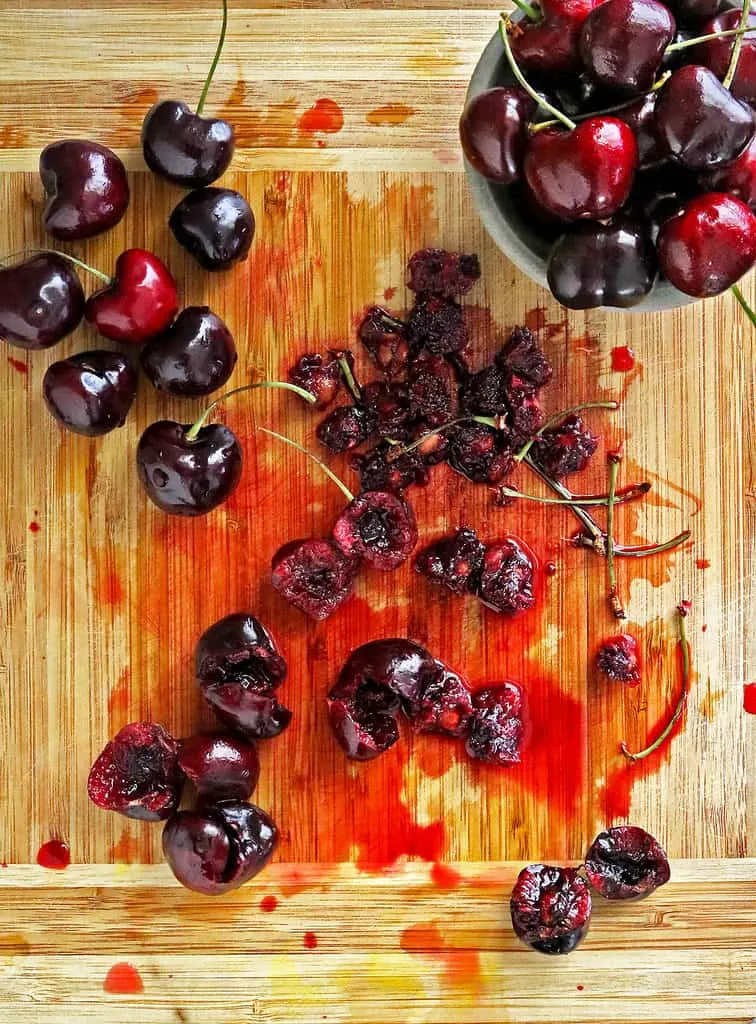 Make sure the cherries are all pitted. You could use a cherry pit remover. Or, you can do like I did, and savagely rip out the pit from the cherries with your bare hands. Of course, the riper the cherry, the easier this is to do.
Make sure to use all the spices as they definitely alleviate the taste of this chutney. However, you could reduce the cayenne so this chutney is a bit milder. But, do not skip out using at least a 1/4 tsp of cayenne in this recipe for taste.
If you are not a fan of maple syrup or honey, you can use brown sugar or coconut sugar in this recipe.
The finer you dice/chop the onion, ginger, garlic, and cherries, the less chunky the chutney will be. This is especially great when you do not plan to or have a blender or immersion blender on hand.
When cooking the ingredients together, make sure to pay attention to the settings of your stovetop. While the heat on most stove tops tend to differ, I cooked this chutney over medium heat.
Pint jars filled with this cherry chutney would make for some fun gift ideas ~ especially around the holidays.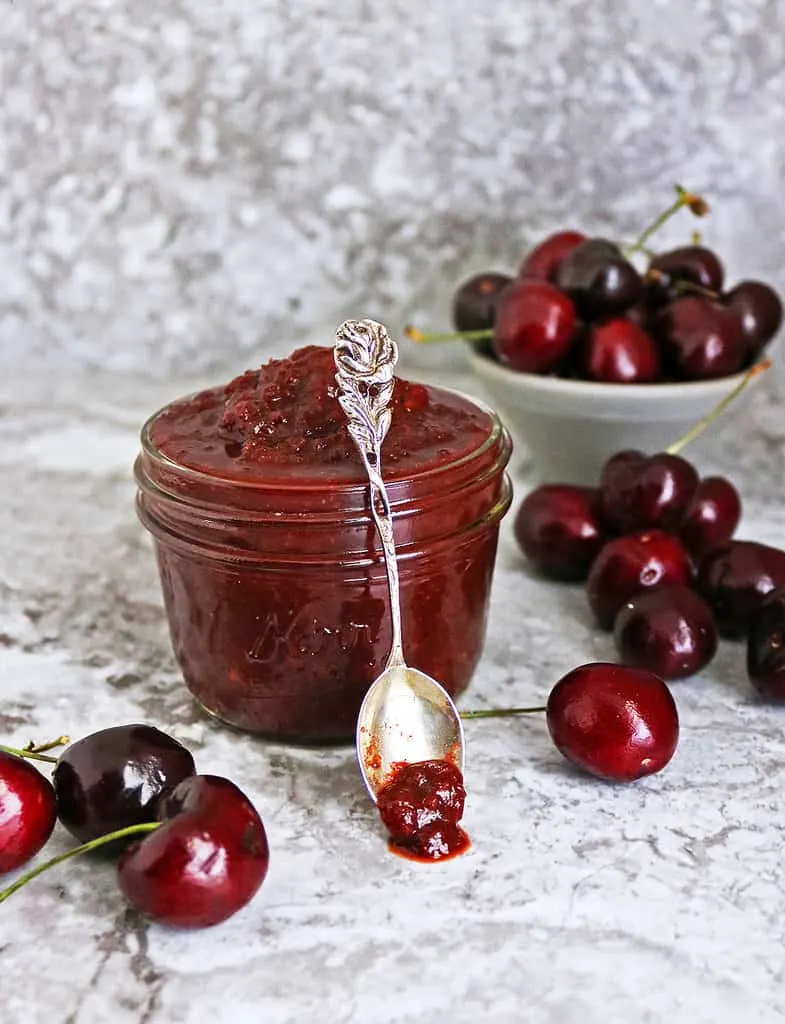 What do you serve chutney with?
This cherry chutney, with its enticing combination of flavors, is best served at room temperature. It is a sweet, tart, and spicy condiment that makes for a tasty, unique, fun, side dish as well as an appetizer when served with other meat or veggie accompaniments.
You could also serve this cherry chutney with some air fryer salmon balls or roast chicken.
This chutney can also be served with curry and roti or naan bread.
It is also fantastic paired with a snack of these Black-Eyed pea fritters with greens.
Or, pair it with some aged cheese, like cheddar (which is tolerable by my lactose-intolerant self) and some Gouda rosemary crackers or some jalapeño cheese crackers or plain cream crackers.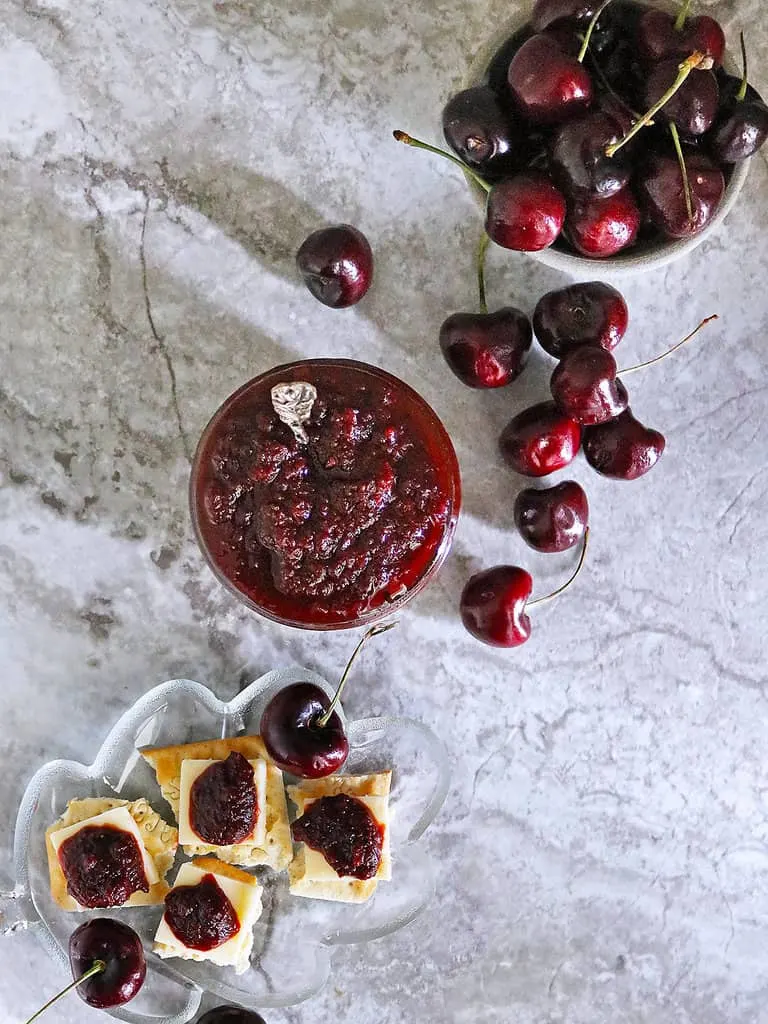 Other easy chutney recipes I love:
If you love easy chutney recipes, make sure to check out these too:
Mango Chutney
Mango Habanero Chutney
Apple Chutney
Onion Chutney
Pineapple Chutney,
Peach Chutney
How do you store this cherry chutney?
This cherry chutney can be stored in an airtight container in your fridge for up to a week or two.
---
Thanks so much for stopping by. If you make this recipe, please let me know in the comments below what you think of it, or tag your creation on social media with @savoryspin or #savoryspin. For more fusion, spice-filled, recipe ideas, please subscribe and follow me on Facebook, Instagram, and/or Pinterest!