Ever so slightly sweet, spicy, and tangy, this onion chutney recipe is an easy and healthy one. Made with 9 plant-based ingredients, this onion chutney pairs beautifully with everything from curries to cheese boards.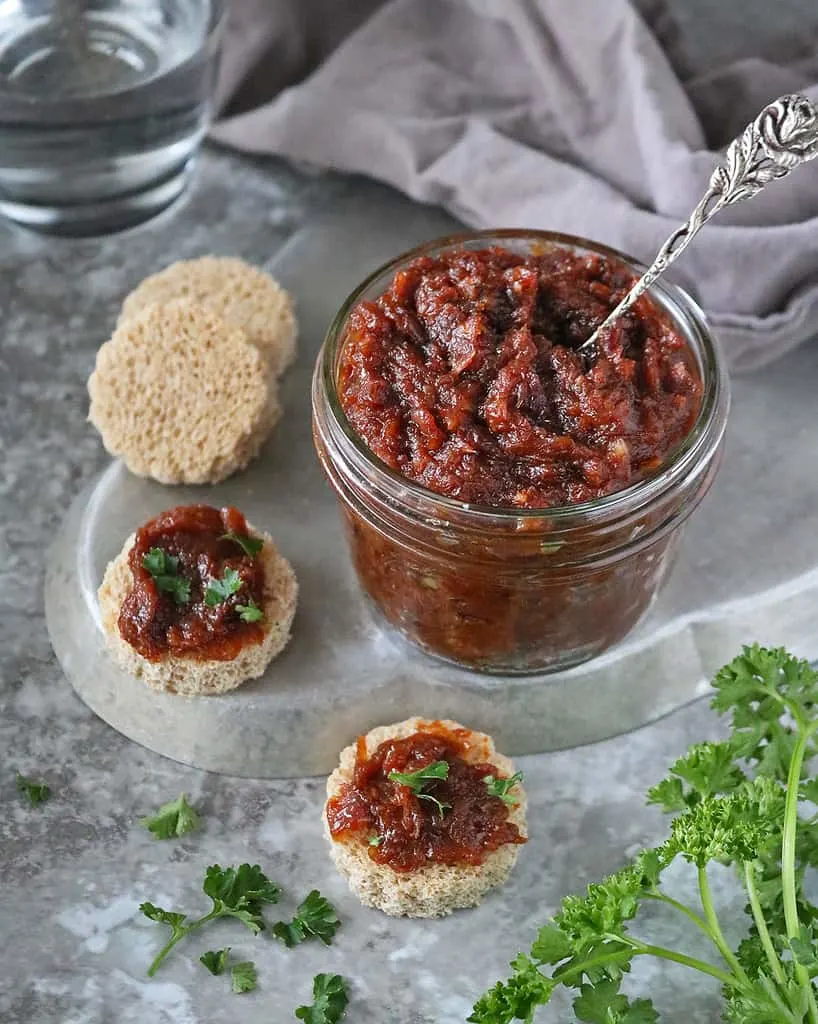 This onion chutney recipe is a fusion one and tends to be a bit on the healthy side. Like most of the other chutney recipes I share here on this blog, this one is made without any added sugar. Instead of sugar, I use maple syrup.
I simply love this onion chutney. It is a little spicy, a little sweet, a little tangy, and so tasty. I love slathering it on toast sometimes. But, it pairs beautifully with everything from curries and rice to crackers and cheese.
What is onion chutney made of?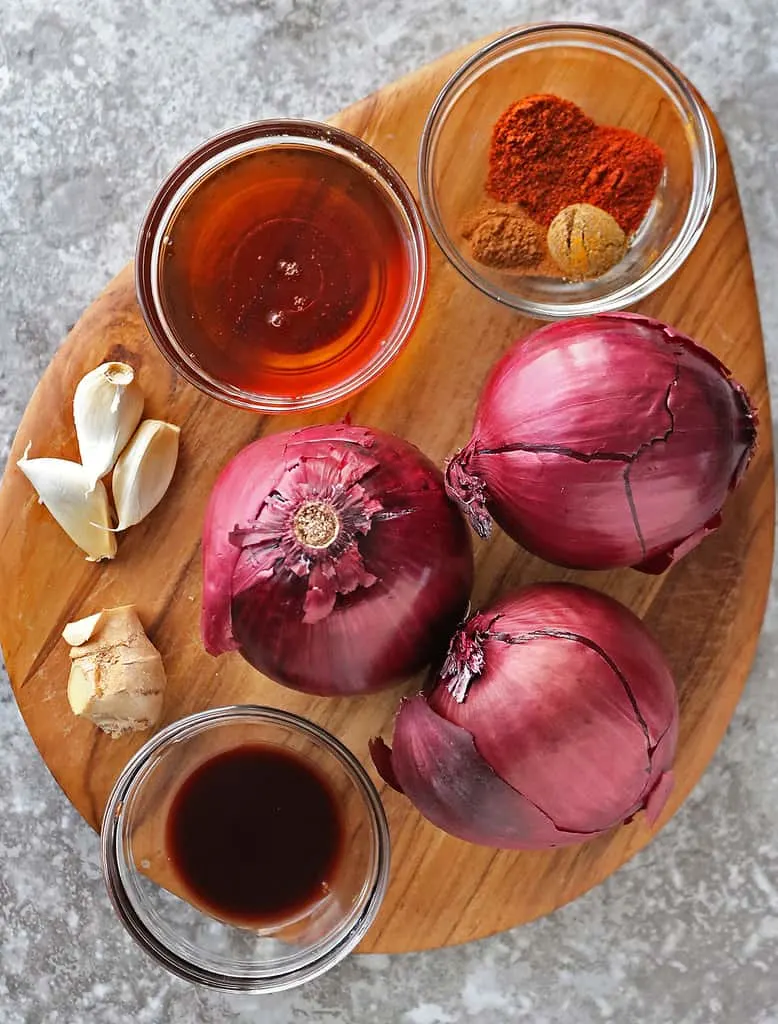 This onion chutney is made of the following 9 ingredients:
Red onions

Ginger

Garlic

Maple syrup

Red wine vinegar

Coriander

Smoked paprika

Cinnamon

Cayenne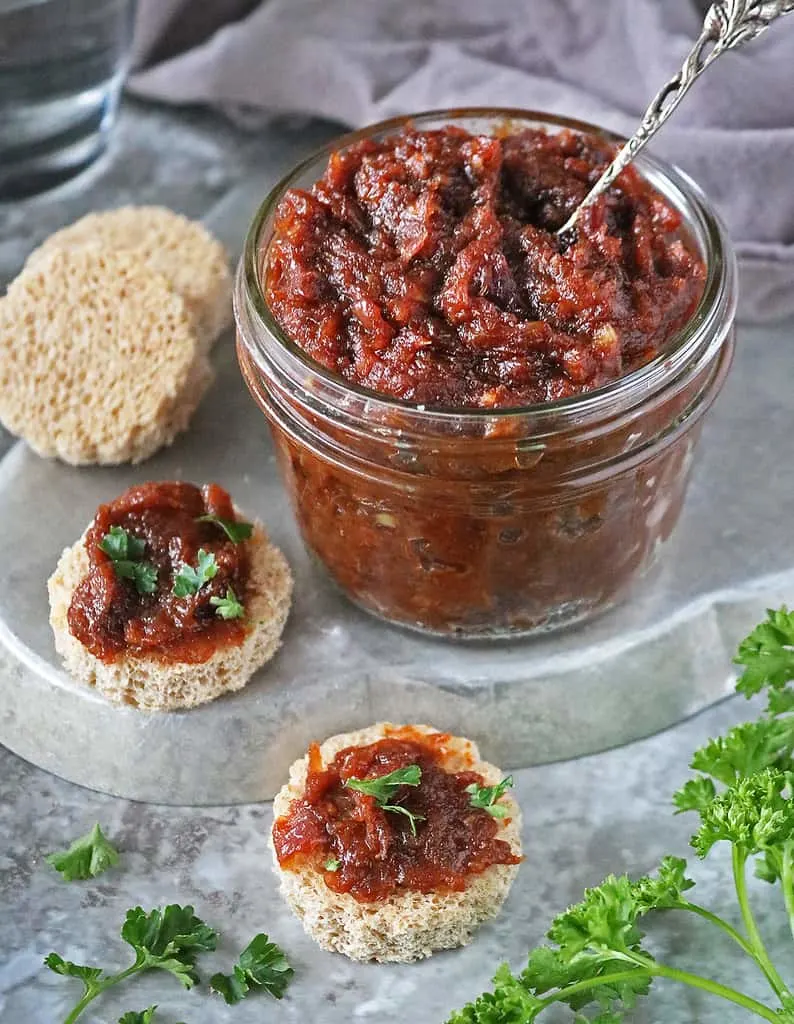 Tips to Making this chutney
Caramelizing the onions adds so much flavor to this chutney. I added chopped onions to a pan with olive oil and let the onions sauté over a low flame for about 25 minutes – gradually increasing the flame towards the end. While sautéing the onions, it is crucial to keep stirring them in the pan, so they caramelize evenly, and you do not end up with a bunch of burnt onions.

Using fresh ginger and fresh garlic is preferred when making this. If peeling garlic and ginger is too much trouble, you can purchase the already peeled garlic and ginger that most stores stock in their produce section. However, I would refrain from using powdered ginger and garlic in this recipe as they would alter the taste significantly.

After the maple syrup + red wine vinegar + spices are added into the caramelized red onions, sauté the mixture until the liquid starts to barely evaporate. For me, that was around the 3 – 4 minute mark.

Blending all the ingredients together results in a smooth chutney with all those delicious flavors distributed evenly throughout. But this part is totally optional and can be skipped if you do not have a blender or food processor handy.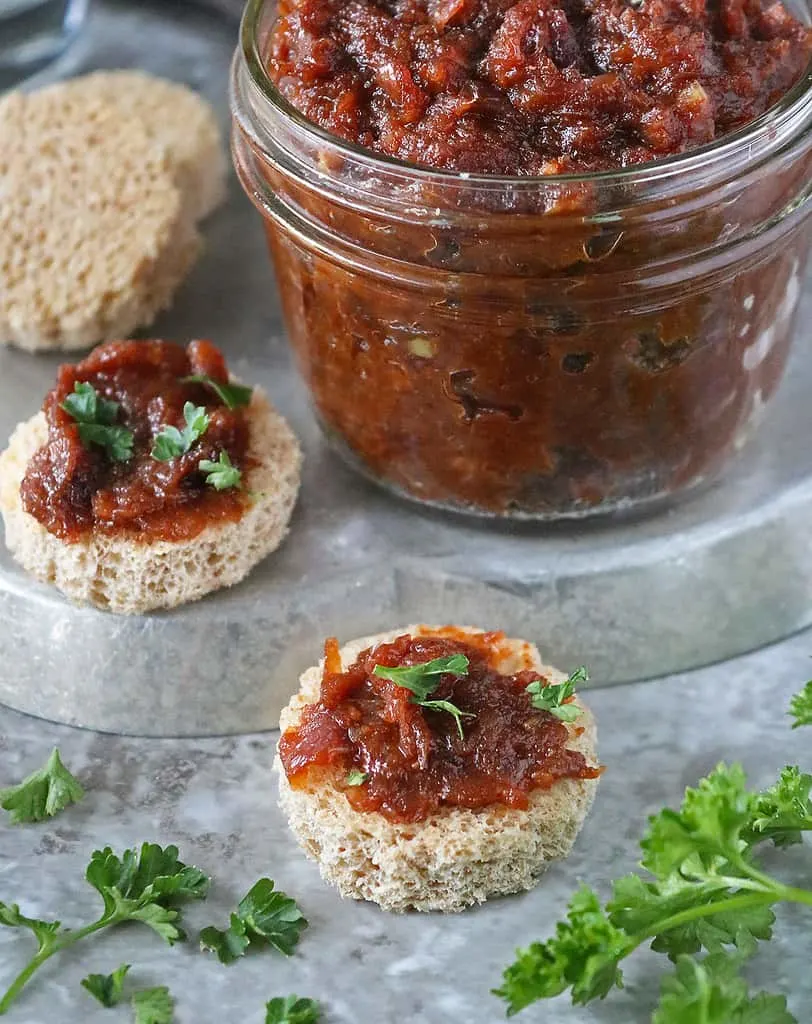 What do you eat onion chutney with?
This onion chutney is delicious simply slathered on toast for a quick and easy breakfast.
Pair it with some chickpea curry and roti or with some of these black-eyed pea fritters for a delicious lunch.
It can also be paired with crackers on a cheeseboard for snacking on or movie-marathoning.
How long can you store this chutney?
If stored in an airtight glass container, this onion chutney will last about 2 weeks. It does seem to get better with time, and on day 3 it is even tastier than it is when you first make it.