Warm and comforting, this non-alcoholic Spiced Citrus Mulled Juice is filled with aromatic spices like cloves, cardamom, and cinnamon, making it a delightful autumn drink for the whole family.
I've partnered with Sprouts on this recipe for Spiced Citrus Mulled Juice. All opinions herein are my own. Thank you for supporting the brands that keep this blog spinning.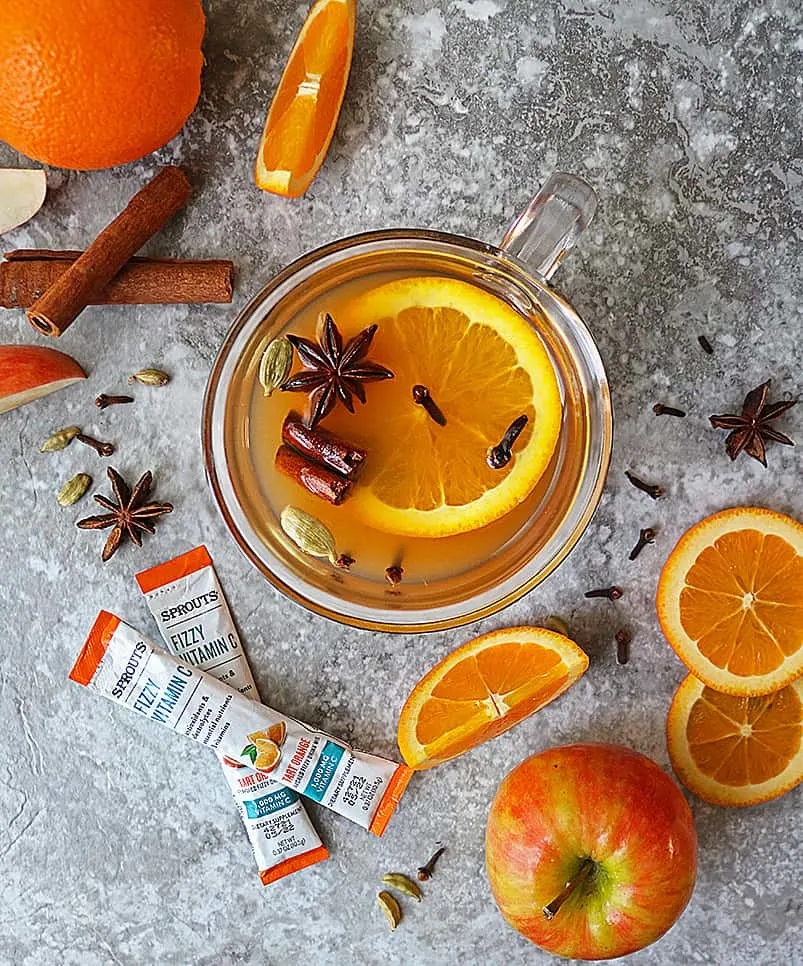 It's finally cooling down here in this little town of Athens, GA. And, for my daughter and I, cool, crisp days call for tasty bakes, long evening walks, and warm comforting drinks.
Speaking of drinks, warm drinks like spiced teas and mulled juices (like this Spiced Citrus Mulled Juice) have become quite a popular non-alcoholic nightcap in our home.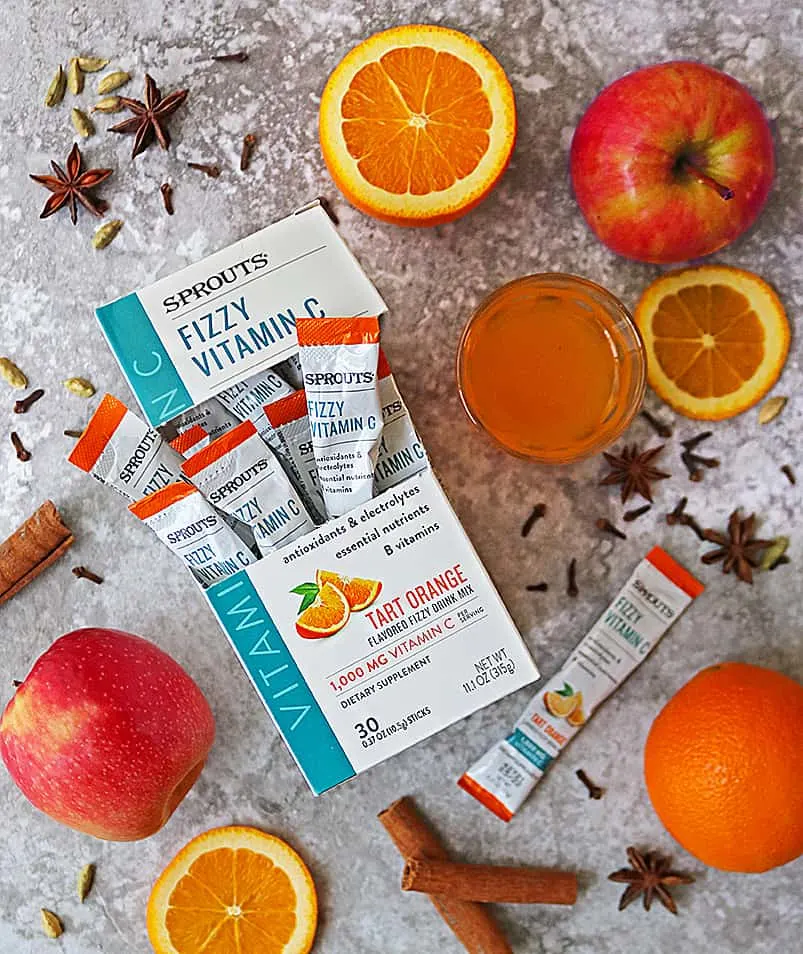 Usually I try to sneak in a bit of ginger into tea or a smidge of Sprouts Brand Fizzy Cs into a mulled juice, for a warm drink with a more nutritious spin.
If you've plodded around my blog before, you know that I love shopping at Sprouts. The quality and variety of everything from produce to meats to pantry staples is what keeps me coming back for more.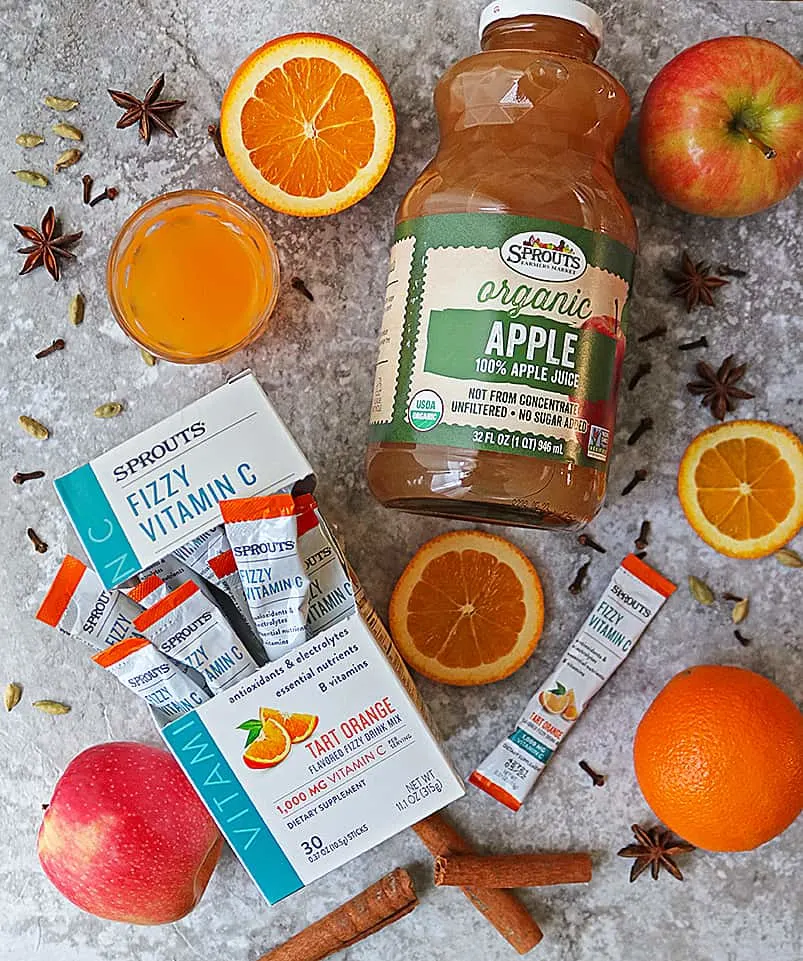 If there was a Sprouts in Athens, I'd be there multiple times a week! But for the past three years, we've been making an hour long drive once every couple of weeks, to stock up our Sprouts favs.
With the changing temperatures, one of my current Sprouts favorites are Sprouts Brand Fizzy Cs. I like to give my immune system a bit of a boost naturally with vitamins and supplements and that's where Sprouts Brand Fizzy Cs come into play.
Sprouts Brand Fizzy Cs come in
• Elderberry,
• Cherry Limeade,
• Tart Orange, &
• Fire Cider Original Honey Apple Cider Vinegar Tonic.
What are the ingredients in this Spiced Citrus Mulled Juice?
I used Sprouts Brand Fizzy Cs Tart Orange in this Spiced Citrus Mulled Juice you see here today. I also used Sprouts organic apple juice and Sprouts apple cider to make this delicious and comforting fall-themed wellness tonic.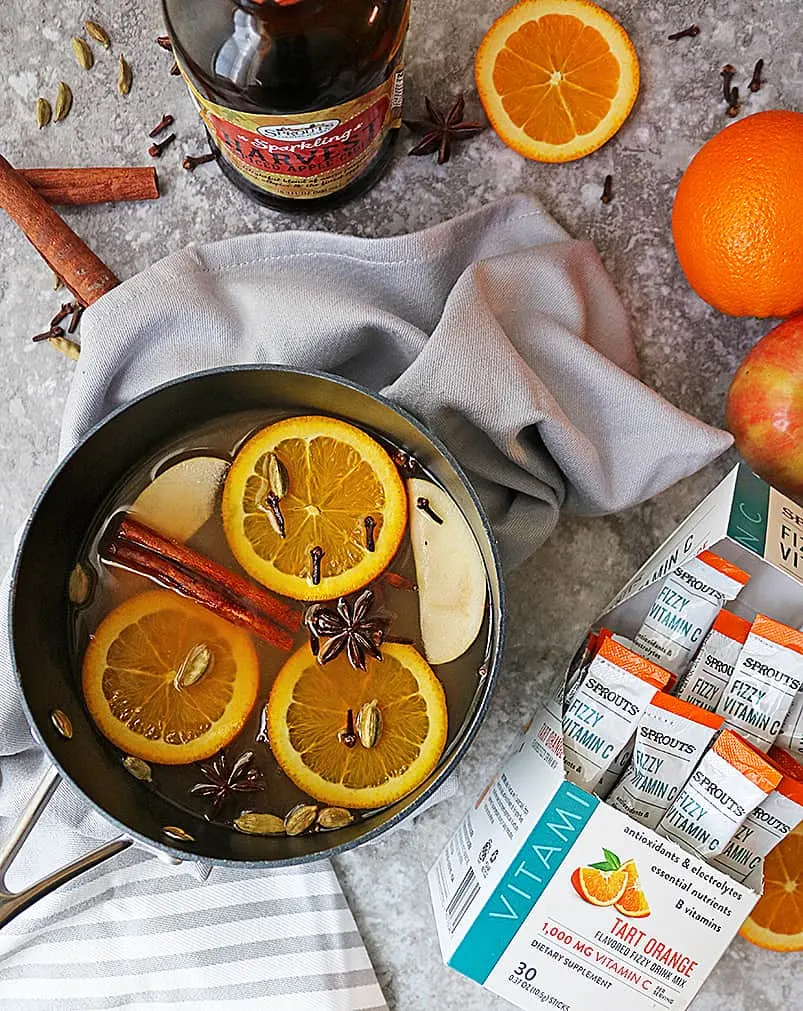 For added aroma and flavor, I added in some orange slices, some apple slices, cardamom pods, whole cloves, star anise, and cinnamon sticks.
When this Spiced Citrus Mulled Juice was simmering on the stove, it perfumed our home with such a delightfully inviting aroma.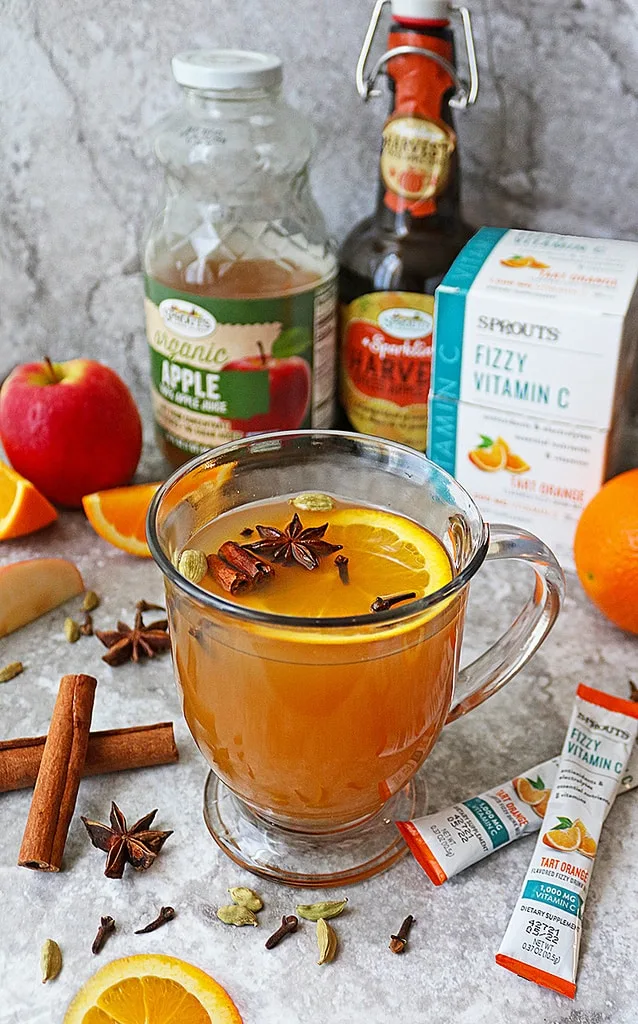 By the way, the quantities of ingredients I used in this recipe, filled up two glass mugs – just enough for my daughter and I. I sipped on my Spiced Citrus Mulled Juice as I gathered together all the documents requested by the underwriter. Yes, we are in that stressful stage of our home purchase and I am hoping and praying everything goes smoothly.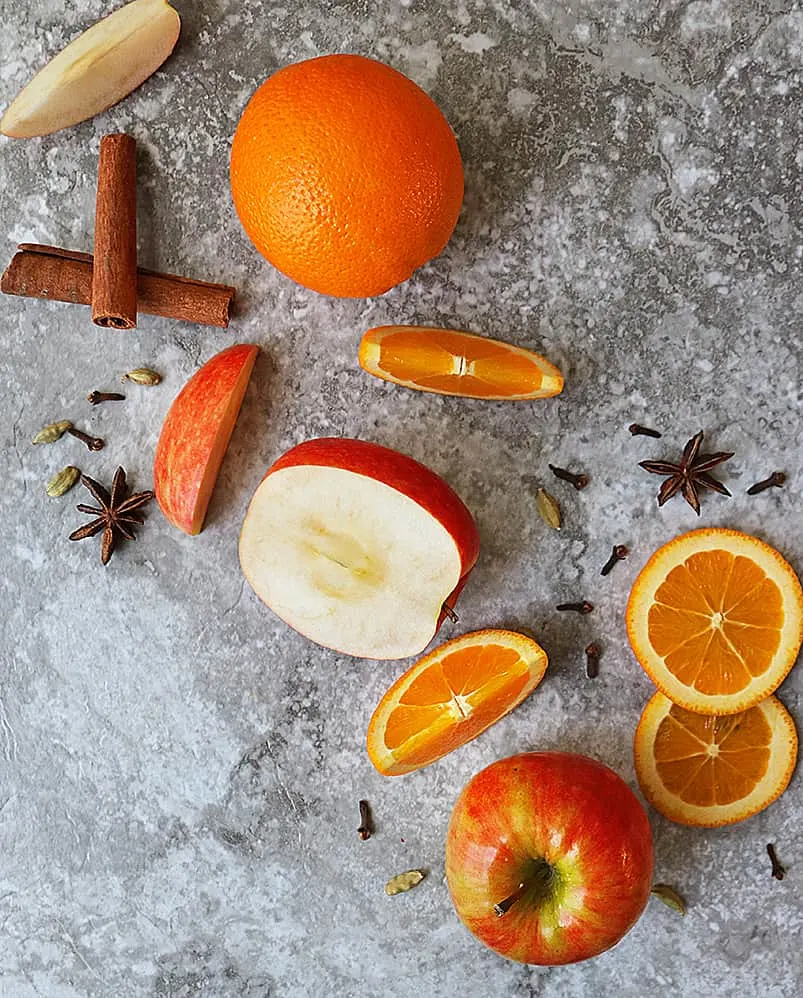 I'm trying to keep a lid on my stress from the purchase and soon-to-happen-listing of my current home (and all the uncertainty that buying a house and selling my current house brings), by making healthier choices.

I'm not going to say it's easy to not have a second cupcake or remember to take my vitamins. But I'm trying. I've noticed that what I choose to put in my body, affects how I act and react in so many arenas, which helps me stick to healthier choices.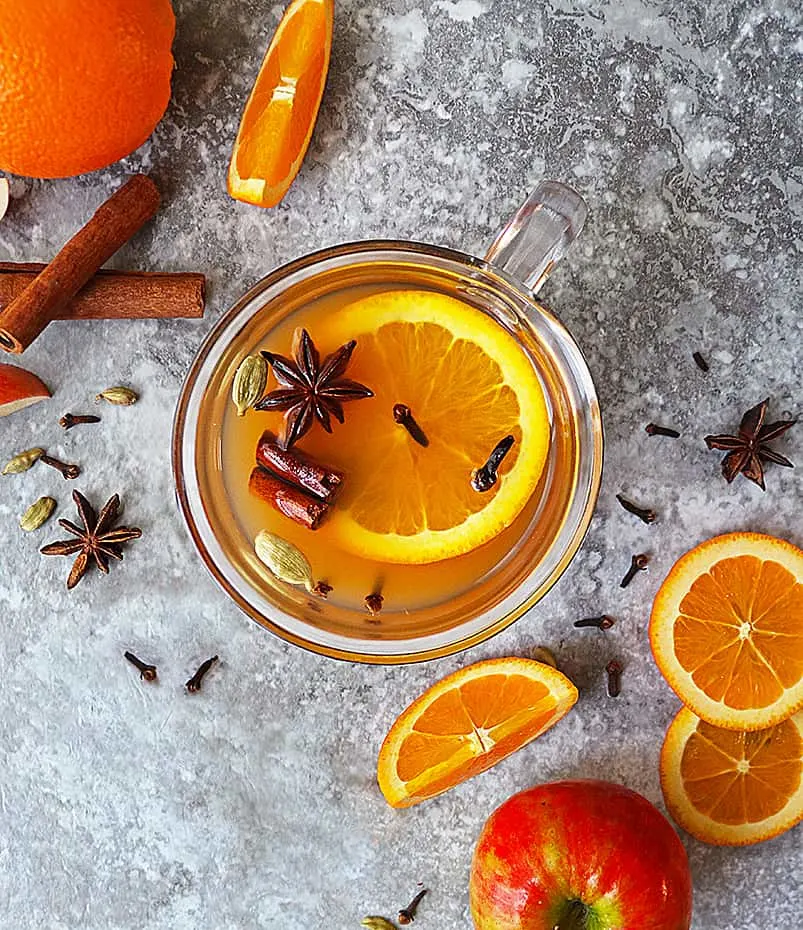 If, like me, you are trying to keep your mind, body and spirit in balance and boost your immune system naturally with vitamins and supplements, make sure you check out the wide array of vitamins and body care in the wellness section at your local Sprouts store.
And… while you are there, grab the ingredients to make this delicious Spiced Citrus Mulled Juice to sip on and give your immune system a boost!
Thanks so much for stopping by. If you make this recipe, please let me know in the comments below what you think of it, or tag your creation on social media with @savoryspin or #savoryspin. For more fusion, spice-filled, recipe ideas, please subscribe and follow me on Facebook, Instagram, and/or Pinterest!