A refreshing honeydew melon smoothie with a smidge of matcha, cinnamon and lime to jazz up it's natural flavor!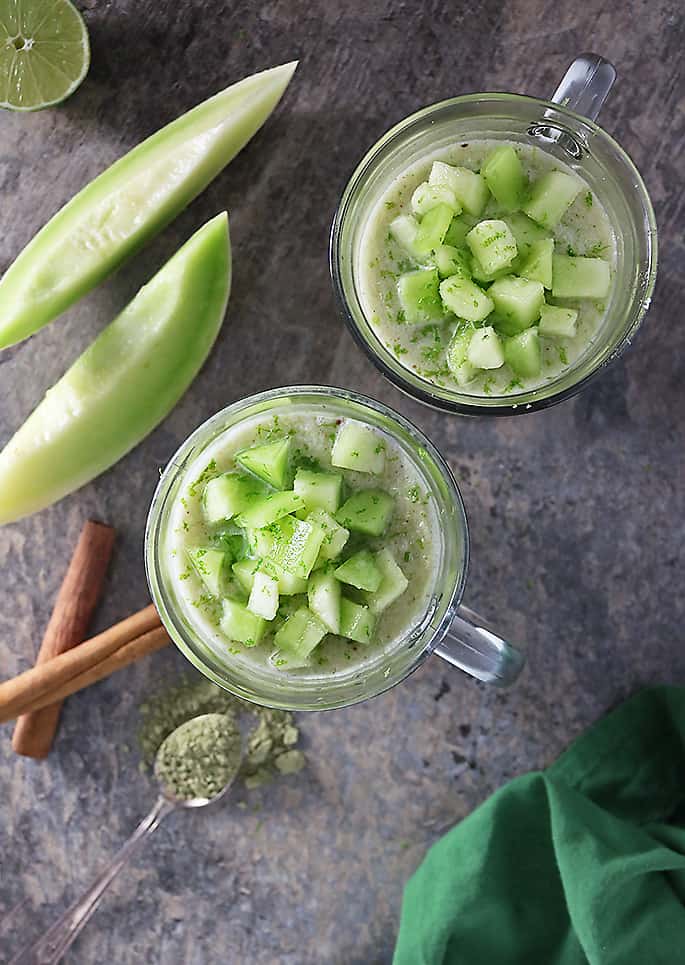 On a hot summer day there's something so refreshing about biting into a big ol' chunk of juicy melon, don't you think?
And, seeing we are on the subject of chunks of juicy melons, what's your favorite? Do you gravitate towards watermelons? Or, cantaloupe? Or, maybe Crenshaw melons?
My favorite lately (yes, I know you are waiting on the edge of your seat-right?!), has been the smooth skinned honeydew melon. Once regarded sacred by ancient Egyptians and reserved for society's elite back in the day, this melon can be found just about everywhere today. In my opinion, ripe honeydew seems to be sweeter, fleshier, and tastier than some of its counterparts. But, when it comes to picking the perfectly ripe honeydew, I am totally clueless. Totally.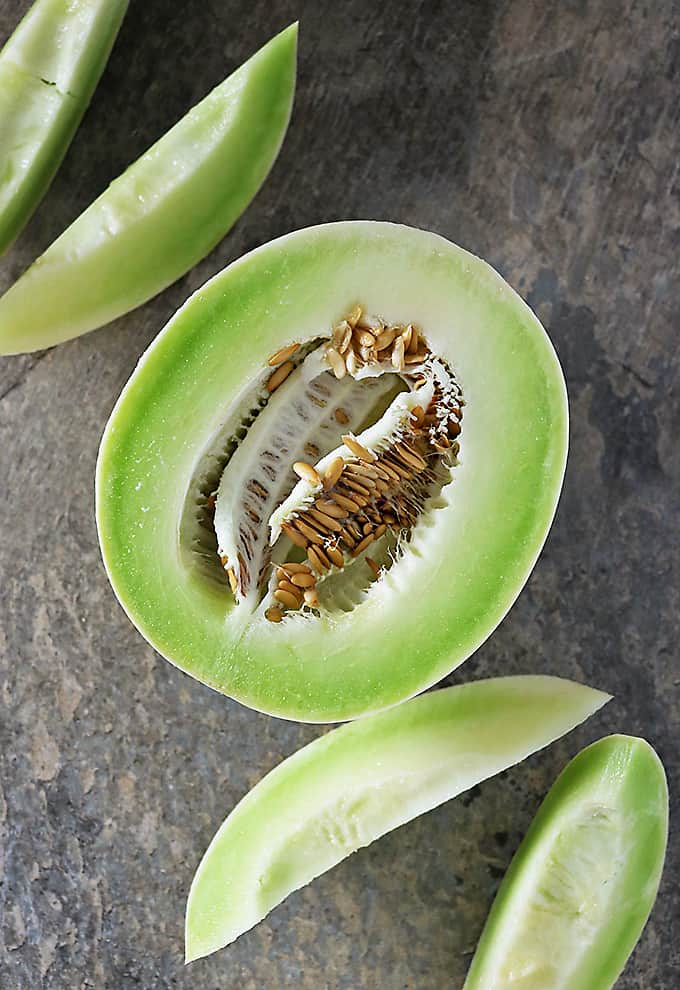 Now, I have come to learn that honeydews can ripen even on your kitchen counter. But, that's a mute point once that honeydew is cut into. And that's where I find myself often – in my kitchen with a cut up honeydew, hoping to chomp into a big 'ol ripe and juicy chunk, only to bite into a crisp and not so juicy one instead.
Most times when I find myself at this point, I usually throw those honeydew chunks in a blender with a bit of maple syrup, lime juice (if I have it), and some sort of milk. Most times, the resulting smoothie is a better option than the unripe chunks of honeydew. However, recently I finally went grocery shopping and had a few more add-ins on hand.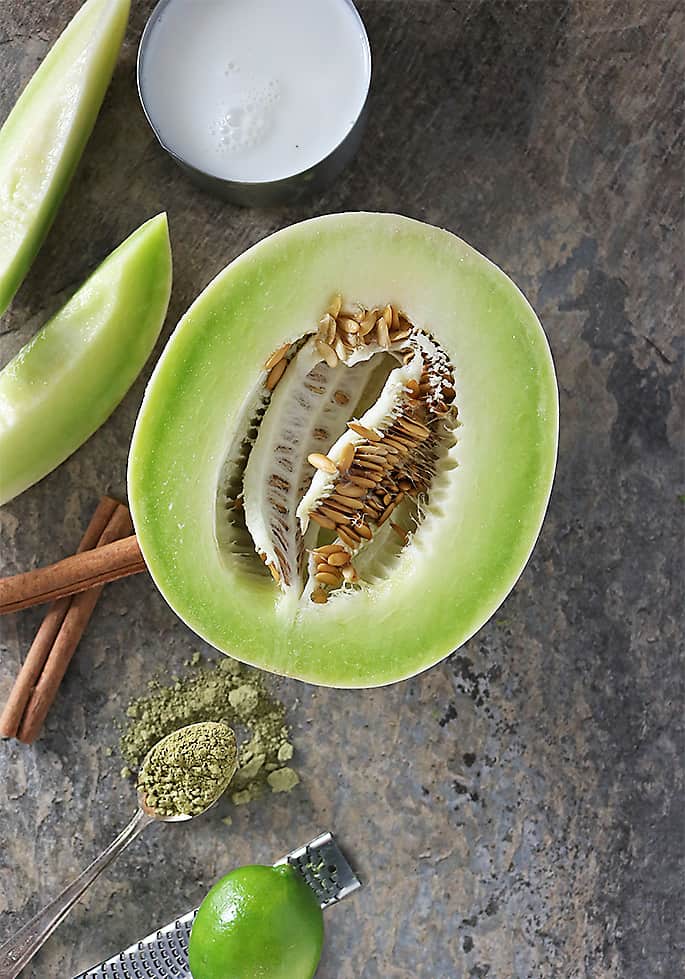 So, when I found myself in my kitchen with yet another unripe honeydew, I skinned it and added the crisp flesh into a blender with some coconut milk, cinnamon, matcha, lime and a squirt of maple syrup. When I think of the resulting smoothie, the only word that comes to mind is joy! My daughter had to outdo me and described this smoothie as blissful joy – but, you get the gist, right?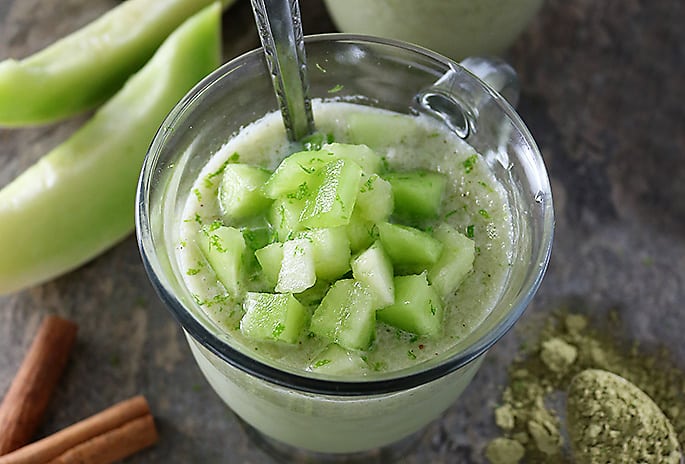 I went back to the grocery store and managed to finally pick a ripe honeydew using this guide, and figured I'd try recreating that Honeydew Melon Smoothie with matcha and cinnamon. And WOA – that ripe honeydew in this smoothie sure made this a must share on here. Now, I didn't use any maple syrup this time around because the ripe honeydew was so sweet it didn't need any other sweetener. I also topped that thick honeydew melon smoothie with chunks of cut up honeydew and my daughter and I ended up enjoying this for dessert one afternoon.
If you'd like, you can add in a couple tablespoons of chia seeds to this smoothie and set it aside for a few hours and enjoy a Honeydew Melon Chia Pudding later! So many options with this one!
Here's hoping this week has been wonderful for ya and your weekend is even more bettah!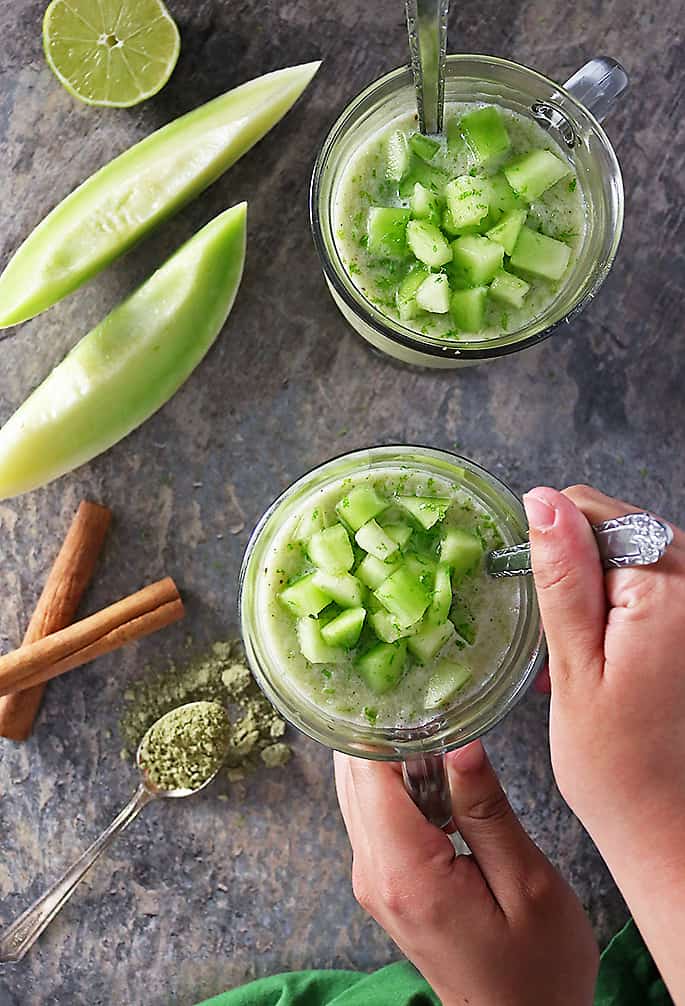 If you happen to fancy this recipe, let me know what you think by leaving a comment and rating below. If you make this recipe, please post a pic on INSTAGRAM -tagging @savoryspin so I can see! For more recipes and ramblings, like us on FACEBOOK and follow along on PINTEREST!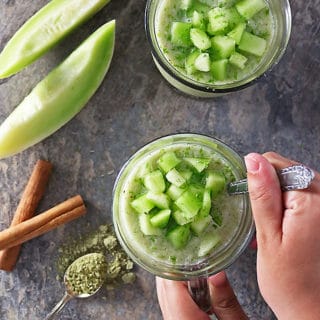 Honeydew Melon Smoothie
A refreshing honeydew melon smoothie with a smidge of matcha, cinnamon and lime to jazz up it's natural flavor!
Keyword:
honey dew smoothie, honeydew
Ingredients
2+1/2

cups

honeydew melon

chopped up

1

cup

lite coconut milk

(or milk of your choice)

1/8

tsp

cinnamon

1

tsp

matcha

1/4

tsp

each lime zest and lime juice
Instructions
Add 2 cups honeydew melon to a blender along with the coconut milk, cinnamon, matcha and lime juice and zest.

Blend until all the ingredients are well incorporated.

Pour into serving glasses. Cut up the other 1/2 cup of honeydew into very small pieces and top the honeydew melon smoothie with the chunks of honeydew. Garnish with lime zest if desired and enjoy!
Recipe Notes
*Nutritional info is per very well fit. Please make sure to check for yourself the accuracy of quantities and nutrition listed.
Nutrition Facts
Honeydew Melon Smoothie
Amount Per Serving
Calories 105
% Daily Value*
Total Carbohydrates 20.5g 7%
Protein 1.9g 4%
* Percent Daily Values are based on a 2000 calorie diet.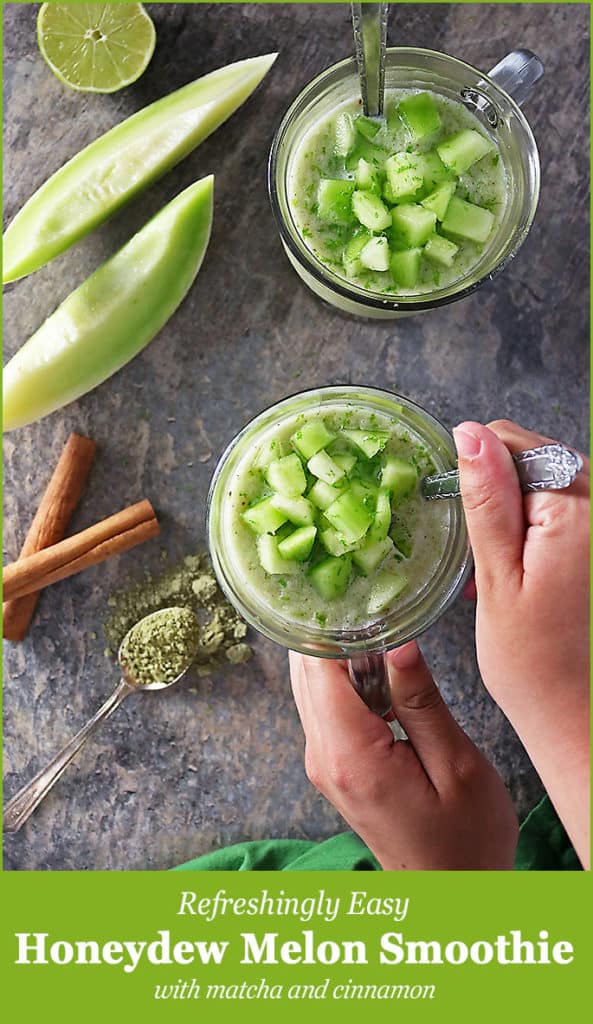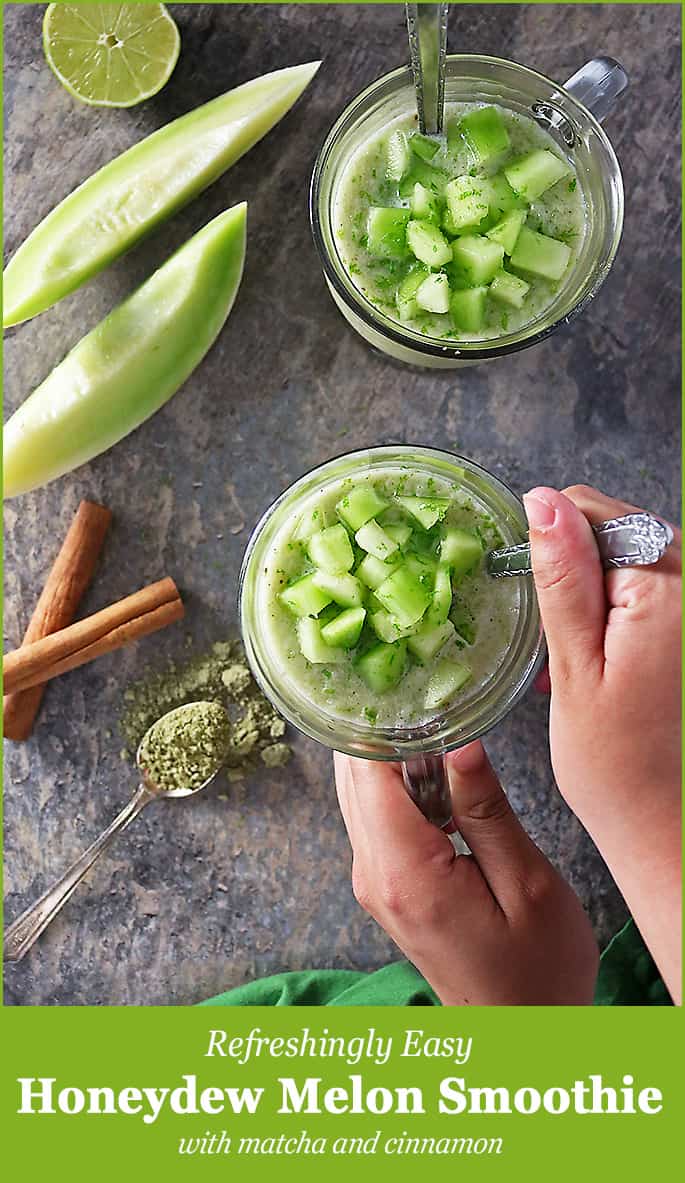 BTW, if you are looking for a burger to enjoy with your Honeydew Melon Smoothie, why not try THIS Beyond Burger, or THIS Salmon Burger, or THIS Beet (that's right, b.e.e.t.) Burger, or THIS Mushroom Lentil Burger?