In this recipe for Keto Stuffed Jalapenos, jalapenos are stuffed with a spicy chicken sauté, topped with an avocado cream and bits of pan-roasted bell peppers.

I've partnered with Sprouts on this recipe for Keto Stuffed Jalapenos. All opinions herein are my own. Thank you for supporting the brands that keep this blog spinning.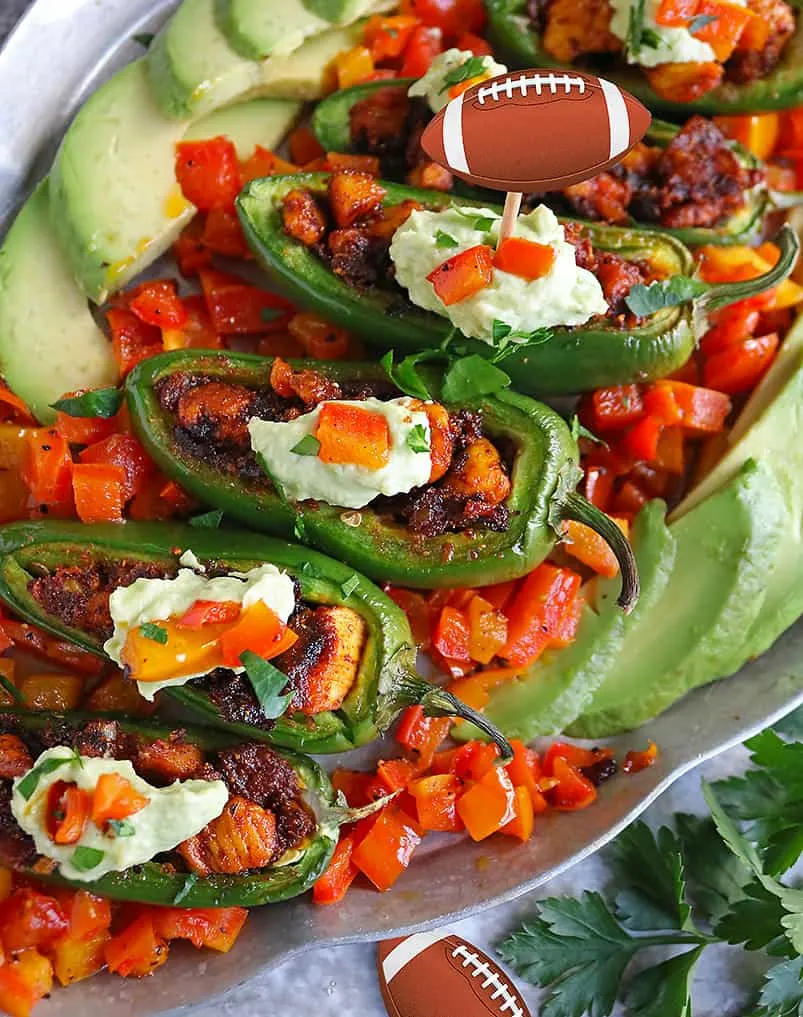 I didn't think it was possible, but these 2-bite stuffed jalapenos have so many layers of flavors to them! So many!

First off there is that crunchy and spicy jalapeno shell.

Then there is that filling of sauteed chicken and lightly caramelized onion that is gloriously spiced with coriander, smoked paprika, turmeric, fresh ginger, and garlic.

Then comes a dollop of tangy and creamy avocado cream.

And that is topped off by pan-roasted bits of beautifully Striped Holland Bell Peppers.

A final dusting of finely chopped parsley and good golly low carb deliciousness!
We love these Keto Stuffed Jalapenos!
These Keto Stuffed Jalapenos are a tasty and wholesome 2-bite appetizer – and make a fantastic addition to your Big Game line up of snacks!
This year you might be gathering virtually with friends and family to catch the Big Game. But what won't be virtual is your snack choices! And y'all, I'm going to be honest, I have always been more about the food at Big Game gatherings of yore!
So, if you embarked on a low carb/keto diet this year and are looking for a variety of fresh and tasty low carb/keto snacks to add to your Big Game Day snacking roster, these are a delicious and unique addition!
I made a run to Sprouts recently to grab some of their air-chilled chicken. Well, I'm beginning to realize that telling myself I am going to Sprouts for just one thing is me lying to myself! A trip to Sprouts for me means heading to the department or section where the one thing I need is.

Then, after I get that, I get lured to the produce section. If you have ever shopped in the Sprouts produce section, you will understand the pull of their produce. Their produce is so fresh. And, most times, they have some sort of unique vegetable or fruit in season that must be tried.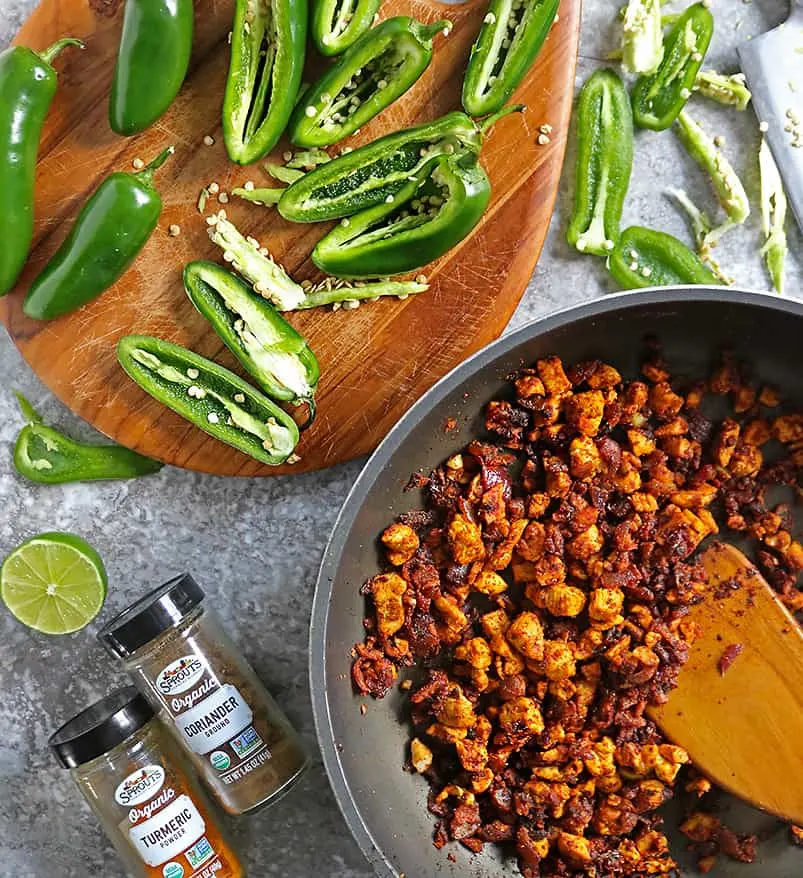 After that, I usually take the long way to the cashier station. The long way entails I meander through just about every aisle between the produce section in the back of the store and the cashier station in the front.
It is because of all this meandering that I can tell you that Sprouts has tons of keto products. From crackers to tortillas to BBQ sauce, Sprouts has a keto product to help you make the traditional big game snacks you love, with a low-carb twist!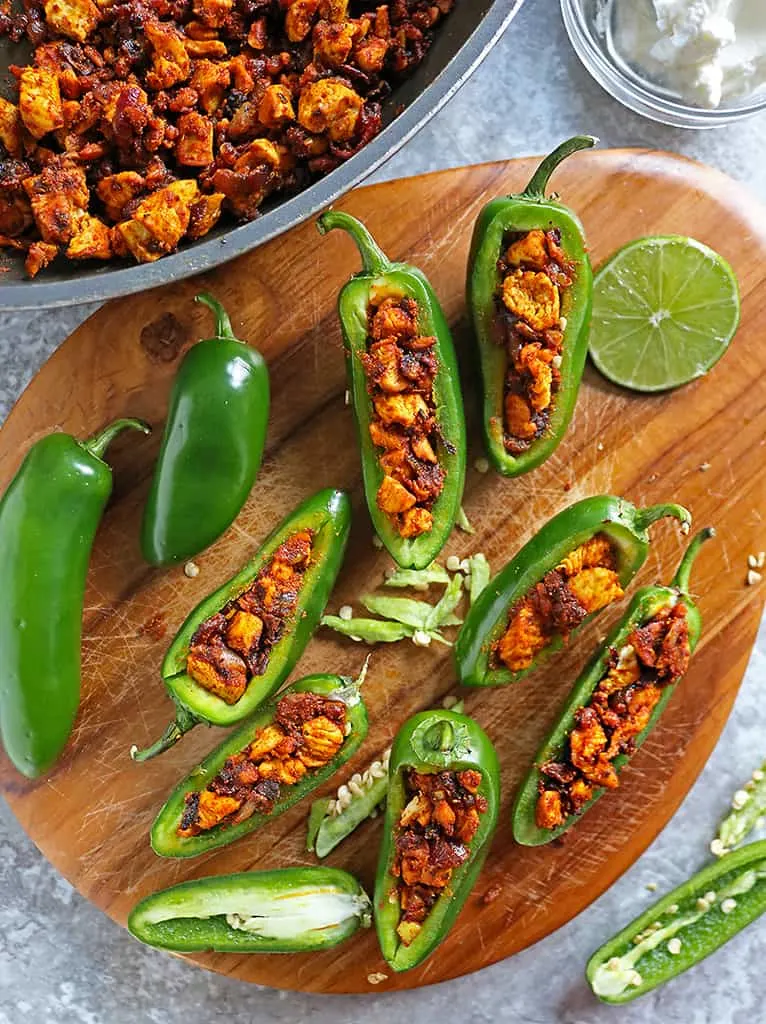 While I am not on a keto diet, I do enjoy low carb meals and snacks from time to time. After all, I need to balance out the cake and cookies – right?
But even though I am not on a strict Keto diet, I so enjoy trying out low carb/keto products as well as the latest trending products that spring up on Sprouts shelves from time to time.
Products like this keto pancake mix – which you could include in your game day snacking as well. Think little pancakes topped with egg and bacon or the spicy chicken which I used in these Keto Stuffed Jalapenos and that avocado cream!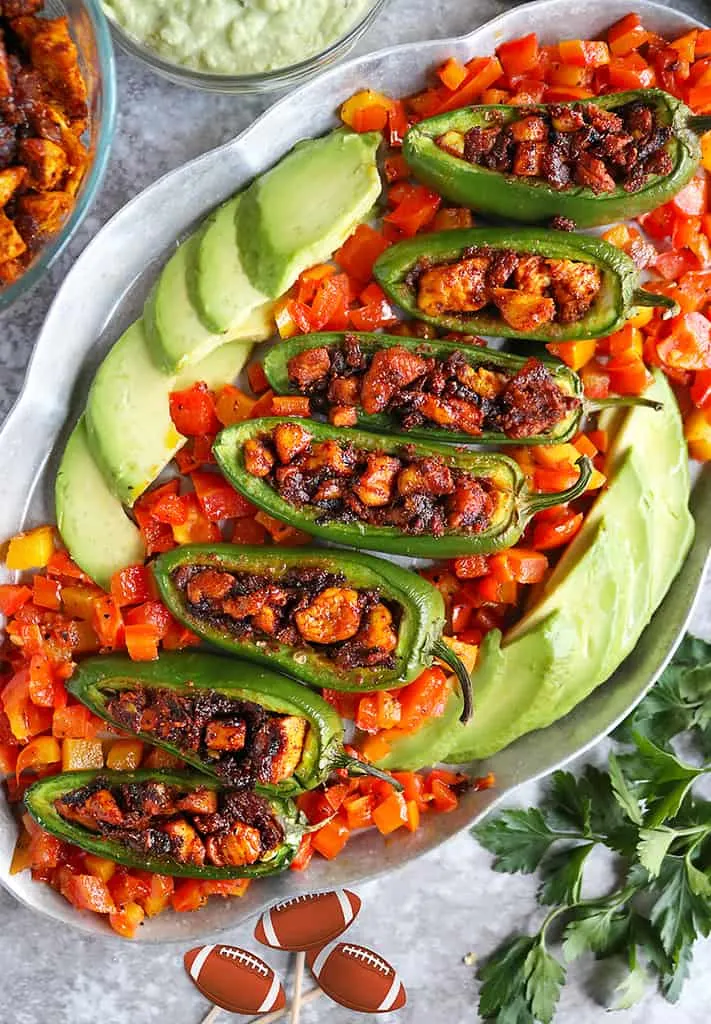 Which brings us back to these Keto Stuffed Jalapenos!
Y'all, these are so tasty. If you prefer a slightly less spicy Keto Stuffed Jalapeno, then, when you split the jalapeno in half, carefully remove as much of the seeds as you can. You might want to wear gloves when you do this. You can also add more avocado cream to balance off the spicy jalapenos.
I had so much fun making these. But I had even more fun eating these. As did my daughter who walked off with the tray with most of these on it as I put my camera away after taking the photos you see here.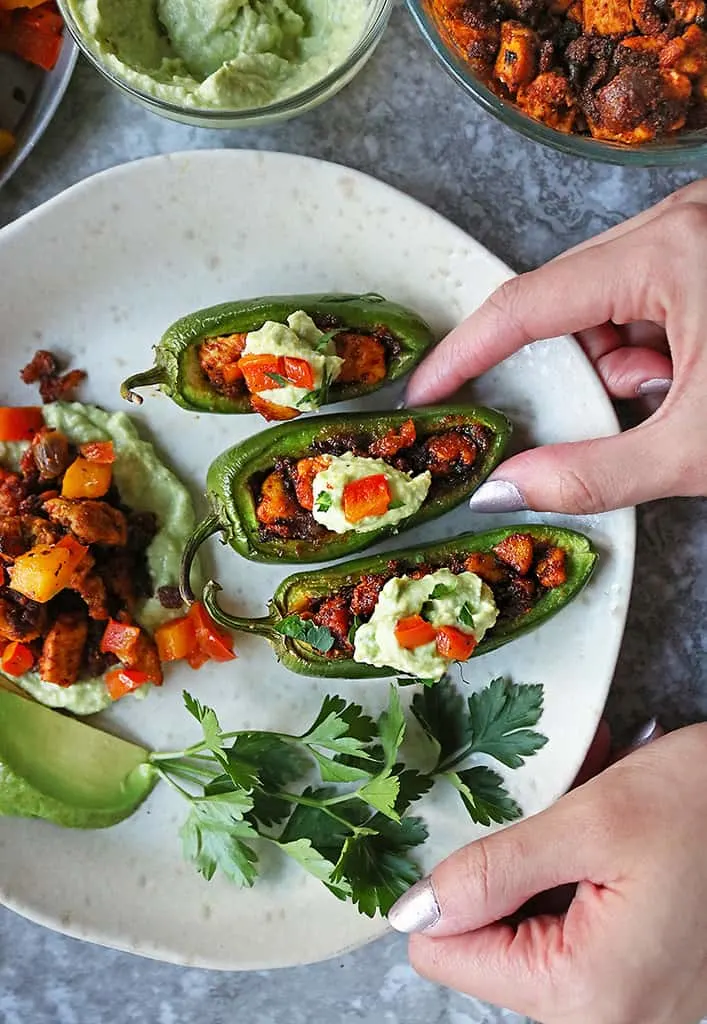 When she polished off the last one of those Keto Stuffed Jalapenos, she put the leftover avocado cream on her plate and topped it off with leftovers of the spiced chicken. She then added some of the pan-roasted bell peppers to this. I had to grab a spoonful or two – and good golly deliciousness – even without the jalapeno shell. Which had me thinking I could make a delicious low carb meal of the spiced chicken filling on mashed avocado!