"By posting this recipe I am entering a recipe contest sponsored by the California Walnut Commission and am eligible to win prizes associated with the contest. I was not compensated for my time, however, I received free samples of California walnuts mentioned in this post."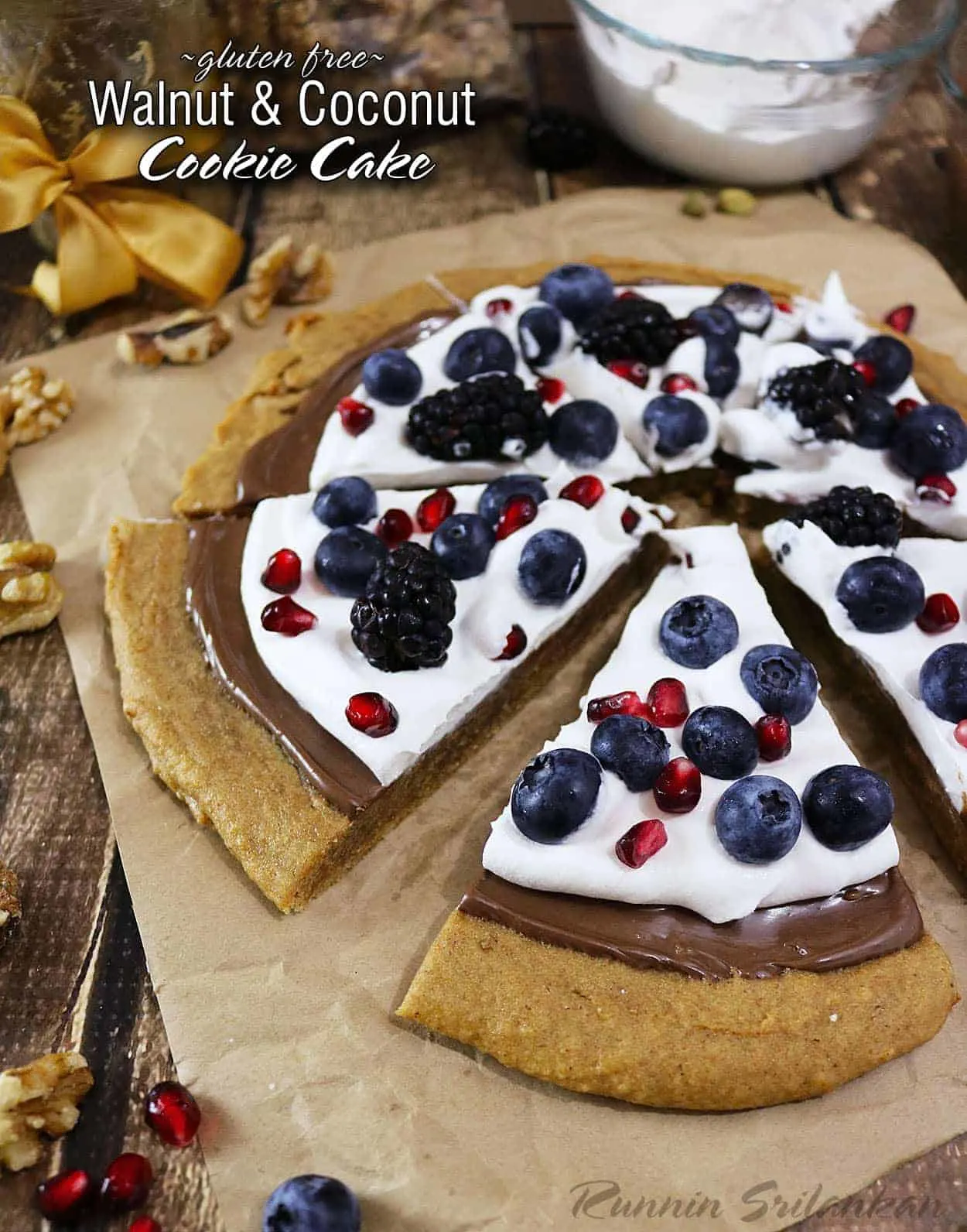 Shakespeare once said, "A rose by any other name would smell as sweet" ~ so am thinking it wouldn't really matter if I called this a "cookie cake" or a "dessert pizza" – right?
As I sat pondering, I figured I'd Google the difference between the two and Google got all upset and started spewing out cookie cake recipes and dessert pizza recipes and surveys of which pizza chain was better than the other.
I made it to page 10 of that Google search, when my daughter came into the kitchen, grabbed a slice of this (then naked) cookie cake-dessert pizza and asked me what I planned to top this cookie cake with and that, my friends, is how I settled on naming this a Walnut Coconut Cookie Cake!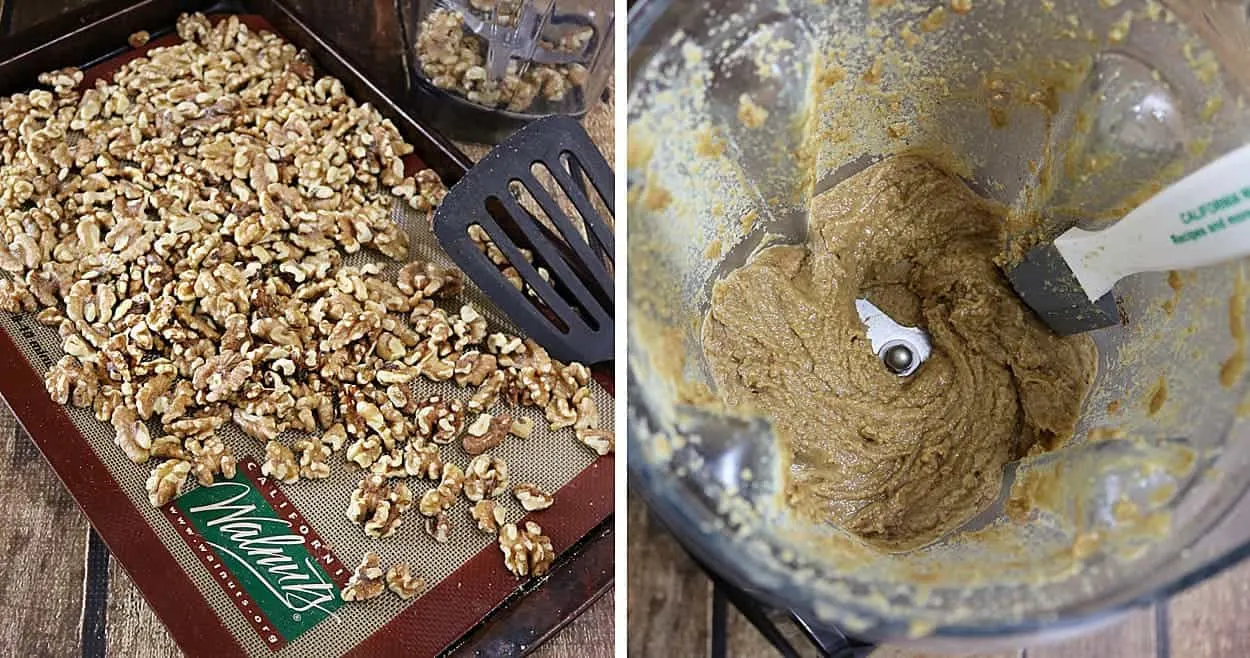 But, this cookie cake wasn't part of my initial plan at all. When the good people at California Walnuts sent me a generous sampling of their walnuts, I figured I'd make some Cardamom, Cinnamon, and Ginger Spiced Walnut Butter by first roasting them and then blending them. Y'all – this nut butter smelled soooooooo incredibly good, it felt almost like a sin to keep it in a jar with a lid on it so I figured I'd use it to make a cookie cake-dessert pizza because then I could custom-size those slices when I cut them!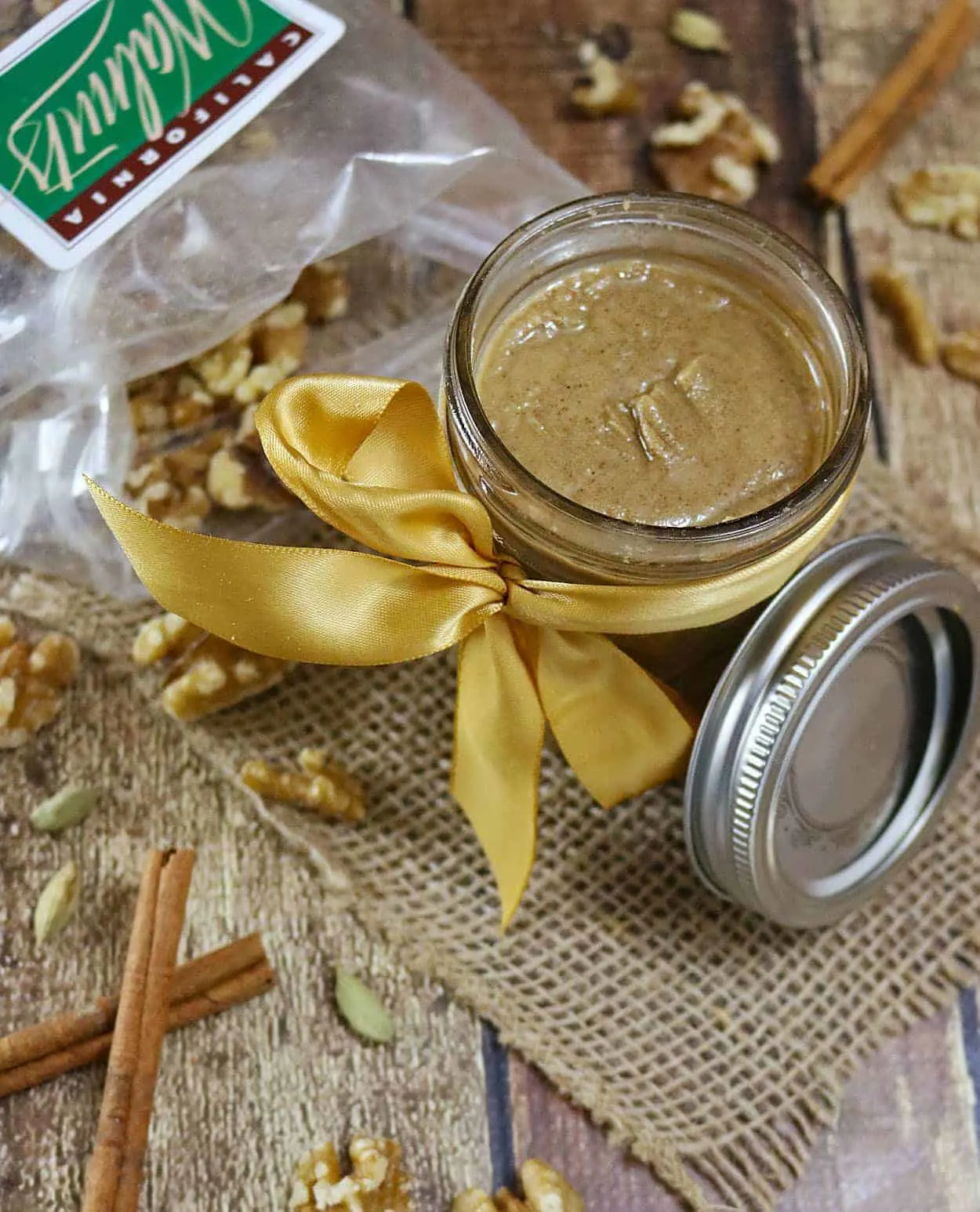 Jam-packed with 4 grams of protein, 2 grams of fiber, phosphorous, magnesium, and 2.5 grams of Alpha-Linolenic Acid (Omega-3), each ounce of walnuts are a nutritional treasure trove! A friend of mine sang their praises to me over other nuts and ever since I have come to recognize how versatile and delicious walnuts are.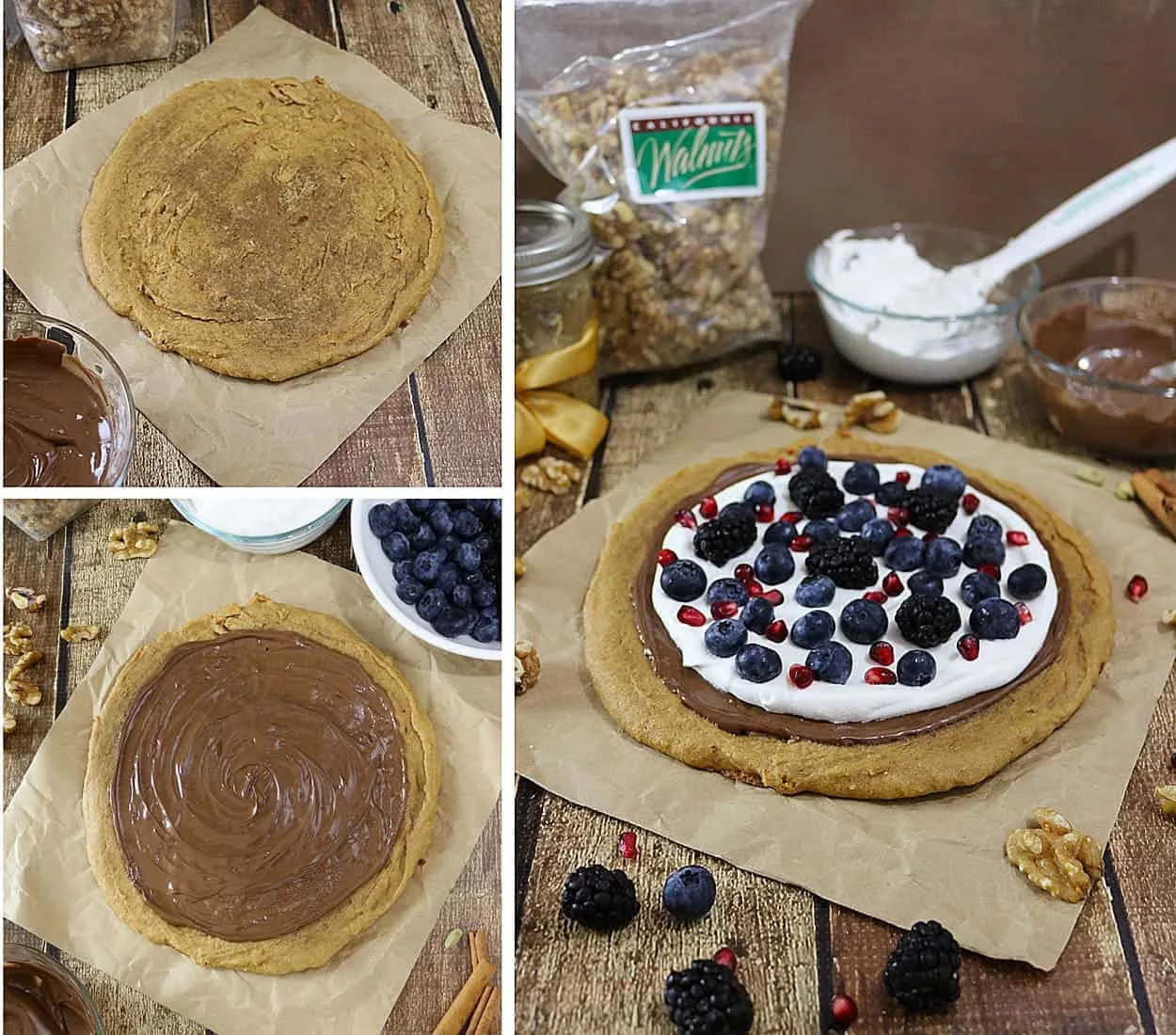 After 2 failed attempts where I worked with different quantities of the same ingredients, I ended up with the crust you see here.
This totally gluten free crust has equal amounts of homemade, spiced, walnut butter and coconut flour – in addition to a couple of eggs, coconut sugar (or brown sugar) and vanilla essence baked together. The crust alone is like a spiced, rich, dense, sugar cookie. If you are not a fan of coconut, no worries, because the walnuts and spices jive so well with it that you don't even taste it. No lie.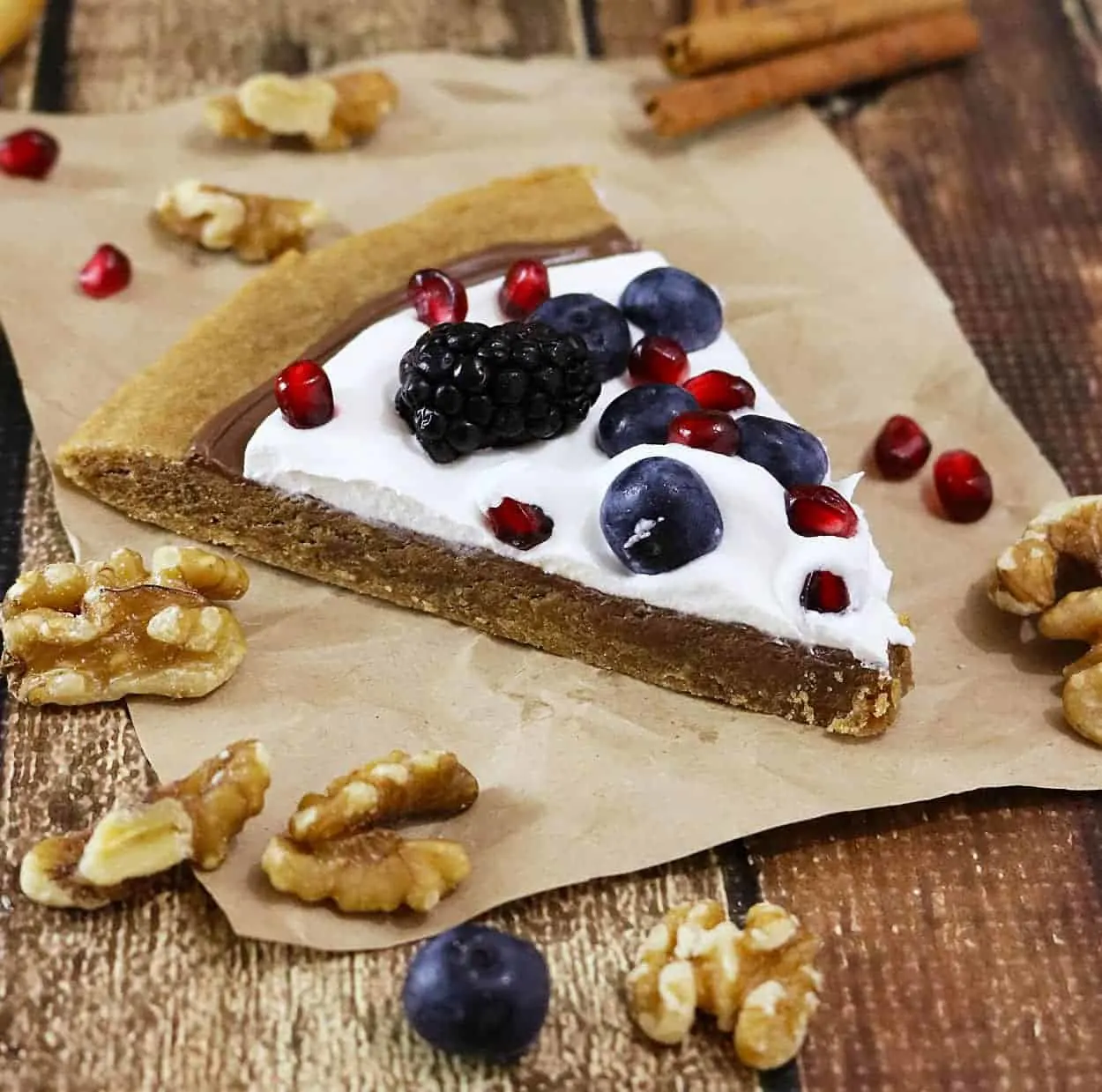 In pulling this together, my daughter suggested the melted chocolate layer. I threw on some dairy-free whipped topping on top of that, and dropped some berries and pomegranate arils on top because we eat with our eyes right?! That and all the berries and chocolate simply pair so well together with that spiced Walnut Coconut Cookie Cake crust!
[Tweet "Walnut Coconut Cookie Cake #ad #glutenfree #thereciperedux @CaWalnuts"]
This gluten-free, cookie cake just happens to be perfect for any 4th of July shenanigans as well! Throw some more melted chocolate on top and it will be a must try for chocoholics everywhere – anytime!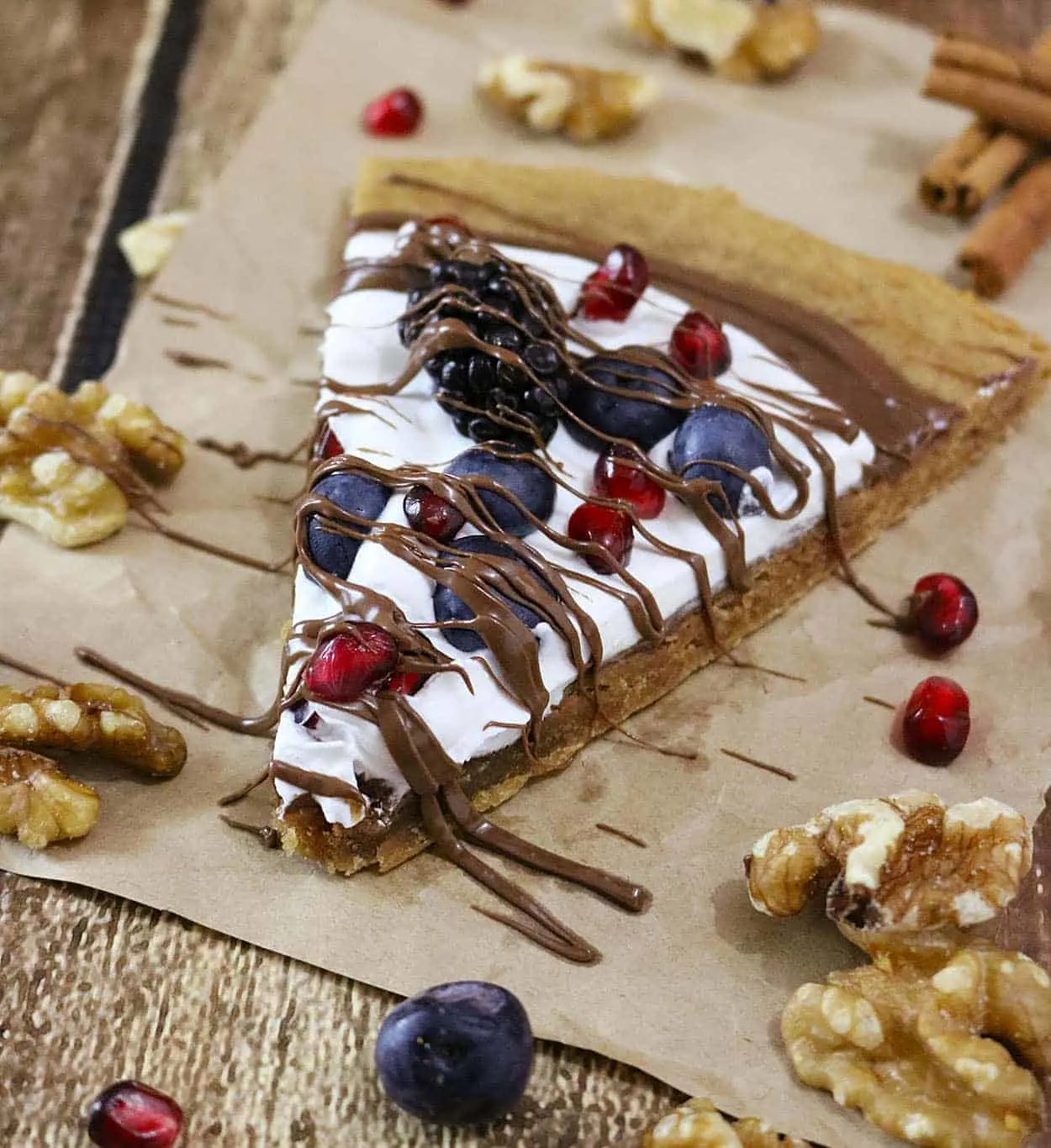 For more recipe ideas and inspiration, I urge y'all to check out California Walnuts on:
Facebook • Pinterest • Twitter • Instagram • Google+

I'd love to know if you happen to make this recipe (or any other on here) so pretty please tag me @RunninSrilankan and #RunninSrilankan on Instagram,Twitter &/or Facebook. And, if you haven't yet, then please make sure to subscribe to my mailing list to have all sorts of eats and treats delivered to your inbox! Thanks Y'all!