I have partnered with Kansas Farm Bureau to bring you a recap of day 3 of The Farm Food Tour and this easy, melt-in-your-mouth, Cast-iron Garlic Herb Potatoes – delicious for dinner with a side dish of Sausage And Beans and Fried Baked Chicken.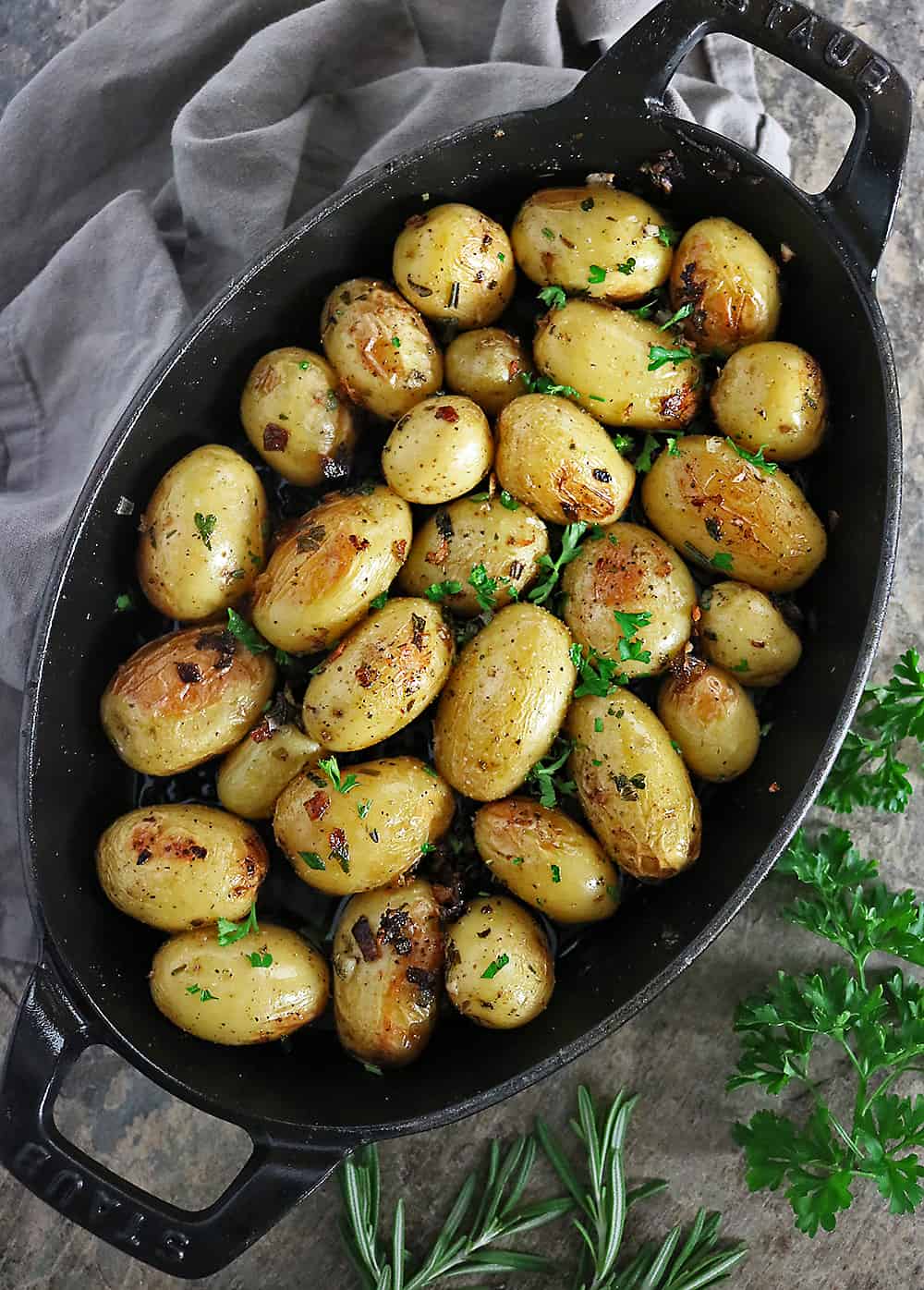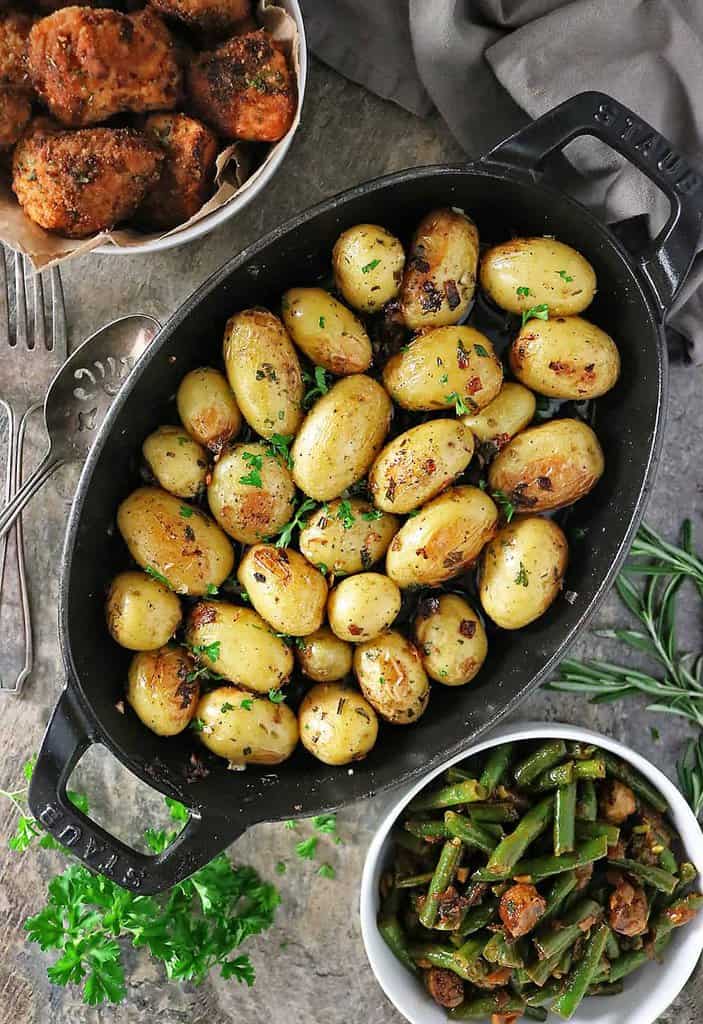 I would love to know if you've make this recipe or any other recipe from this blog so please do rate the recipe and let me know your thoughts on it in the comments below. You can also FOLLOW ME on FACEBOOK, TWITTER, INSTAGRAM and PINTEREST to get recipe ideas and inspo!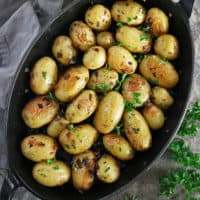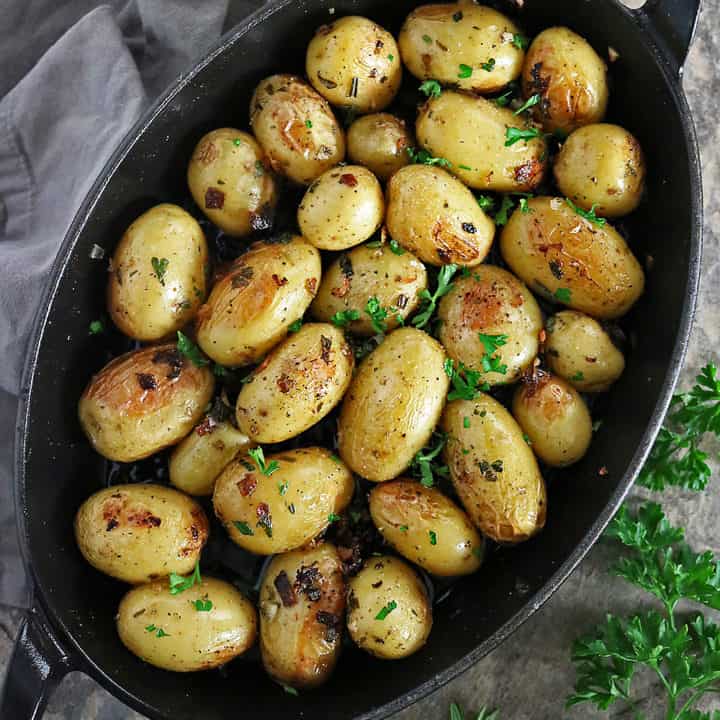 Cast-iron Garlic Herb Potatoes
Yield: 4-5 servings

Prep Time: 10 minutes

Cook Time: 40 minutes

Total Time: 50 minutes

These Cast-iron Garlic Herb Potatoes are soft in the middle with a slightly crisp skin. Aromatic and flavorful , these make a delicious addition to your everyday and/or holiday dinner table.
Ingredients
3 tbsp oil (I used EVOO)
24 oz (1.5 lbs) baby dutch yellow potatoes
2 shallots (or can use i small yellow onion)
2 garlic cloves
1/2 tsp chopped fresh rosemary
1/4 tsp dried tarragon
1/4 tsp dried oregano
1 tbsp chopped fresh parsley
1/4 tsp salt (or more according to taste)
1/4 tsp pepper (or more according to taste)
Instructions
Preheat the oven to 450 degrees
Wash the potatoes and roughly dry with a kitchen towel
Chop the shallots and garlic well and make sure the parsley and rosemary has been chopped up too.
Add the oil, shallots, garlic, rosemary, parsley, tarragon, oregano, salt and pepper to a boil and mix well then toss in the yellow potatoes and toss so the herbed oil mixture covers the potatoes well.
Pour the potatoes with oil mix into a skillet and place in 450 degree oven for 35 - 40 minutes or until yellow potatoes are tender when pierced with a fork.
Enjoy warm - and don't forget those tasty bits of toasted shallots, garlic and herbs at the bottom of the pan!
Recommended Products
As an Amazon Associate and member of other affiliate programs, I earn from qualifying purchases.
Nutrition Information
Yield 4-5 servings
Amount Per Serving Calories 181 Total Fat 8.2g Saturated Fat 1.1g Cholesterol 0mg Sodium 162mg Carbohydrates 27.1g Sugar 1.3g Protein 2.9g