I have partnered with Kansas Farm Bureau to bring you a recap of day 3 of The Farm Food Tour and this easy, melt-in-your-mouth, Cast-iron Garlic Herb Potatoes – delicious for dinner with a side dish of Sausage And Beans and Fried Baked Chicken.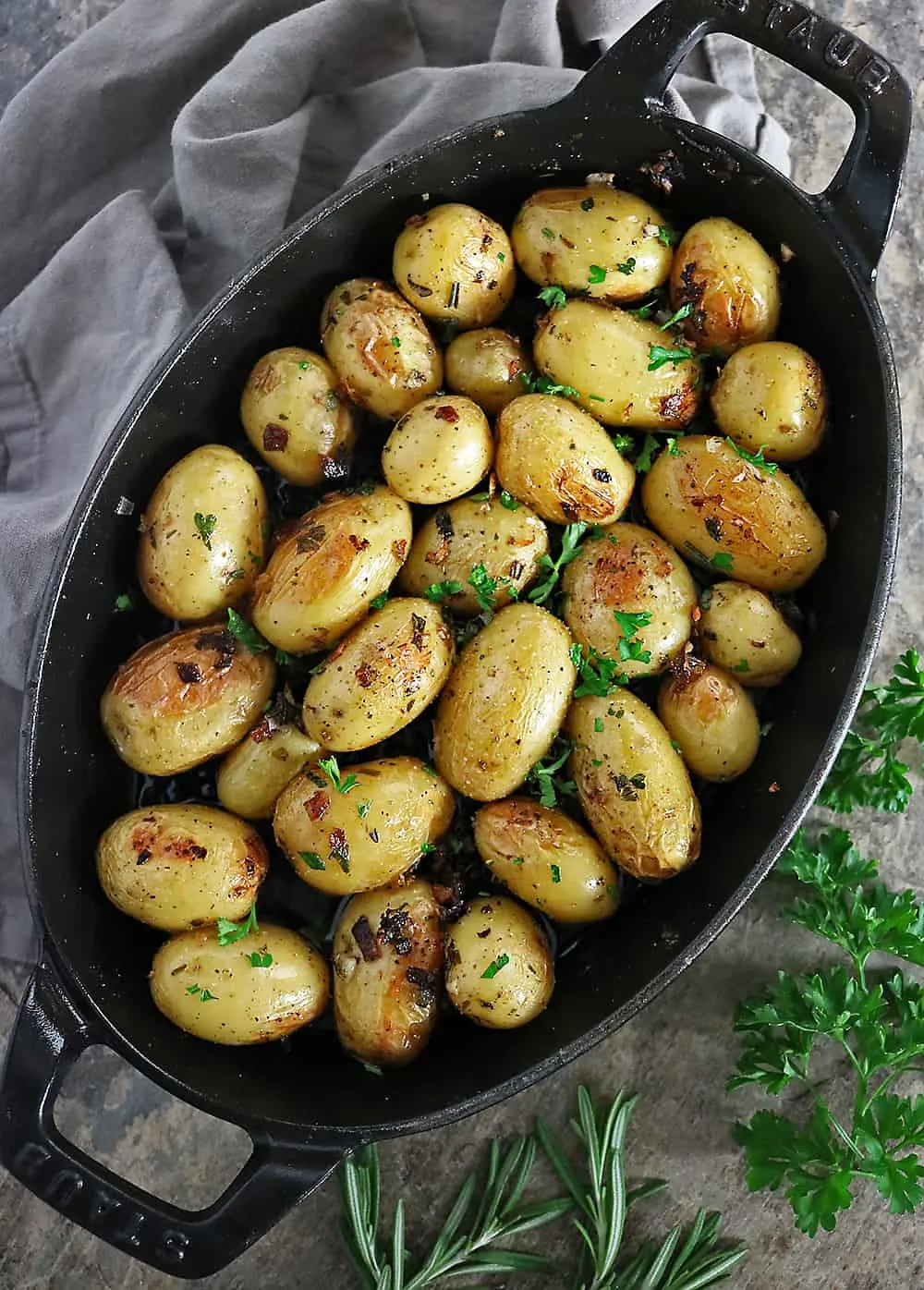 Bittersweet was the word of the day on Day 3 of The Farm Food Tour.
In case you haven't had a chance to catch up on Day 1 or Day 2 of this farm tour around Kansas organized by The Kansas Farm Bureau and Kansas Soybean Commission; in September I went on an epic 3 day adventure around 7 farms, along with a handful of other bloggers.
By the time day 3 rolled around, I was dog tired. I was squeezing in a daily morning workout before we started our tour, so early mornings and the late nights were taking their toll. I missed my kid and my dogs and couldn't wait to see them but at the same time, I didn't want the tour to end. I wanted to visit more farms and listen to more passionate farmers share their faith, anecdotes and words of wisdom. I wanted to hear more about where the food I love came from and how it was produced. I met some beautiful souls on the tour and I wasn't sure I was ready to say farewell… so bittersweet became my word of day 3.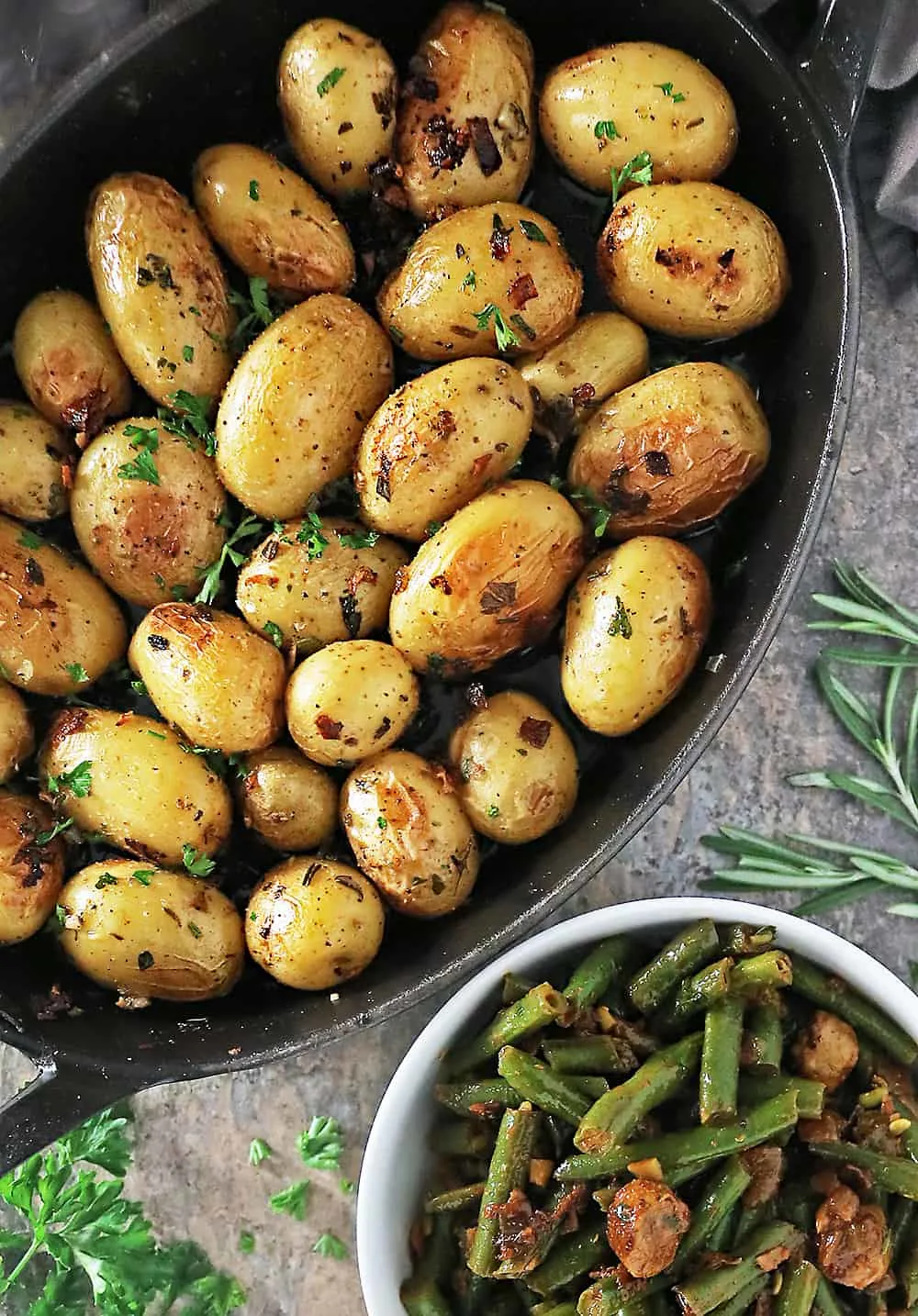 Our first stop on Day 3 was at The Big Well, which is the largest hand dug well in Greensburg. Now, The Big Well doesn't have a lot to do with farming but it is a Kansas landmark and it had some heartbreaking and inspiring stories to tell inside it's walls – including ones about when a category 5 tornado hit Greensburg in 2007.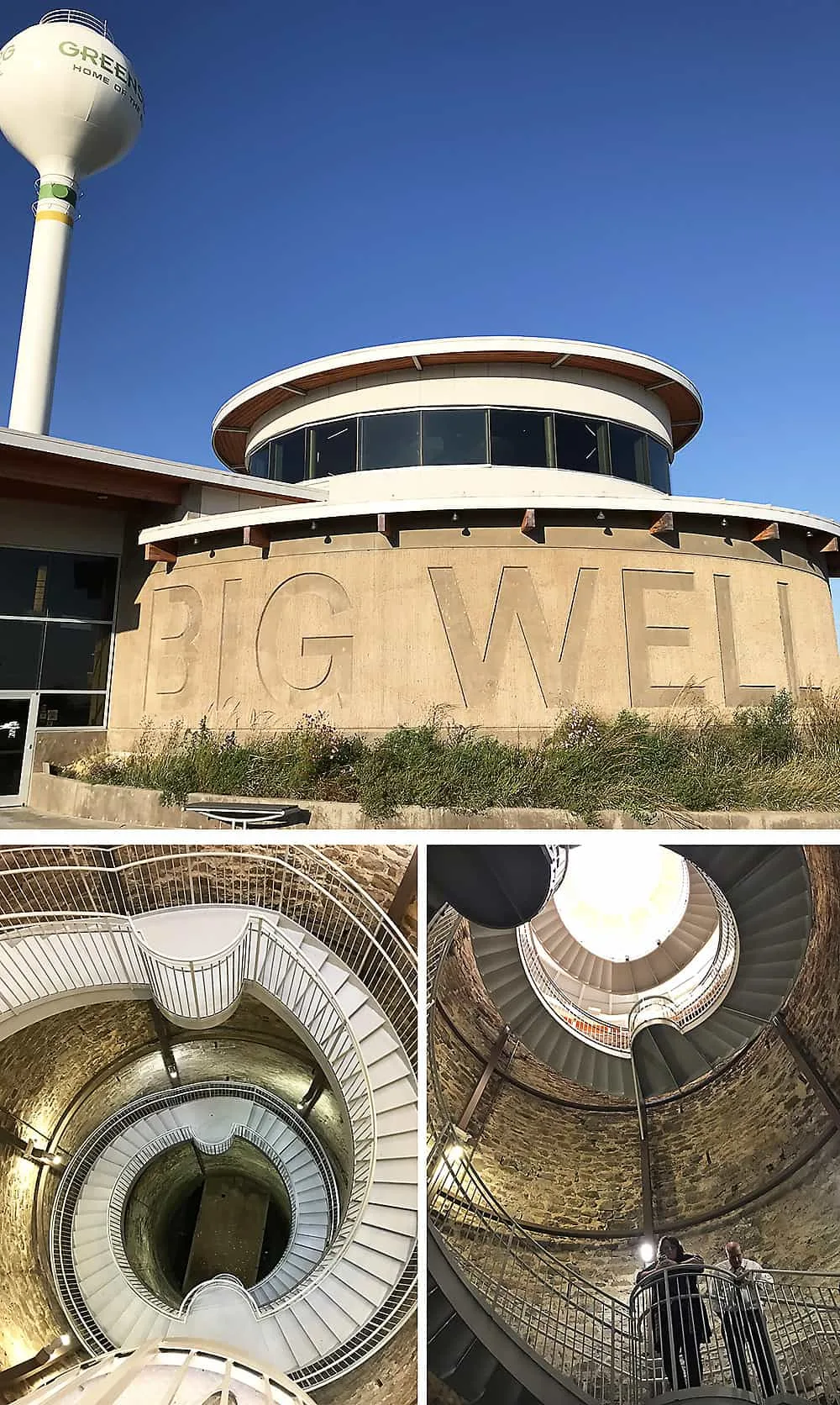 After trekking around and down The Big Well (that's one of our fearless tour leaders and our jovial bus driver on the bottom left, in the above picture), we boarded the bus and headed to The Kitchen, a restaurant in Wichita that is owned and operated by a #FarmFoodTour veteran! Amidst an array of delicious and intriguing menu items (I had the grilled lettuce with bacon #droolcentral), The Kitchen also has gigantic pieces of chocolate cake – that somehow tasted moist and delicious 24 hours later, even after having weathered a plane ride and car trip back to Athens, Georgia from Kansas.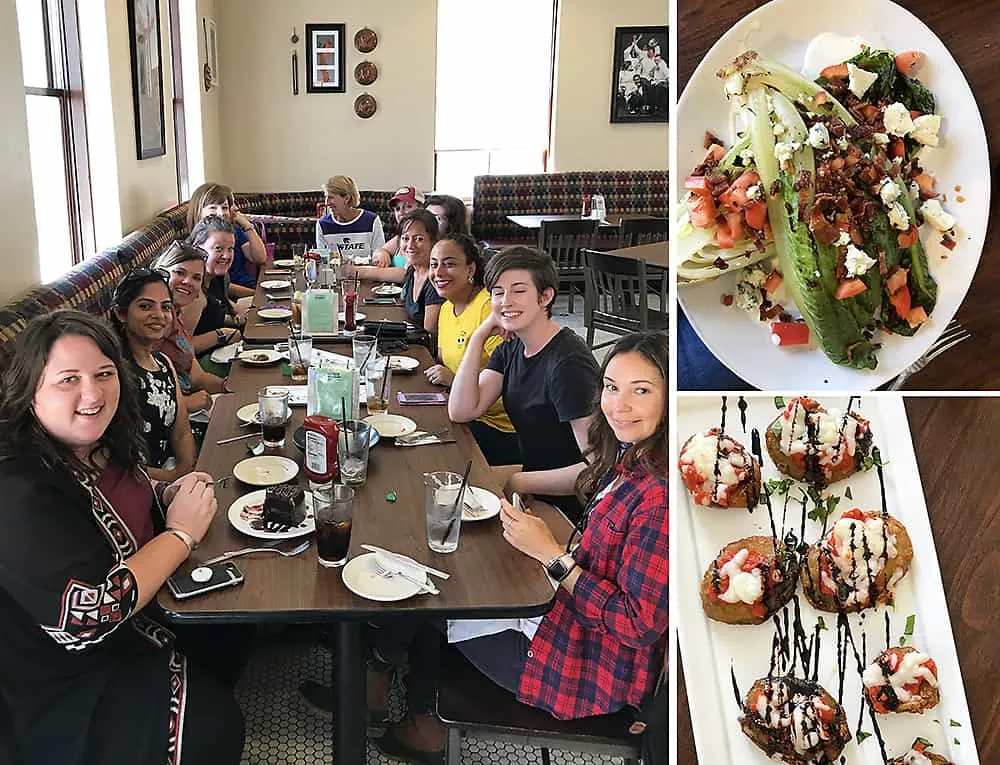 After lunch it was off to visit Dalebanks Angus Farms. Dalebanks Angus is a fifth-generation ranch nestled in the southern Flint Hills of Kansas run by Matt and Amy Perrier. As a big-city loving gal, I had unfounded notions about hormones and antibiotics in everything from meats to milk. However, Matt Perrier had a candid discussion on how antibiotics and hormones are used only out of necessity, just like we'd take them if we were ill.
We got to roam around the Perrier's farm and listen to stories on sustainability, on how the animals are herded, how they are accounted for (nope, drones are not employed at Dalebanks Angus currently but who knows what the future holds), and how they are examined. One of my favorite quotes from Day 3 was Matt Perrier saying "you put on a pot of coffee and wait for $hit to happen" when describing a typical day in a farmers' life.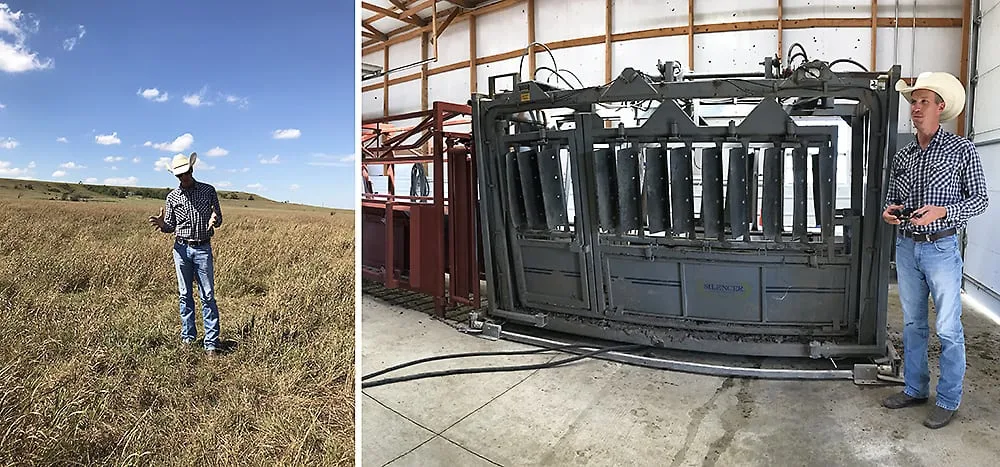 On this tour I was constantly amazed at how calmly and casually farmers seemed to deal with daily adversity, how they dug into their faith and dependence on God to tackle everything from ruined crop harvests to lost cattle to failing machinery.
Amy France (who rode along as our personal farmer on the tour) once mentioned how they were about to harvest a large crop, but unexpected bad weather came through the night before and ruined their morning's harvest, and while she worried about balancing the books, her husband reminded her that God will provide, as he always does. This is what I believe too, but these farmers I met don't just believe it, they live it – every single day. All this in addition to their wealth of knowledge about their cattle and/or crops and how to further take care of them, still humbles me and leaves me speechless when talking or thinking about the 2018 Farm Food Tour.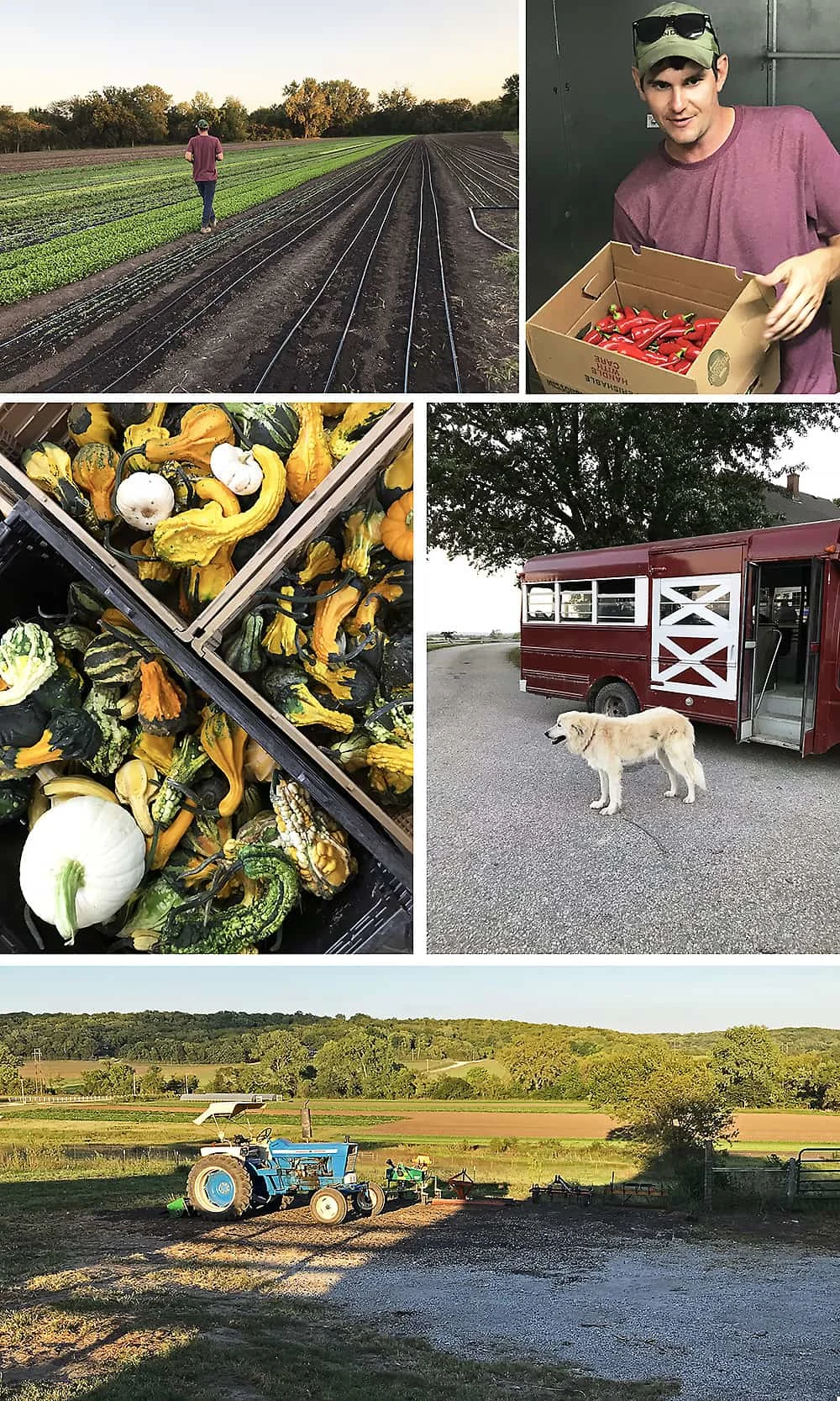 After Dalebanks Angus Farms, we headed to Juniper Hill Farms run by Scott Thelman, which is home to several vegetables from watermelons to soy beans that are shipped off overseas to be used in the production of tofu. Scott Thelman and our resident farmer, Amy France, engrossed me with a lively and engaging discussion on the pros and cons of growing GMO vs non-GMO crops just before our last dinner together.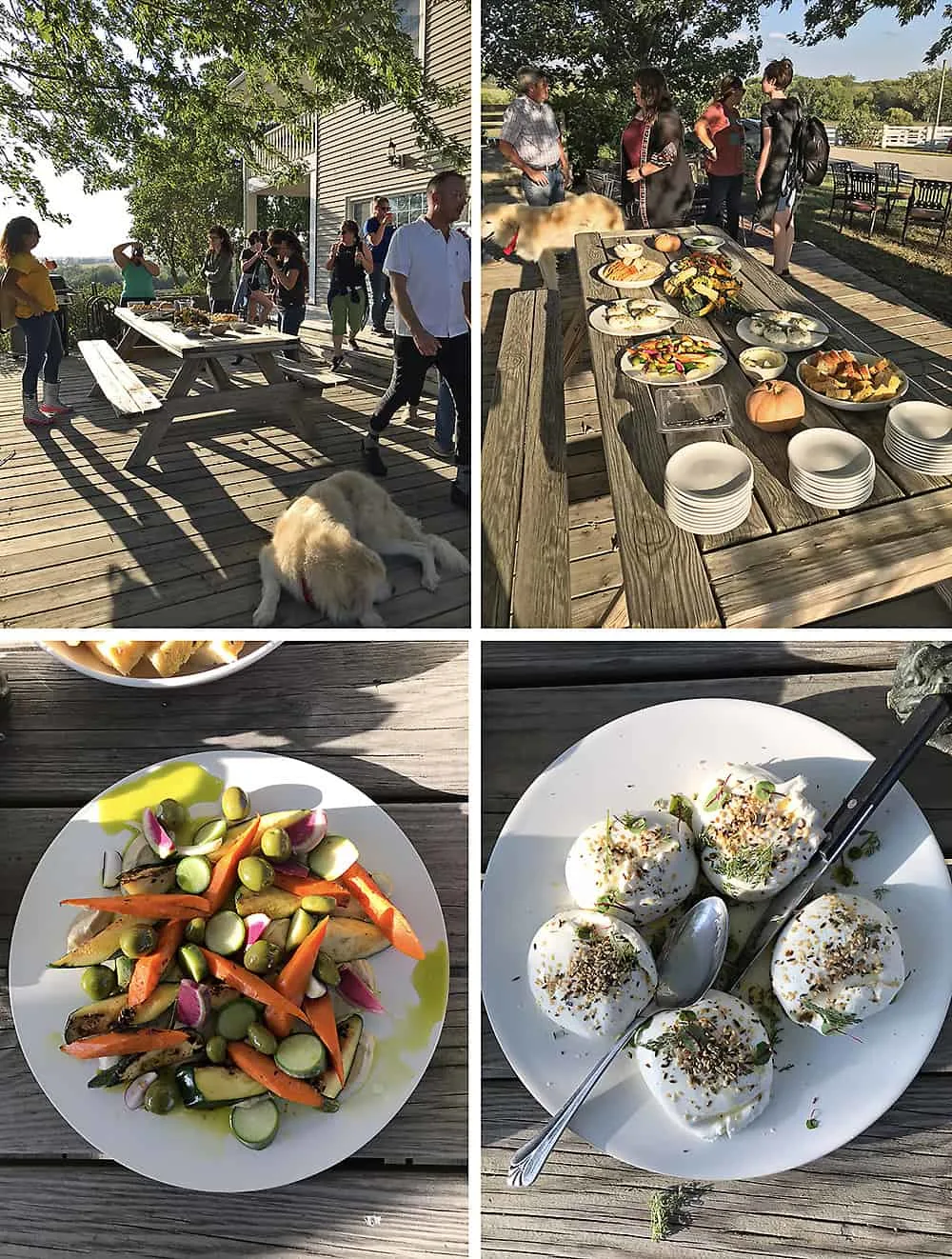 And, what an epic dinner it was! Dinner was on the patio of the main house where Doctor Thelman (Scott's father) lives at Juniper Hill Farms. It started off with appetizers of herbed burrata, homegrown veggies, home-baked bread and graduated to a meal of wine, salad, beef and some delicious herb potatoes I couldn't stop eating, and a dessert of a ridiculously delicious rhubarb strawberry pie.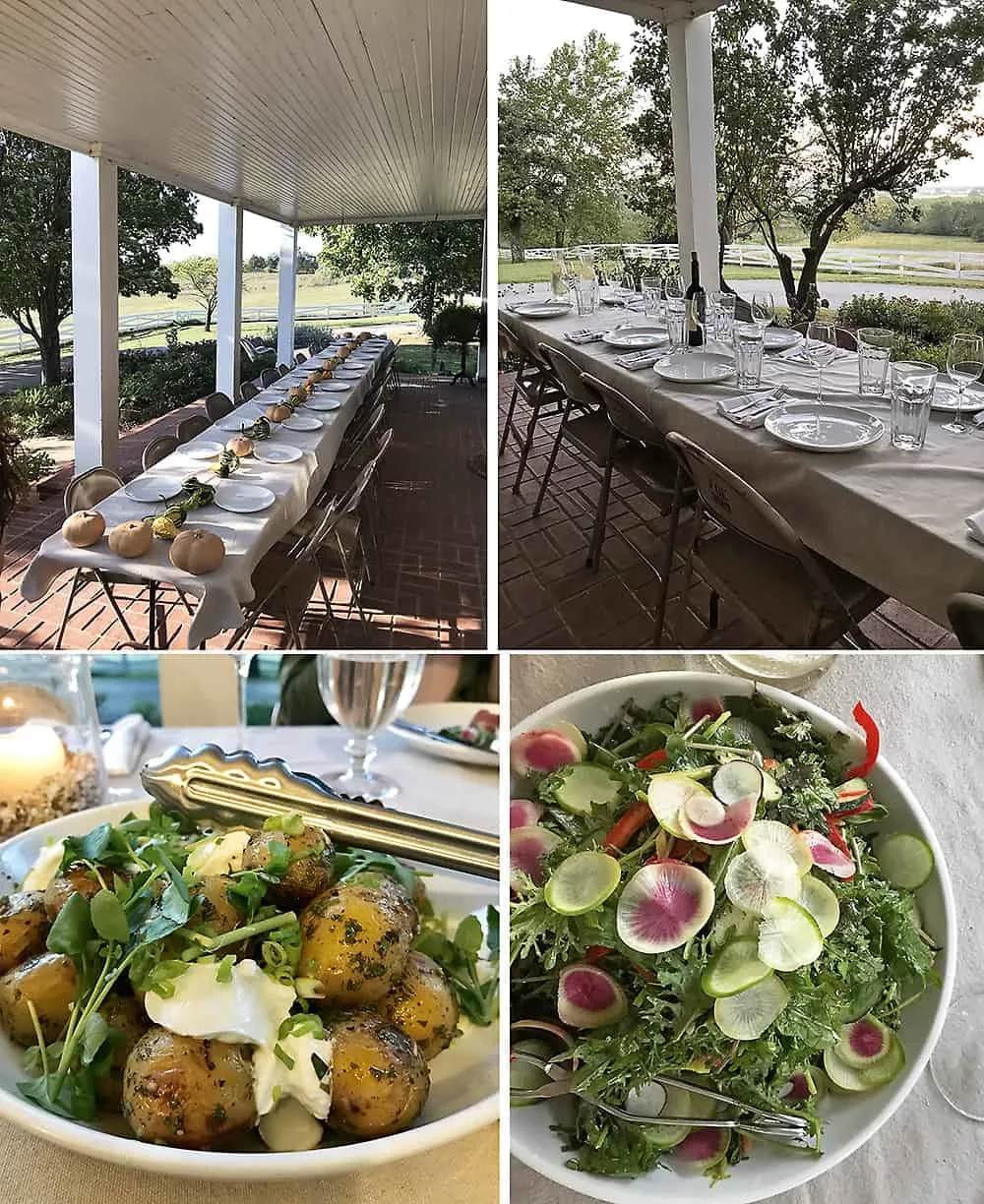 It was those potatoes that inspired the Cast-iron Garlic Herb Potatoes you see here today.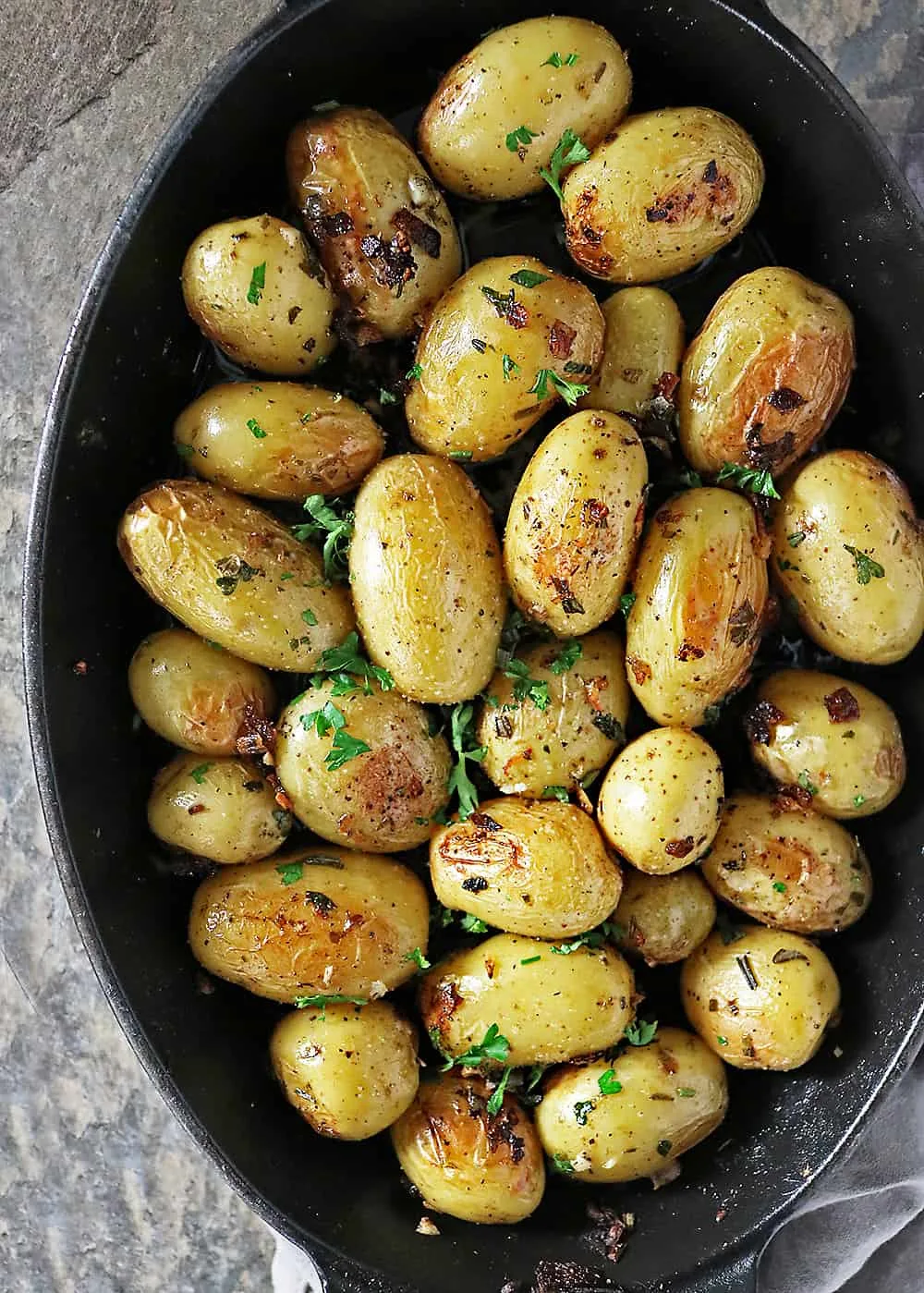 These Cast-iron Garlic Herb Potatoes are soft in the middle with a slightly crisp skin. Aromatic and flavorful from the mix of garlic, onions, rosemary, tarragon, oregano, and parsley, it was so hard to pass on thirds of these potatoes! Yes, that means I had a healthy seconds serving too!
My cast-iron skillet has been getting a workout as I have made and remade these potatoes more times that I can remember – not only are these potatoes simply divine, but we also ate the crusty bits of roasted onion, garlic and herbs at the bottom of the pan as well!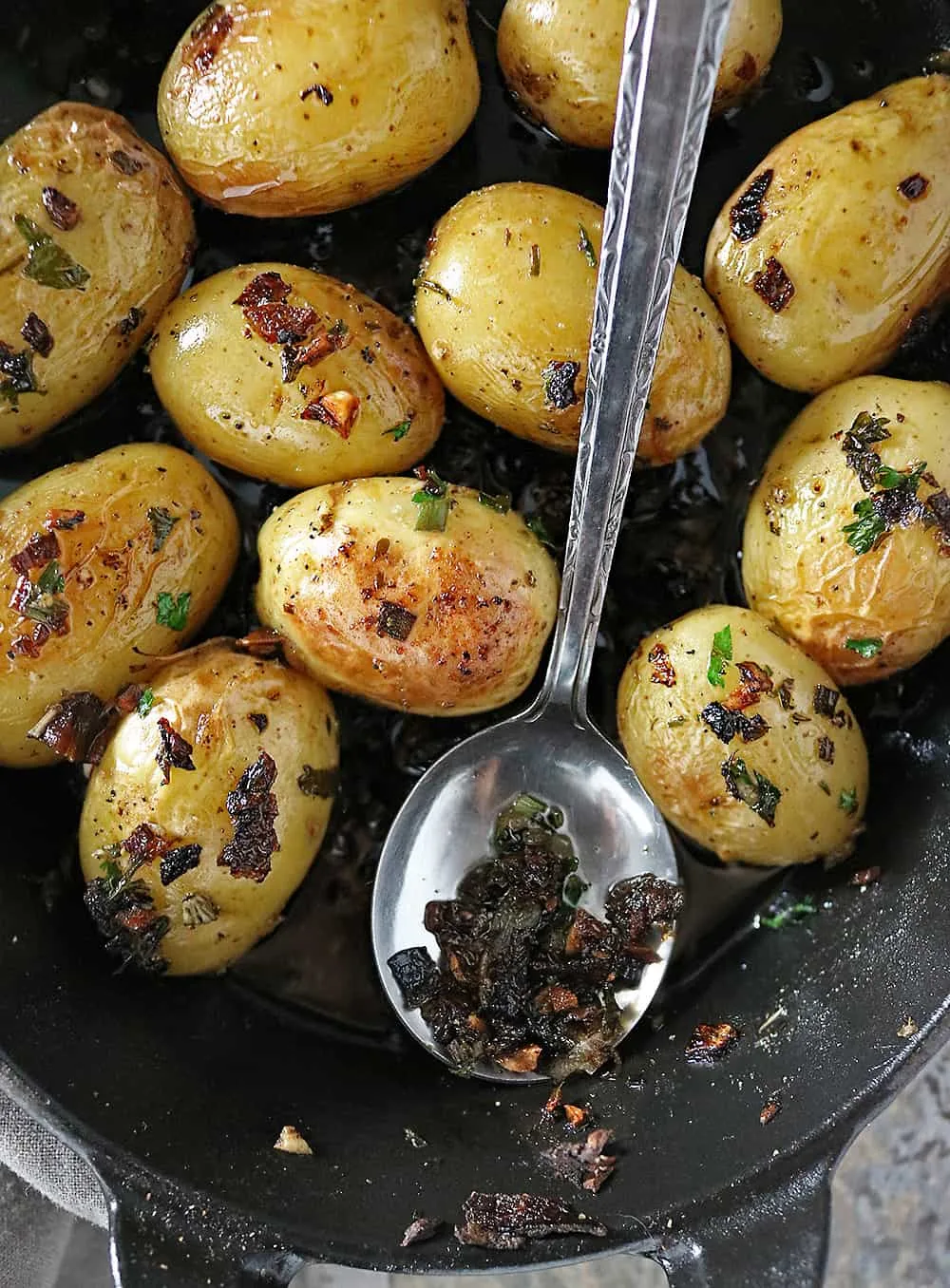 Enjoy these Cast-iron Garlic Herb Potatoes with these Sausage And Beans and these Fried Baked Chicken together or enjoy them separately. Together they make one delicious and comforting everyday meal, and separately, they can be a delicious side at your Thanksgiving, Christmas or Holiday table.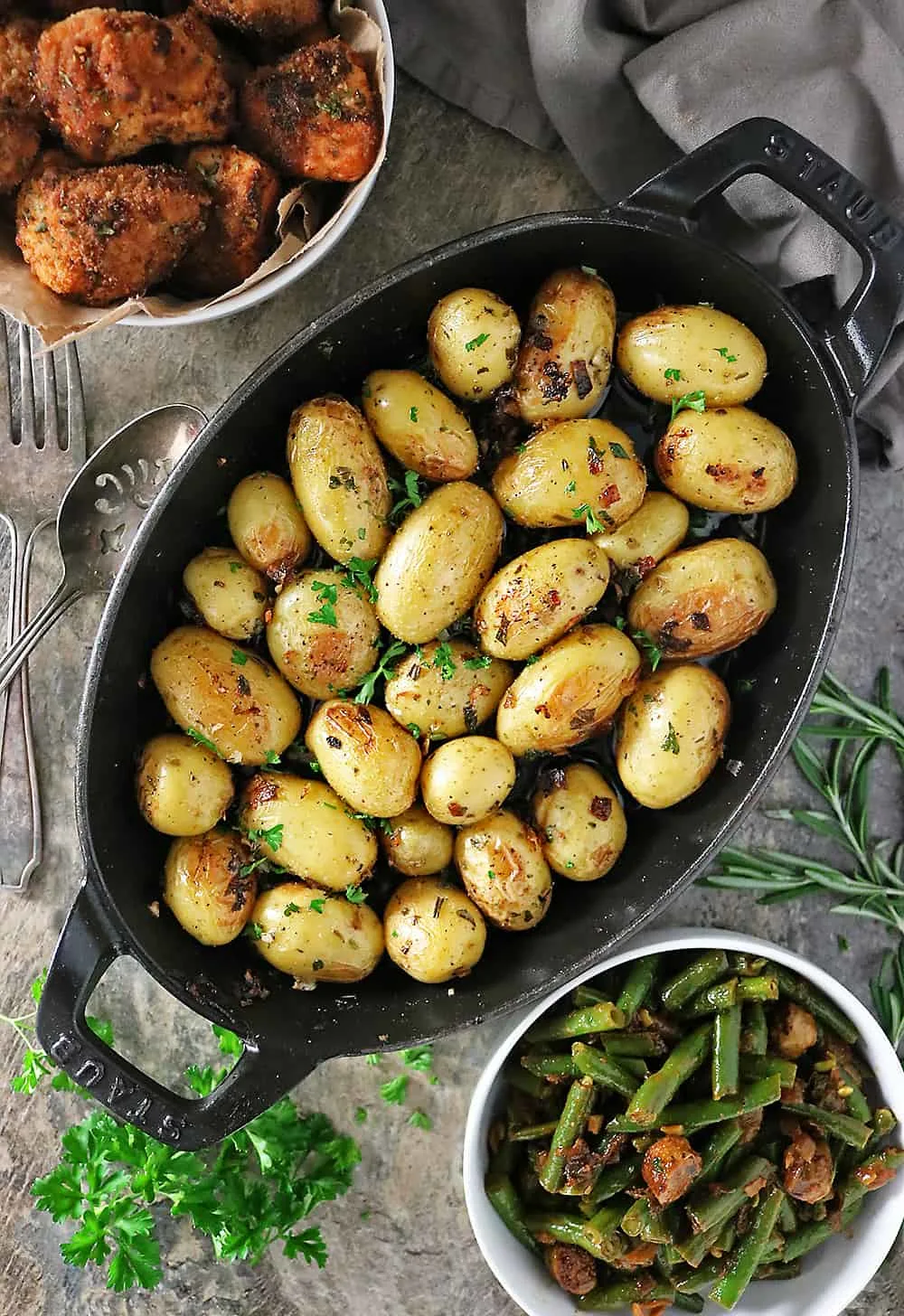 I would love to know if you've make this recipe or any other recipe from this blog so please do rate the recipe and let me know your thoughts on it in the comments below. You can also FOLLOW ME on FACEBOOK, TWITTER, INSTAGRAM and PINTEREST to get recipe ideas and inspo!