Chipotle pepper, cumin, and adobo sauce add a punch flavor to this Chipotle Almond Hummus. This creamy and light hummus is tahini-free and totally delicious as a dip or spread.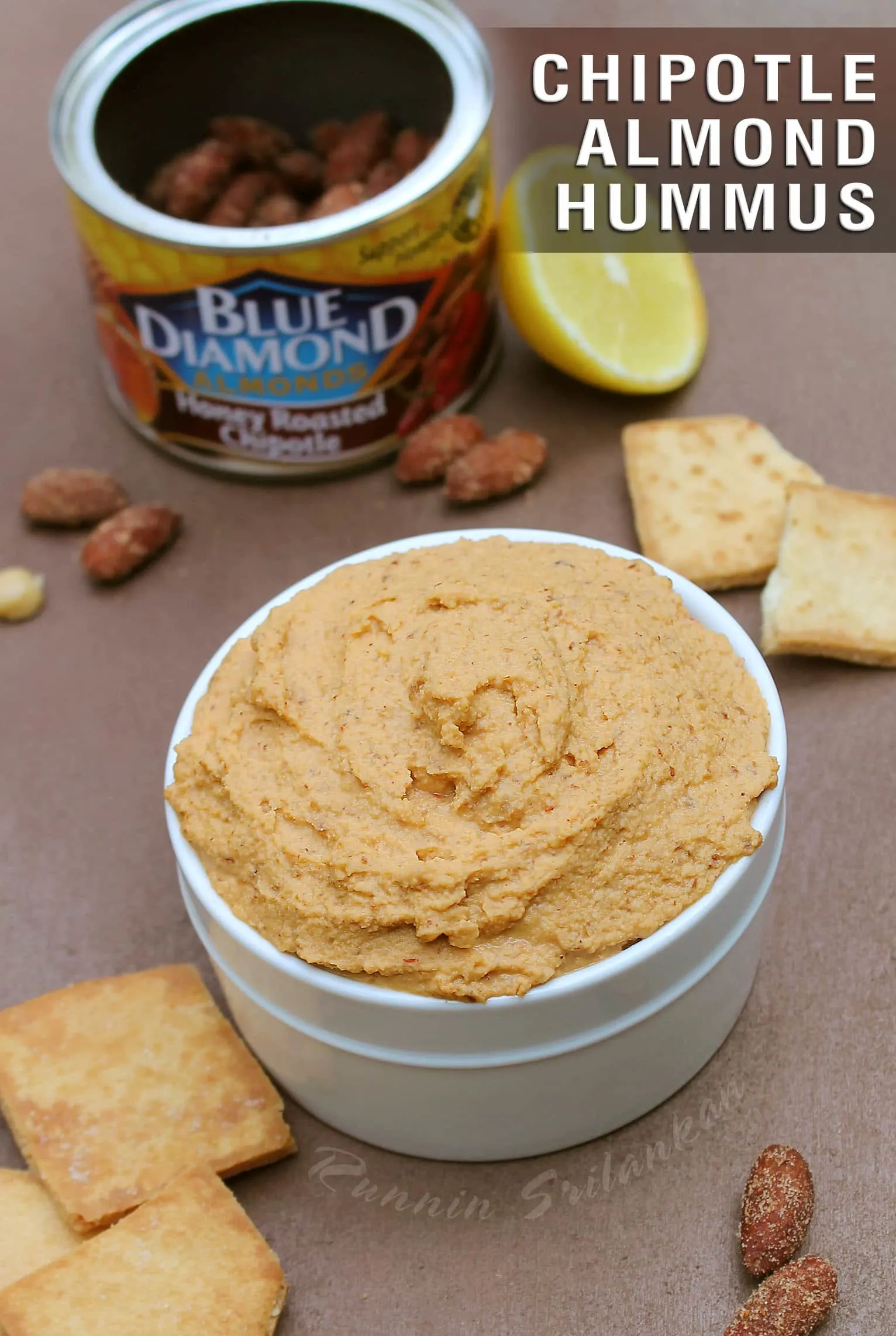 According to the CDC, heart Disease is the number one cause of death in adult males over 65…and, last Sunday, my dad contributed to this statistic.
My dad, Ainsley, lost his long and laborious battle with Congestive Heart Failure on Sunday, August 10th and left the confines of his earthly body to be completely free.
Over the last 5 years or so, I watched him loose his ability to walk, to eat the foods that brought him so much joy and to drink a cup of tea without thickener added in. In spite of his state towards the latter few weeks – he always managed to ask my daughter how school was going; if she was ready for her SAT's (something he has been asking her since she was in 5th grade) even whispering to her if she had managed to read a "Reader's Digest Magazine" a couple of weekends before his passing.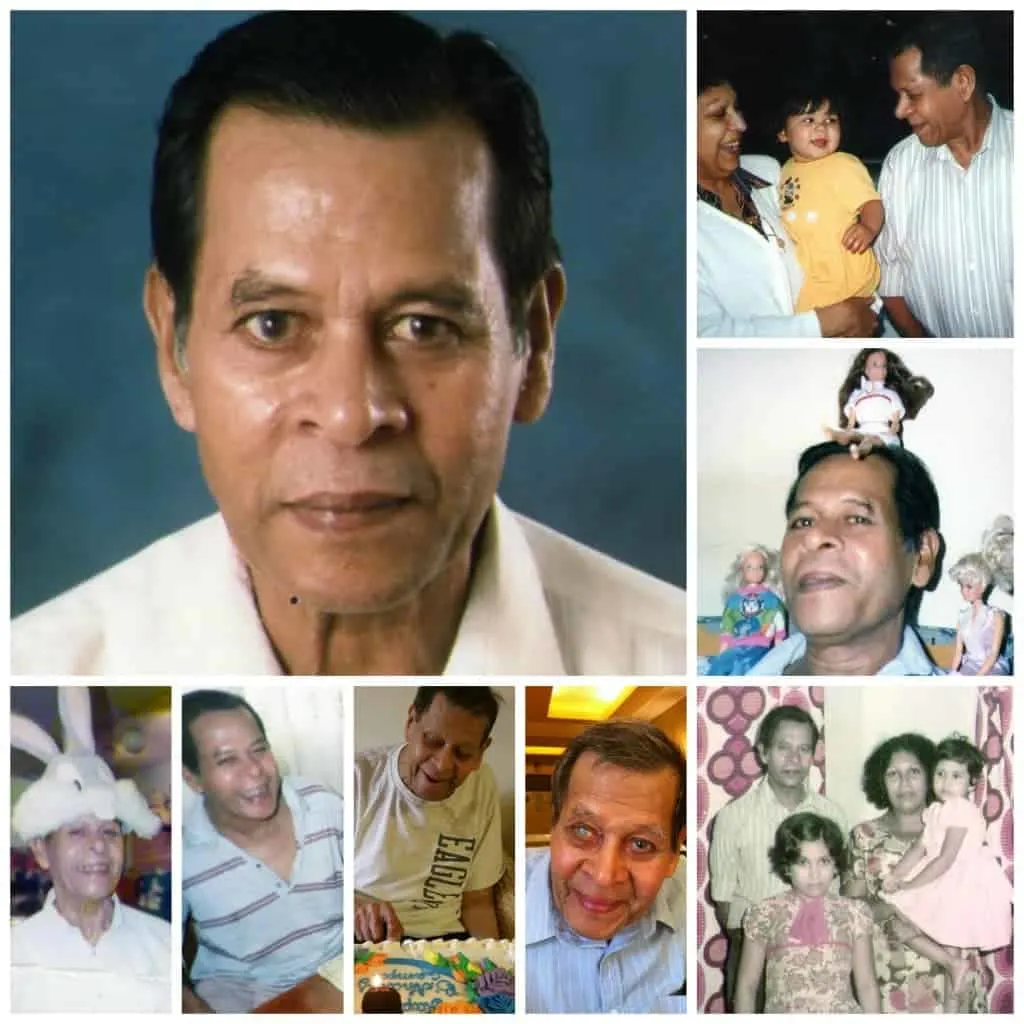 I received a call from a middle school friend of mine whose words summed up my dad's life – (having grown up in and out of each other's homes) she said she couldn't think of one person who would have something negative to say about my dad and I think that's because he never spoke bad about anyone else.
While I miss him terribly and wish I had done more, read more, been there more, played more of his favorite music and said more during the last six months of his stay in a nursing home; I need to stop think of his passing from my point of view and be glad that today he might be jumping along, eating cake (better than we have down here on earth) and drinking ALL the thickener-free tea he can get his hands on!
As certain components of heart disease tend to be hereditary, my sister and I have to make sure we live healthier – workout more, stay active and eat healthier.
While I eat pretty healthy, I need to up my nut intake – specifically, my intake of heart healthy almonds which are pretty darn efficient in lowering the level of "bad" LDL (low-density lipoprotein) cholesterol in my blood; by incorporating almonds in my diet – especially in the form of this delicious hummus…
How to make this chipotle almond hummus?
Using about half a can of Blue Diamond's new Honey Roasted Chipotle almonds in this hummus gave it a smoky, spicy yet sweet flavor.
I skinned the garbanzo beans – mainly because skinning them seems to result in a smoother hummus and since I was using ground almonds, I figured skinless garbanzos might be a better fit. Skinning garbanzos involve pinching them at the tips and the "skin" kinda just slides off.
I also boiled the almonds and soaked them for a tad bit after reading Lindsay's post of the health benefits of soaking nuts.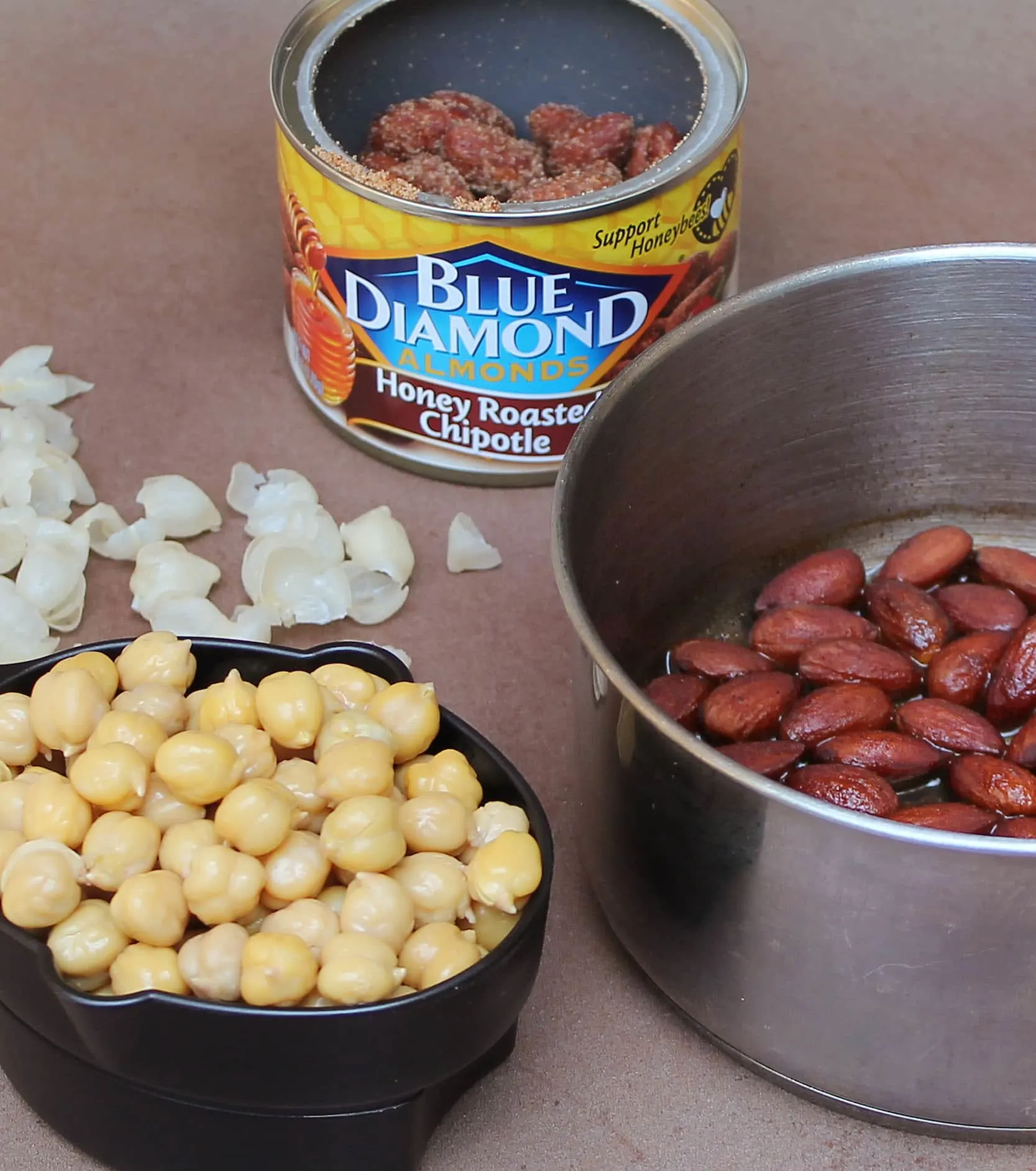 This hummus wasn't as dense and rich as the tahini based hummus recipes I have tried……it was light and totally delicious, and it was hard to stop dipping into…my hand model and main taste tester (aka my daughter) loved this photo shoot as she didn't have to wait long to taste a pita chip full…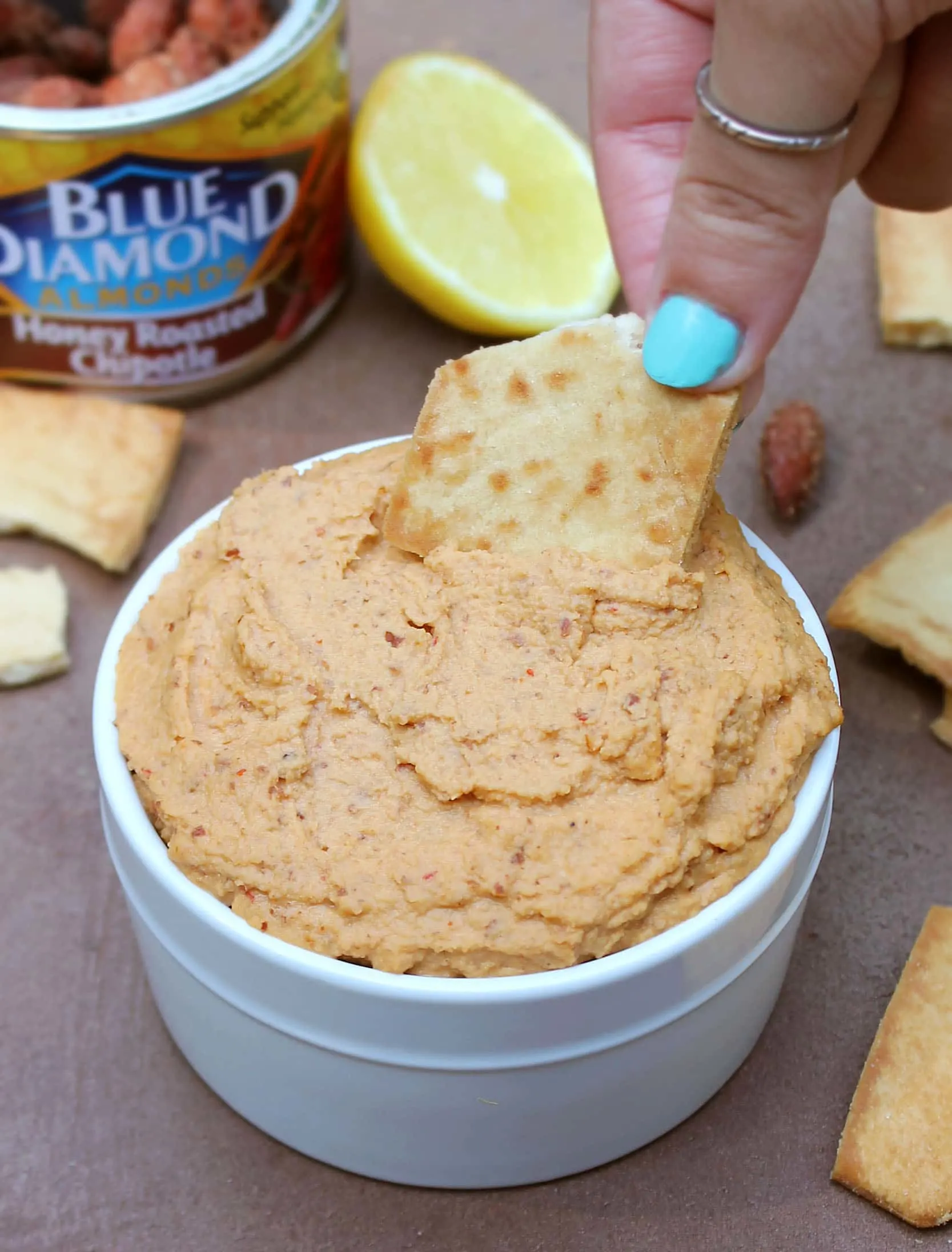 …and, another and another pita chip full….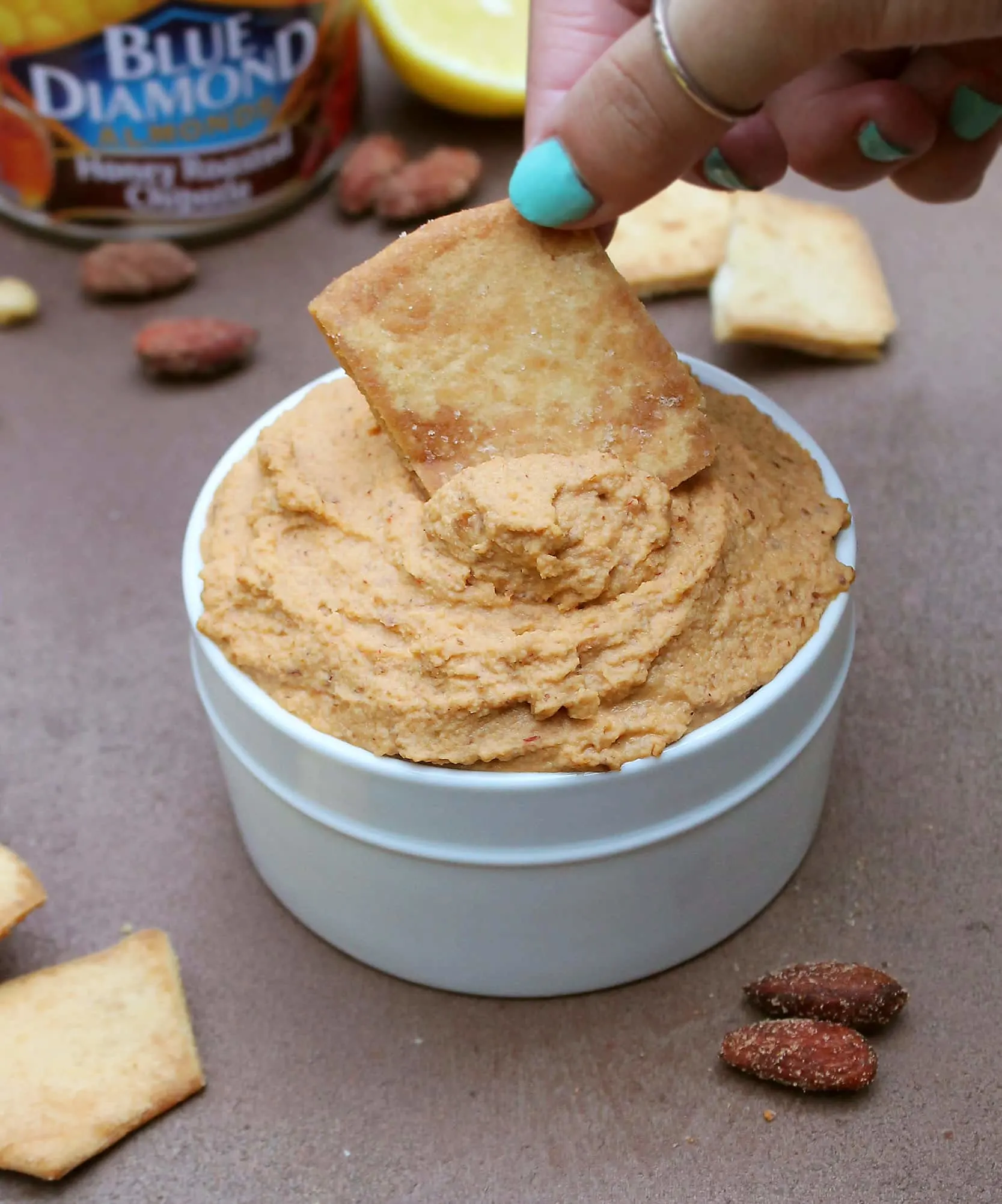 To all you who sent me emails, calls, and those who commented on my Facebook post – AND to those co-workers and bosses of mine who surprised me by showing up at my dad's final farewell – from the bottom of my hart – thank you for your condolences, for your sweet words of comfort, and for being there in person – or in your thoughts; I am blessed to have y'all in my life.
This post is dedicated to my dad, who inspired me and taught me so much by living and leading and teaching by example. Thank you for never loosing your temper with me before heart disease took it's toll, thank you for your never faltering encouragement and quick, heartwarming smile and always remembering the little things! My sister and I have been blessed to have had YOU as a dad – ciao – till we meet again one day!