Thick and creamy, this spicy cauliflower soup is loaded with ginger, garlic, turmeric, and cayenne. It is a nutritious, plant-based soup that is comforting and delicious.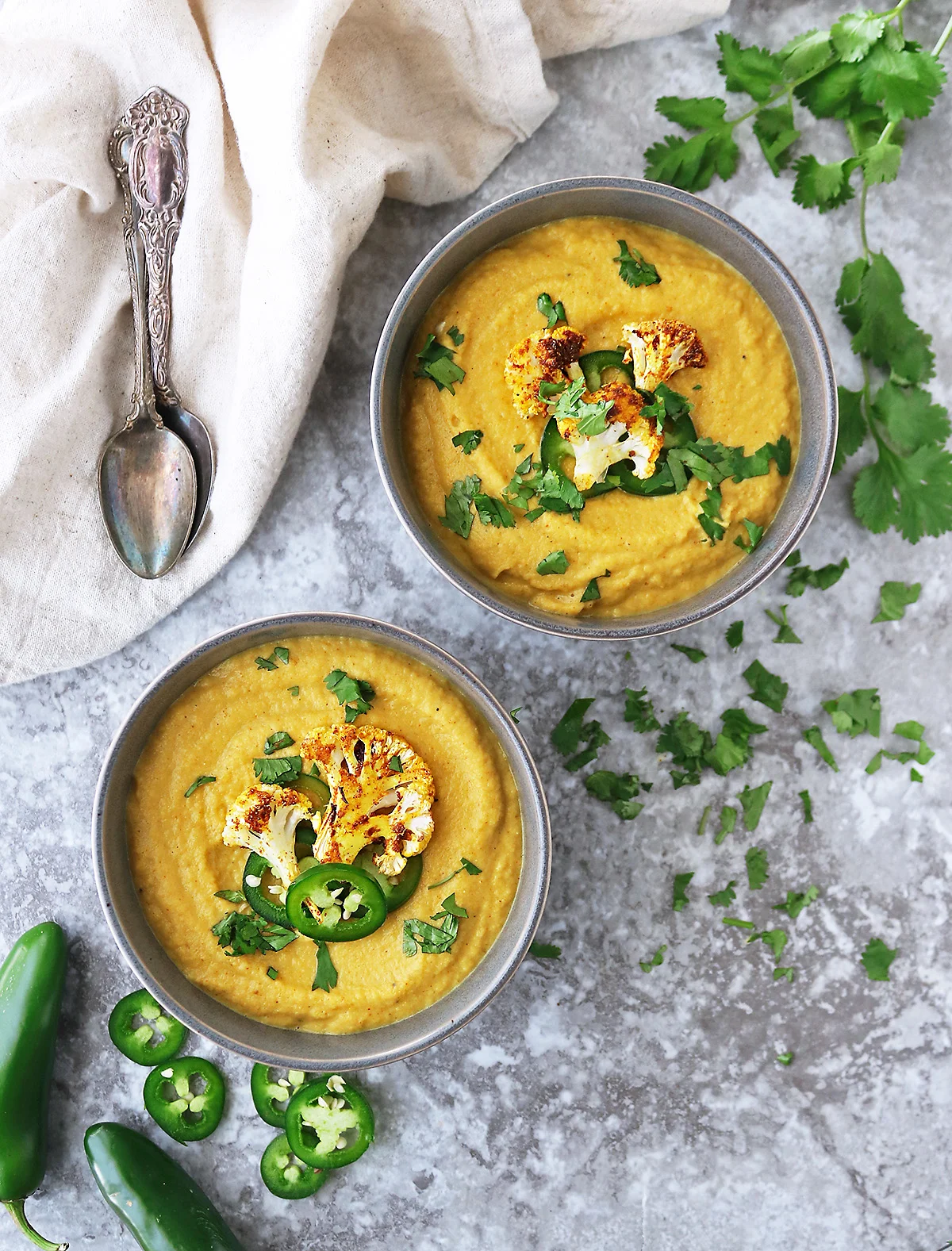 If you love extra thick and spicy soups as I do, this Spicy Cauliflower Soup is going to be a treat for your taste buds. Comforting and ever so creamy, this soup is completely dairy-free and chockablock with flavor.
One of the reasons I love this soup is that it is so ridiculously easy to make. Another reason is that this tasty soup can be prepared in 35 minutes or less.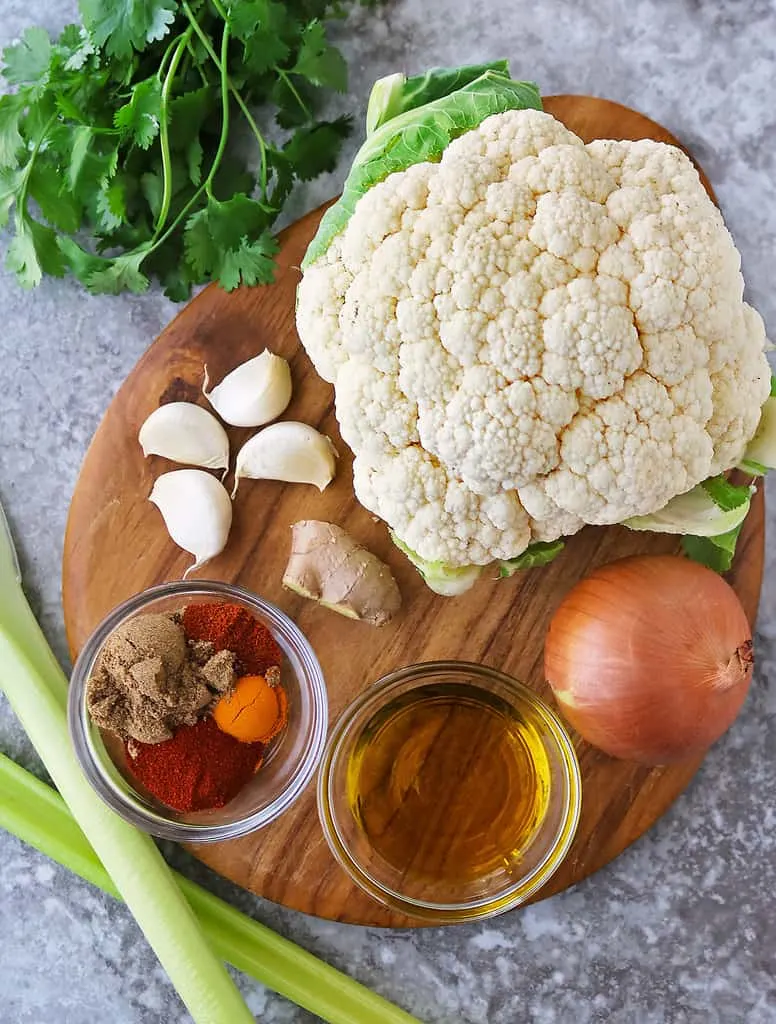 What are the ingredients needed to make this Spicy Cauliflower Soup?
You only need the following 11 easy-to-find ingredients to make a flavor-rocking spicy cauliflower soup, and they are:
Cauliflower,
Celery,
Yellow onion,
Garlic,
Ginger,
Olive oil,
Coriander,
Cayenne,
Smoked paprika,
Turmeric, &
Almond milk.
You will also need salt and pepper to season the soup with. And, some optional ingredients are cilantro and jalapeño slices for garnish.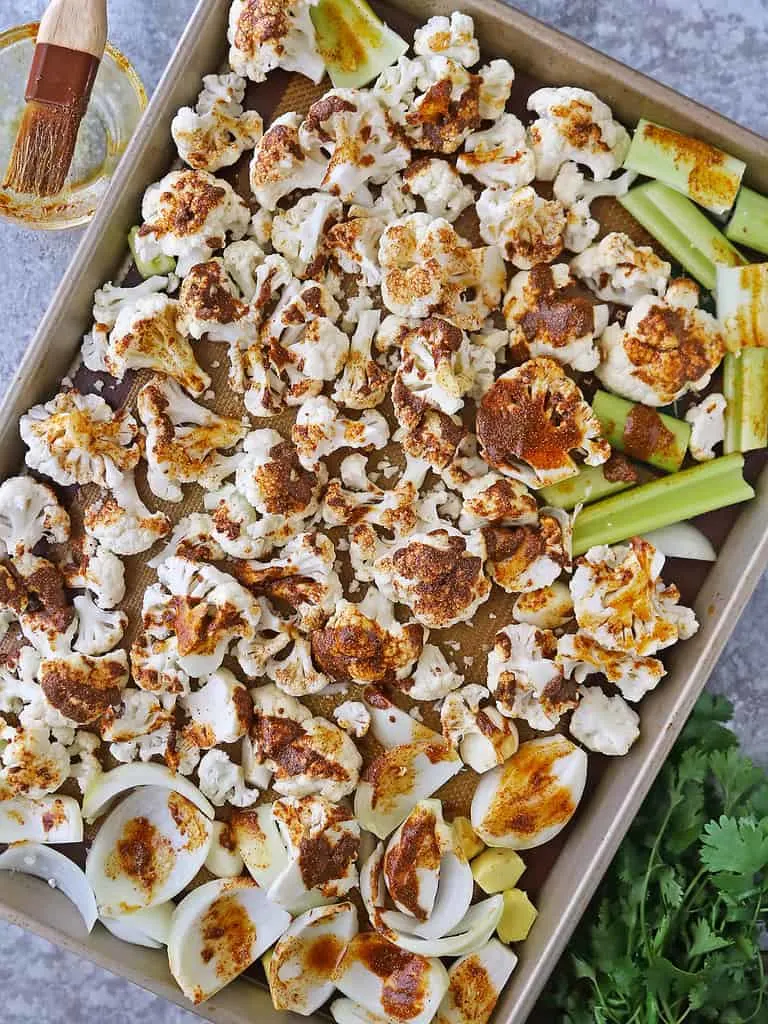 Steps to make this Cauliflower Soup:
Prep the veggies
Clean, peel and roughly chop up the onion, cauliflower (BTW, check out this video for a super easy tutorial to cut up cauliflower without too much of a mess), garlic cloves, ginger chunk, and celery. These do not have to be sliced thin or perfectly, as they will all be blended. After the veggies are cleaned and chopped, then drizzle them with a mixture of the olive oil and spices. A pastry brush can be used to spread the spiced oil mixture around the veggies if desired.

Roast the veggies
Roasting the spice and oil smothered cauliflower, celery, garlic, onion, and ginger adds so much flavor. But that's not the only advantage. Roasting the veggies makes this soup so easy and quick to make.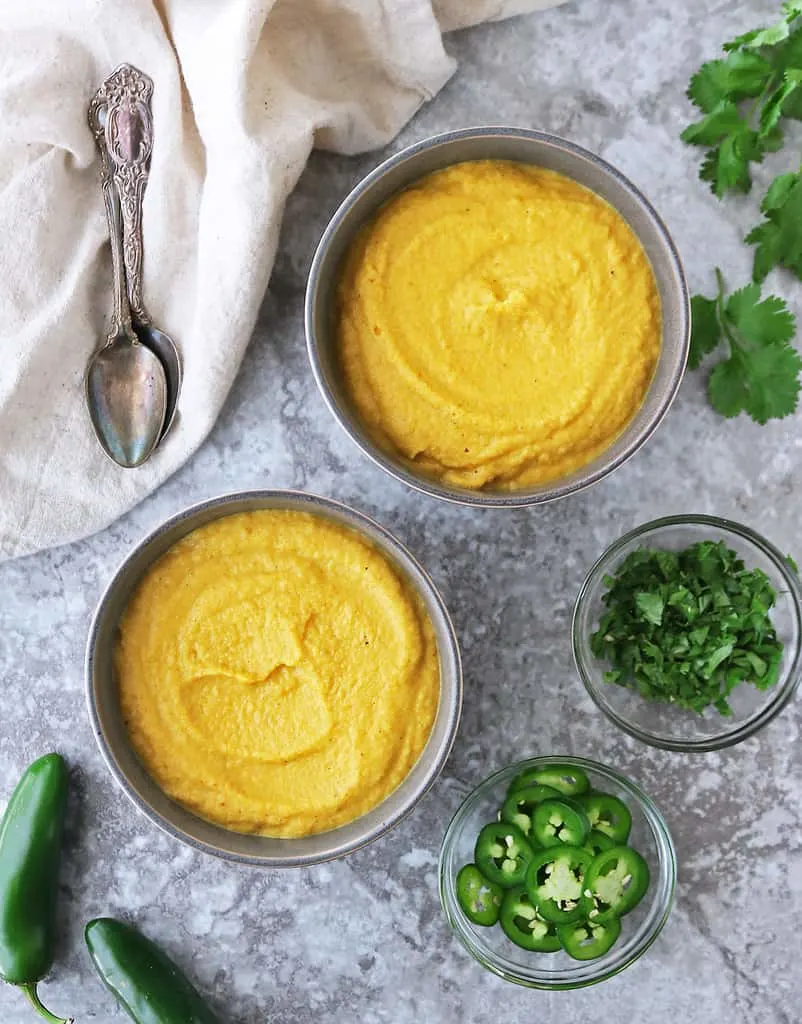 Blend the veggies
When the veggies are tender, add them to a blender along with the almond milk. The almond milk adds a little oomph of protein to this recipe. However, it can easily be substituted with vegetable stock, another nut milk (other than pistachio), or coconut milk. If you like a thicker soup, keep the quantity of almond milk at 2 cups or fewer. However, if you like a thinner soup, add in more almond milk or vegetable stock to get the consistency you like.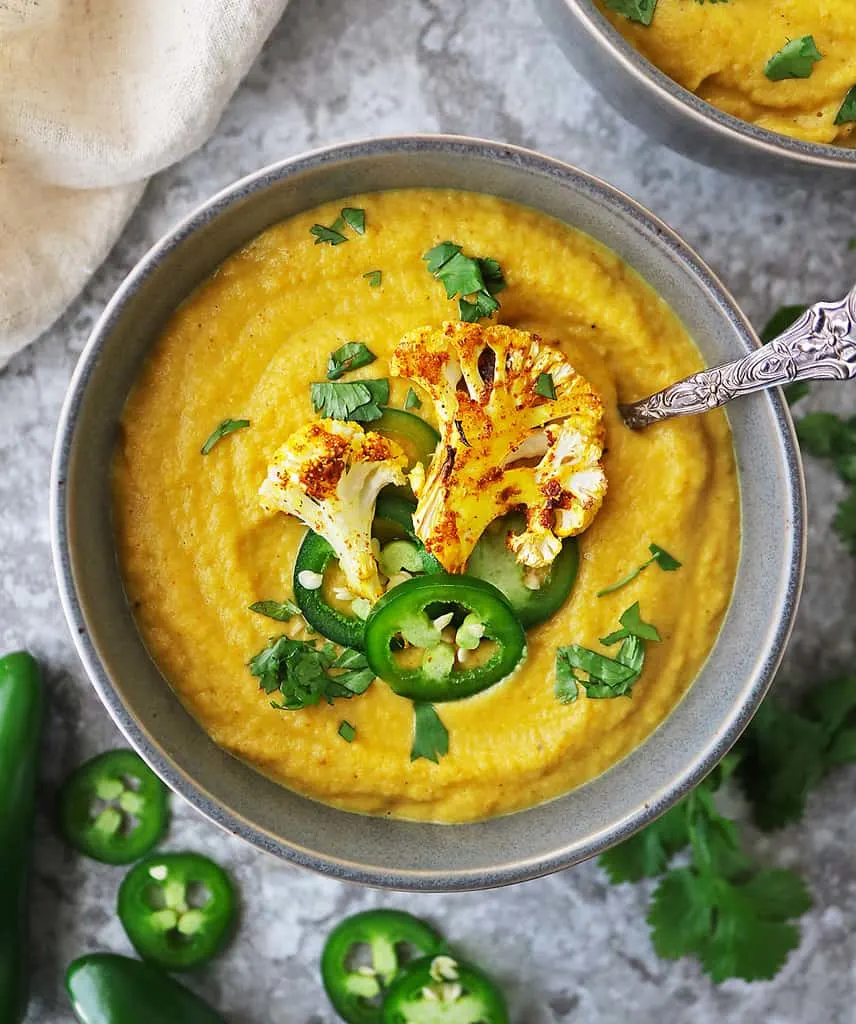 Season, Serve, and Sprinkle
After the veggies are blended, add in a bit of salt and pepper and mix the soup around so the salt and pepper are well incorporated, and they season the soup throughout. Then, serve the soup up in bowls, sprinkled with some chopped cilantro or parsley, some jalapeño slices and some roasted cauliflower florets.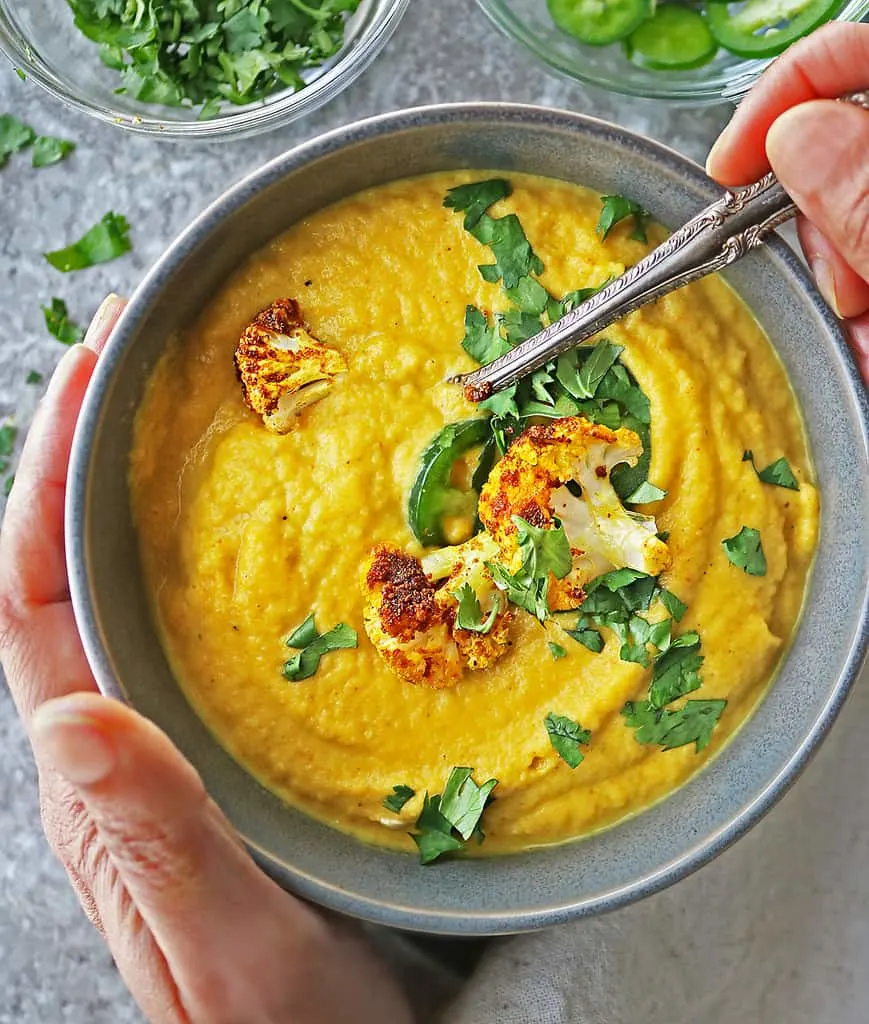 Cauliflower is one of my favorite ingredients. At this point I am thinking at there isn't much cauliflower cannot do. I have so enjoyed it riced, sauced, puréed, sautéed, and curry-fied. It is so versatile and so good at absorbing the flavors it is surrounded with ~ like in this Spicy Cauliflower Soup. I have enjoyed numerous steamy bowls of this comforting and creamy soup over this winter, and I am hoping you give this recipe a try too.
Thanks so much for stopping by. If you make this recipe, please let me know in the comments below what you think of it, or tag your creation on social media with @savoryspin or #savoryspin. For more fusion, spice-filled, recipe ideas, please subscribe and follow me on Facebook, Instagram, and/or Pinterest!