Made with roasted and blended cauliflower, jalapeño, and spices, this Cauliflower Jalapeño Vegan Sauce is so delicious and creamy. Paired with Pure Farmland™ Italian-Style Plant-Based Meatballs, it is a delicious and satisfying plant-based meal.
This post is sponsored by Pure Farmland™. The opinions and text are all mine.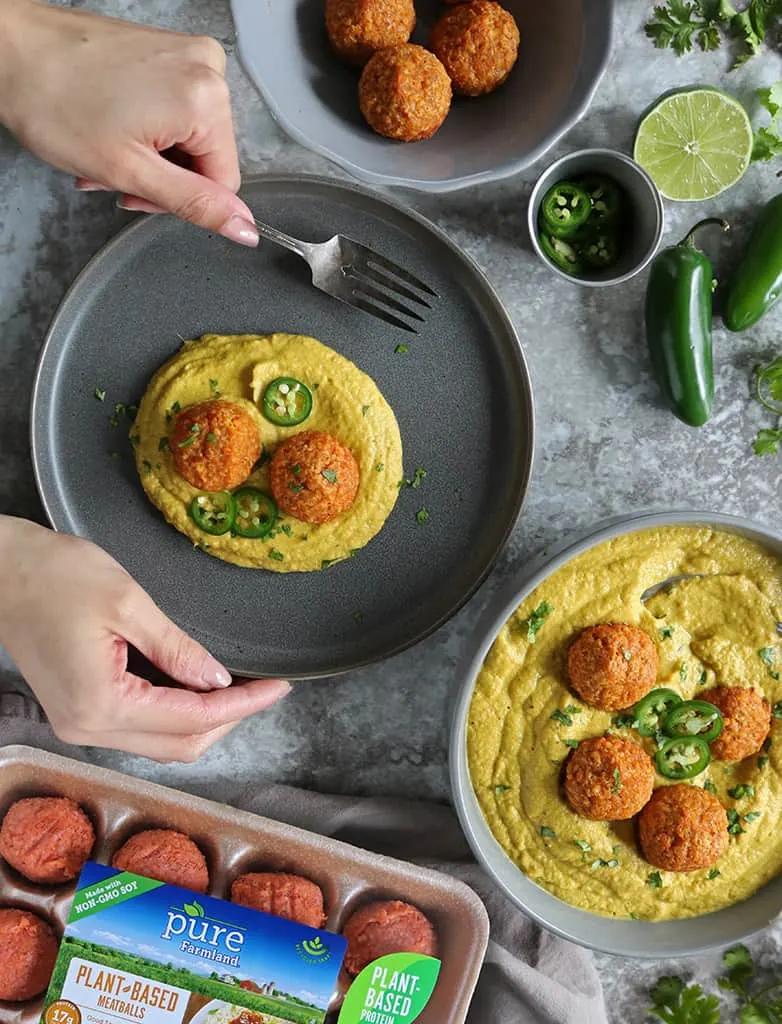 Quick and fuss-free, this Cauliflower Jalapeño Vegan Sauce is a favorite in our home. But, quick and fuss-free are not the only reasons why we love this sauce so much.
This sauce is downright delicious.
And, it is so easy to make – just bake and blend – and boom, it is ready!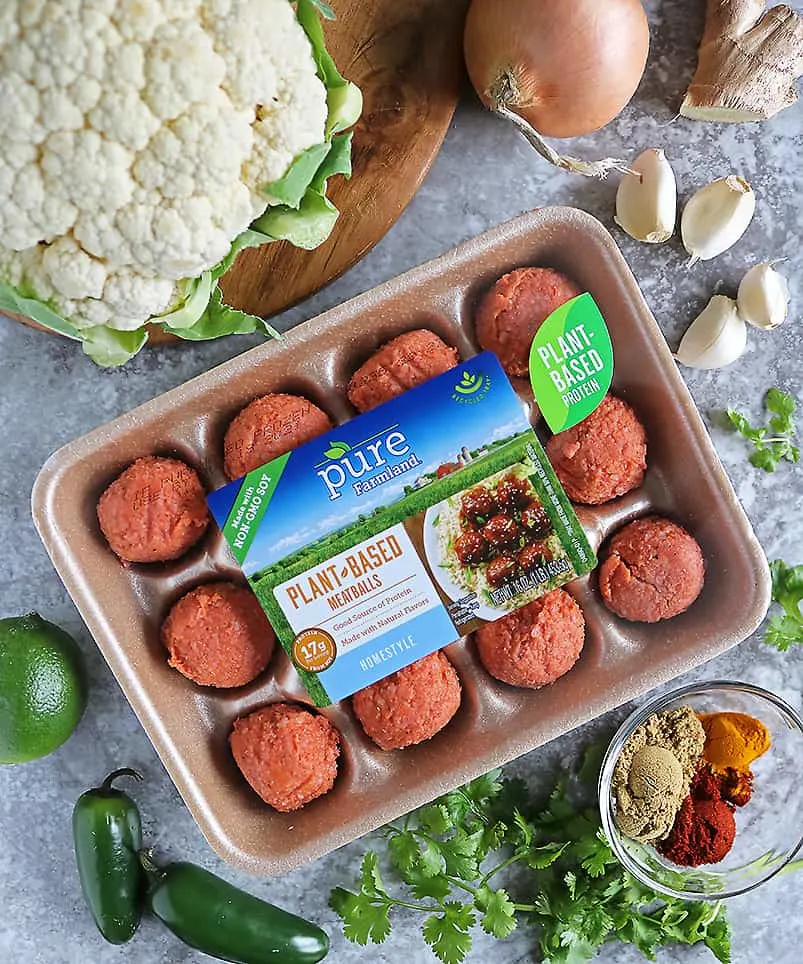 What are the ingredients needed to make this vegan sauce?
You only need the following 11 ingredients to make this sauce and they are:
Garlic,
Ginger,
Onion,
Cauliflower,
Jalapeño,
Lime,
Cilantro,
Powdered coriander,
Smoked Paprika,
Turmeric, and
Coconut milk.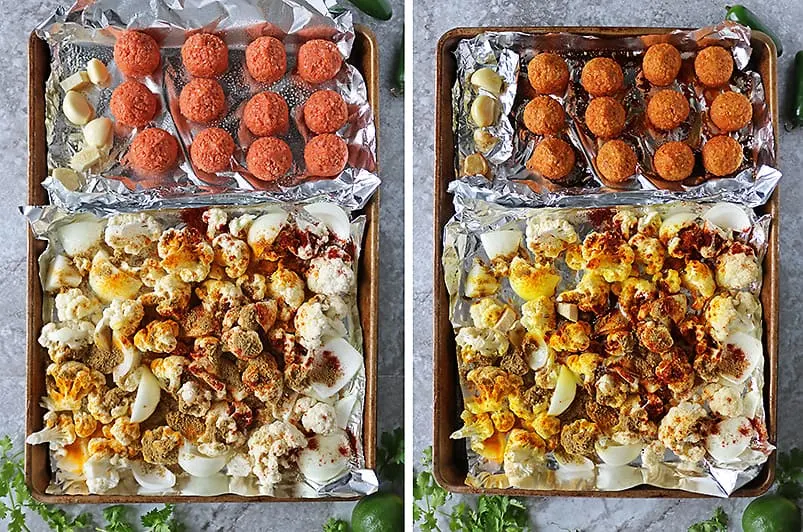 How to make this spicy cauliflower sauce?
This vegan sauce is made with cauliflower, onions, garlic, and ginger that have been sprinkled with coriander, smoked paprika, and turmeric and then roasted until tender.
These spiced and roasted ingredients are tossed into a blender with coconut milk, lime juice, jalapeños, and parsley and blended until they result in a lusciously thick and creamy concoction.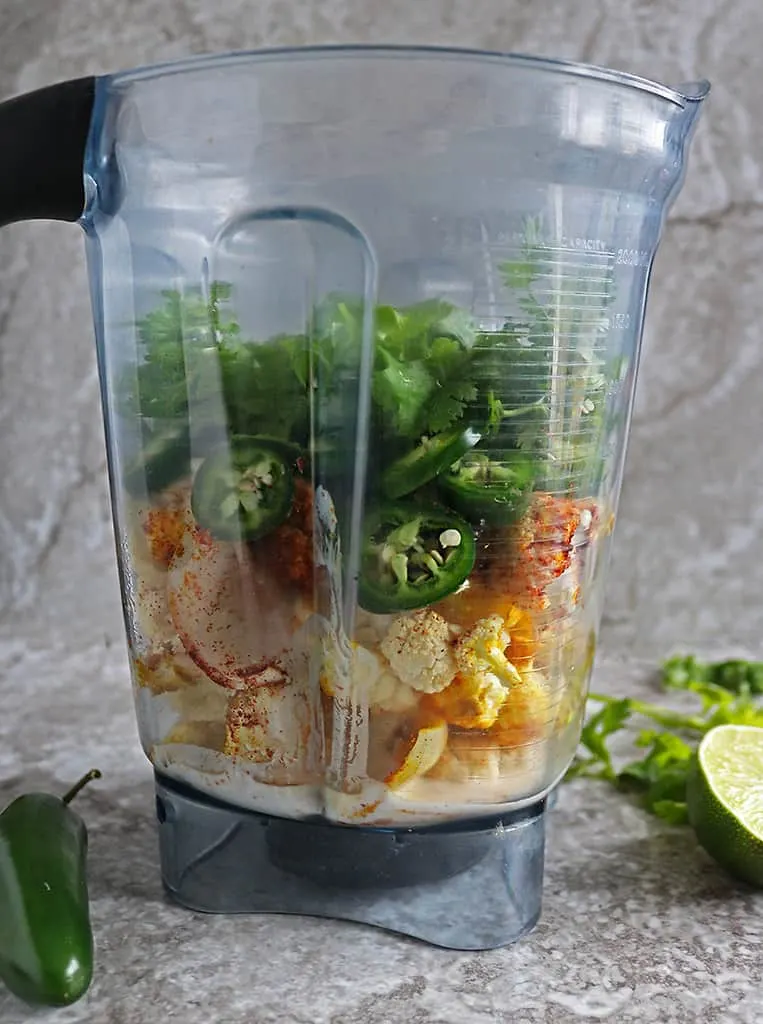 Adaptations:
I usually prefer to keep this vegan sauce on the thick side. However, if you would rather thin it out, just add another half cup of coconut milk (or more) until this is the consistency you would like.
If you prefer a milder sauce, then, carefully cut the jalapeños lengthwise and, using a pairing knife, cut out the white pith and seeds. Remove as much of the seeds as you can. Then you can enjoy the delicious flavor the jalapeño adds to this sauce, without the spiciness.
If you do not have lime on hand, you can use lemon.
And, if you prefer not to use cilantro, you can use parsley instead. Coriander and cilantro are from the same plant with coriander being the seeds and cilantro being the leaves and stalks. So, while using parsley will change the taste of this sauce, the coriander will still ad a delicious smoky taste to it.
As far as the spices such as turmeric, coriander, and smoked paprika, I would not recommend changing these out as these spices, in the quantities used, seemed to add yet another delicious layer of flavor to this sauce.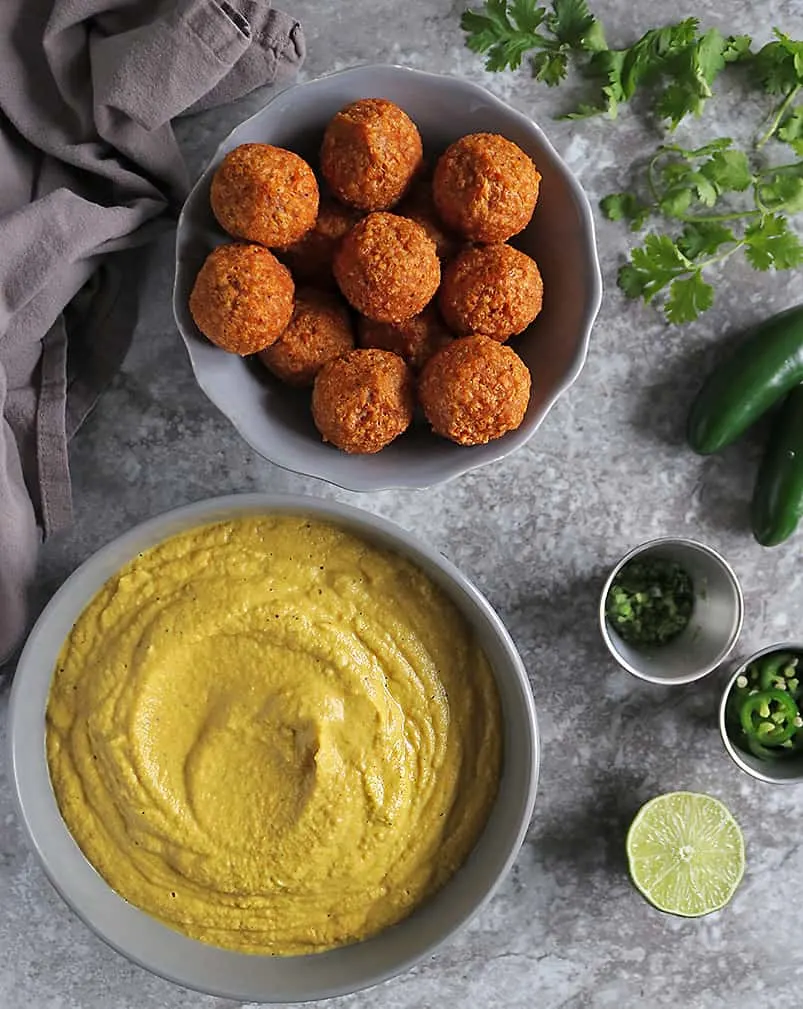 This sauce is delicious as a dip or starter soup. However, our favorite way to enjoy this sauce is to pair it with Pure Farmland Italian-Style Plant-Based Meatballs for a delicious and satisfying plant-based meal.
While I don't consider myself a vegetarian, I do enjoy finding tasty plant-based products and incorporating them into my diet.
And Pure Farmland has a line of meatballs and breakfast patties that are so tasty and pair so well with whatever they share a plate with.
I first came across Pure Farmland Italian-Style Plant-Based Meatballs at Publix. I brought some home and enjoyed them with zoodles. Since then, we have enjoyed them in everything from quick potato skillets to salads, to breakfast platters.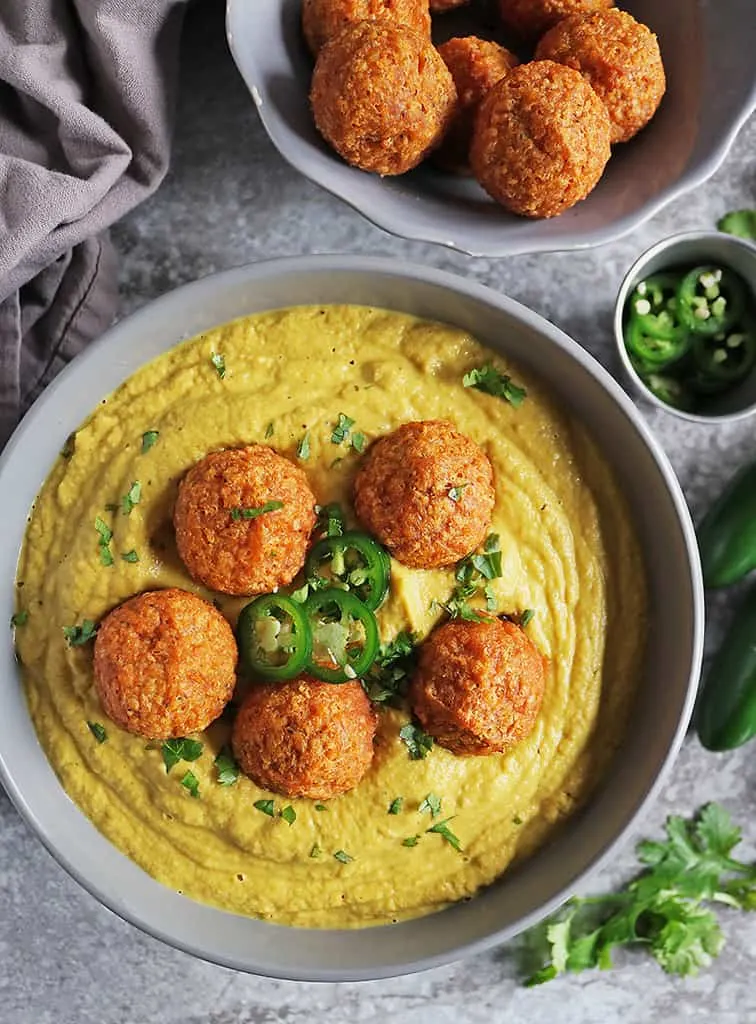 Ever so slightly crunchy on the outside and juicy on the inside, Pure Farmland Plant-Based Meatballs are so delicious my daughter starts sneaking them off the tray when I pull them out of the oven.
Gluten and dairy-free, these plant-based meatballs are made with all-natural ingredients making them a tasty and wholesome option at mealtimes, and a good source of protein.
Currently, Pure Farmland products come packaged on trays made from more than 50% recycled material. Pure Farmland products can be found in the frozen aisle at Publix stores, along with other plant-based proteins.
Available in the following 4 varieties:
Pure Farmland Homestyle Plant-Based Meatballs,
Pure Farmland Italian-Style Plant-Based Meatballs,
Pure Farmland Savory Original Plant-Based Breakfast Patties, and
Pure Farmland Maple Plant-Based Breakfast Patties.
Pure Farmland makes it easy to incorporate a tasty plant-based meal into your diet, any time of the day!