I've partnered with Honest Cooking and Potatoes USA to bring y'all this spicy, nourishing, sensory scintillating, ready-in-30-minutes, Potato & Salmon Dry Curry.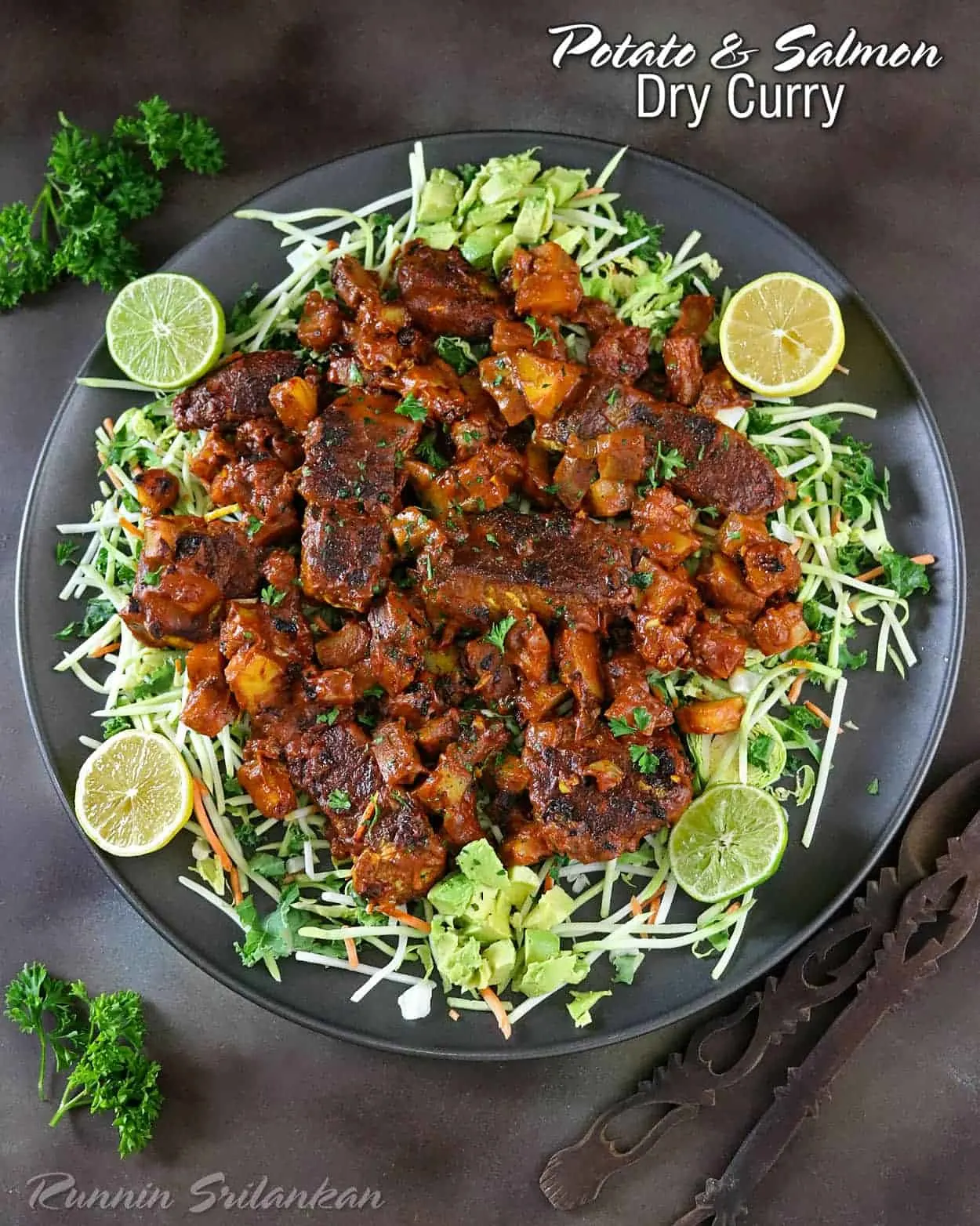 These days, the word curry (which was supposedly coined by the British after being exposed to Kari in India in the 18th century) is used to describe most sauce-filled, spice-tinged dishes. When I was a youngster, my mom had two distinct types of curries she served us with rice or roti. One was saucy like this Potato and Cashew Curry and the other was simply less saucy – more dry, like this Ala Thel Dala. Now, both types of my mom's curries had similar spices in them, and, no matter it they were fish or meat based, they would always contain potatoes because potatoes are one of Mother Nature's best-kept secrets – right?!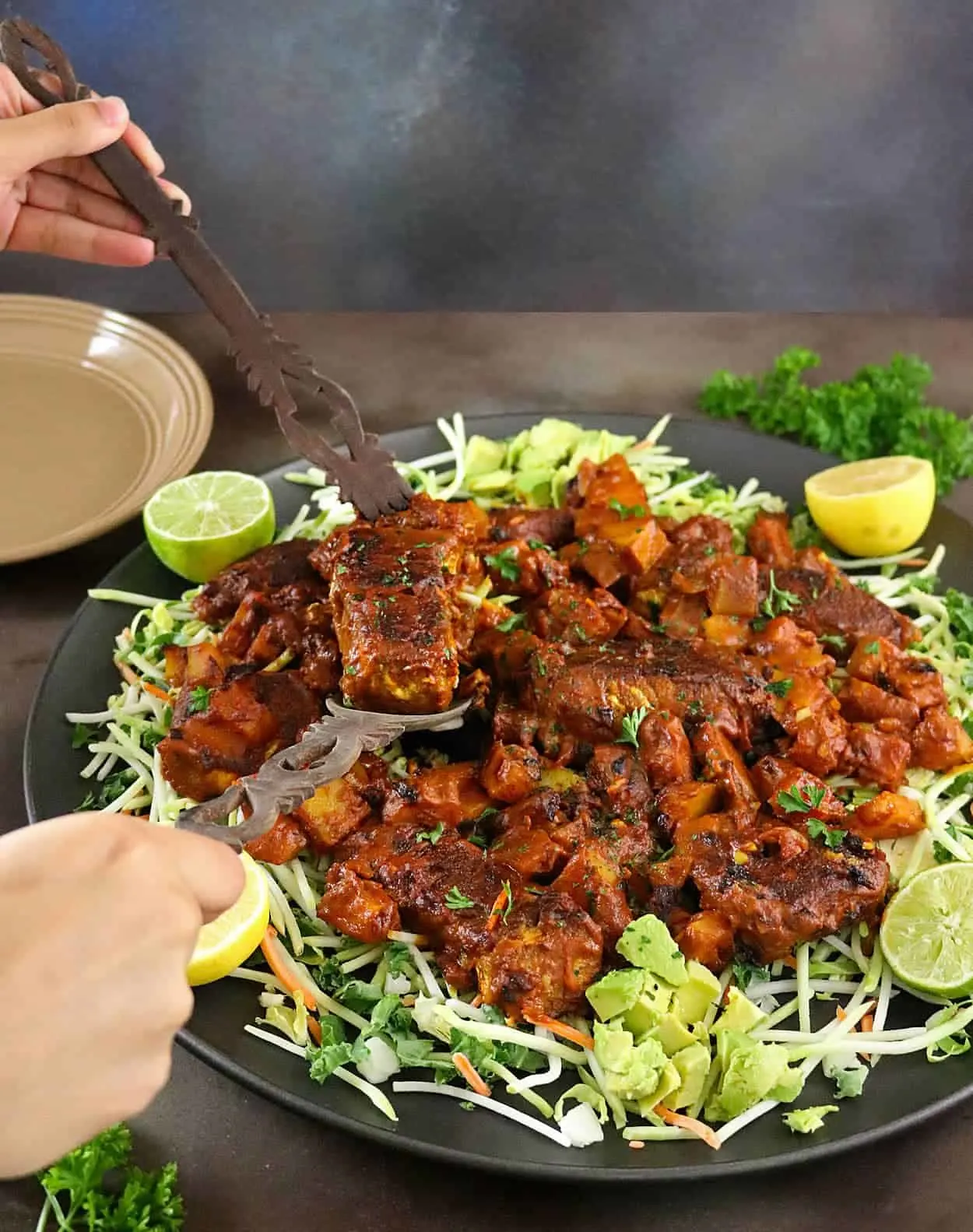 As I've gotten older, I have come to adore dry curries. In my humble opinion, they don't have to be paired with rice or roti. They are perfect alone or on a bed of broccoli slaw – like you see here. This spiced Potato & Salmon Dry Curry is my jam! Or rather – was my jam as it's all gone now!
I whipped this up last Friday after my daughter and I got back from our gazillionth trip to the University of Georgia. While potatoes usually take some time to cook up, I cut their cooking time down significantly by chopping them and microwaving them first while I prepared a spicy dry rub. I used the dry rub to coat the salmon with before sauteing it with the holy trinity of Sri Lankan cuisine – onions, garlic, and ginger. Then I added some tomato paste and a tad bit of coconut milk to the remaining dry rub spices; dropped the cooked potatoes into the coconut-tomato-spice mix and then added that to the salmon. And, this intoxicatingly aromatic and tasty dinner was done in 30 minutes!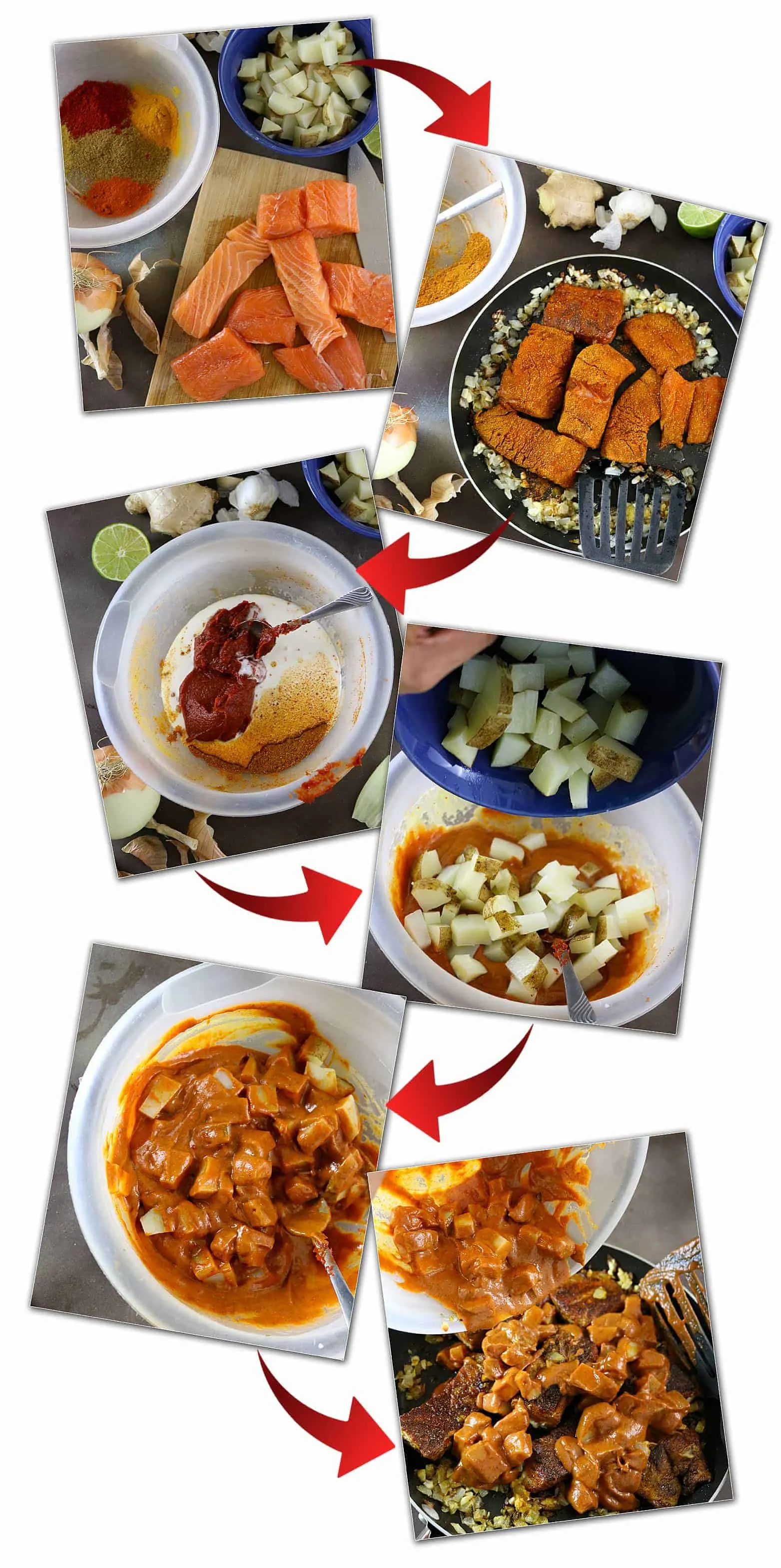 No matter if you like your potatoes with a steak or in a Salmon dry curry, did you know that one medium potato can provide you with 45% of your daily value of vitamin C and more potassium than a banana and has only 110 calories?

Potatoes USA is the nation's potato marketing organization. They provide inspiration, information, tools and education to potato lovers all over the world, so please connect with them on Facebook, Pinterest, and Instagram, and get to experimenting with the versatile potato by first trying them in this Potato & Salmon Curry ~ trust me, your senses will not be disappointed!