I've partnered with Premier Protein to bring y'all this decadent Chocolate Pecan Loaf. As always, all opinions are my own. Thanks so much for supporting the brands that keep this Srilankan Runnin!
During my college years working at a bakery, I was introduced to a Chocolate Cherry Loaf. It was the only loaf that the bakery churned out once a week. And, once a week, that loaf would proudly take its place on the bread shelf right beside the Sourdough loaf and the Rye loaf.
With chunks of chocolate in it, along with a smattering of dried cherries and pecan bits, that Chocolate Cherry loaf was the odd one out on that shelf! You see, to me, that Chocolate Cherry Loaf was cake masquerading as bread!
There were a few times when I was able to snag me a slice to taste and I must say that loaf was beyond exquisite! Now there were other loaves that were flying off the bread shelves, like the Jalapeno Cheddar Loaf and the Parmesan Loaf, but the Chocolate Cherry Loaf was exquisitely decadent…decadently exquisite…simply phenomenal…by George…I think it was my first true love!
That Chocolate Cherry Loaf happens to be the inspiration behind this Chocolate Pecan Protein Loaf that I have here today. Now, this loaf is by no means as decadently exquisite or exquisitely decadent as that Chocolate Cherry Loaf was. But this Chocolate Pecan Loaf is pretty decadent in it's own way – sans the cherries.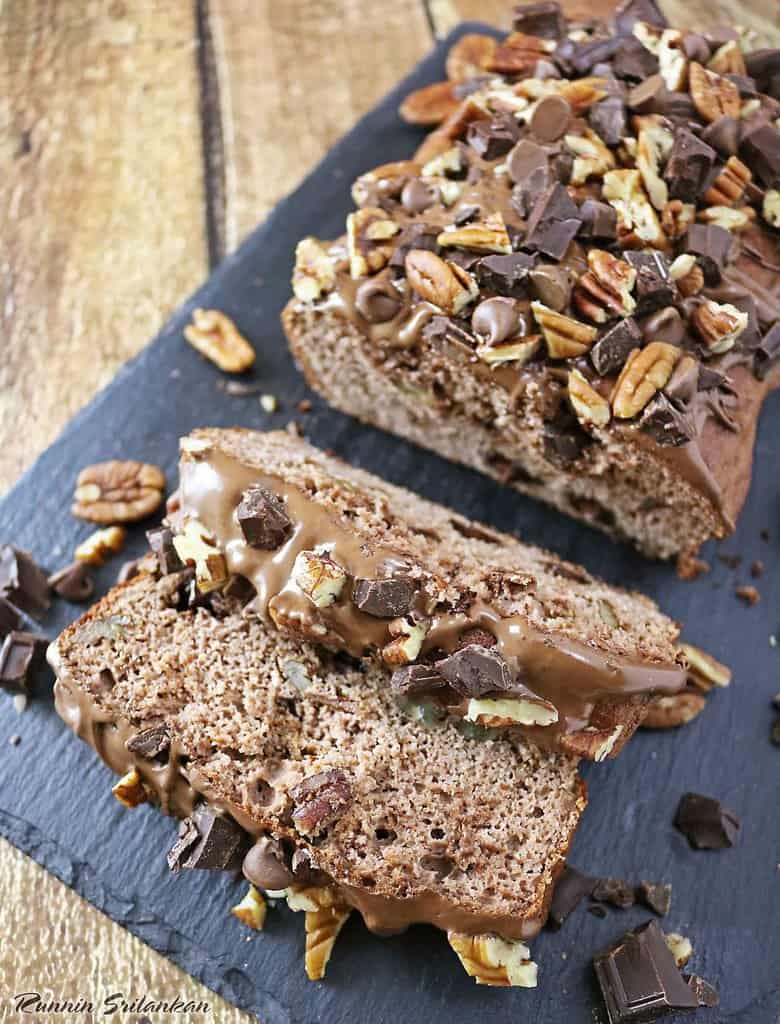 Seeing that I used coconut flour in this loaf along with a heaping helping of Premier Protein's Chocolate Protein Powder, this loaf is pretty much grain free! If you are one of those people who are not a fan of protein powder, well, all I have to say is you might change your opinion once you have a slice of this loaf!
[Tweet "Gotta have just one more slice of this Chocolate Pecan Protein Loaf #MyOneMore #sponsored"]
Happy Friday Y'all – and to get your weekend off to an energizingly wonderful start – Premier Protein is offering y'all the chance to win a variety pack of their shakes! With only 160 calories and 1 gram of sugar, these shakes pack a whopping 30 grams of protein and don't taste like they could be good for you at all! Please enter below – raffle only open to US residents who are 18 and above.