This shop has been compensated by Collective Bias, Inc., Campbell's®, Lipton, Premium Crackers, Theraflu and TYLENOL®. All opinions are mine alone.
#SickDaySolutions #CollectiveBias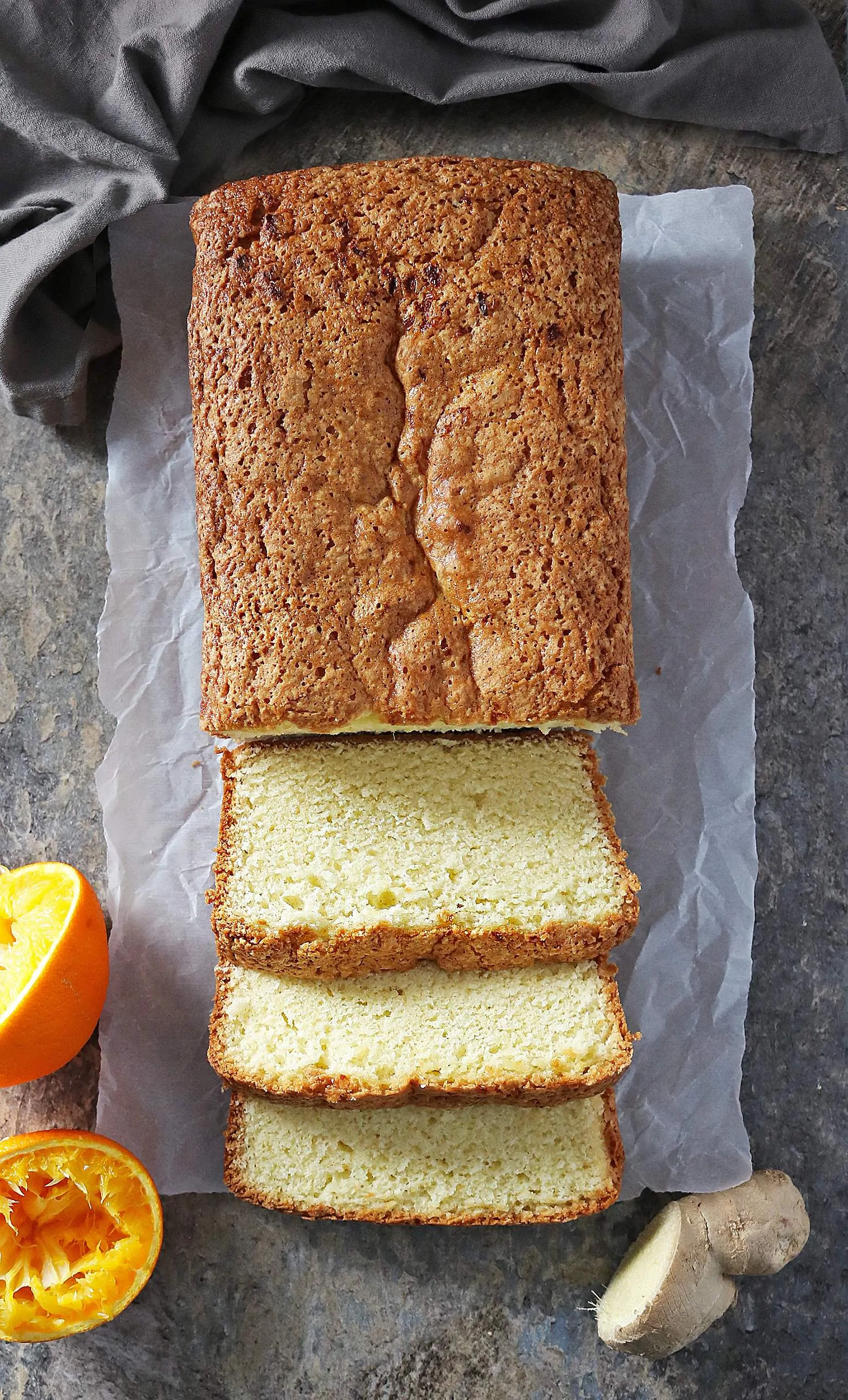 Like that chap from that movie who used to put Windex on everything, my mom believes that ginger is the solution to all problems. If we've got stomach woes, she tries to get us to eat ginger. If we are breaking out, she tries to convince us to drink ginger tea. If we complain about each other's bad breath, she's trying to force raw ginger down our throats…though, ginger breath is pretty ridic itself! The same goes for if we are feeling under the weather.
Speaking of feeling under the weather, have you noticed how as soon as a major event comes to pass (no matter if said major event was joyous or stressful) you tend to fall sick? Or, is that just me? During my move and even after, through all the unpacking, I felt like I was riding on an adrenaline wave! Then, as soon as the dust settled on the unpacked boxes, the sniffles started creeping in. And, o add to it, we are smack dab in the middle of germ season too!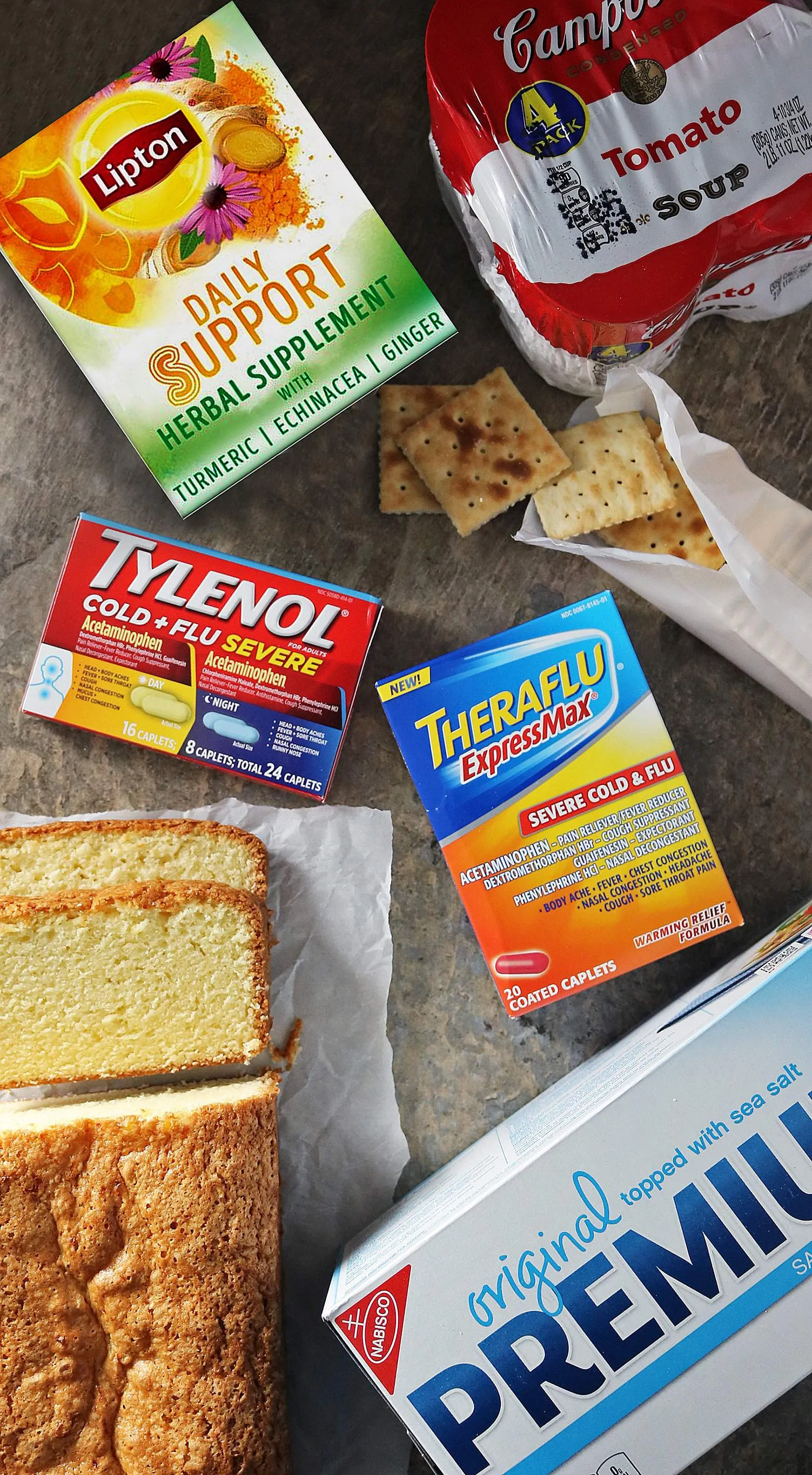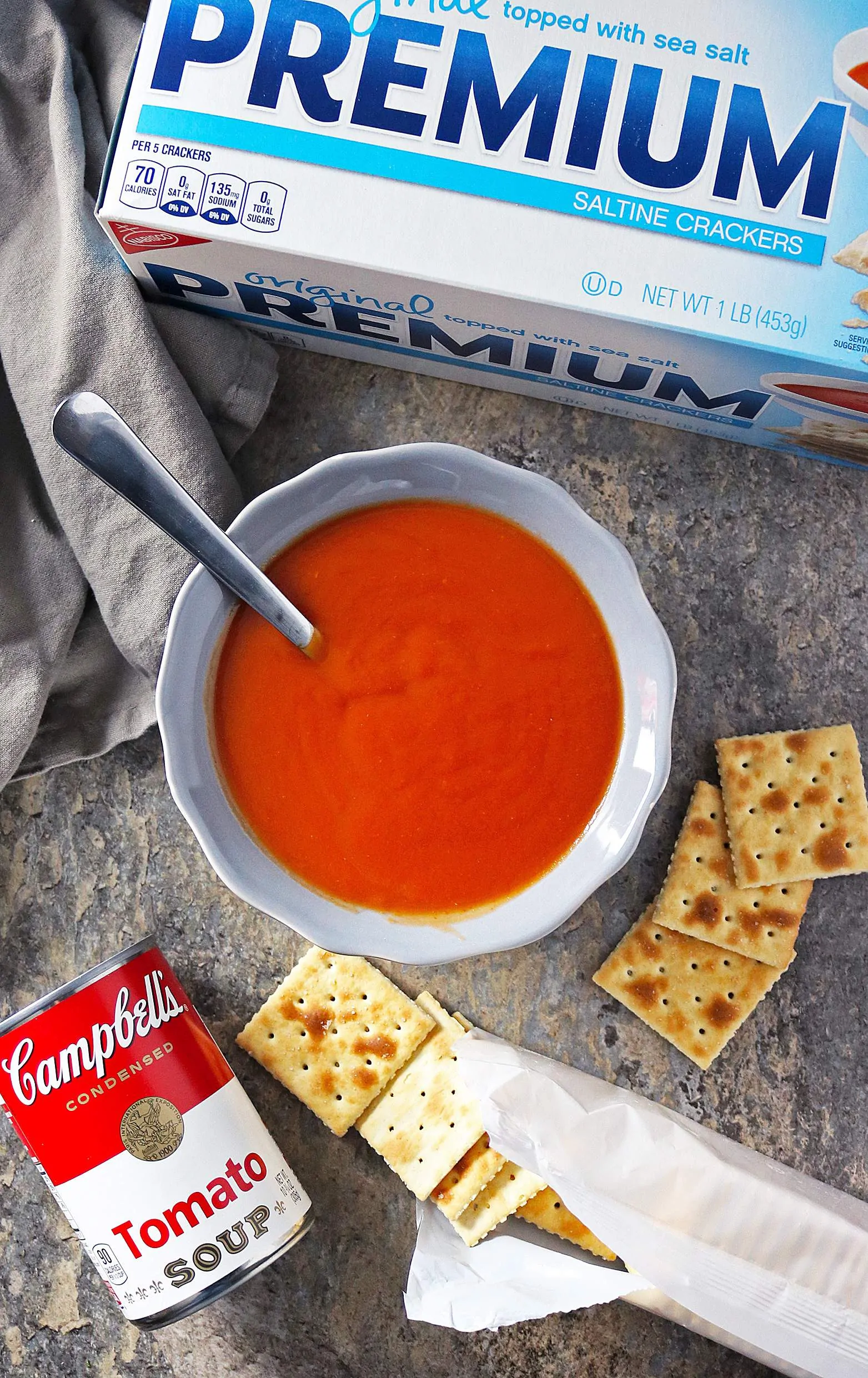 *Serving Suggestion
While I do heed my mom's advice and sneak ginger into the foods I eat, I also like to head to Kroger and stock up on Campbell's® soup, Lipton tea, Premium Crackers, Theraflu and TYLENOL® brands for any emergency cough, cold and flu situation! When I feel like I'm on the cusp of getting sick, I always crave comforting baked treats (maybe it's because I grew up with a father who would often tell my sister and I to "feed a cold and starve a fever" – which wasn't based on any scientific knowledge whatsoever).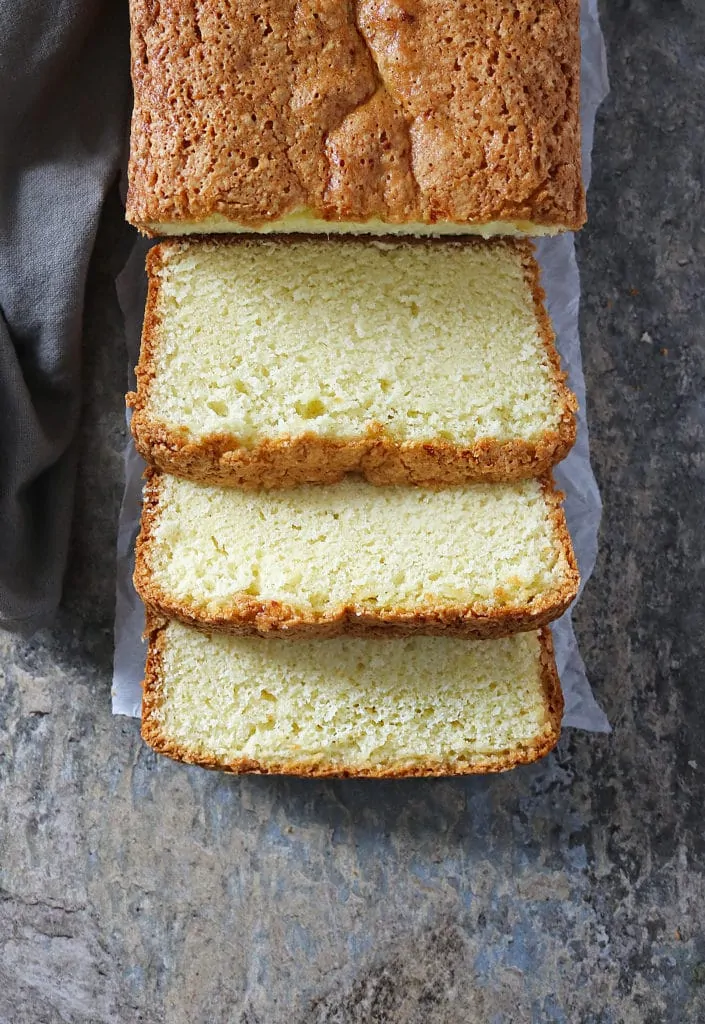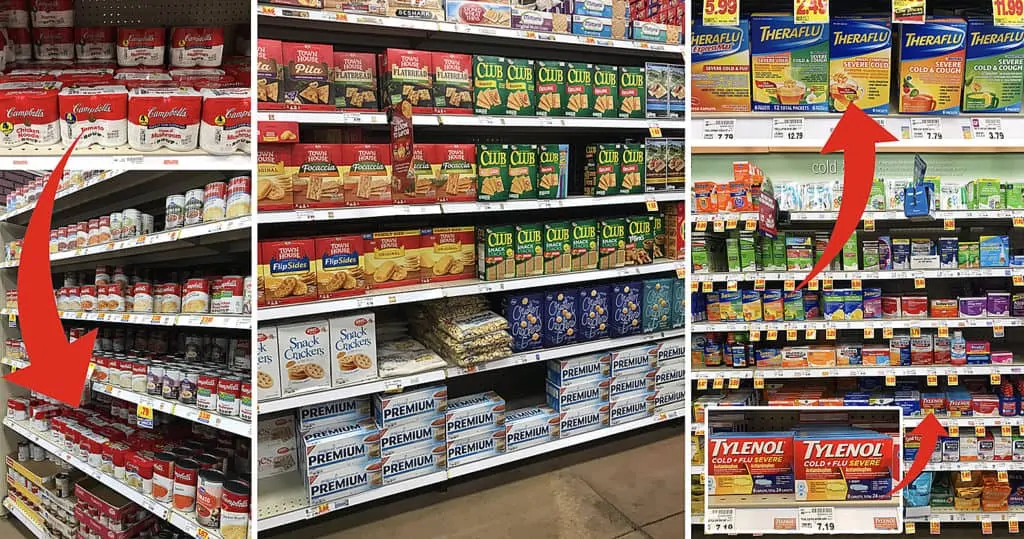 So, I usually bake loaves like this Easy Orange Ginger Loaf to keep on hand along with a supply of:
• Campbell's® soup
Campbell's® soups are made for Real, Real Life® and warm you up when you need it most. They also don't contain any artificial colors/flavors.
• Lipton Tea
Lipton's new wellness range of herbal supplements boosted with botanicals are said to help:
a) Soothe Your Tummy – with Ginger, Peppermint, Fennel in a Caffeine Free Herbal Supplement
b) Provide Daily Support – with Turmeric, Echinacea, Ginger Herbal Supplement with Green Tea
c) Bedtime Bliss – Chamomile, Mint, Orange Peels in a Caffeine Free Herbal Supplement
d) And, a Wellness, Wellbeing, Herbal Supplement, with Natural Essential Oils
*These statements have not been evaluated by the FDA. This product is not intended to diagnose, cure or prevent disease.
• Premium Crackers
Nabisco PREMIUM is the #1 saltine cracker and a delightful Soup and Chili accompaniment as well as being used for upset stomachs, morning sickness, etc.
• Theraflu
Which provides powerful relief without a prescription and comes in:
a) Multi-symptom severe packets: #1 cold & flu hot liquid brand for powerful symptom relief* (*Based on IRI data as of 4/23/17)
b) Express Max Severe Cold & Flu: Defeat 7 cold & flu symptoms fast. Defeats sore throat, nasal congestion, chest congestion, fever, cough, headache, body aches.
• Tylenol TYLENOL®
Provides all in one Cold and Flu symptom relief and is the #1 doctor recommended pain relief brand
Also available in Pediatric, Children's TYLENOL® Grape, Family Multi symptom cold and flu relief, Day Night Pack, and Honey Lemon Liquid, to name a few.
Now, getting back to this Orange Ginger Loaf, it is really so easy to make, with only 8 ingredients – which you probably already have lying around. It uses olive oil instead of butter and fresh orange juice instead of milk. Stiffly beaten egg whites make it light and airy, and ginger adds in just another level of flavor. Also, it keeps my mom happy to know ginger is involved!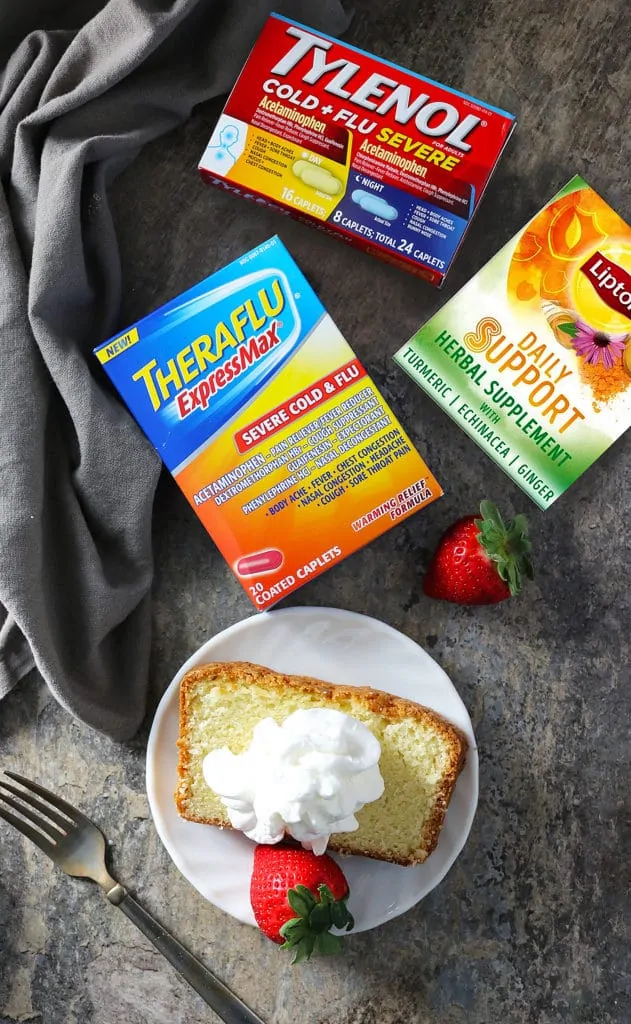 Now tell me, what's in your emergency flu and cold kit?
If you just happen to not have one, then head on over to Kroger and make sure to stock up on Campbell's® soup, Lipton tea, Premium Crackers, Theraflu and TYLENOL® brands. If you'd like more info about these brands, make sure to click here to get to the social hub. Also, if you are a fan of deals (who isn't – right?) then check out this link for all sorts of savings on these brands! Now, don't forget to grab the ingredients for this Easy Orange Ginger Loaf as well, while you are at Kroger so you can get home and give this a try!

Campbell's® – © 2018 CSC LP Lipton – © 2018 Unilever Theraflu – Read and follow label directions. Theraflu is for use in adults 12 years and older. Use products only as directed. TYLENOL® – ® Johnson & Johnson Consumer Inc. 2017. Use products only as directed. The makers of TYLENOL® remind you to use only one medicine with acetaminophen at a time.