This shop has been compensated by Collective Bias, Inc. and its advertiser. All opinions are mine alone. #MullerMoment #CollectiveBias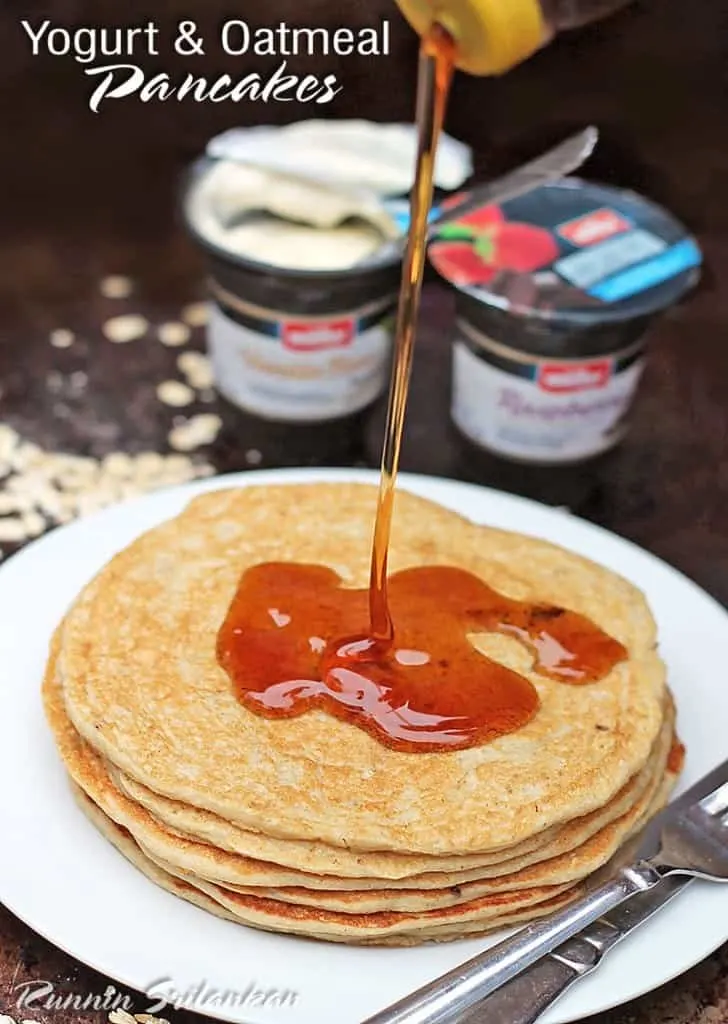 Life can get crazy at times…sometimes, even downright tiring!
These last few days, I have been bone tired – maybe it's the cold, or, maybe it's being back to my 9-5 job. Either way, I have just been so in need of a Me moment that yesterday I plopped in front of the telly and turned on Netflix (trying to fulfill my resolutions from years past). I was looking for an old episode of Desperate Housewives, only to find that Netflix doesn't carry it anymore! So, I turned off the telly and cleaned the whole kitchen – sometimes, I cannot explain my actions either!
At least I know why I am tired today!
Life can get crazy at times…sometimes, even downright messy!
Yesterday morning it was 12 degrees in Atlanta (not including the wind chill), and even my dogs were feeling it – so much so that when I opened the back door to let them out, they decided it was too cold to walk down the deck stairs and proceeded to "decorate" the deck with their "business!
At least it wasn't the living room they decided to decorate – right?!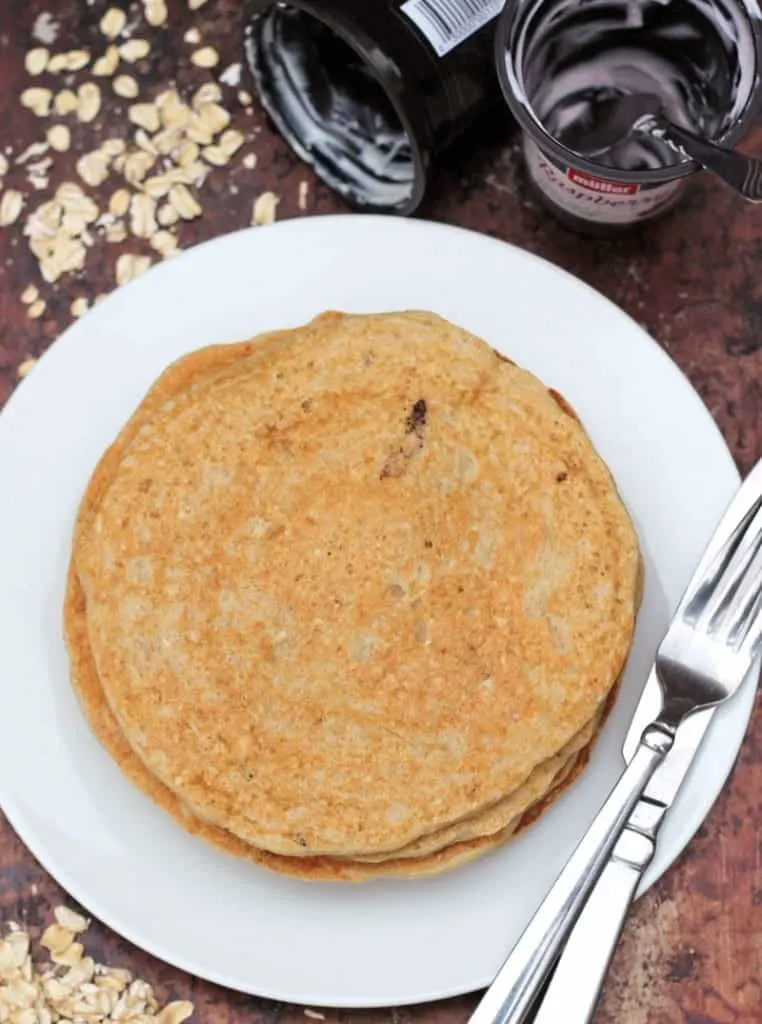 Life's crazy, tiring and messy moments dictate the need for sanity saving Me moments! Me moments would be wonderful with a bowl of vanilla ice cream – but, not the best idea for lactose intolerant old me! Besides, I usually like an indulgent treat that balances taste and nutrition! And, that's where Müller® Ice Cream Inspired Yogurt comes into play! This is a new product by Müller®; and, after bringing them home from my neighborhood Walmart store and trying each of the 3 flavors (Raspberry Chocolate Chip, Mint Chocolate Chip and Vanilla Bean), I gotta say, Müller® Ice Cream Inspired Yogurt is the right amount of wrong! 😆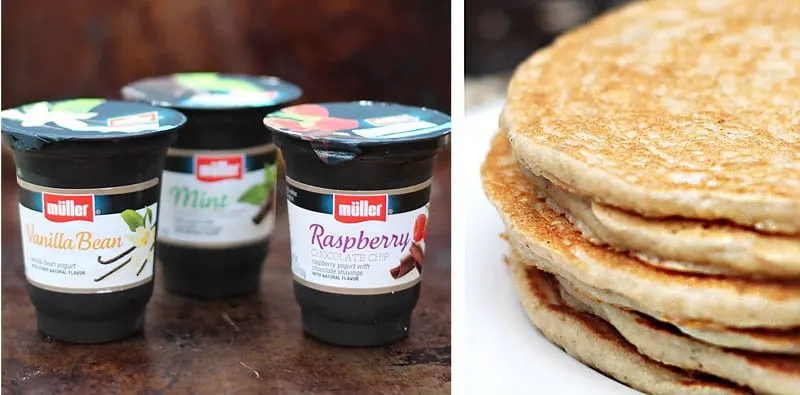 One morning, in my attempt to add variety to my breakfasts (and snacks and desserts) of Müller® Ice Cream Inspired Yogurt, I figured I would use them in pancakes. And that's how these super easy Yogurt Oatmeal Pancakes got in my belly!
There are many versions of Yogurt Oatmeal Pancakes out there – and mine is probably not very different from them; with the only differences being that mine contain ground up gluten free oats; and, only 4 other ingredients in addition to 2 containers of Müller® Ice Cream Inspired Yogurt!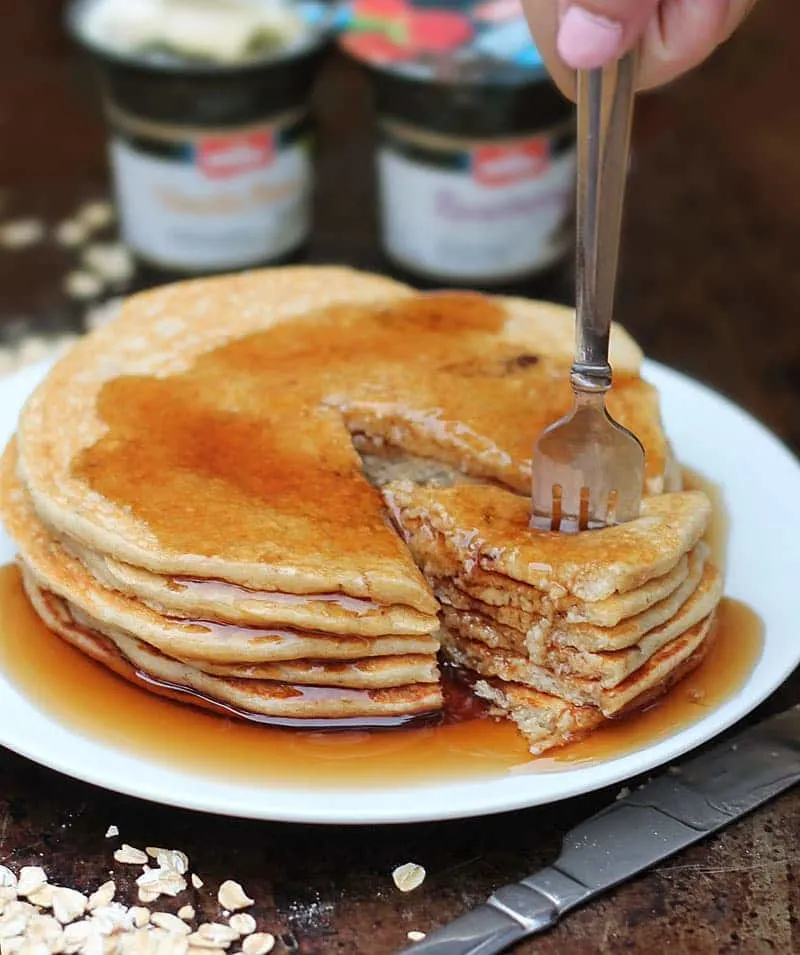 These pancakes are so super simple, they can be whipped up any time of the day, any day of the week – with ingredients such as oats, milk (of your choice), an egg and baking powder – which you probably already have lying around your house!
Just mix them up with Müller® Ice Cream Inspired Yogurt and spoon them onto a greased pan and flip and voila – your Me Moment is ready! But be warned, these pancakes taste more indulgent than their ingredient list makes them out to be – specially with toppings of Raspberry Chocolate Chip and Vanilla Bean Müller® Ice Cream Inspired Yogurt!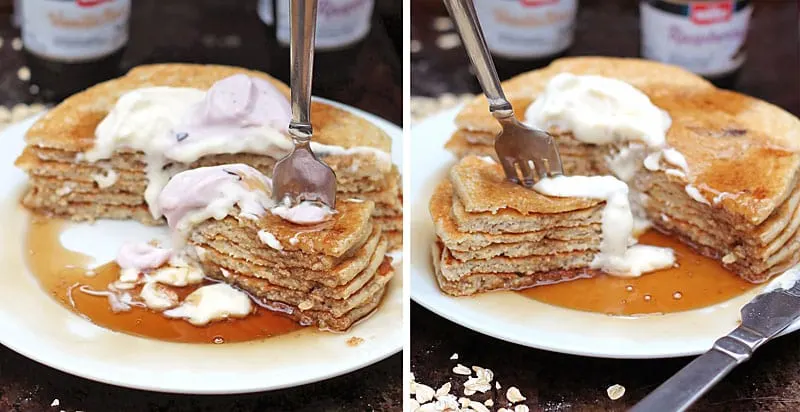 Each 5.3oz container of Müller® Ice Cream Inspired Yogurt contains:
• 6% milk fat yogurt
• 7g of protein
• Less sugar than other yogurts
• And, 190-210 calories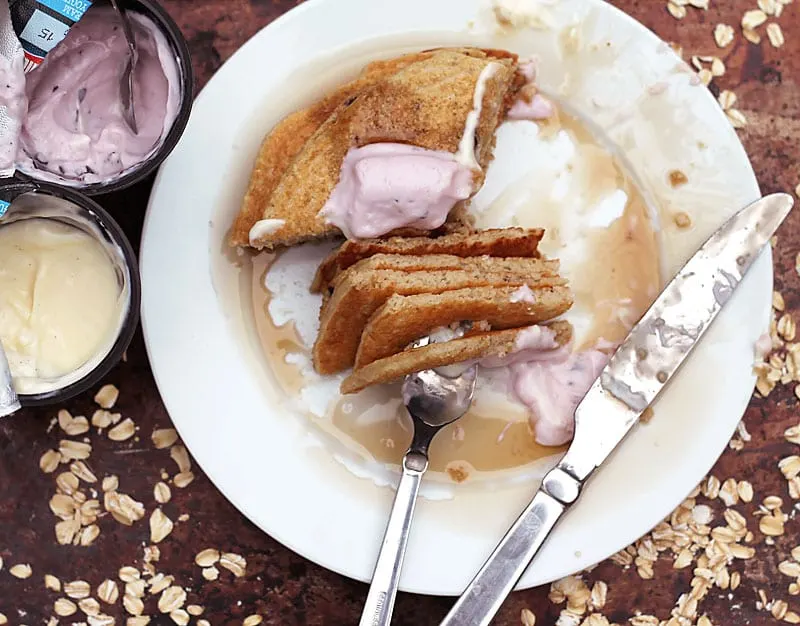 And, if you happen to have last Sundays' paper (January 4th), you will find a "$1 off 5 Müller® Yogurts" coupon in it – which I must say is a great value! This coupon is valid from January 4 – February 15, 2015.
Please like Müller® on Facebook or Follow Müller® on Twitter!