Sometimes, just sometimes; in our house, we have dessert first…because…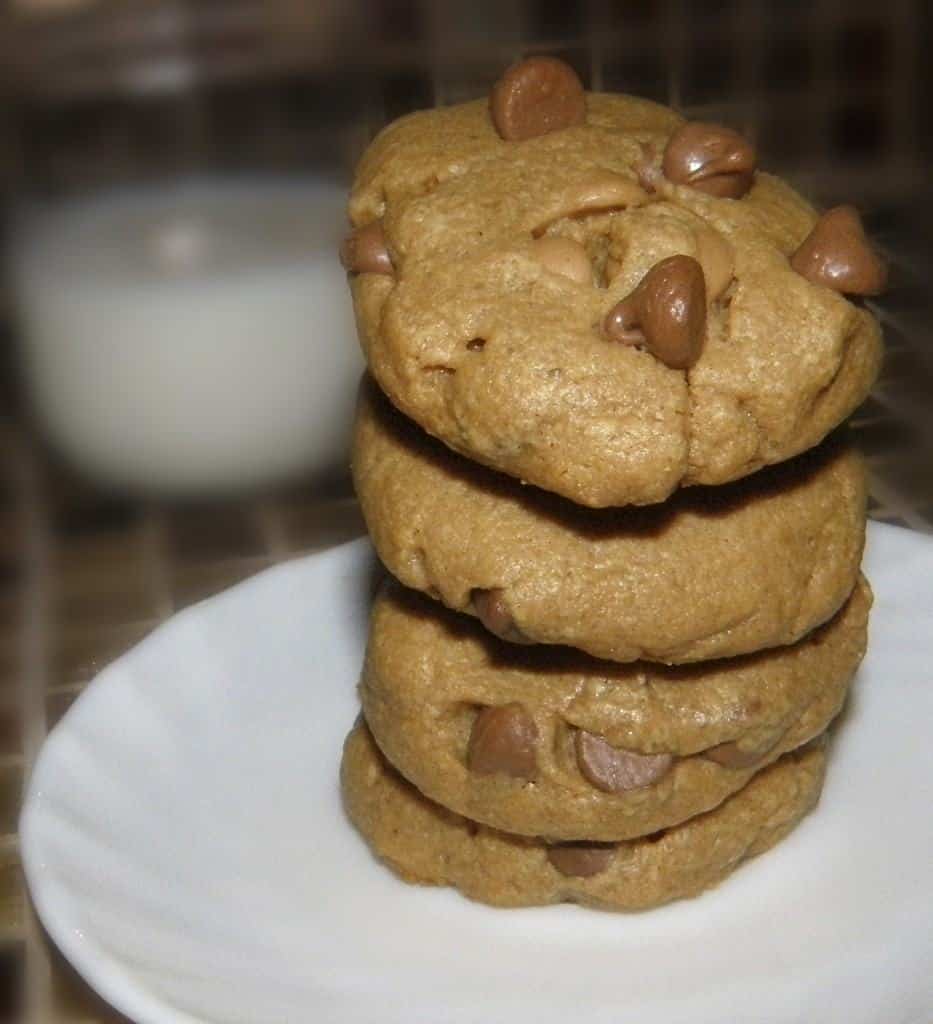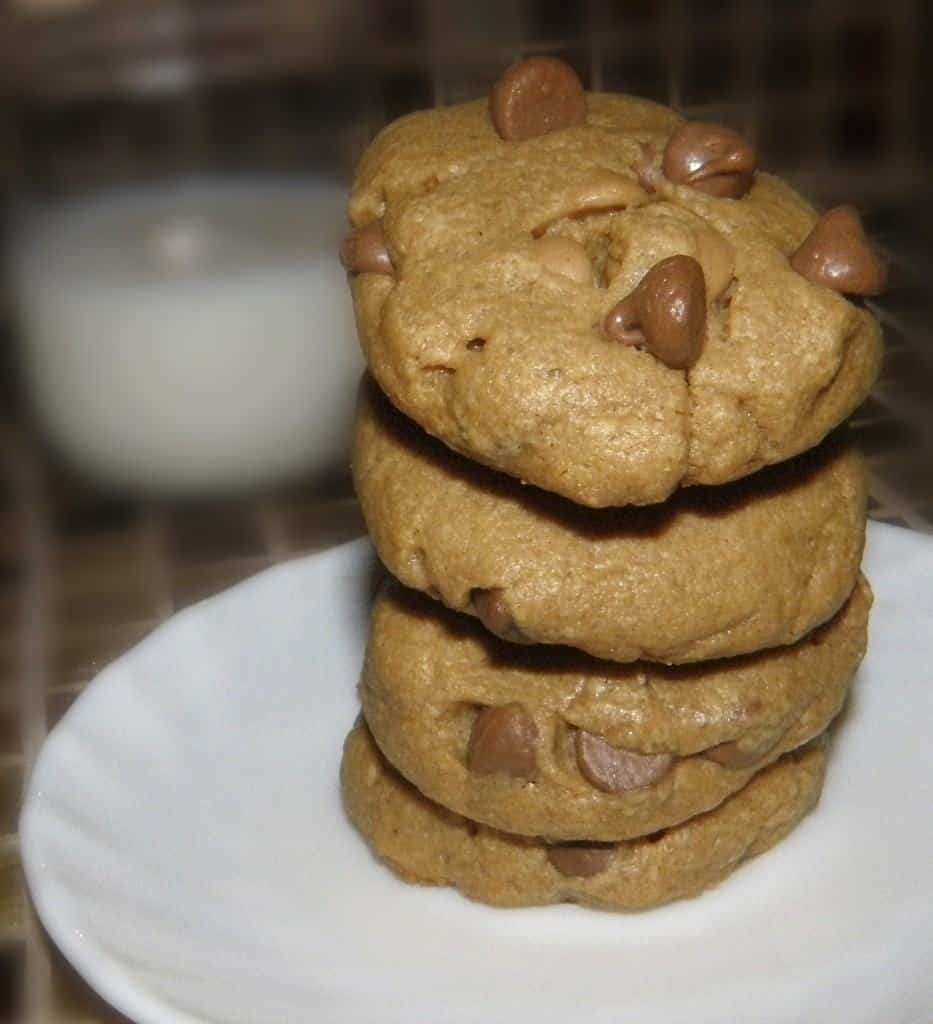 Believe it or not – these cookies are not that sinful! Really!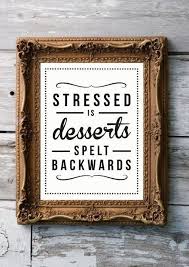 I mean they have NO flour!
None!
Zilch!
What they do have is lots of peanutbuttery-chocolatey gooeyness!
As I am always trying to justify my peanut butter consumption, I was thrilled to stumble on an article in Prevention magazine which quotes a study by the "Journal of the American Medical Association" that states that:
"…consuming 1 ounce of nuts or peanut butter (about 2 tablespoons) at least 5 days a week can lower the risk of developing diabetes by almost 30%."
Now I can add this to the list of benefits of peanut butter! 🙂
This is an easy, quick cookie that has been adapted from Peanutbutterrunner's "Flourless Peanut Butter Chocolate Chip Cookies".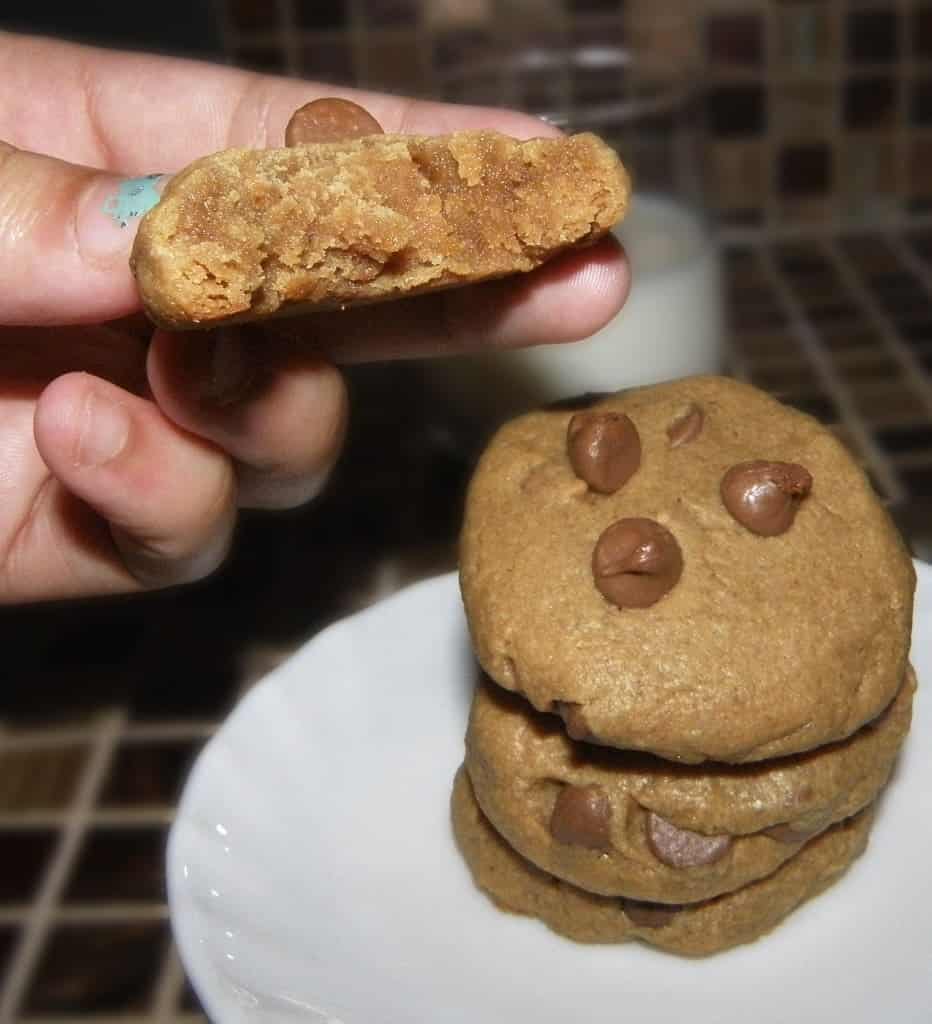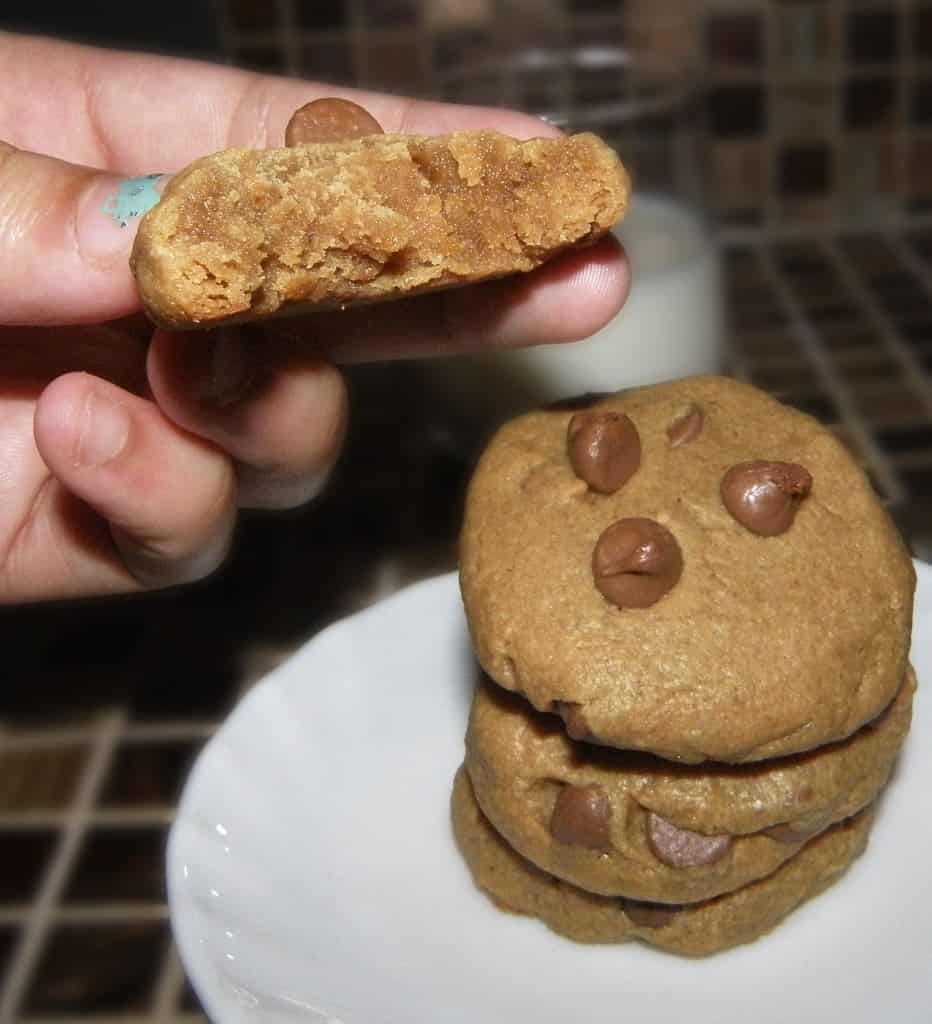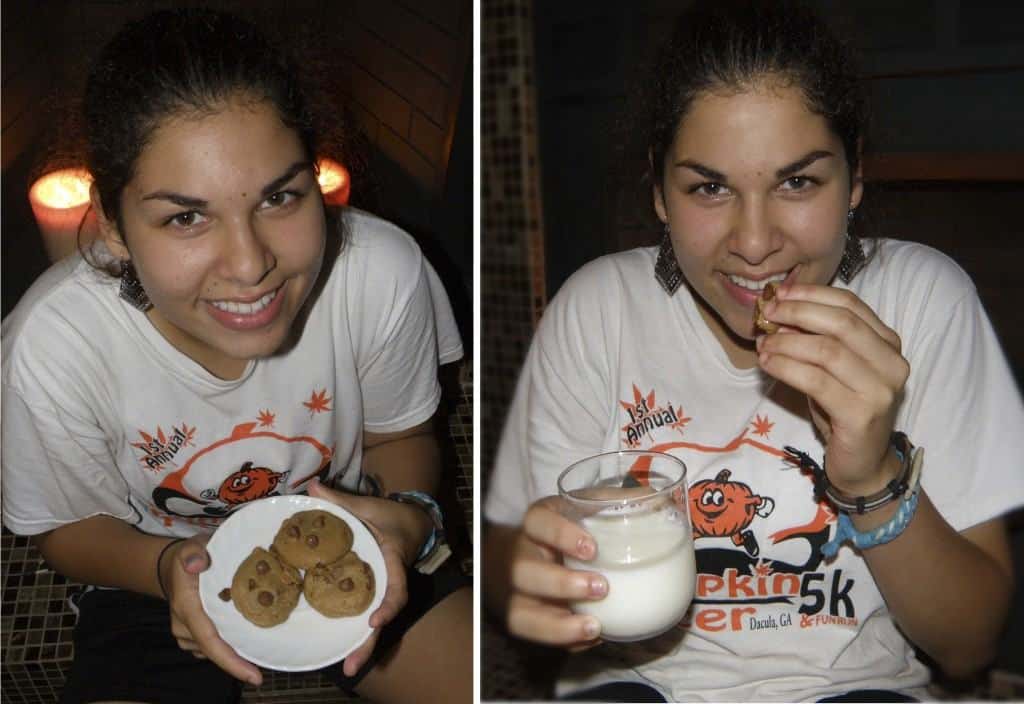 Ingredients to make a dozen of these flourless peanut butter chocolate chip cookies:
1/2 of a 16 oz jar of creamy peanut butter
4 heaping tablespoons of brown sugar
1 teaspoon of vanilla
1 egg
1/2 a handful of peanut butter and chocolate chips
a whole handful of chocolate chips
Directions :
I started off by preheating the oven to 365 degrees. Then, using a spoon, I mixed the peanut butter, egg, sugar and vanilla – the mix starts off a little wet, but as the ingredients incorporate, it thickens up. Then mixed in the chocolate chips and peanut butter & chocolate chips (these quantities can be changed – or white chocolate chips could also be substituted). I then rolled up spoonfuls of it, flattened them slightly and baked for 12 minutes. These cookies are best when allowed to cool – they do not have a lot of sugar in them; but when cooled, they seem slightly sweeter than when eaten warm.
Of course some of us just cannot wait…
🙂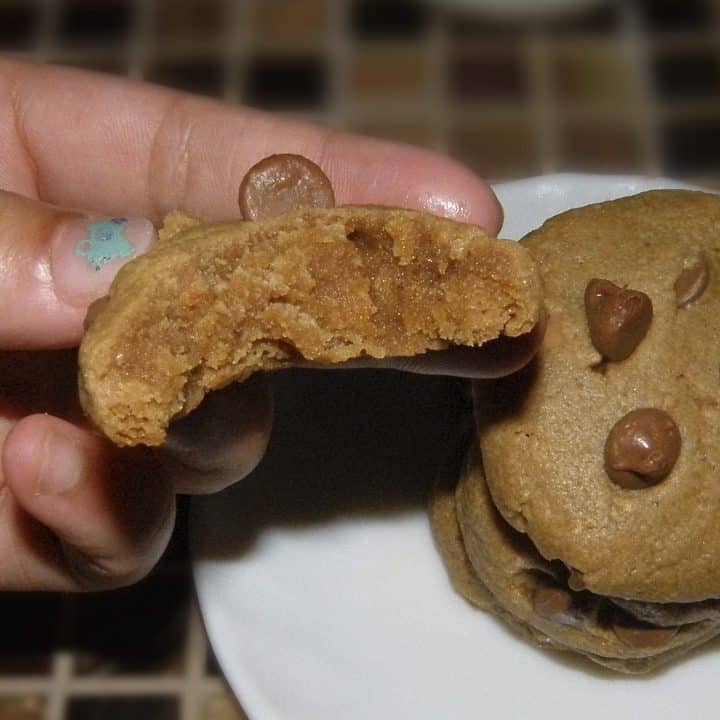 Flour-less Peanut Butter Chocolate Chip Cookies
Believe it or not – these cookies are not that sinful! Really!
Ingredients
1/2 of a 16 oz jar of creamy peanut butter
4 heaping tablespoons of brown sugar
1 teaspoon of vanilla
1 egg
1/2 a handful of peanut butter and chocolate chips
a whole handful of chocolate chips
Instructions
I started off by preheating the oven to 365 degrees. Then, using a spoon, I mixed the peanut butter, egg, sugar and vanilla – the mix starts off a little wet, but as the ingredients incorporate, it thickens up. Then mixed in the chocolate chips and peanut butter & chocolate chips (these quantities can be changed – or white chocolate chips could also be substituted). I then rolled up spoonfuls of it, flattened them slightly and baked for 12 minutes. These cookies are best when allowed to cool – they do not have a lot of sugar in them; but when cooled, they seem slightly sweeter than when eaten warm.Of course some of us just cannot wait…
Nutrition Information
Yield

12
Serving Size

1
Amount Per Serving
Calories

185
Total Fat

13g
Saturated Fat

4g
Trans Fat

0g
Unsaturated Fat

8g
Cholesterol

16mg
Sodium

109mg
Carbohydrates

14g
Fiber

2g
Sugar

10g
Protein

6g
Some of our favorite cookies: