Moist, light, and studded with white chocolate chips, these decadent Beet Bars are gluten free and can be enjoyed as a breakfast treat or a snack or a dessert.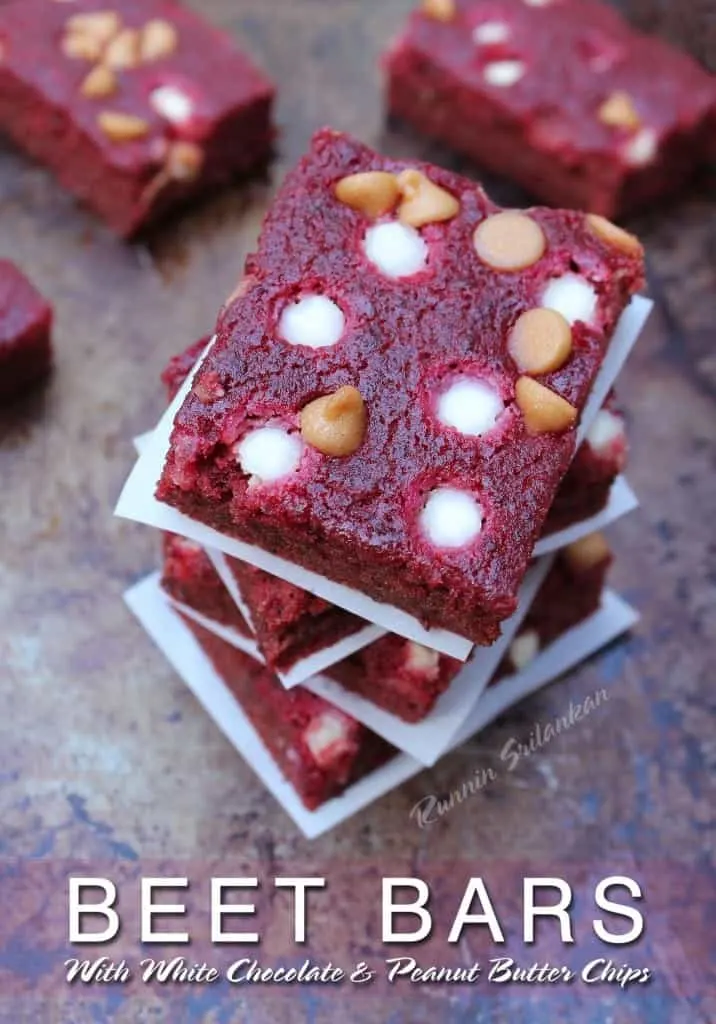 So, what would you do if you won the lottery?
Let's day dream for a little now…
Would you quit your job?
Buy a new home? A new car?
Travel the world?
Sit around and eat beetroot in all it's glorious forms: all-day? everyday? 😉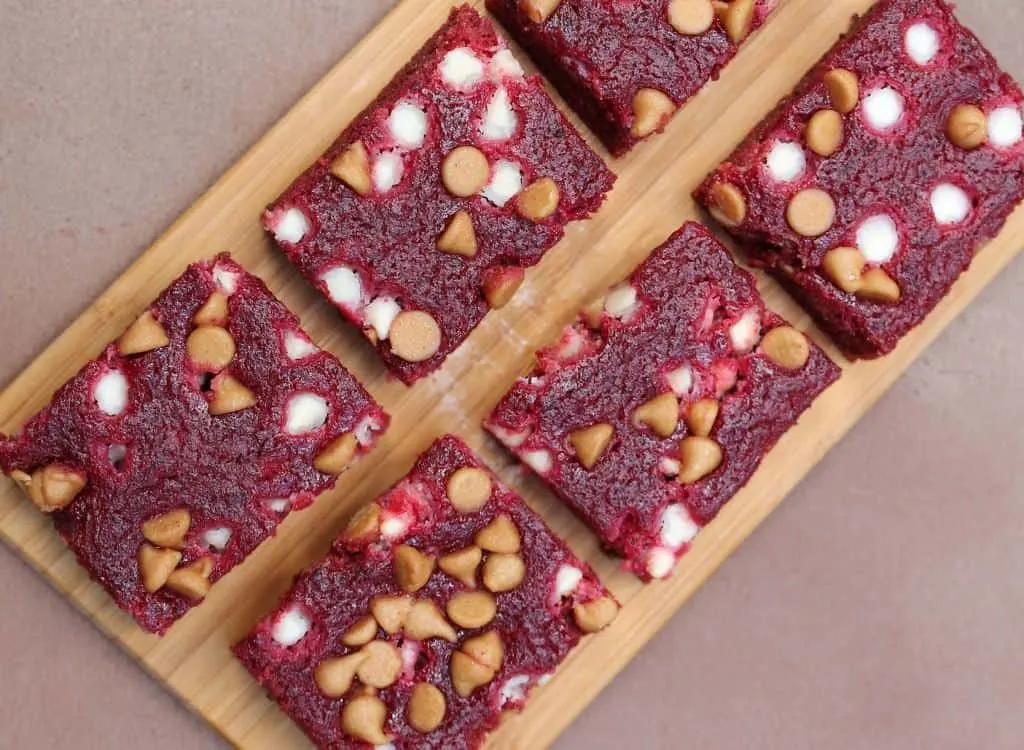 When we were younger, my dad used to love to ask my sister and I what we would do if we won…
Then when it was his turn, he would rattle off all the things we had listed – saying his answer lay in helping us get what we wanted and be where we longed to be…
In those earlier years, my day dreams revolved around a new car, a home for my parents, travelling to see my friends and family scattered around 4 continents…these days though, my answer to that question isn't quite the same…these days my answers revolve more around my daughter's needs and my mom's and sister wish-fors.
But, there is one thing constant – one thing that I had wanted to do when my dad first asked me this question and now, as I ruminate on it myself-and that would be to quit my full time gig.
So last night when I came across this amazing lady – who won $11 million in a lottery with her husband – and heard of her plans to stay working and serving at her job – well, to say my mind was blown is putting it mildly!
So, I might quit my day job, but I think I will keep my night one – this blogging thingie – after all it's an excuse to eat glorious beetroot in a smorgasbord of ways!
I tried a couple of versions of these beet bars – the first one, I did not use enough agave and it seemed that the salt was kinda off (like how technical I can get in my descriptions?) and my daughter gave me her "squinchy" face at first bite -YIKES! But the second time around, I used raw cane sugar and more salt and more chocolate chips and peanut butter chips (which can be substituted with butterscotch chips – if you prefer)…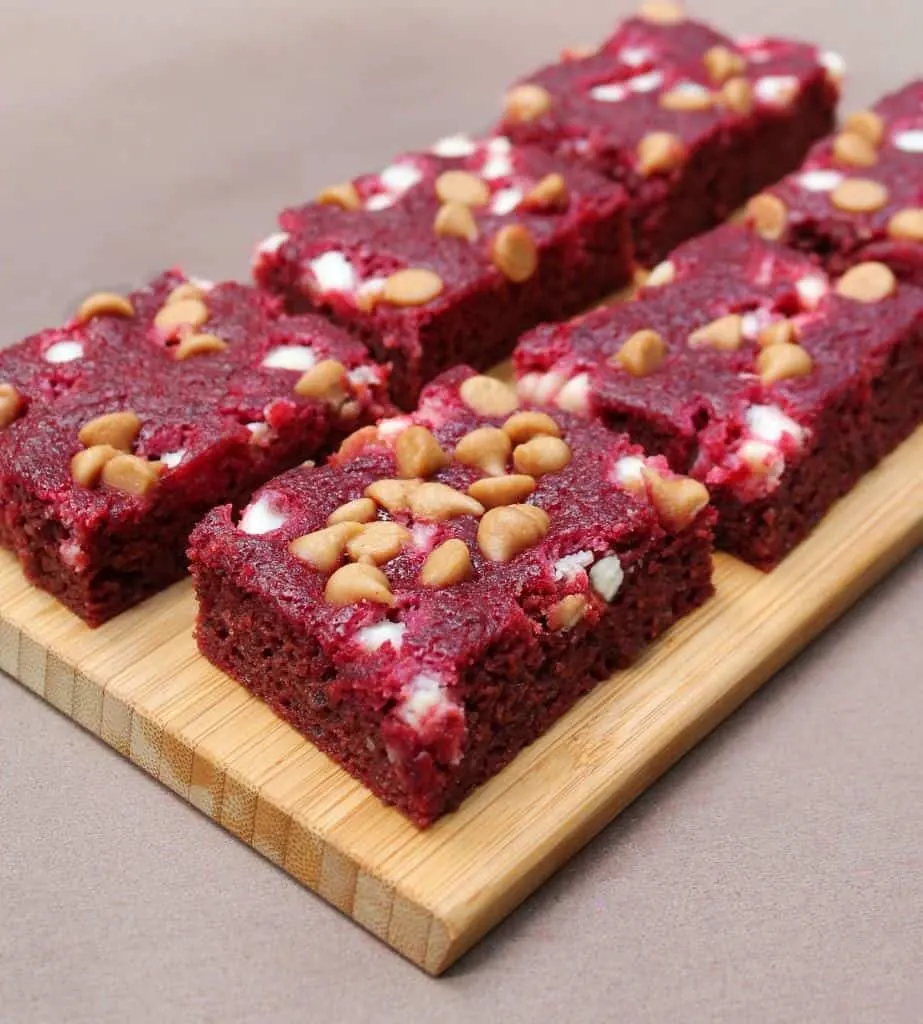 And…I had to start rationing…while negotiating…

My daughter (while I was trying to take these pictures and when she knew I would be distracted): "Mom – can I have another one"…
Me: "can or may…"
My Daughter: eye-roll (Whhaaat!!! Why do kids think just because you have your back to them, you have no clue what their body language is saying???)
Me: "You've had two – we need to save them for breakfast for the rest of the week"
My daughter: "How bout I help you weed the front yard?"
Me: "What does that have to do with the amount of leftovers we have?"
My daughter: "that will cut the time you spend on yard work in half, leaving you more time to go buy more beets and make another batch of these…"
And that's when I didn't have a come back as I was marveling at her application of math to real life and the fact that she was trying to talk me into buying more beets!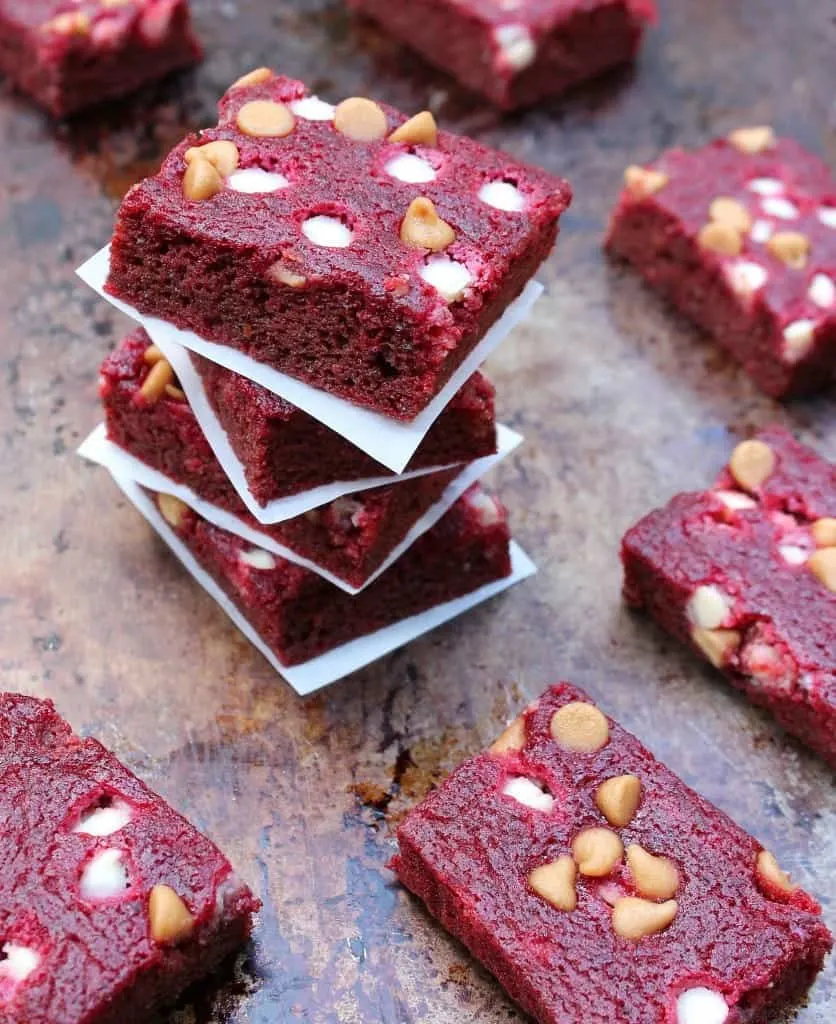 These Beet Bars are totally gluten free and can be enjoyed as a breakfast treat or a snack or a dessert (or like my daughter tried to tell me) at breakfast, and as a snack and as a dessert – all in one day!