A taste bud-titillating, easy, peanut butter and jelly skillet cake – made with oats and coconut oil – perfect for an after-dinner treat or even for breakfast!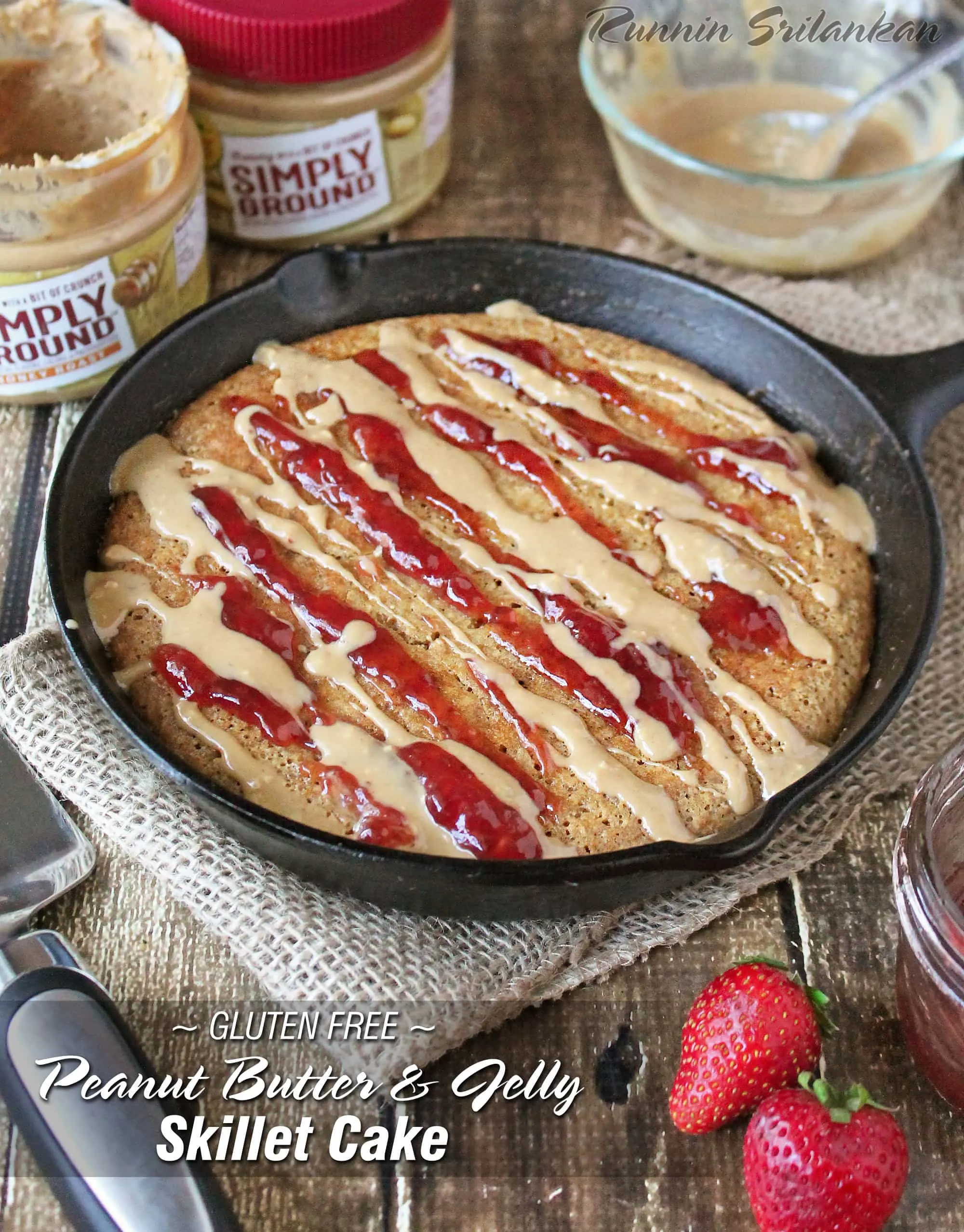 What are the ingredients needed to make this
You will need the following 9 ingredients for this cake:
Coconut oil
Peanut Butter
Eggs
Baking powder
Brown sugar
Oats ground up / Oat flour
Vanilla extract
Cinnamon
Cardamom
How to make this PB&J Skillet Cake?
This is a super simple Peanut Butter & Jelly Skillet Cake that also happens to be made with ground-up oats and coconut oil:
You start by placing a 1/4 cup of coconut oil and a 1/4 cup of Peter Pan® Simply Ground Honey Roast Peanut Butter in a skillet on a very low flame – just so the peanut butter and coconut oil melt a bit.

Remove this off the stove – and, making sure this mixture isn't hot, whisk in 3 eggs.

Then fold in 1 teaspoon baking powder, 1/4 cup coconut sugar (or brown sugar), 1/2 cup ground up oats (or oat flour), 1 teaspoon vanilla extract, 1/4 teaspoon cinnamon, and a couple of dashes of cardamom (which is optional).

Just before you bake it, you would add dollops of peanut butter and strawberry jelly onto the mixture (by the way, this will sink as the cake bakes).

Then, place this skillet into an oven preheated to 350 degrees, and let it bake for 25 minutes.

After the skillet cake comes to room temperature, you will melt a 1/4 cup of peanut butter with 1 teaspoon of coconut oil in a microwave for 30 seconds. You will also heat a 1/4 cup of strawberry jelly. And, then drizzle the melted peanut butter and jelly on the top of the skillet cake.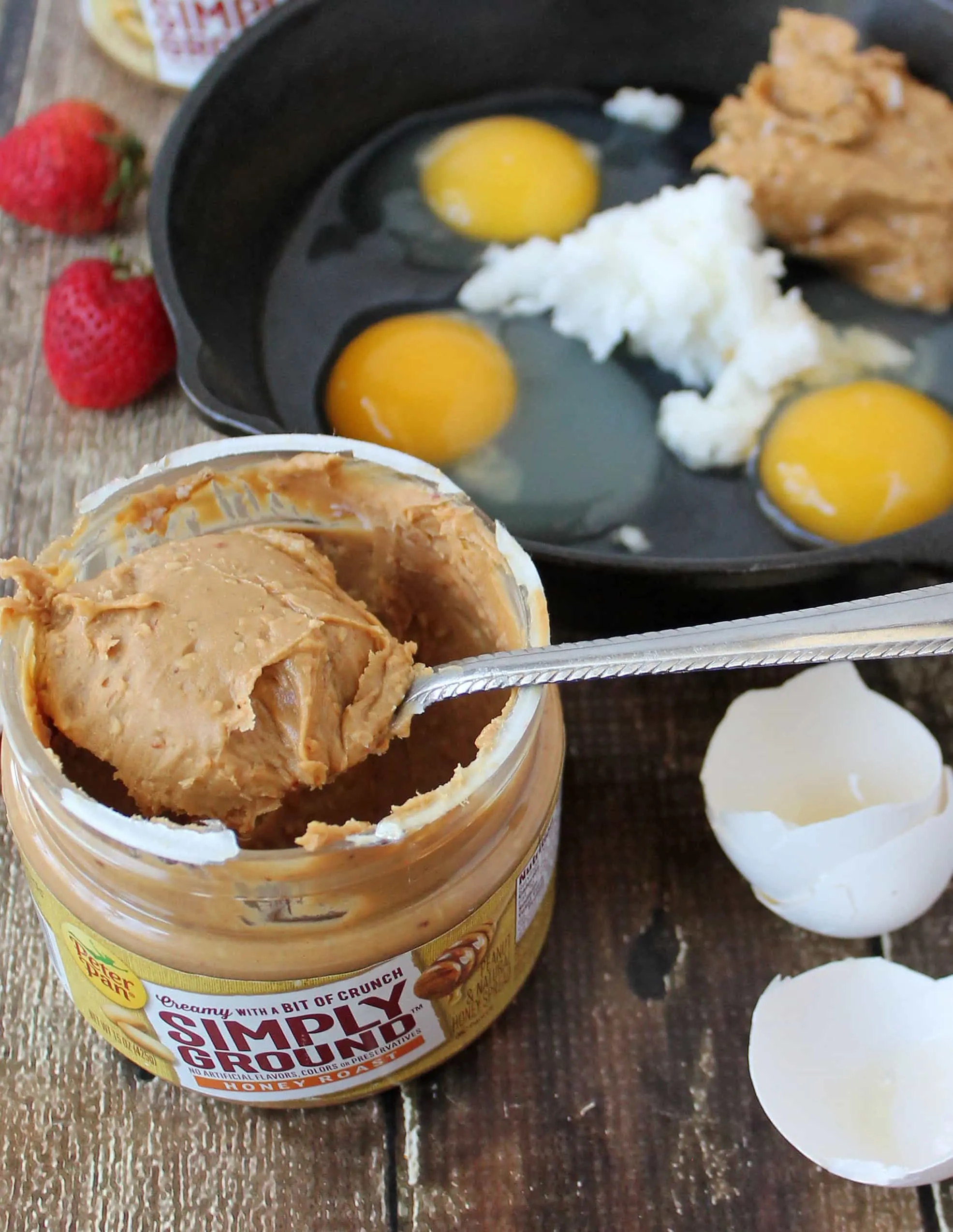 We were on our way to Walmart this past weekend, when my Taylor-Swift-&-Justin-Beiber loving daughter turned to me and inquired, "mom, do you like Kashmir or Black Dog?"
Now, we had our car windows down – so I retorted "What do you mean? Oh oh – I know we've been talking about moving, but I didn't mean as far east as Northern Asia and when did you start referring to Ollie as a black dog?"
Yup…it took me a second to realize that she was referring to two of my favorite Zeppelin hits!
All those years of exposing her to music from the 70s and 80s was finally paying off!
Now she was bopping her head to my kinda music! Now, this was one ride that I didn't have to count on the wind drowning out T-swizzles lamentation about her case of bad blood!
As we left Walmart, after picking up some of the NEW Peter Pan® Simply Ground Original and Honey Roast Peanut Butters, I turned up A-ha's new "Cast in Steel" album.
My daughter has never quite liked A-ha the way I have, but seeing this upgrade to her taste in music I figured – what the hey! And, she started her head bopping again! Yes!!!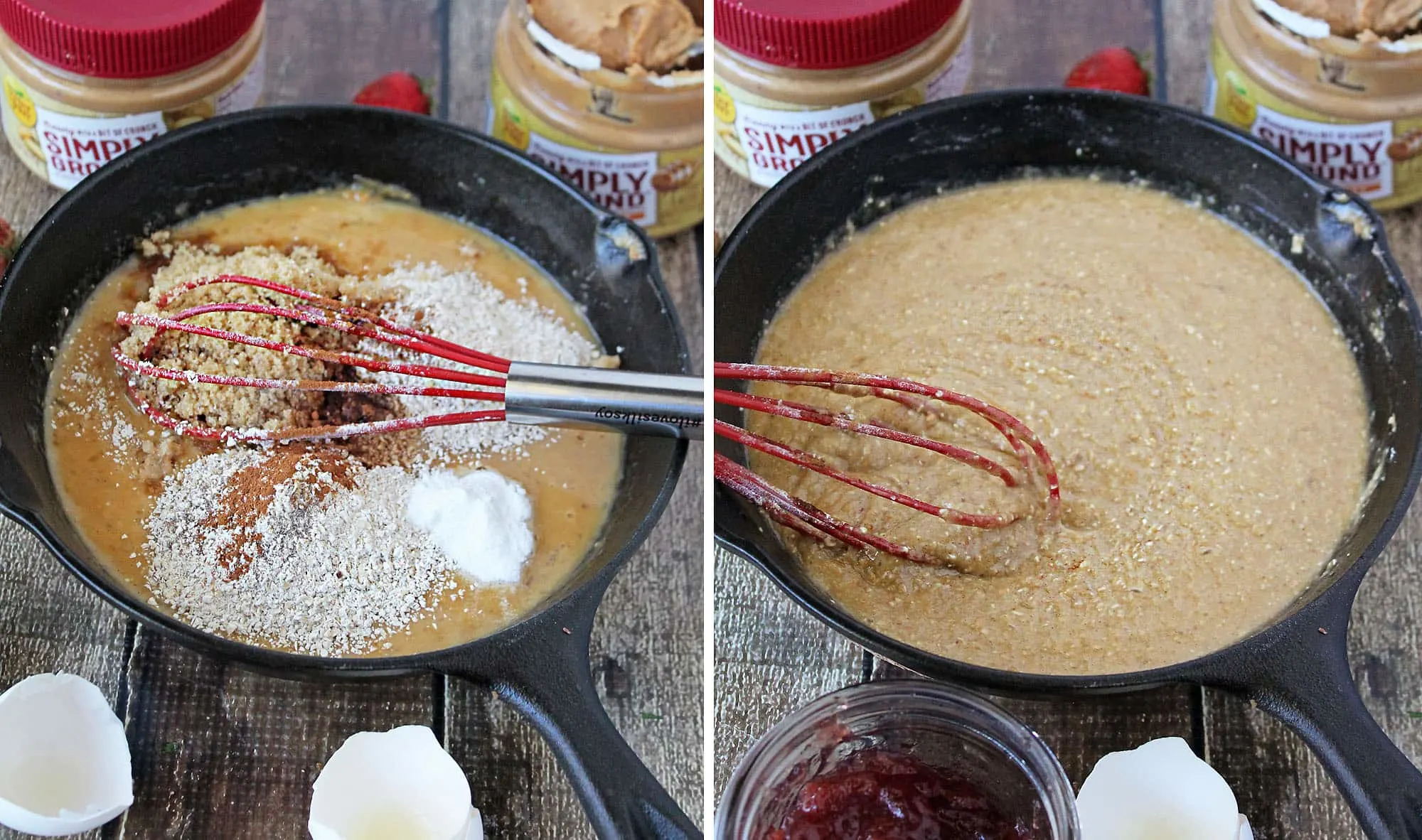 When we got home, I figured I'd push the envelope a bit more and make a peanut butter and jelly treat that would also double as breakfast for our hectic weekday mornings.
Now, my daughter has never been a PB&J fan. Inspite of her exposure to the combo, she'd always preferred a combo of creamy and crunchy peanut butter with chocolate.
But, when I saw that Peter Pan's Simply Ground Peanut Butter was "creamy with a BIT OF CRUNCH" I figured I would use it in a simple and hearty skillet cake – with a few dollops of strawberry jelly and see what she thought.
Seeing her change in music, I was hoping her tastebuds had experienced a similar change because I love the combo of PB&J. Peter Pan® Simply Ground Peanut Butter contains no artificial colors, flavors, or preservatives, and there's no stirring needed before you dig into it!