This shop has been compensated by Collective Bias, Inc. and its advertiser. All opinions are mine alone. #CapriSunParties #CollectiveBias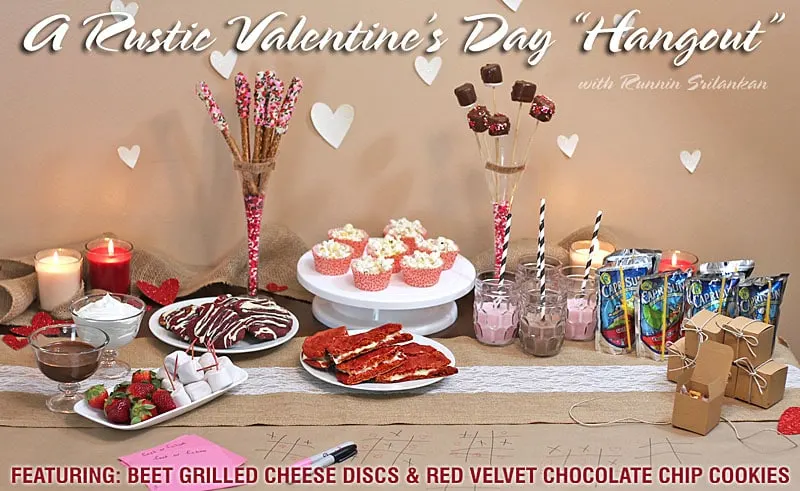 For my daughter and I, Valentine's Day has always been about some sort of heart shaped baked cookie – that we get to eat for breakfast. Okay – so that cookie might be a tad on the healthy side with some beets or lignans or hemp in there to balance things off – but, it was a heart-shaped cookie – with chocolate, y'all!
Traditions are funny things – we carry them on without any rhyme or reason other than the fact that we love them and the bond they happen to create between the people that indulge in them – together.
This year, seeing Valentine's Day falls on a Saturday, I figured we would veer away from our traditional heart shaped cookie breakfast and do things a tad differently. As my daughter and her friends had been trying (unsuccessfully) to co-ordinate a time to meet, I suggested a little Valentine's Day party with heart shaped cookies and other snacks; and, my daughter looked at me and sighed…and said…"We don't have "parties" mom; "parties" are for 12 year olds (P.S. she was 12 only 4 years ago) – we have "hangouts"!" Say what??? "YAAASSSS mom, a hangout sounds great -specially if you can throw in some of those Beet Grilled Cheeses and some Capri Sun for my friends – maybe?"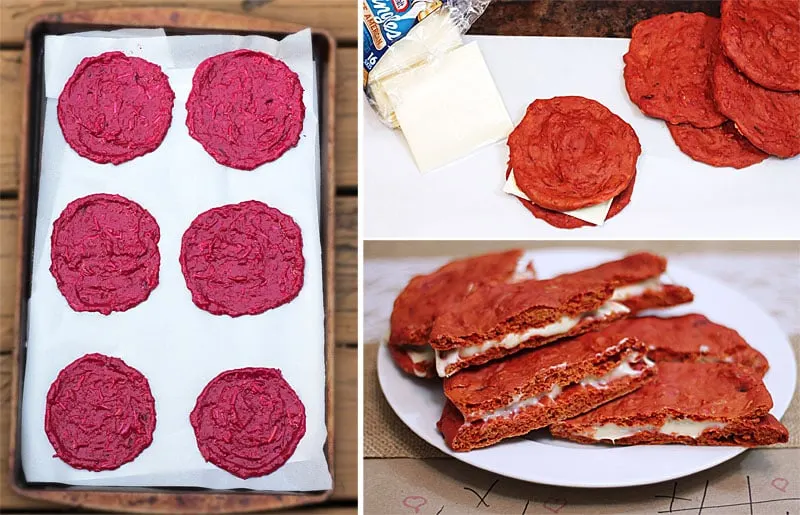 YAAASSS!!! oh daughter of mine – when you speak the language of beets – it's all a can do!
So, I threw together a mini menu for a little taste testing – with a simple and rustic table-setting because "rustic" is how we roll!
We planned on having a teen friendly menu consisting of:
1) White Chocolate Dipped Pretzels with Sprinkles
2) Jet Puffed Marshmallows Dipped in Dark Chocolate
3) Popcorn
4) Red Velvet Cookies
5) Beet Grilled Cheese "Discs"
6) Strawberries and Marshmallows with Chocolate Sauce & Kraft Cool Whip
7) Peanuts and Almonds in little take home boxes
8) Chocolate & Strawberry Milk
9) And Capri Sun
And my daughter made some cards out of construction paper so her friends and her could play "Fact or Fiction" aka "Two Truths & A Lie"; and, I set out some rolled paper which would double as a tablecloth for them to doodle or write or plat tic tac toe on.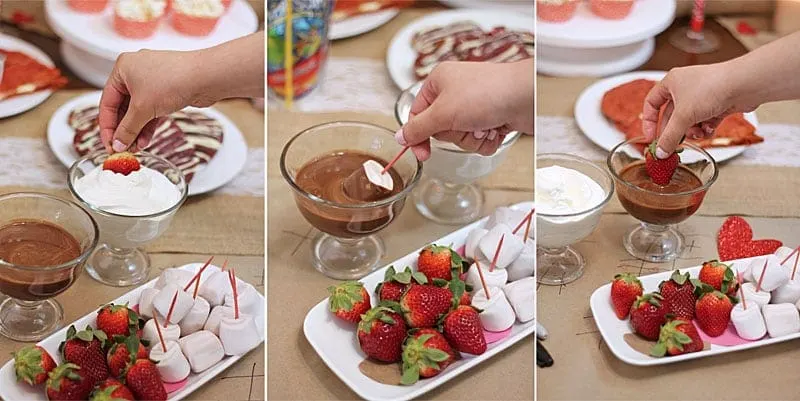 I picked up most of my ingredients at my neighborhood Sam's Club where I came across the new Capri Sun Variety 40 Count Pack with their new Clear Bottom Pouch "so you can 'see the goodness". As Capri Sun is said to have NO artificial sweeteners, Colors, Flavors, or Preservatives and is said to have 25% less sugar than other leading juice drinks, I figured it would be a good choice for this little "hangout".
The Capri Sun Variety Pack 40 Count features 10 of each of the following favorite flavors: Fruit Punch, Pacific Cooler, Wild Cherry, Strawberry Kiwi
So, I am curious, do you happen to have any simple Valentine's Day traditions of your own?
[Tweet "Naturally Colored Red Velvet Cookies with Chocolate Chips @RunninSrilankan #CapriSunParties #CollectiveBias #ad"]