Jicama and Lotus Root unite over spices in this exotic, flavor-packed, sauteed salad – which can be enjoyed all year long.

Disclaimer: This post was sponsored by Blue Diamond Tastemakers, Blue Diamond Almonds supplied me with their Natural Almonds and their Rosemary & Black Pepper Almonds. As always, all opinions are my own.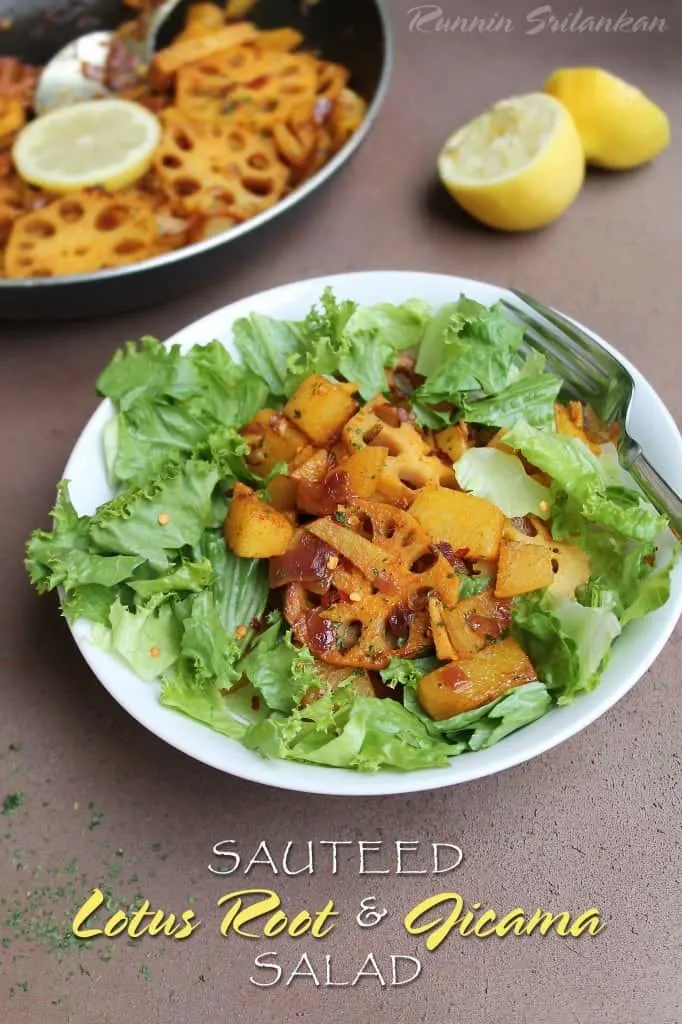 "Old habits die hard"…
But sometimes – that can be a good thing!
When my daughter was a lot younger and an extremely picky eater, we would play this little game where once a week or so, I would have her pick a fruit or vegetable she hadn't ever tried before from the grocery store.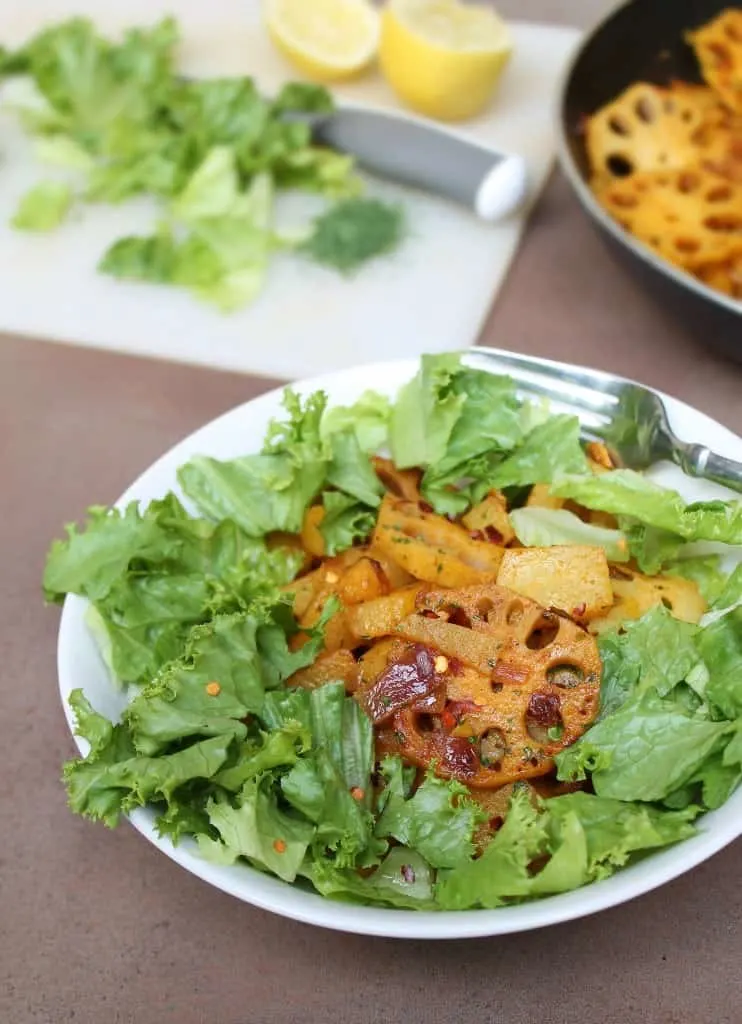 At first, it was stuff like apricots and green bell peppers; but as she got older, she moved onto more exotic stuff like jicama and rambutan.

Sometimes, we would cook whatever we picked and sometimes we would just eat it straight up.

Sometimes, she loved what she picked and sometimes she didn't – but most times, her little picky self would rather have had a plate of noodles and bananas as she was big into foods that were white and had no color in them.
But, in the last few years this game seemed to have been forgotten – till about 2 weekends ago.
We were at Super H Mart which is chock full of exotic fruits and veggies and a whole slew of items I have a hard time deciphering -(because apparently my second-language-interpreting skills are worse than my math skills)- when we happened on this funky shaped, weirdly jointed "lotus root"…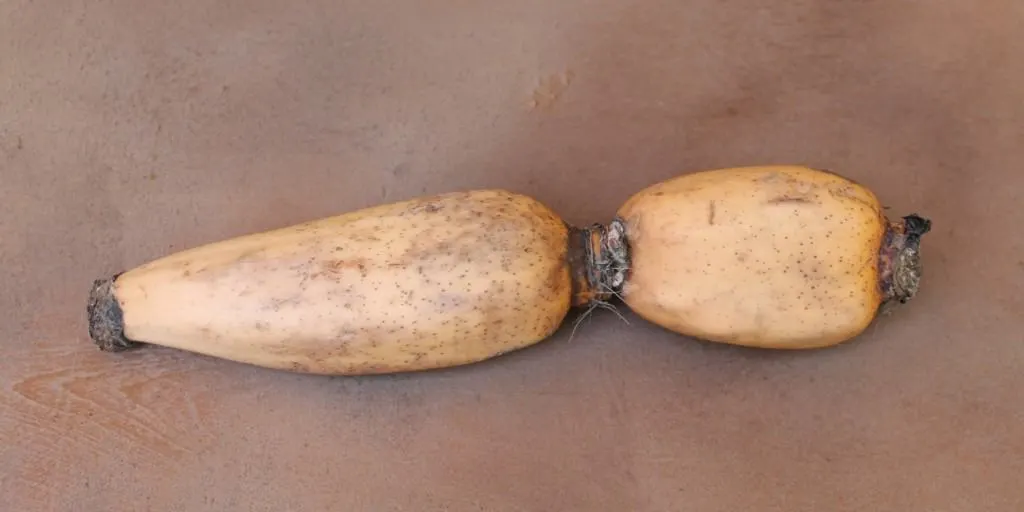 Realizing I had no clue what it was, my daughter shot me a look (I know this look well, it is the "time-you-try-your-own-medicine-look) and said it was about time I tried cooking something I had never cooked or eaten before!
But – fortunately – I love a challenge!
From what I learned on the inter-webs, I figured I would pair the crunchy lotus root with similarly crunchy jicama, and caramelized onions and turmeric and lemon and seeing we were keeping things crunchy, I would top it all off with some of the Rosemary and Black Pepper Almonds sent to me by Blue Diamond Almond Tastemakers.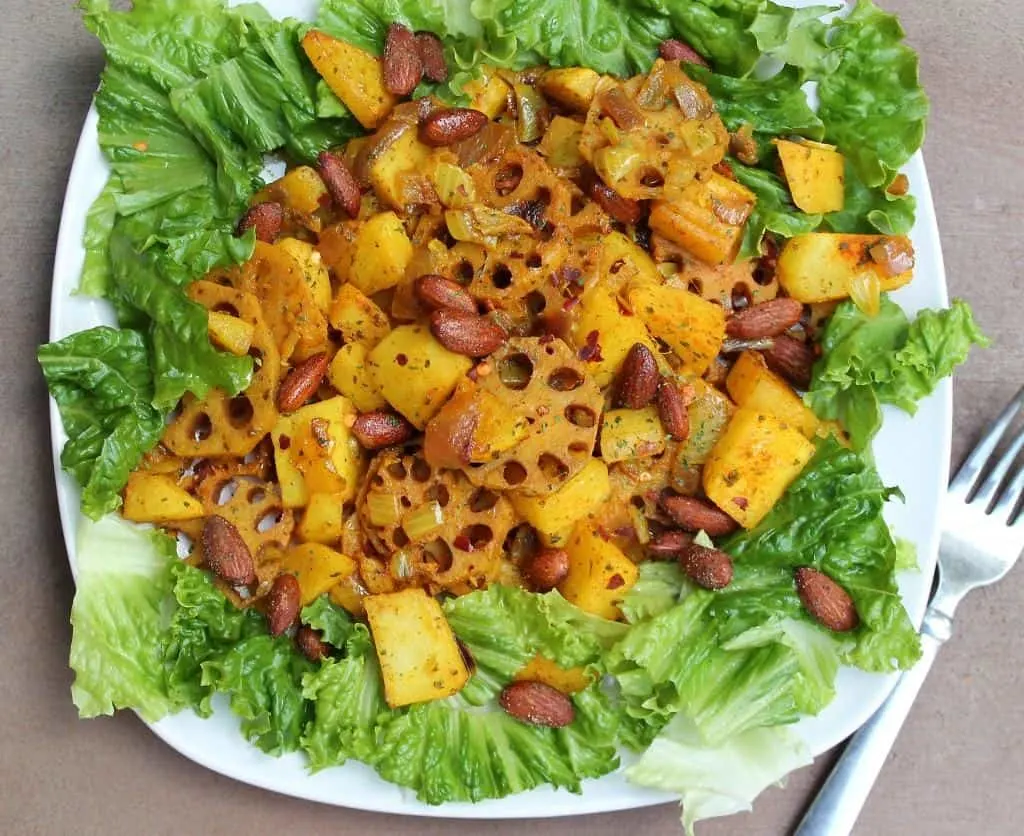 Lotus root discolors quickly, so I submerged the cut slices in a bowl of cold water with a splash of vinegar. The cooked lotus root tasted a lot like water chestnuts, retaining their crunchy texture even after almost 15 minutes of cooking. As of today, we have had this sauteed salad a total of 3 times, and each time we licked our plates clean!
As always, this recipe was tasted and approved for publication by my picky teen daughter!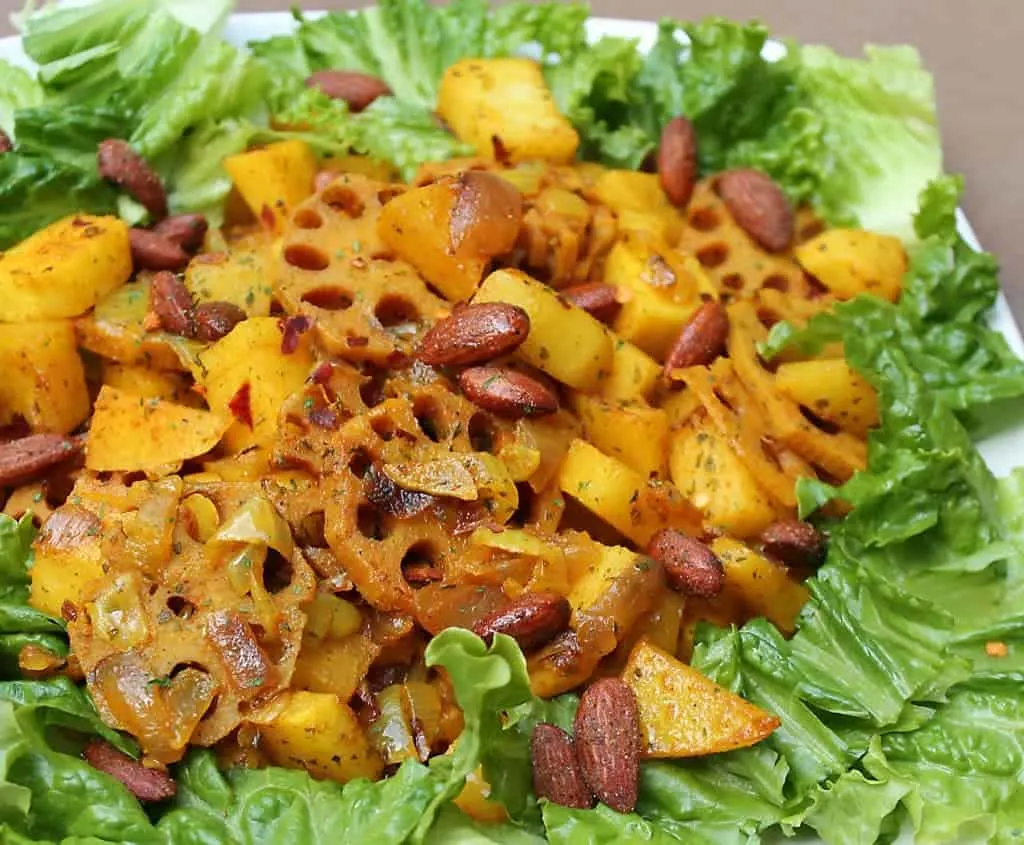 Have you tried any new vegetables this week?
Maybe… I have convinced you to try something new this weekend?
Or, maybe… you can convince me to try an old vegetable in a new way?
Here are some other recipes with Blue Diamond Almonds:
Almond And Coconut Bark


Chocolate Dipped Blueberry Popsicles With An Almond Coating