I have partnered with Sprouts Farmers Market to bring you these paleo carrot cake bars ~ all opinions herein are my own. Thank you for supporting the brands that keep this blog spinning.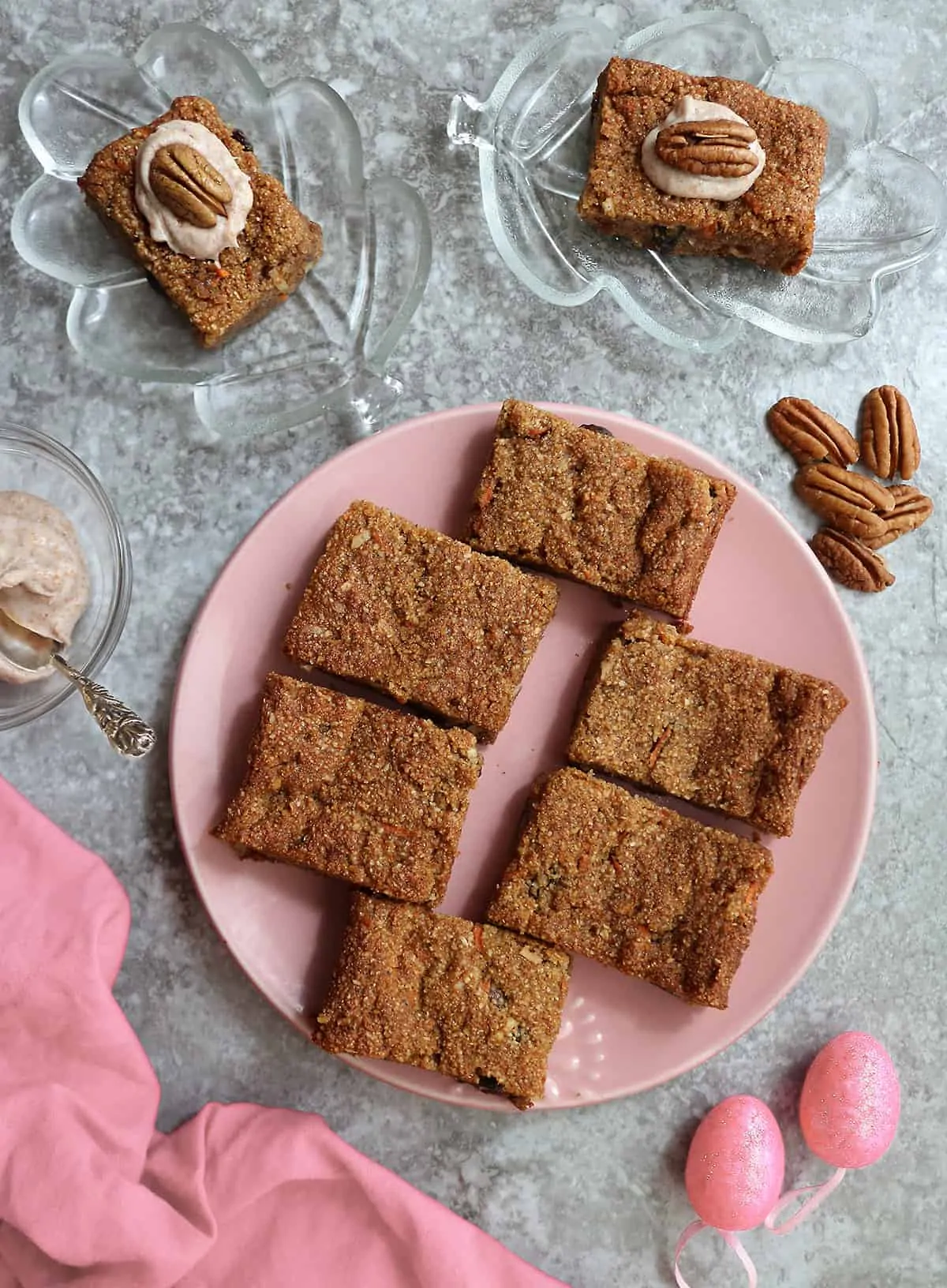 These Carrot Cake Bars came about because of a Sprouts challenge to come up with a Paleo dessert recipe post for Easter. In the current situation, I am tempted to make all the cupcakes and enjoy them. But, I feel better (mentally, especially) when I choose to fuel my body with healthier meals/desserts ~ at least 80 percent of the time.
What is a paleo diet anyway?
Now, I'll be honest and say when it comes to paleo, keto and whole30, I am a bit clueless. I know one is super strict, another doesn't allow for sweeteners like maple syrup and honey and the third is a bit more lackadaisical.
But which is which?
I had no clue!
That was until I consulted the encyclopedia of Google.
What are the paleo ingredients in these bars?
I managed to figure out the basics of paelo ~ enough at least to figure out that I could use ingredients such as: almond flour, coconut flour, baking soda (but NOT baking powder as it might contain cornstarch and other non-paleo ingredients), maple syrup, coconut oil, coconut milk, vanilla, almond extract, carrots, a small quantity of raisins, walnuts, shredded coconut, and warming, aromatic spices such as ginger, cloves, cinnamon, and cardamom to make these Carrot Cake Bars.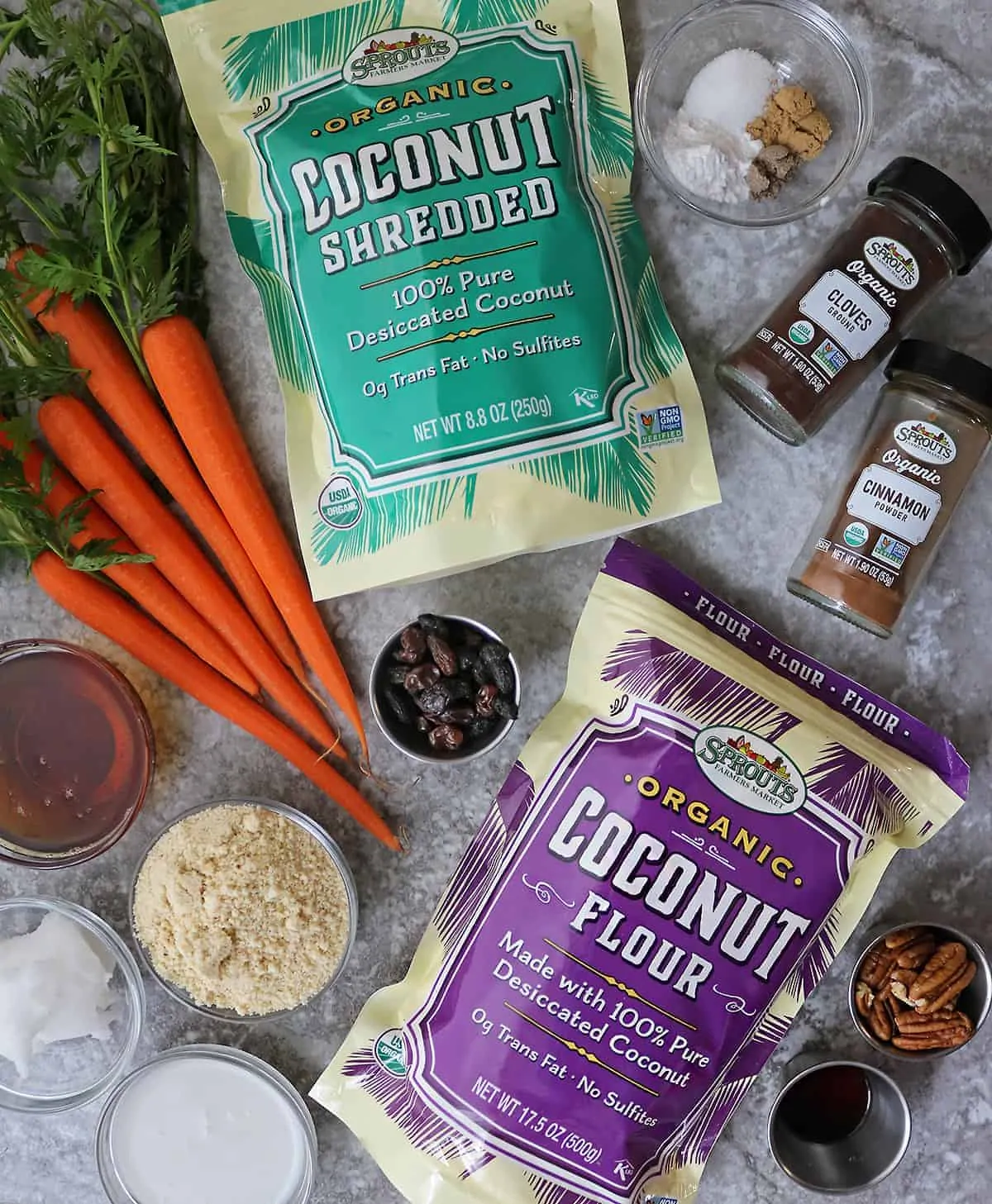 Now, with the information I gathered, I don't think I could do a whole week on the paleo diet. But, I think I could eat a paleo desert (like these tasty carrot cake bars) for a week ~ does that count? Of course, that is if it lasts that long ~ BTW, read on for tips to make this dessert last a week! 😉
These Paleo Carrot Cake Bars happen to be vegan as well. I didn't use any egg while making them as my daughter has been avoiding eggs. Without the egg, these bars are a bit crumbly, but, if you serve them chilled (chill them in the fridge for a couple of hours or so) they hold together well. If you decide to add in one egg, add in 2 1/4 cups of almond flour instead of 2 cups like the recipe below states.

I used maple syrup and raisins to gently sweeten these bars, but you could use coconut sugar instead of the maple syrup, if you wish. These bars are delicious served with a paleo cashew cream sweetened with maple syrup or coconut sugar.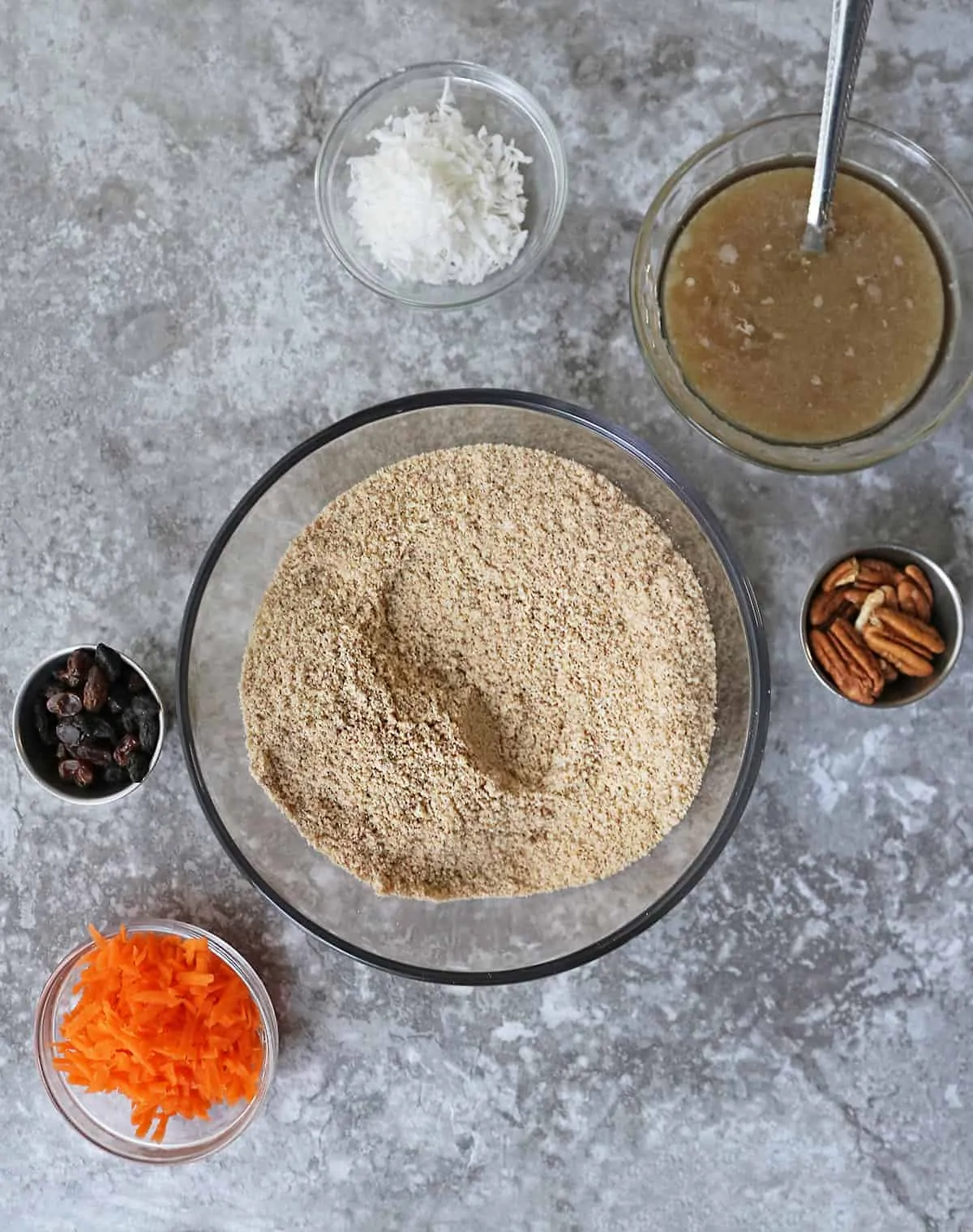 But, my daughter chose to go the non-paleo route in her choice of toppings for these bars. As I had some frosting leftover from making these carrot cake cupcakes, she smothered that frosting on some of these bars before enjoying them with a large cup of coffee.
How long will these paleo bars last?
I gotta say though, if you make these bars, don't do like I did and shove them under your offspring's nose and say, "hey would you mind tasting one of these bars?" Instead, make sure you announce it out loud that these are p.a.l.e.o. as you wrap and label them as paleo carrot cake bars.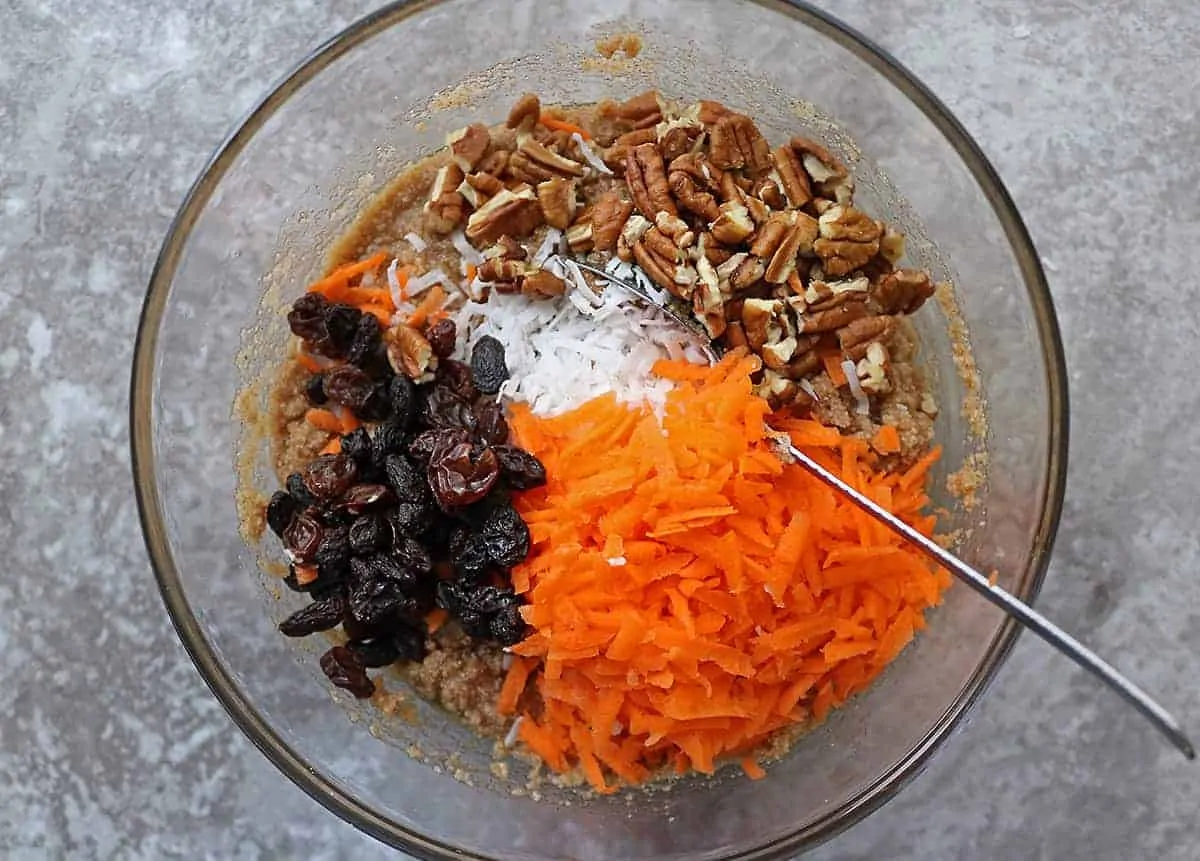 Maybe, just maybe, then no one will eat these and you will have a whole stack for yourself that WILL last a week. Because, guess what, I didn't end up having these Paleo Carrot Cake Bars for dessert for a week as my daughter polished off the last two of these bars the morning after I made them!
As it looks a lot like we might be staying home this Easter and not be able to gather with family for our traditional Easter church + lunch, I plan to make another batch of these Paleo Carrot Cake Bars as well as some of those Carrot Cake Cupcakes for my daughter and myself.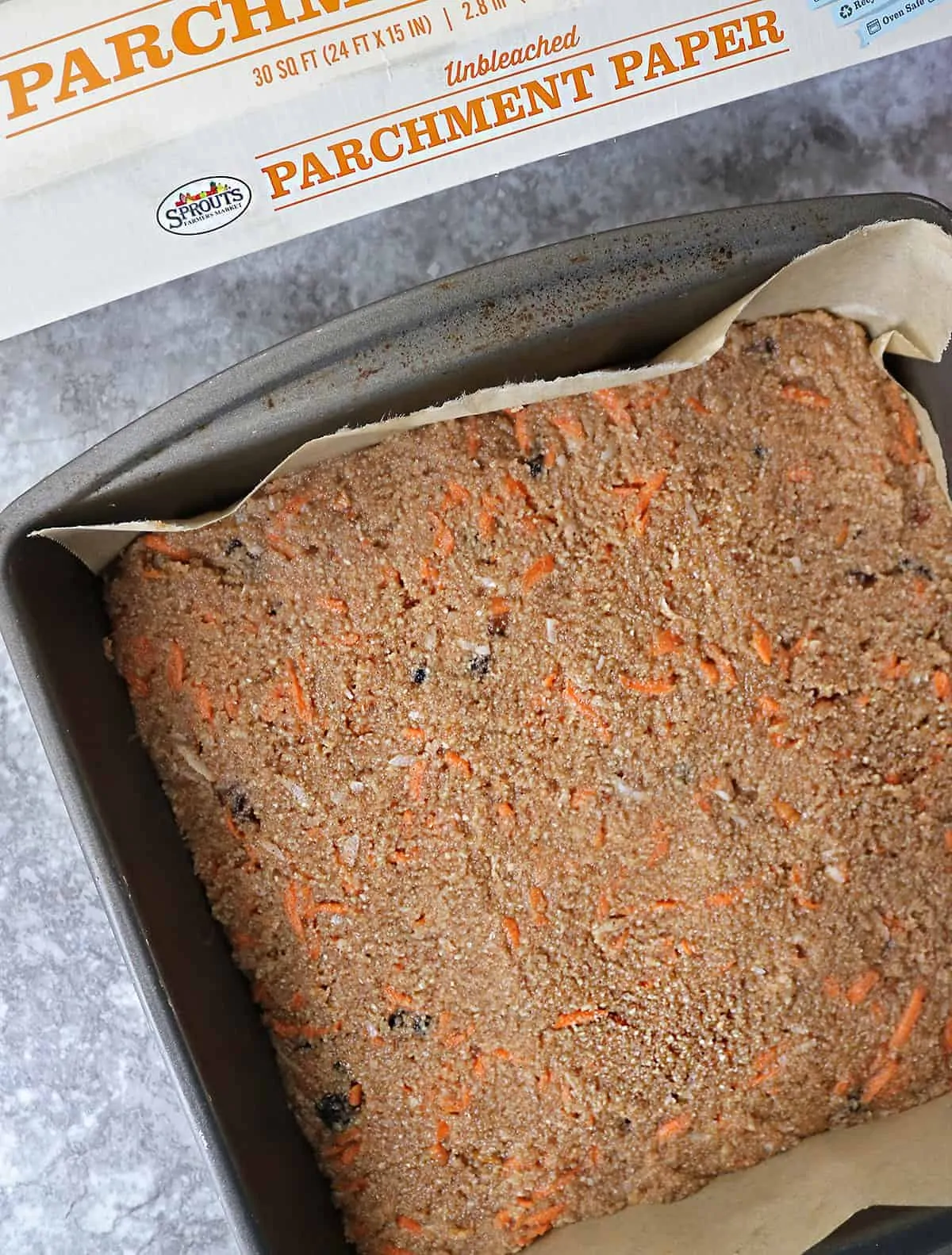 As I'm nearing the end of my cinnamon and cloves stock, I'm going to head to Sprouts to grab them as well as a few other essentials. By the way, Sprouts has quite a few of the essentials I need – including unbleached parchment paper!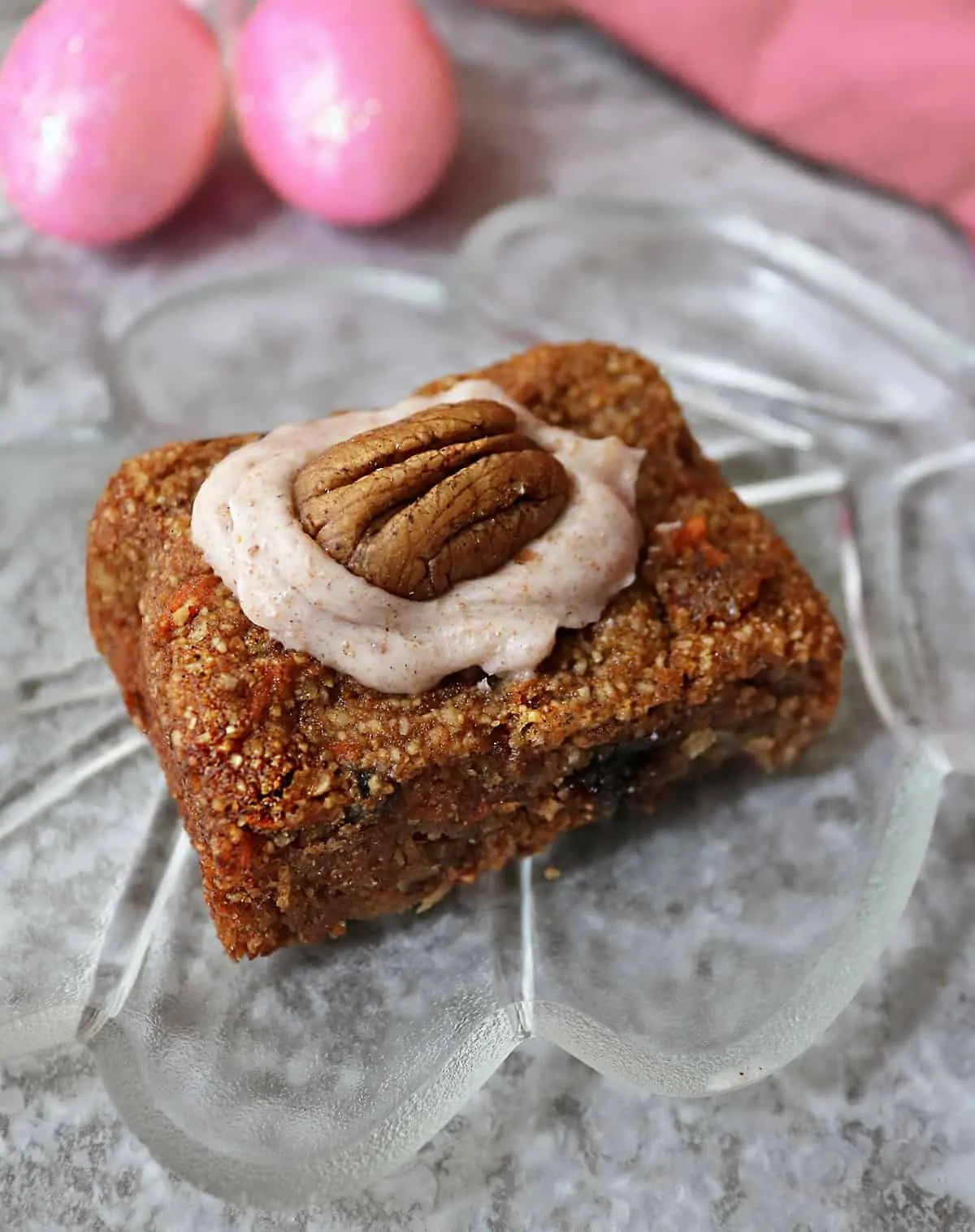 Since I started this blog in the summer of 2013, I have had the opportunity of collaborate with several brands. One of my favorite brands to collaborate with has been Sprouts.

True, I love shopping at Sprouts. From the variety of bulk bin items to the unique chips, cookies, and products geared towards dietary preferences, to the selection of fresh meats, vegetables, and fruits, Sprouts makes every meal and snack an easy choice.

But, those are not the only reasons why I love collaborating with Sprouts. I also love collaborating with them because of their people. There was the clerk who stopped their task of stocking a shelf just to help me find something in another section. Then there was the cashier who engaged me in a conversation over what was for dinner from the contents of my shopping cart. And, then there are the people who work in the corporate office who give me the freedom to write whatever I want on sponsored posts & challenges even in the middle of pandemonium.