Luscious, yet so easy, these Cheesy Baked Mashed Potatoes with a hint of turmeric are gonna make a delicious side at your holiday table!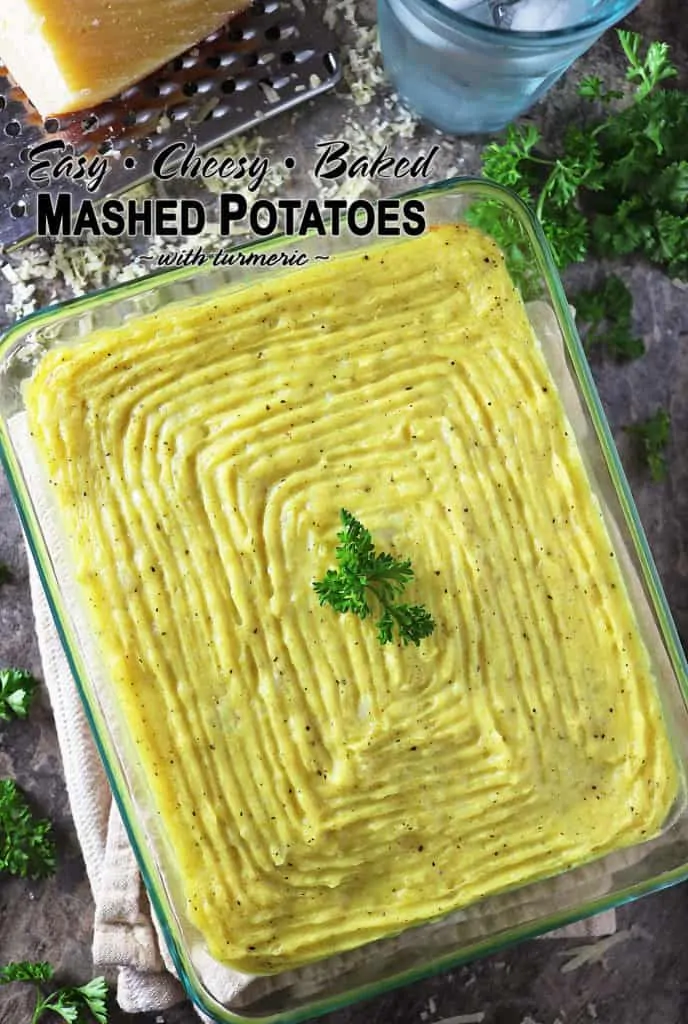 Mashed Potatoes are so easy to make – right?
But yet, I've managed to muck them up. Yes, I'm gifted like that.

There have been times I have managed to make them too lumpy, too leathery, too runny or simply too thick!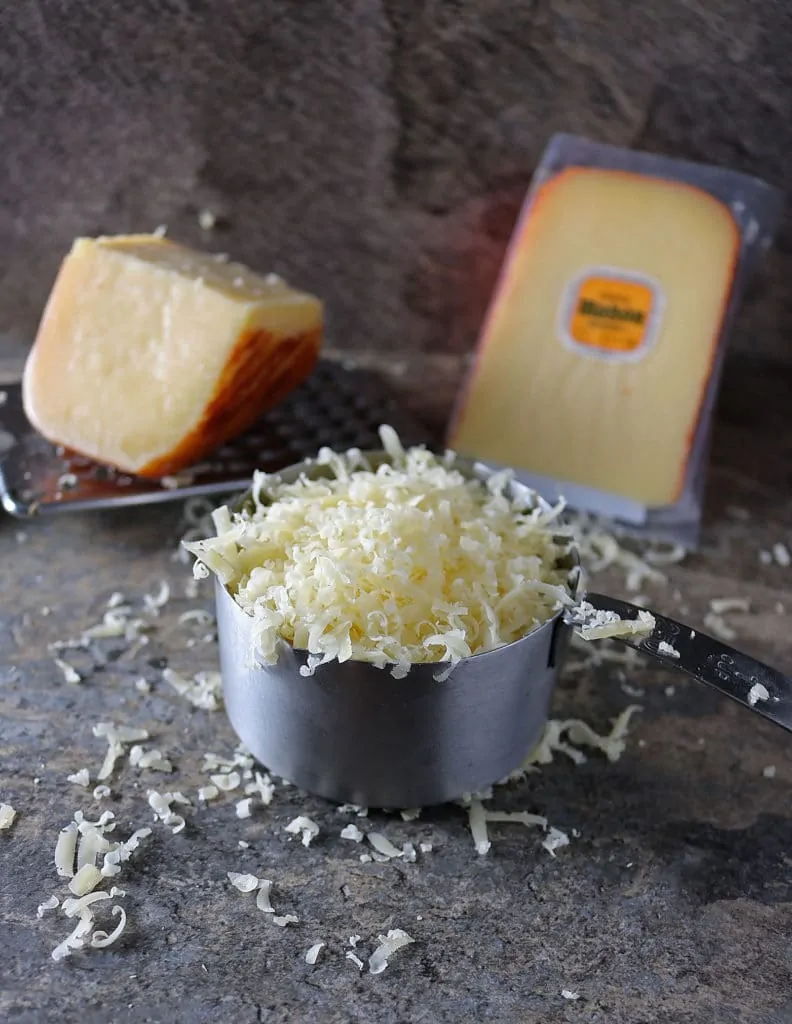 And that's just a shame – because I adore potatoes…as much as my daughter loves cheese!

Though, recently, her cheese love is bordering on obsession!

Hand her a grilled cheese, and she will pull the crispy bread apart and add at least two more slices of cheese (when she thinks no one is looking) before she takes a bite. A casserole of mac and cheese will get a gully washer of grated cheese before she grabs herself a spoonful.

Not being one to discriminate, she will give scrambled eggs, veggie burgers, and even pancakes and waffles, the same torrential cheese downpour treatment!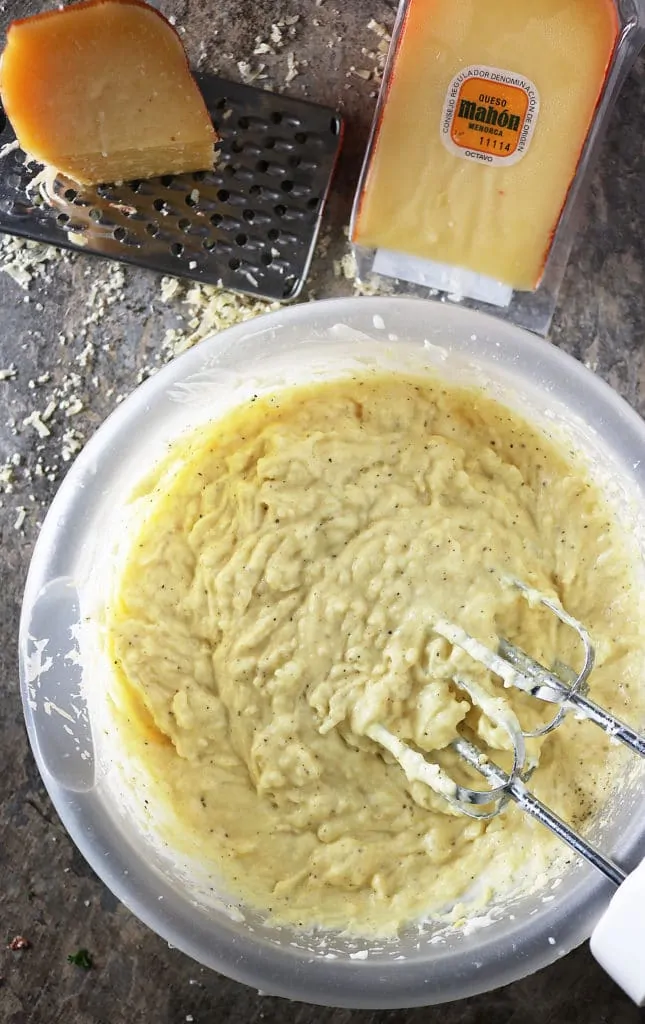 Buuuuuttttt… I digress….

Going back to the topic of mucked up mashed potatoes… y'all, when I'd had had enough of lumpy, leathery, runny, thick mashed potatoes, I began to cheat!
You see, I had come across a few versions of baked mashed potatoes when I was perusing Pinterest and realized that instead of hand mashing potatoes to perfection or trying to whip them up light and fluffy with an electric mixer, I could get away with mixing them up a tad bit, scooping the mixture into a casserole dish and baking it up – with the end result being pretty darn perfect mashed potatoes every time!

I also figured that if I threw in some cheese (like some of the Pinterest versions did), I could significantly reduce the butter used and substitute out the cream.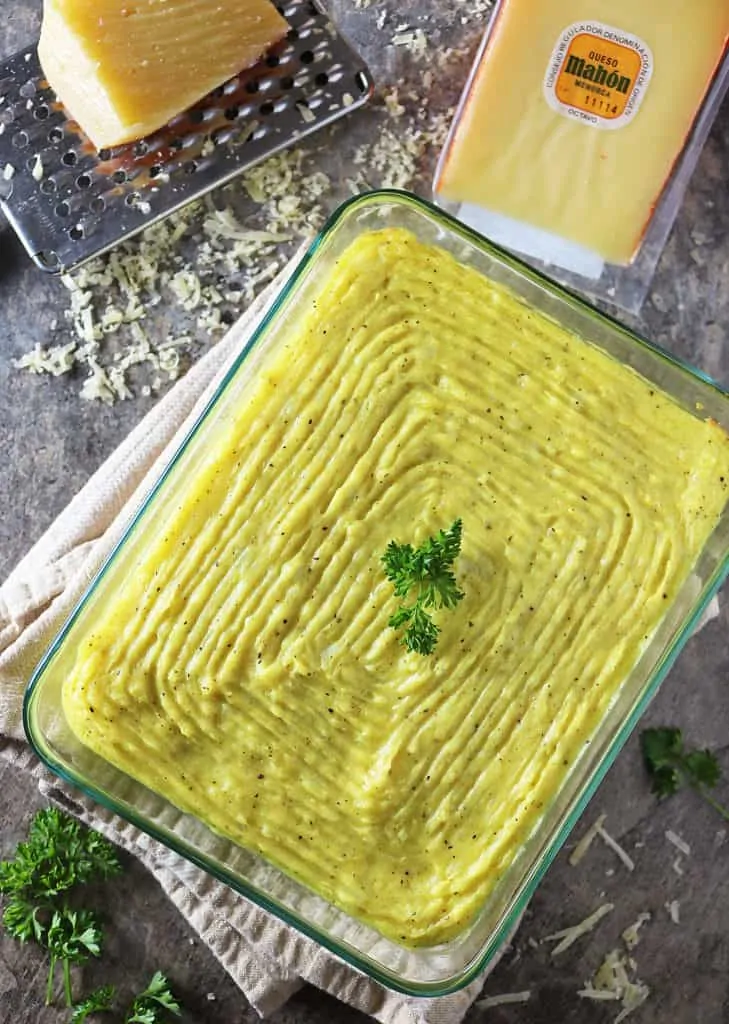 And, that's what I did with this casserole of Easy Cheesy Baked Mashed Potatoes. I used 4 yellow potatoes and only 3 tablespoons of butter. As I used a whole cup of flavorful, Mahón-Menorca cheese, I used 1% milk in this. And – managed to sneak in a good half teaspoon of turmeric!

These Easy Cheesy Baked Mashed Potatoes are so creamy, so luscious, you so have gotta try them yourself…or grab a spoon and head on over as I have leftovers hanging out in my fridge – which brings me to another point – these are just as delicious a couple days after they were first made!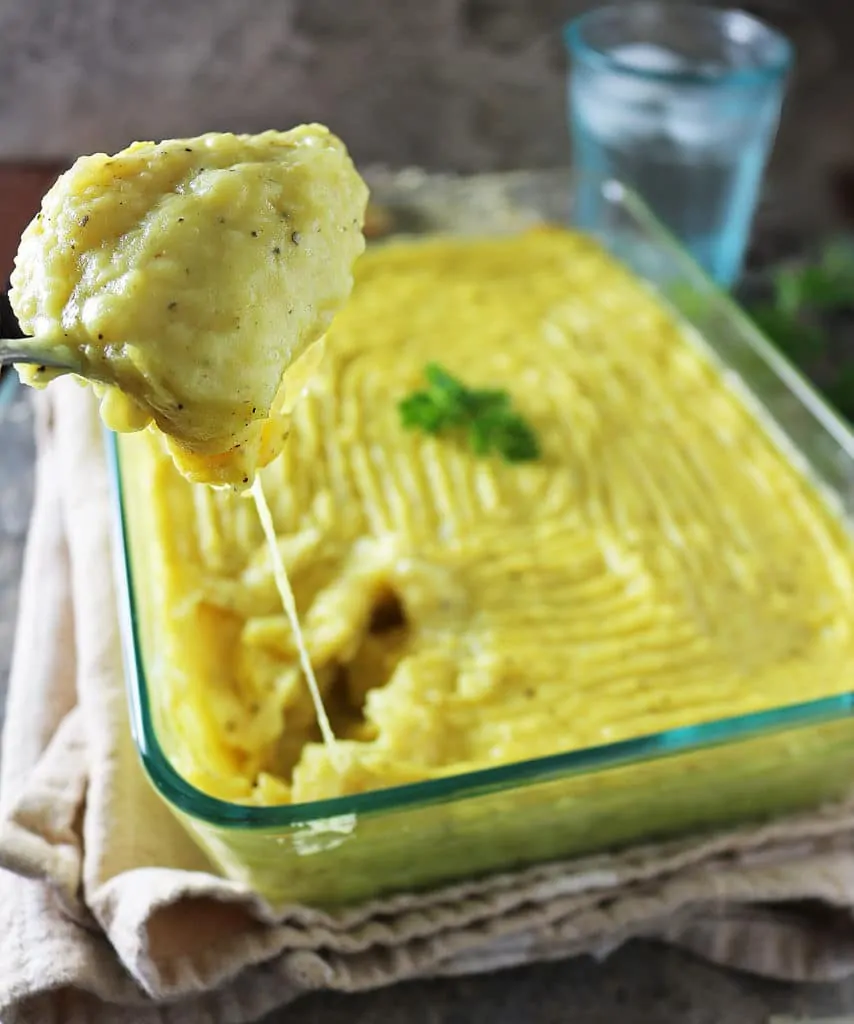 In case you are not familiar with Mahón-Menorca cheese, it is a gastronomic treasure for making sauces, garnishing meat, fish and vegetables, and making stuffed dishes like stuffed cannelloni or peppers, as well.

It comes to us from the island of Menorca in Spain from traditional, family owned farms where cattle roam and graze freely. By the way, UNESCO has declared Menorca a Biosphere Reserve and ancestral procedures are used by farmers in the cheese making process.
This was a sponsored post on behalf of Mahón-Menorca.