This shop has been compensated by Collective Bias, Inc. and its advertiser. All opinions are mine alone. #TeaProudly #MyHotTeaMonth #CollectiveBias
We are almost at the end of hot tea month so won't you join me at an afternoon tea with cucumber carrot sandwiches, blueberry white chocolate scones and a hot cup of freshly brewed Constant Comment Tea?

By the way, you can win weekly with Bigelow ~ head on over to their
Facebook and Instagram pages to enter their weekly GIVEAWAYS!

Hover over the image above for more information about Bigelow Tea and how to purchase products at Walmart.
Growing up I remember my mom brewing a hot cup of tea as soon as she got home from work. She would then proceed to enjoy her cup with some savory murukku before sorting out the dinner dilemma. My dad would often join her, armed with something sweet to enjoy with his cup of tea. Back then in our home, daily afternoon tea was a time to wind down, a time to relax and reconnect for all of us.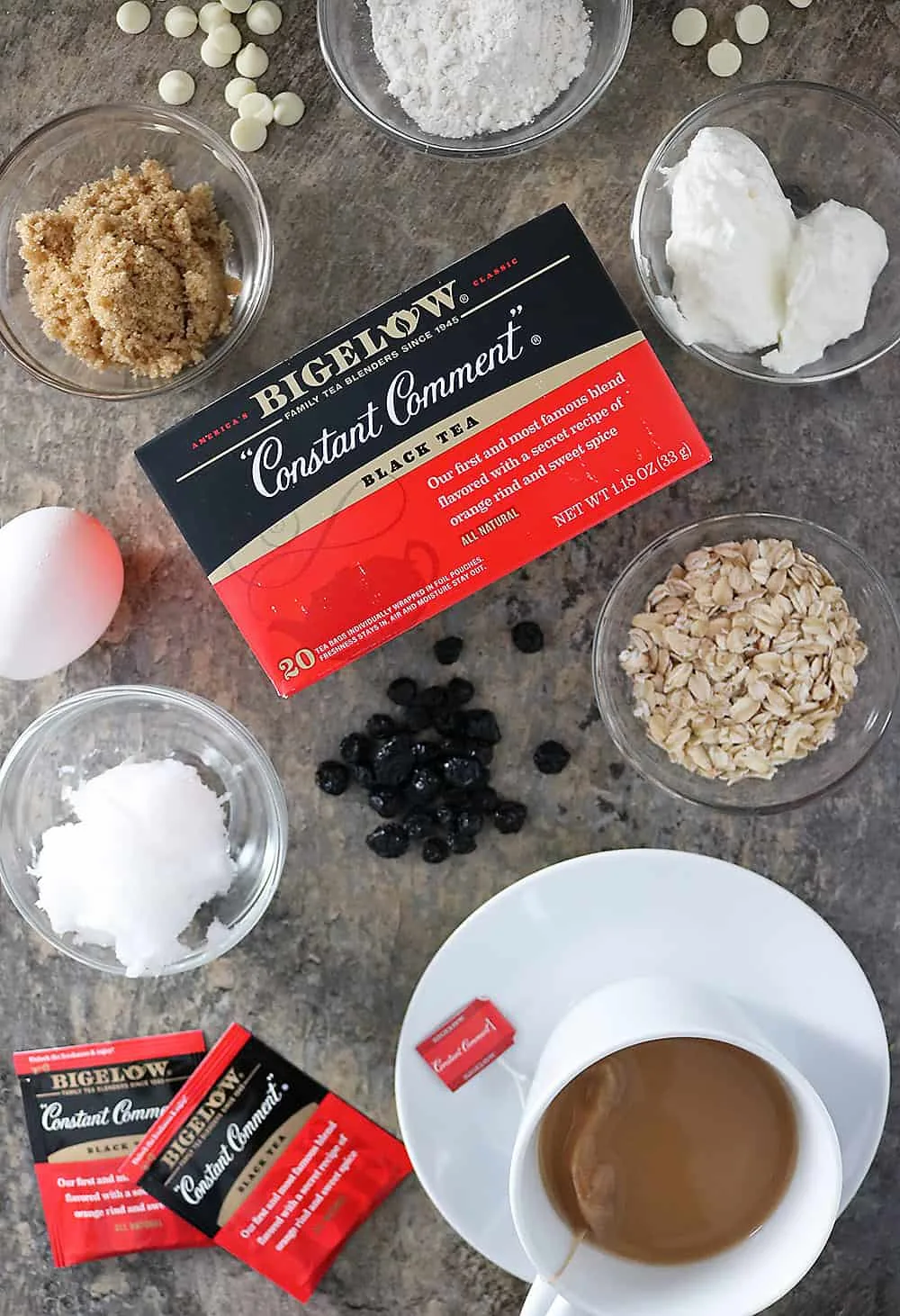 As time passed and I went off to college, when I came home to visit, my dad would insist on catching up over "tea for two or three" as he cajoled my mom into making her by then, infamous tea. As he got older and started his battle with heart disease, he would say the same thing when he came home from each stint in the hospital. These days my mom suggests "tea for two or three" when my daughter and I visit her. So afternoon tea is near and dear to my heart.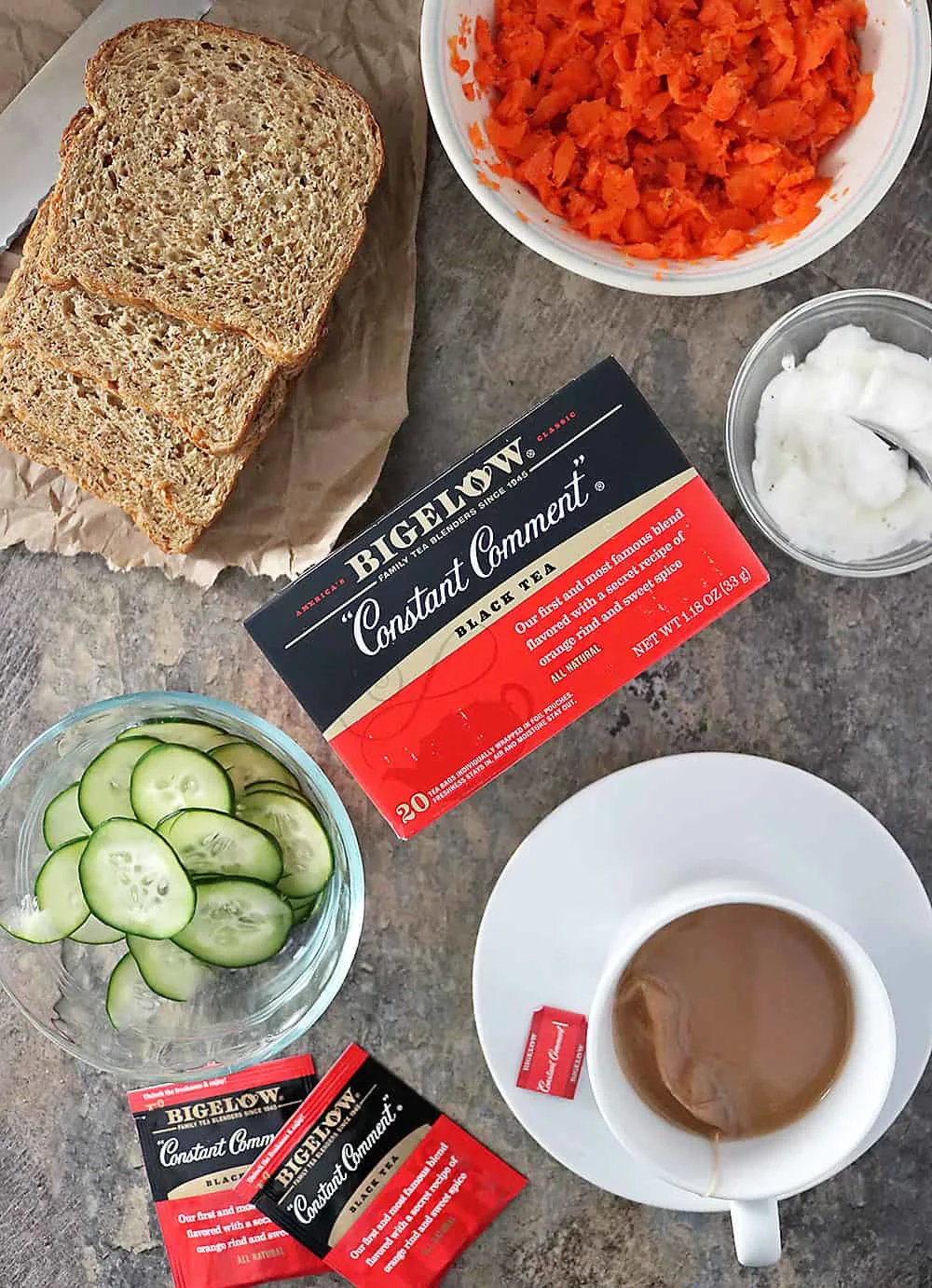 As my daughter seems to have inherited my parent's love of tea, I like to prepare an afternoon tea spread, from time to time. By the way, I think I might have been the only one who thought that afternoon tea and high tea were one and the same. Just today, I learned that afternoon tea consists of snacks and is enjoyed late afternoon/early evening while high tea is tea enjoyed at a meal/light supper a lot later in the evening.
Anyhoot…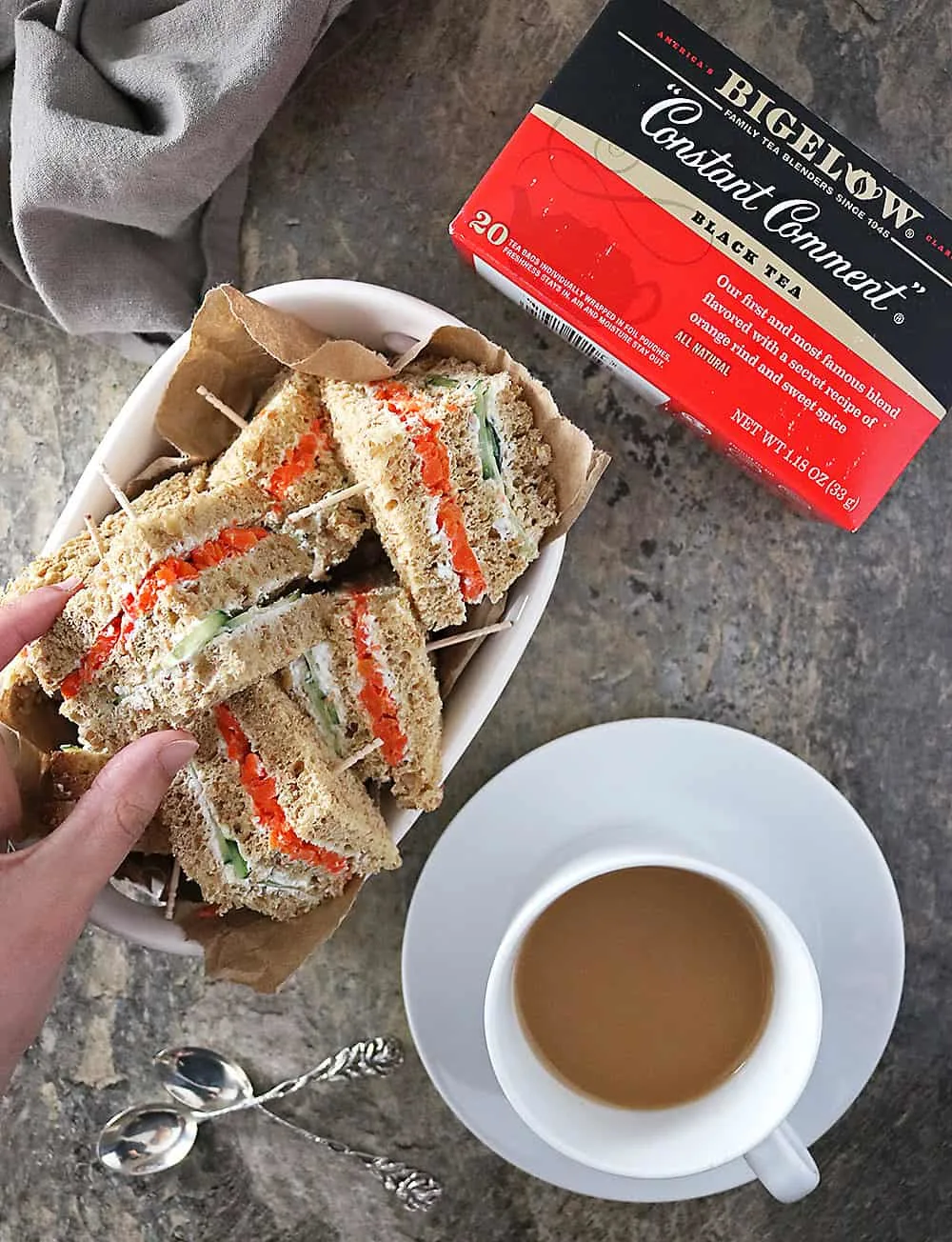 Back to our afternoon tea spread…
It has been so cold here in Athens, GA. The perfect weather for hot steaming mugs of tea! Bigelow tea is my #1 choice of tea, I have often use it to make
my version of chai tea with a pinch of cloves, cardamom, and cinnamon.
Today, I choose to "Tea Proudly" with Bigelow's Constant Comment Tea (purchased from Walmart) for our afternoon tea.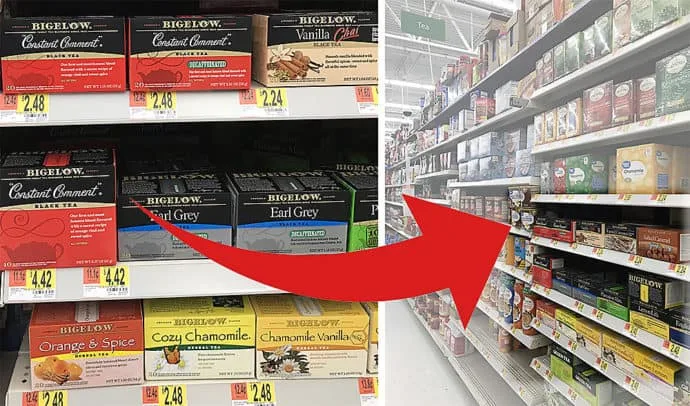 I brewed a couple of cups for my daughter and I, and, we enjoyed those warm cups of tea with some layered cucumber carrot sandwiches and blueberry white chocolate scones.
These Carrot Cucumber Sandwiches are so easy to make! All you need are: a few slices of your favorite loaf of bread, Greek Yogurt, lemon, salt and pepper, 1 carrot and 1 cucumber.
Simply boil or microwave the carrot until it is soft and then mash it up well. Season it with salt and pepper and set it aside. Thinly slice the cucumber and set the slices aside. Then whip up some Greek Yogurt with some salt and pepper and a small squeeze of lemon.
Then, spread some of the Greek Yogurt on a slice, add on a thin layer of the carrots, add on another slice that has been spread with the yogurt mix on both sides, top that with some thinly sliced cucumber, and top that all off with another yogurt spread slices, top that with some thinly sliced cucumber, and top that all off with another yogurt spread slice. and voila, layered carrot cucumber sandwiches!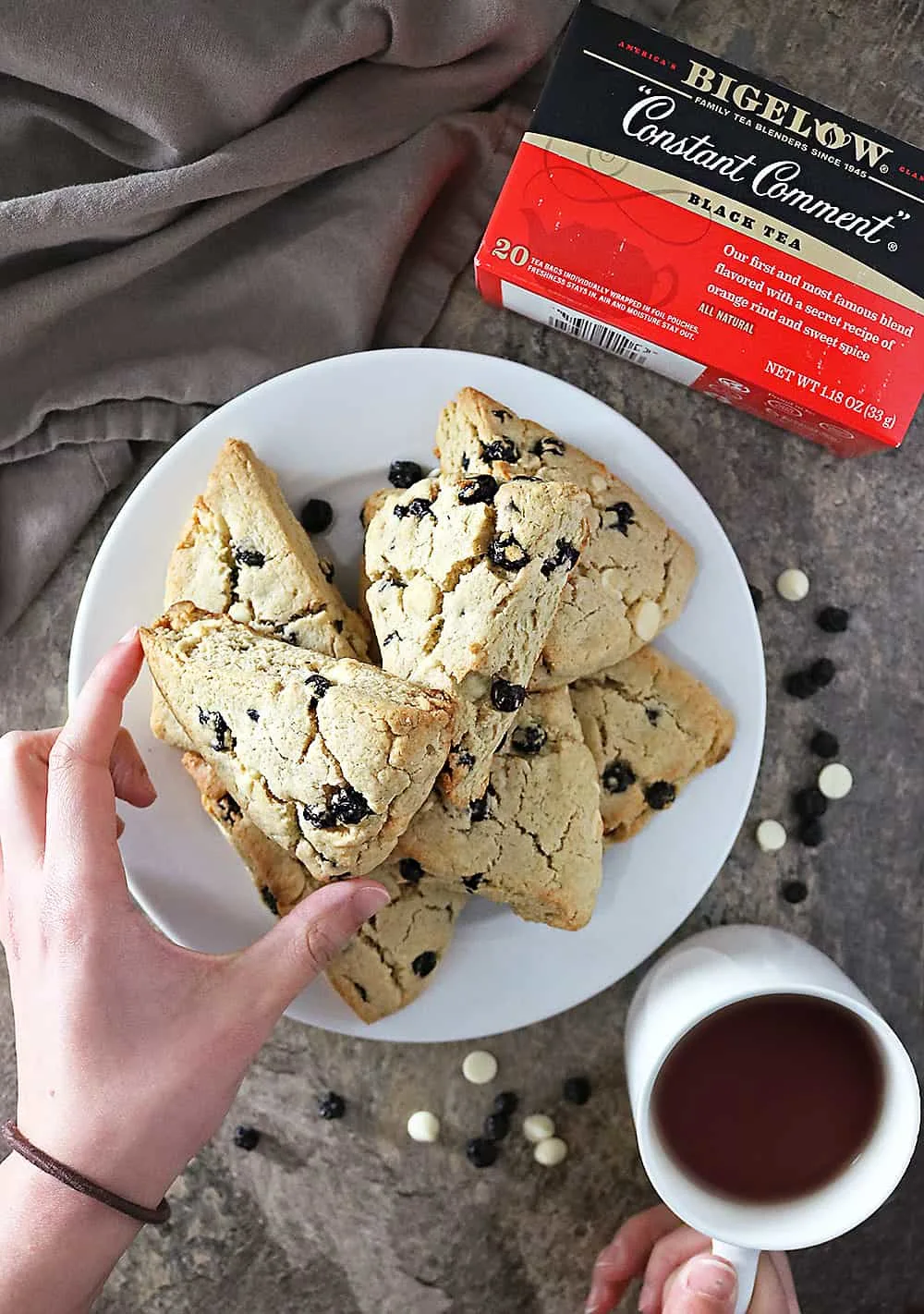 How You Can Win With Bigelow…
By the way, Bigelow will be sharing brand new ingredient focused videos (such as the one below) throughout National Hot Tea Month for the following teas: Earl Grey, Green Tea, Green Tea with Lemon, Cozy Chamomile, and Constant Comment, AND announcing weekly GIVEAWAYS!


If you would like to learn more about the giveaways and ingredient videos, make sure to check out Bigelow's Facebook and Instagram pages! And, you can find out more about Biglow's Earl Grey, Green Tea, Green Tea with Lemon, Cozy Chamomile, and Constant Comment tea flavors on their website.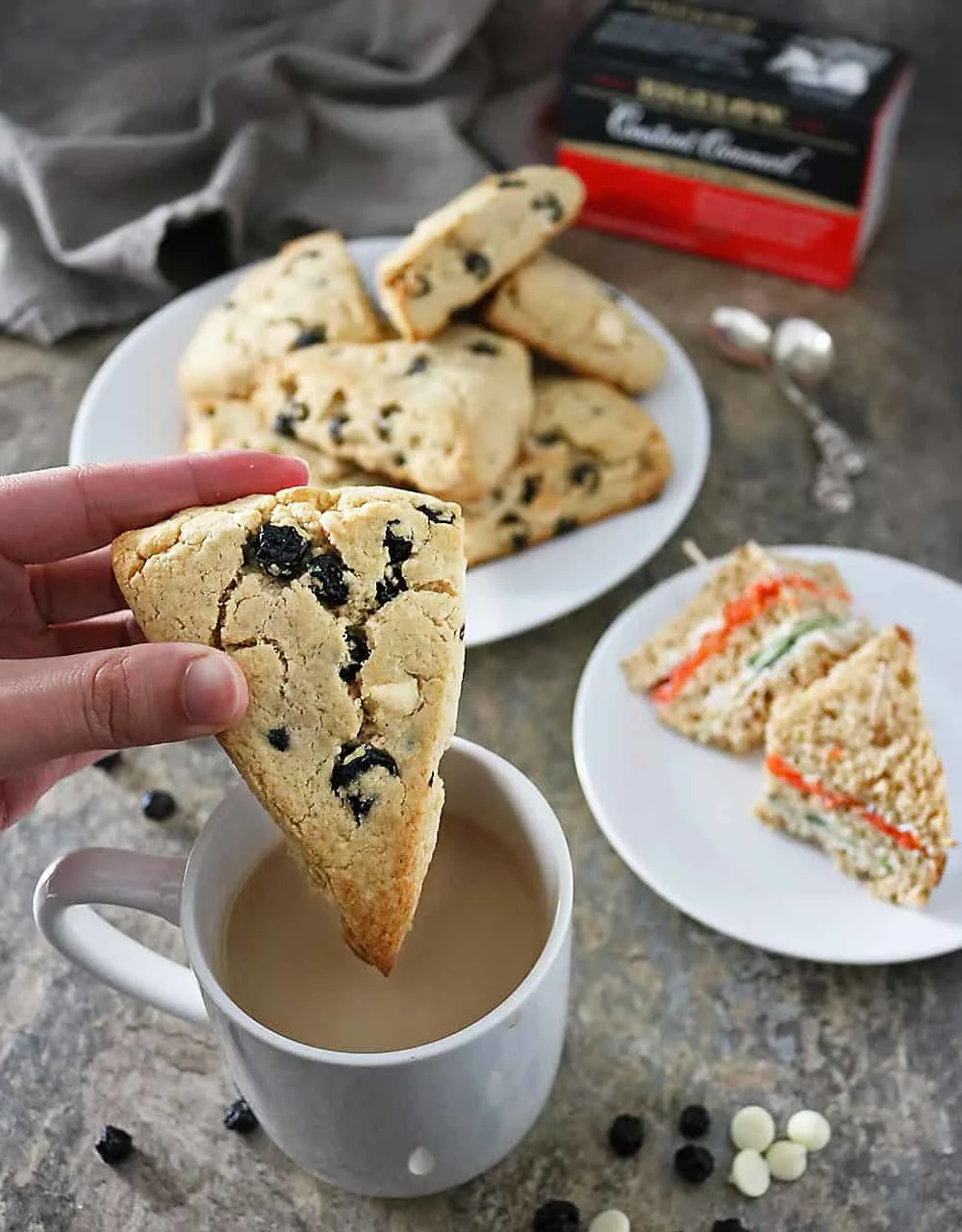 This weekend when you are at your local Walmart store, I hope you pick up the ingredients for these Blueberry White Chocolate Scones, these Carrot Cucumber Sandwiches and your favorite Bigelow tea and throw an afternoon tea for your family and friends!