I have partnered with Kansas Farm Bureau to bring you a recap of The Farm Food Tour and this easy, spicy, keto-friendly dish of Sausage And Beans that would also make a delicious holiday side dish!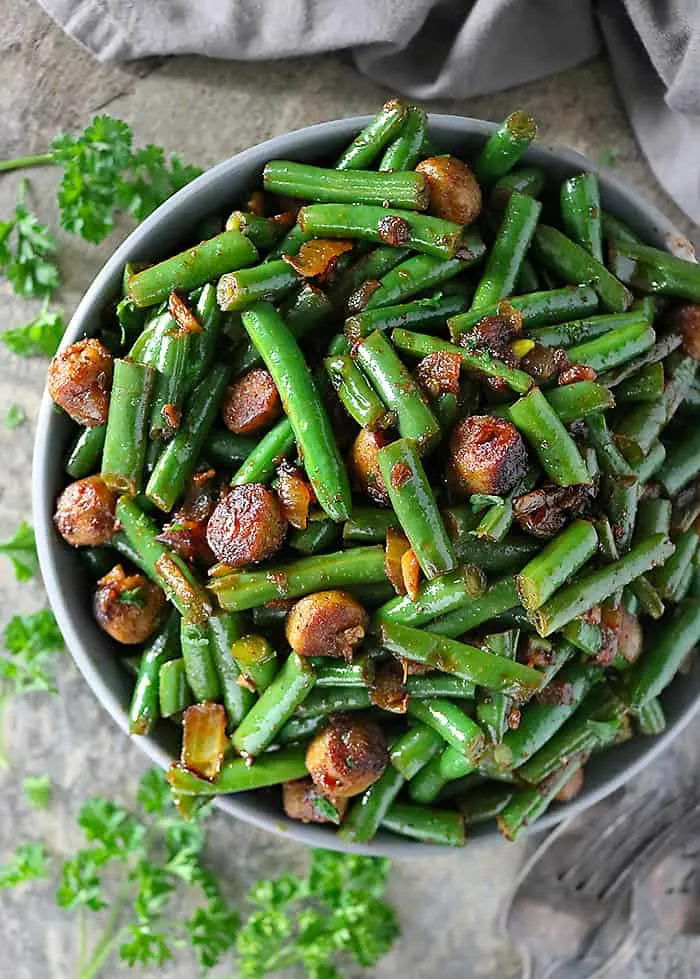 I like big cities and I cannot lie. The bigger the city, the better.
So, I wasn't sure what to expect when I found out I would be joining 7 other bloggers, a 2-person media crew, a dietician, a farmer and folks from the Kansas Farm Bureau and Kansas Soybean Commission on the Farm Food Tour that took place in mid September.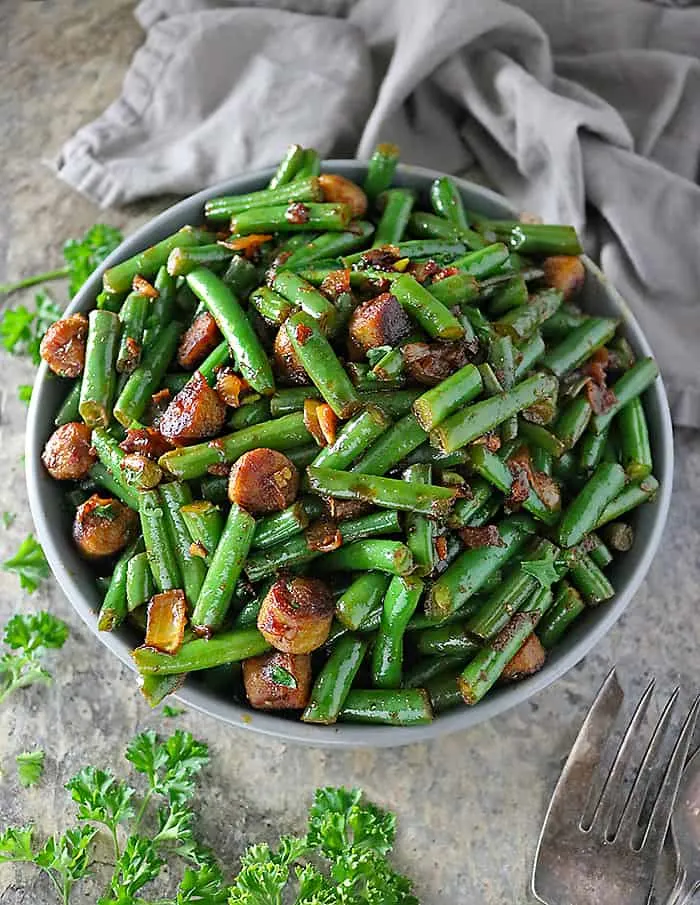 The Farm Food Tour of 2018 took place over 3 days, 6 meals and 7 very diverse farms. I went on this tour without many expectations, but, I cannot lie, I had my assumptions. I assumed that I would be visiting a bunch of farms, watching farmers in action and listening to Meagan (from the Kansas Farm Bureau) and Jancy (from the Kansas Soybean Commission) give us a narration of the goings on.
I wasn't expecting to engage in conversations with farmers who love this land and the God who gave it to them. Farmers who are more in tune with the needs and wants of their livestock than I am with those of my dogs. Farmers who are more passionate in pursuing knowledge than I am in checking my blog stats. This tour was an experience that has grown me up in my knowledge of food and farmers. I cannot recall a time when I was so moved by what I learned and experienced in 3 days… and that's not my old age talking. And, over the course of 3 blog posts over this month, I hope to share moments from each of those 3 days.
Today is a recap of some of the highlights from Day 1 of the fifth #FarmFoodTour and a recipe that was inspired from our lunch.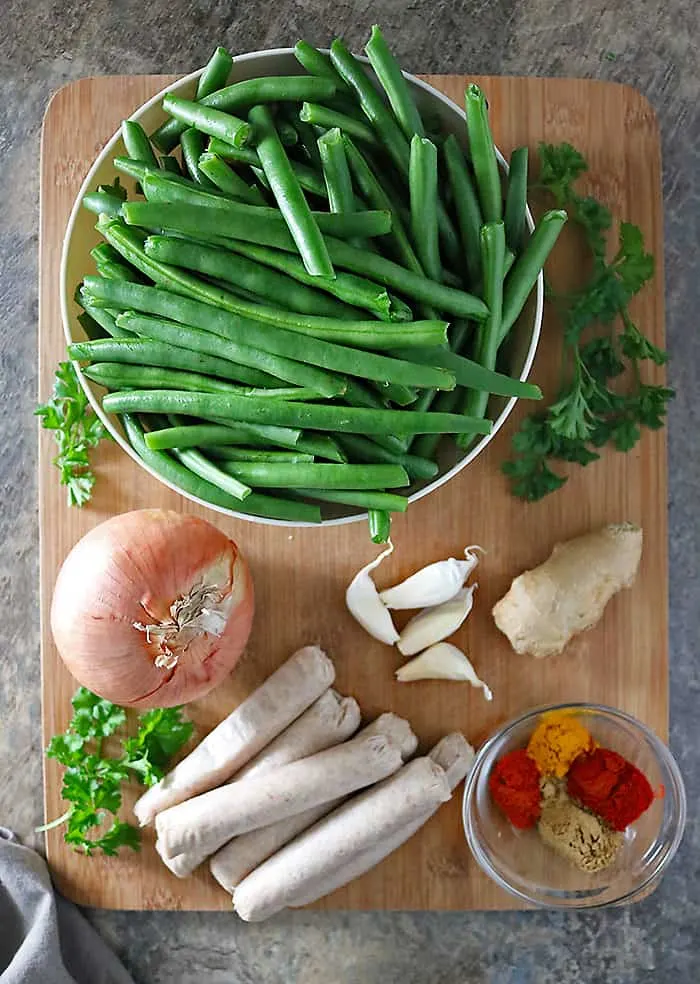 Day 1 had us trekking to Craig and Amy Good's Farm, called "Good Farms" near Olsburg, Kansas. Craig and Amy have been raising heritage pigs such as Gloucestershire Old Spots and Durocs, Angus cattle, soybeans and corn since 1981. They believe that if they take care of their animals, their animals will take care of them.
These quotes by Craig and Amy Good, "our interests not against the animals interests" and "we want to show people that we're not out here trying to abuse the land and abuse our animals just to make a living" are my memorable quotes from day 1!
Craig and Amy Good have been working with Heritage Foods whose mission is to save some of the smaller family farms and some of the more rare breeds of livestock such as Gloucestershire Old Spots that are antibiotic free. By the way, you can order cuts of Good Farms pork and beef at Heritage Foods USA. If you specifically want their meat you can request it, otherwise the order will be filled with whatever breeds Heritage chooses.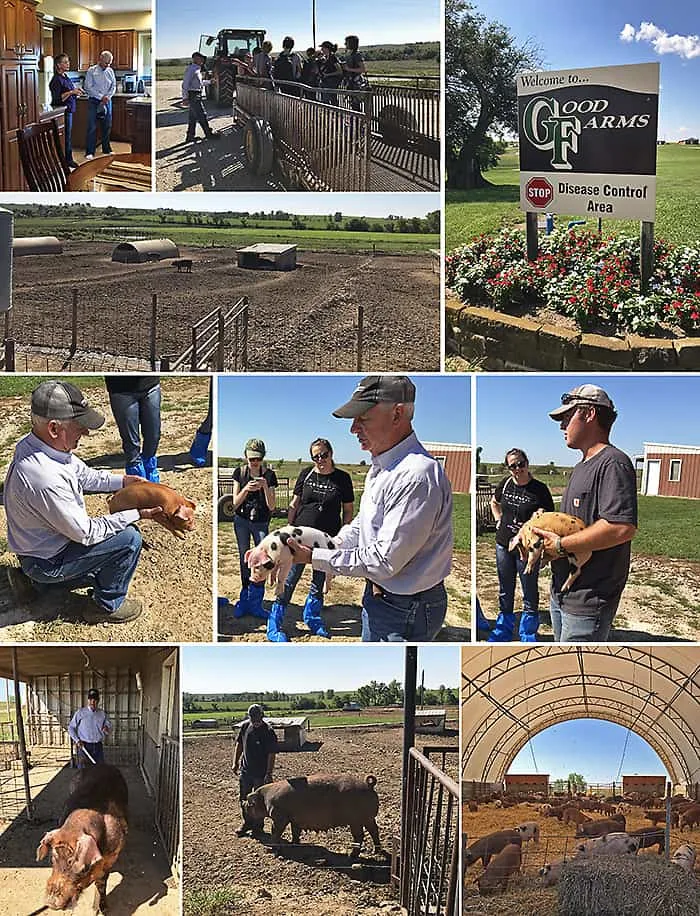 At Good Farms, I learned about the difference between boars and barrows and gilts and sow. I also learned that Gloucestershire Old Spots have quite a bit of back fat and not a whole lot of muscle resulting in extremely good quality pork. And, I learned that Durocs are also known for their meat quality, palatability and good eating quality. I got to see baby Gloucestershire Old Spots, Durocs and mixed breed, "spotrocks" outside the barn where the baby pigs are kept in their early days. I got to see slightly older pigs frolic around a large hay enclose with sprinklers built in to keep the pigs cool and comfortable and I got to see a large boar and several sows. I also learned to pick pork that is "redder/darker and without juices (purge) leaking out."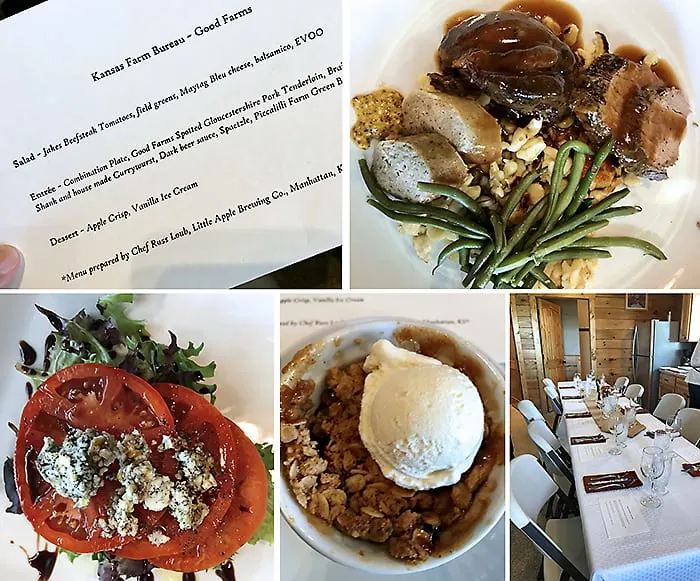 After a morning trudging around Good Farms, we got to enjoy a delicious meal put together by Chef Russ Loub of Little Apple Brewing Company at Good Farms. His entree was a combination plate which consisted of pork sausage and green beans in addition to a tender pork tenderloin. I so enjoyed the combination of those green beans and pork sausage and knew that I would have to recreate something similar as soon as I got home.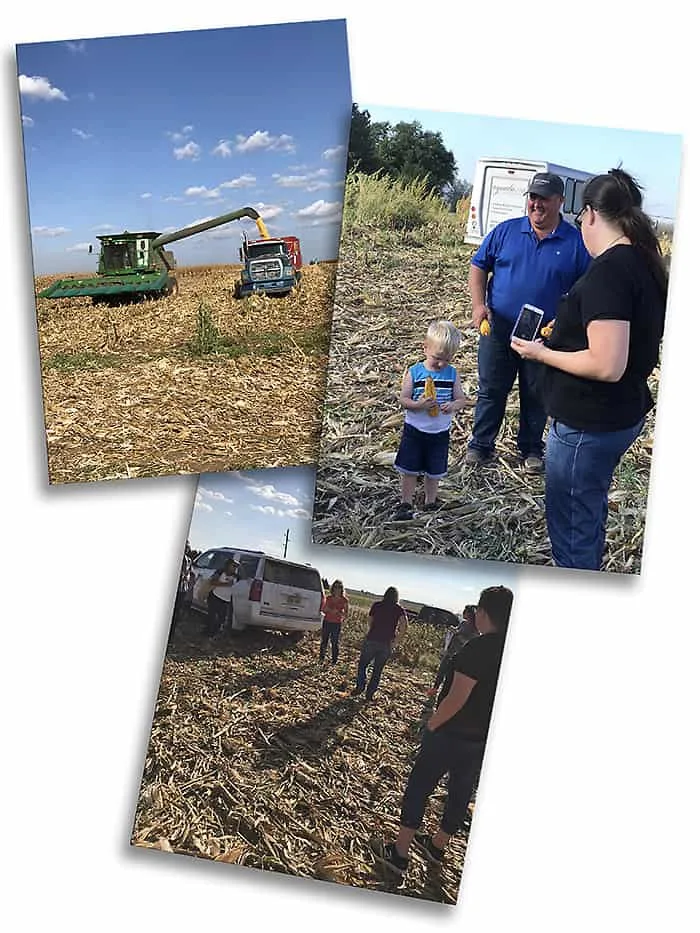 Well, after lunch we were off to visit Derek (a fourth generation farmer) and Katie (a city gal prior to marriage) Sawyer at Sawyer Land & Cattle where cattle, soybeans, corn, sorghum and wheat are raised. We got to see a combine harvesting corn (for feed) in action – some brave bloggers even hopped on the combine and rode it around. Katie had baked delicious chocolate chip cookies for us and we munched on those as we listened to her and Derek talk so passionately about their family, their livestock, their crops and everything in between. We ended our day with dinner at the swanky Courtyard on Main with the Sawyers.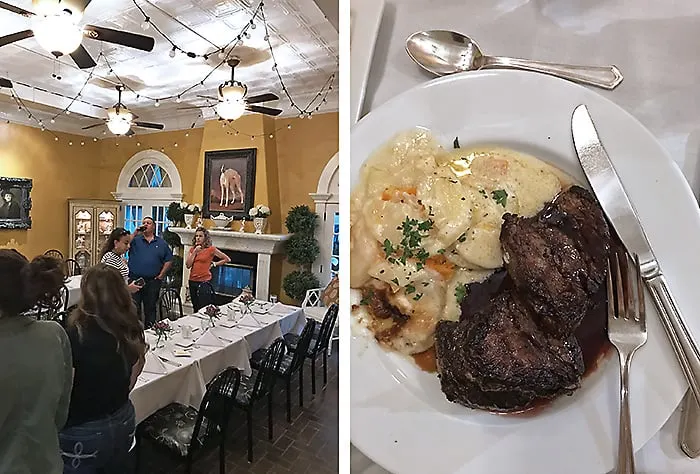 Soon after I got home, I happened to come across a box of Heritage Farms Pork Sausage at a grocery store in Atlanta and figured I had to try and make a Sausage and Beans dish in memory of that wonderful lunch. Now, this isn't a replication of what I enjoyed that day. It is just a combination of two of my favorites on my plate from that lunch. I added some onions, garlic, ginger, smoked paprika, chili powder, coriander and turmeric to the green beans and sausage to make this dish you see here.
If you are looking for a light meal or a holiday side, I hope you try whipping up this easy spicy garlic ginger spiced, Sausage And Beans ~ it would be a delicious addition along with these Ginger Carrots and Asparagus!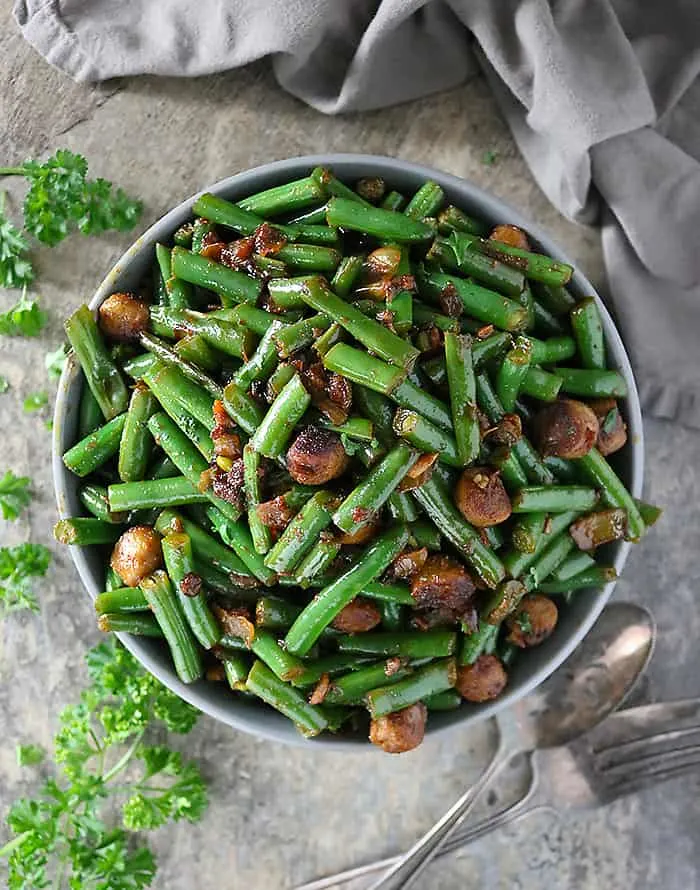 I would love to know if you've make this recipe or any other recipe from this blog so please do rate the recipe and let me know your thoughts on it in the comments below. You can also FOLLOW ME on FACEBOOK, TWITTER, INSTAGRAM and PINTEREST to get recipe ideas and inspo!